ERP For Manufacturing: Importance, Features And Benefits
Updated
January 25th, 2023
Digitization and digitalization have changed how products are designed, manufactured, used, operated, marketed, and sold. Technology is transforming every process, operation, and business through innovations and iterations. Technology has played a game-changer role across every domain, especially in the manufacturing industry. The manufacturing industry has undergone a massive transformation from Big Data to IoT and Industry 4.0, and from digital warehouses to advanced supply chains. It requires a number of diverse solutions that help manufacturers enhance efficiency, increase sales and RoI, increase productivity, and enable organizations to make informed decisions.
An Enterprise Resource Planning, ERP for the manufacturing industry is one such software that fulfills all the requirements of today's dynamic business environment and integrates all aspects of the manufacturing business.
In this blog post, we are talking about ERP for manufacturing, its importance, features, and advantages of using it.
What Is Manufacturing ERP System?
Manufacturing ERP refers to Enterprise Resource Planning (ERP) software and solutions used to streamline and automate all business processes. In general, ERP software is used to manage and integrate various processes of finance, human resource, supply chain, commerce, reporting, operations, manufacturing, and distribution.
Manufacturing ERP systems can be used and integrated into various business processes. One of the primary aims of manufacturing ERP software is to create a complete management platform for manufacturing companies so that they can improve resource utilization, increase efficiency, and enhance overall performance.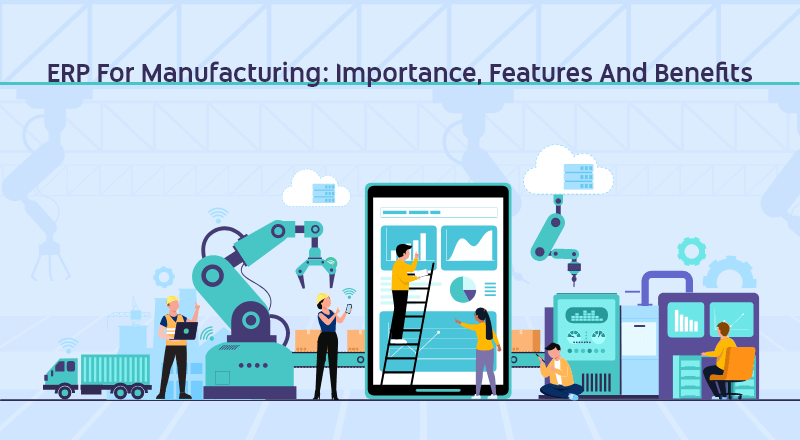 ERP For Manufacturing: Why It Is Important To Have?
A manufacturing company, be it small or large can benefit from ERP systems in many ways. It is imperative for modern manufacturing companies to use solutions and tools that help them accelerate growth and establish data-driven culture to make informed decisions at every step.
The power of analytics and big data can't be ignored considering today's hyper-connected and data-driven environment. ERP systems not only help improve production and distribution but also offers a 360-degree view of the entire business by integrating diverse internal processes.
Implementation of the right manufacturing ERP software is quite tricky. It requires you to consider different factors such as your budget, implementation goals, timeline, and required features and functions. Enterprise Resource Planning system is a good investment for many industries. Here are some must-have features of a manufacturing ERP system.
Good Read: ERP For Energy & Utilities Re-energizing Business Efficiently
Key Features Of Manufacturing ERP System:
Manufacturing ERP systems offer a broad range of features and functionalities to improve all business functions.
Here's is the list of key capabilities of manufacturing ERP solutions:
Inventory Management
Compliance And Risk Management
Quality Control
Process Automation
Requirement Planning And Management
Distribution And Supply Chain Management
Asset Management
Finance And Accounting
Let's explore how these features help an organization fast-track its growth.
Inventory Management:
It is very important for manufacturing companies to manage inventory effectively. Inventory management includes knowing your stock, product status, raw material management, finished products, purchase order tracking, and overall control. Modern manufacturing ERP systems include major methods for inventory management, just-in-time, and material requirement planning (MRP) that help efficiently streamline inventories.
Compliance And Risk Management:
There is no need to use another software to manage risk and compliance if you have ERP in place. ERP systems include this feature to keep track of all the various compliance and regulations related to your business. Today's ERP systems are built with such compliance and regulation things to help manage environmental, information security, and human resource regulations at every stage.
Quality Control:
Quality control refers to a set of standards that ensure a manufactured product meets quality goals defined by the organization. Quality is a key driver to success. Quality assurance required thorough examination and testing of the product. ERP software helps to track and monitor various processes associated with quality management through alert mechanisms and monitoring at every level.
Process Automation:
Technology makes it easier to automate everyday processes and thereby saves man-hours with almost no chance of human errors. Manufacturing ERP offers complete process automation that integrates various processes such as sales, purchase records, stock, human resources, and so on. Automation not only saves time but enables organizations to access real-time data and have better control.
Requirement Planning And Management:
Manufacturing business needs accurate requirement planning so that they can fulfill production needs. An ideal ERP for manufacturing provides real-time data management and centralized data storage to forecast the demands and production requirements. Multi-level process management ensures there is enough material and resources are available to fulfill demands. Today's ERP system helps companies better forecast demands and manage resources that eliminate waste and meet sales needs.
Distribution And Supply Chain Management:
For multi-store brands and retail chain businesses, distribution and supply chain management manages various components such as packaging, warehousing, logistics, point of sale, vendors, and suppliers. Effective distribution and supply chain management process is very important for a company's longevity and growth.
Asset Management:
A good manufacturing ERP software provides users with an asset management module that manages the factory's physical assets and equipment. This helps companies reduce risk and cost and increase uptime and productivity.
Finance And Accounting:
From top-floor to shop-floor, ERP systems for manufacturing offers complete management of the entire business. With various reports and business intelligence integrated tools, the finance and accounting module keeps track of every financial activity and documentation. This enables top management to accurately monitor the process and plan future strategies.
ERP for manufacturing systems can be customized as per organizations' requirements where you can add/remove features as per the needs.
Let's see how ERP manufacturing systems benefit manufacturers:
Advantages Of ERP For Manufacturing Industries:
Enhanced inventory, supply chain, distribution, and warehouse management
Automated processes that increase efficiency and save time
Integrated and complete software that unifies all diverse modules of manufacturing companies
Real-time reporting and dashboards that help make better decisions timely
Optimized manufacturing operations and processes for better management
Increased visibility of workflow and gain 360-degree view of business
Ultimately helps improve customer satisfaction and customer services
Quick resolution of any issue with advanced alert management and collaboration
Better adherence to compliance and regulatory standards
Mitigate risks and minimize redundancy and human errors
Accurate demand forecasting through advanced analytics and BI
Access to real-time data for faster and effective decision-making
Improved quality management and streamlined operations across the company
Well-defined product life-cycle management
Increased productivity and better management that result in happier customers and employees
Respond to market changes and conditions quickly than ever
Reduced cost and operational overhead of using multiple software
Centralized data storage and safe access to data based on roles
A manufacturing ERP ensures adaptability and flexibility that help companies to adapt to the changes, enabling them to gain a competitive advantage. Let's see different types of manufacturing ERP systems.
Best ERP For Manufacturing
Generally, there are two types of ERP software, custom ERP, and off-the-shelf ERP. When it comes to manufacturing, there are various types of ERP systems that include discrete manufacturing ERP, process manufacturing ERP, and mixed-mode manufacturing ERP.
The best ERP is the one that suits your needs. There are many different deployment and setup options available today that are vary based on size, functions, and requirements.
An on-premise ERP system is hosted locally on your systems and offers complete control, management, and ownership of the system. You will require to manage your hardware and system infrastructure. It comes with its own pros and cons.
Cloud ERP is an ideal fit and one of the popular types where your ERP system runs on a vendor's cloud platform. It offers scalability, agility, and good accessibility compared to on-premise software. Cloud ERP saves your money and time by offering ERP software deployed "as a service" in the cloud.
Hybrid ERP offers a combination of both the options, cloud and on-premise ERP. It allows organizations to migrate between options and leverage the best of both worlds in order to grow business.
Manufacturing ERP: Manage, Automate, Track, Connect, And Collaborate
Manufacturing companies must be adaptive as business environments are constantly changing. Processes and strategies that worked today, may not work tomorrow. Manufacturing companies must keep pace with advanced technologies and embrace changes that help them run a business successfully and gain a competitive edge. Manufacturing ERP not only helps manufacturers be agile, innovative, and efficient but helps businesses to strategically respond to external and internal changes in a hassle-free way.
If you are facing any challenge with your existing manufacturing ERP, or you want to implement a customized ERP solution, our team is here to help!
SPEC INDIA, as your single stop IT partner has been successfully implementing a bouquet of diverse solutions and services all over the globe, proving its mettle as an ISO 9001:2015 certified IT solutions organization. With efficient project management practices, international standards to comply, flexible engagement models and superior infrastructure, SPEC INDIA is a customer's delight. Our skilled technical resources are apt at putting thoughts in a perspective by offering value-added reads for all.