ERP vs WMS: Comparing Two Popular Business Solutions
In a world ruled by business, software applications/business solutions are key to enhanced success, productivity, and profitability. Software applications like the Enterprise Resource Planning (ERP) system and the Warehouse Management System (WMS) are highly popular when it comes to inventory management, supply chain and logistics, wholesale, and distribution, fast-moving consumer goods, and much more.
Both these systems – ERP and WMS are often understood interchangeably, but that's not true. They do have similarities but have their own features that stand out, individually. Both are fundamental to any distribution and warehouse business. Implementation of these systems is crucial to attaining excellent business results.
It is vital to understand what each of these solutions aims at doing, its key features, and an in-depth comparison between the two. This article attempts at doing the same, with a detailed analysis. Before we compare the two – ERP vs WMS, let us individually, have a look at what they are.
What Is ERP System?
Enterprise resource planning (ERP) is the integrated management of main business processes, often in real-time and mediated by software and technology. – Wikipedia
ERP stands for Enterprise Resource Planning which comprises a suite of integrated modules that together, perform the collaboration, streamlining, and automation of all the operational processes in the organization. It considers all involved data from different departments and acts as a centralized repository.
This software solution collects, stores, manages, and interprets the collected data from the departments and performs a variety of transaction processing, report building, and dashboard generation.
When we talk about what is ERP, it involves processes like barcode scanning, manufacturing, human resources, order entry and processing, accounting and finance, inventory location tracking and management, warehouse management, purchase orders, eCommerce integration, customer relationship management, etc.
It assists in the easy flow of information between departments with utmost security and accuracy. With a successful ERP implementation, all departments can avail shared, secured, and updated information, increasing profitability and productivity big time.
Good Read: SQL DBA Services for One of the Largest ERP System
Benefits Of ERP System
Savings on money, time, and efforts
Traceability
Increased client satisfaction and productivity
Augmented business reporting and cash flow
Improvised inventory costs
Better cloud-based security and data
Business procedure enhancements
Supply chain management
What Is WMS?
A warehouse management system (WMS) is a software application designed to support and optimize warehouse functionality and distribution center management. – Wikipedia
A WMS is an effective software solution that is specially designed to cater to the day-to-day activities of the warehouse and thereby gain insights into the heaps of information stored in it. It helps in enhancing visibility into the inventory processes and gives a better and accurate view into the different warehouse operations.
WMS helps manufacturers in offering an effective inventory movement across the entire chain. It possesses detailed knowledge about all stock items received, packed, and shipped, and utilizes barcode scanners, wireless networks, and RFID technology to track the movement of products within different storage locations.
WMS are stand-alone systems and cater to specific business requirements. Hence, it needs supporting solutions to adhere to other parts of the enterprise functionalities. It does provide intelligence on optimization of inventory movement within your warehouse, depending upon the real-time information that is gathered.
Different reports can be generated to find the best location of each product and where it must lie. It involves functionalities for picking, packing, receiving, and shipping of items, tracking goods, tracking, and visibility, reporting, and analytics. It also offers inputs about choosing an appropriate inventory location, and setting priorities and ratings.
Benefits Of WMS
Lesser operating costs and best of space utilization
Transparency in inventory management
Efficient labor management
Optimization of travel time, internal operations, and supply chain
Easy tracking of inventory materials and better stock control
Leveraging automation benefits
Better client service with best of shipment management
Faster turnover of inventory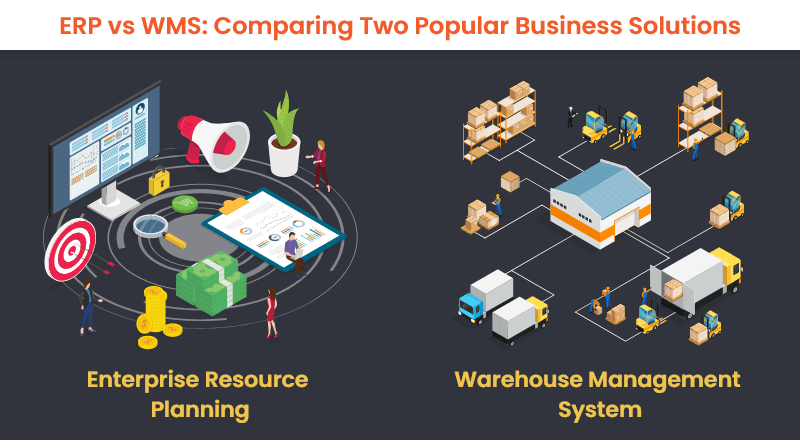 ERP vs WMS: A Comprehensive Comparison
What becomes confusing is if ERP and WMS are the same or do, they serve different purposes. There are certain competencies that may be common to both, but overall, they are two different business solutions that have different objectives in mind.
Both have features that intersect with each other, but apart from those, there are many other standalone features that are individual to both, and hence organizations choose the one that is most viable to their requirements.
Here is a comparison matrix that compares ERP vs WMS, based on certain parameters:
| | | |
| --- | --- | --- |
| Parameters | Enterprise Resource Planning (ERP) | Warehouse Management System (WMS) |
| Objective | Integration of all departments of the supply chain to ensure a smooth flow of information | Streamlining all included warehouse operations for a smooth information flow within the supply chain |
| Scope of Work | Larger scale | Specific scale |
| Type of Solution | All-in-one software solution | Standalone solution |
| Strong Areas | Seamless flow of information within various departments via the software solution with the utmost security | Tracking inventory items with real-time information of picking up, packing, and delivering goods |
| Key Feature Set | Management of the entire process from procuring raw material to shipment of the finished product. Cost optimization, reduction in overhead costs | Manages warehouse deliveries – inbound and outbound, with sales receipts, goods return, pickup, and delivery schedules across warehouses |
| Ease of Implementation | ERP is tough to implement since it involves multiple departments and users | WMS is easier to implement since it caters to a focused audience |
| Dependency on Other Systems | ERP talks to other systems and has a well-defined inter-department network | WMS needs a separate network established to talk to other third-party systems |
| Utilization | Best for different manufacturing business segments that rely on a variety of departmental operations | Best for warehouses, with different inventory movements and monitoring involved, with real-time stock updates |
| Scalability | Easy to scale, modular in design, and hence upscale or downscale as needed | A little difficult to scale requirements since it caters to a particular warehouse |
| Multiple Run of Applications | ERP has multiple applications running since it deals with many departments | WMS usually has a single application that caters to multiple warehouses |
| Intersection of Both | ERP cannot become a part of WMS | WMS can be a part of ERP |
| Productivity and Efficiency | ERP takes a while in ensuring productivity and efficiency since there are many departments involved | WMS finds it easy to gain productivity and efficiency since the focus is on a certain set of users |
| Costing | ERP could turn out costly because of its multiple modules | WMS could turn out more affordable because of its focused scope |
| Integration to Other Systems | ERP may not need much integration with other modules since it already involves all of them | WMS may need to cater to third-party integration since it only caters to the warehouse module |
ERP vs WMS: Summing It Up
The ERP-WMS comparison is an exciting one since both have their own positives to showcase. Deciding between the two is a tough task and there are a few things that must be considered while choosing the right solution. The long-term objectives must be defined, all technical conditions must be checked, the RoI of each system must be worked out and then the ideal solution must be chosen.
Interesting Read: Mobile ERP Solution for a Large Conglomerate in Myanmar
Both – WMS and ERP systems are of high value for your organization. It is just the need, budget, and organizational goals that will help you decide which one to go for. Although an ERP system will include some parts of WMS, it will not offer a full-fledged WMS. So, if the need is to get comprehensive warehouse management done, it is better to go in for a WMS.
If the need is to integrate all departments and have all functionalities involved, the benefits of ERP are many. Each module in both comes with its own costing figures and hence budget also plays an important role in deciding which one to take. It also depends upon the size of the organization – be it small, medium, or enterprise. Hence, summing it up, it is 'to each its own!
SPEC INDIA, as your single stop IT partner has been successfully implementing a bouquet of diverse solutions and services all over the globe, proving its mettle as an ISO 9001:2015 certified IT solutions organization. With efficient project management practices, international standards to comply, flexible engagement models and superior infrastructure, SPEC INDIA is a customer's delight. Our skilled technical resources are apt at putting thoughts in a perspective by offering value-added reads for all.