What Is ETL Developer? Roles, Responsibilities, Skills And More
Updated
February 1st, 2023
"Data is like garbage. You'd better know what you are going to do with it before you collect it." – Mark Twain
Extracting the best out of heaps of data is the key to a successful business today. And this is what all industry segments have realized very well. Unless you leverage the huge amount of data and gain valuable insights from it, there is no value addition. But, unless the data is in an understandable and manageable form, it is tough to gain deep insights into it.
The key USP lies in extracting the data from various sources, transforming it, and then loading it into logical units. That is where the concept of Extract, Transform, Load (ETL) comes into the picture. And the resources that perform the ETL process in an optimal way are the skilled ETL developers.
Before we understand how ETL developers function and what their roles and responsibilities are, let us glance through what ETL means.
What Is ETL?
In computing, extract, transform, load (ETL) is the general procedure of copying data from one or more sources into a destination system that represents the data differently from the source(s) or in a different context than the source(s). The ETL process became a popular concept in the 1970s and is often used in data warehousing. –Wikipedia
Good Read: What Is ETL? Understand In 200 Words
ETL is a process in which,
Data is synthesized from disparate sources like flat files, databases, web services, etc. to create a data warehouse/data hub/data lake
Data integration happens through a common data repository
Extraction, transformation, and loading of data happens into the final output – data warehouse
Profound historical context is offered for the business
Data management takes place through a pre-defined process
Key Benefits Of An ETL Process
Simple to utilize via automated processes
Offers a visual flow of the entire process logic through a robust UI
Possesses an in-built error handling functionality to design and develop a thorough process
Suitable for complicated data management scenarios
Enhanced business intelligence and data access with ETL tools
Assists organizations in cost-savings and generating maximized revenue
Supports superior performance increasing technologies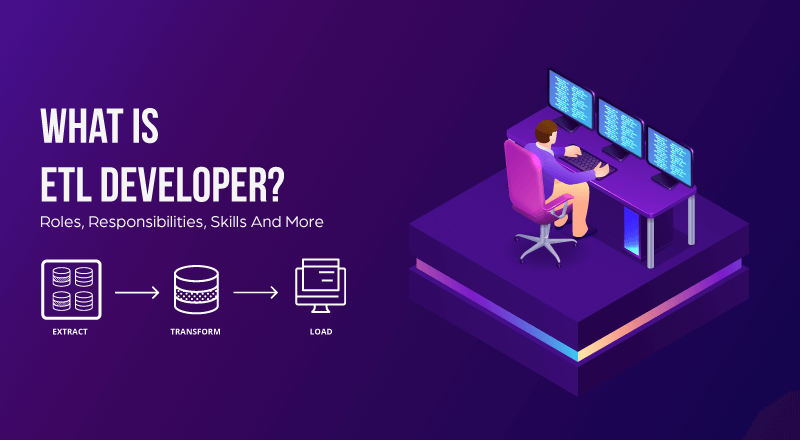 ETL Developer: An Overview
As a discipline-oriented role, they are the backbone of the entire ETL process, the fundamental reason why the ETL process is so leveraged and popular – ETL developers. They are a rage today and shall continue to remain so.
ETL developers are IT specialists and software engineers that manage the entire ETL process. As a part of the data engineering team, they also get involved in testing the performance of the system and solving discrepancies before it goes live. They gather raw data, decide on how to make it usable, process it to leverage its potential, and then store it in an accessible storage location.
ETL developers' study, analyze, and understand the data-related situation of any organization, and design, and develop data storage systems based on that understanding. They usually form an integral part of a consolidated team. They are sometimes employed by an individual organization or sometimes, they may come as consultants from an IT company.
ETL Developer Roles And Responsibilities
Ascertain the organization's data storage requirements and understand your data sources
Come up with the best strategy for best data extraction, suited to your organization
Handle data modeling, data warehouse architecture, data pipeline management, and ETL testing
Utilize various data warehousing fundamentals for setting up a data warehouse
Help to collect, manage, and analyze huge volumes of data for extraction, transformation, and loading
Implement database structure, data marts, data stores, and data lakes
Ensure high-end security and good quality of data
Come up with robust data flow models for the applications
Transforms data requirements into functional mapping designs
Safeguard proper functioning of data once the transfer is done
Seamless collaboration with data management teams on giving required data
Testing the warehouse infrastructure/storage system prior to data extraction
Offer regular maintenance support
Administering ETL tools, app integration, performance tuning
Working on technical/functional documentation
Monitor pre-decided ETL jobs and ensure resolution of discrepancies
ETL Developer Skills
Technical Skills Of ETL Developer:
Proficiency in at least one ETL tool like Informatica, SSIS, Talend, Pentaho, etc.
Experience in PL/SQL and Oracle development
Coverage of dimensional modeling techniques
Expertise in scripting languages (Python, Bash, Perl, etc.)
Proficiency in programming languages (JavaScript, Java, C++, etc.)
Specialization in database engineering skills – SQL, NoSQL, Hadoop, etc.
Exposure to warehousing architecture processes – MOLAP, ROLAP, EDW, etc.
Known to Hadoop components – Hive, Sqoop, Spark, Hbase, HDFS
If possible, understanding of modeling tools – Toad Data Modeler, Erwin, etc.
Parameterization of ETL jobs for better time management
Soft Skills Of ETL Developer:
Data analytical, thinking, and troubleshooting skills
Strong project management skills
Effective communication skills
Ability to solve complicated technical issues, understand risks prior to the occurrence
Competence to understand the large picture of the organizational data situation
Collaboration and team skills
Task organization, time management, and project management skills
Creativity, innovation, and bent for thinking out of the box and learning something new
Problem-solving skills
When Is the Role Of An ETL Developer Much Needed?
The role of ETL developers plays a significant role when you are creating and developing a huge data processing setup that includes a large amount of data from varied sources. ETL developers are needed when the flow of data is complicated and with multiple channels. The expertise of ETL developers makes it easy to extract, transform, and load the data with ease.
Especially in situations where there is a large amount of data to be stored, processed, and analyzed, ETL developers are apt in performing these steps owing to their professional expertise.
ETL developers are of great help when there is a lot of data profiling and cleansing involved. They also act helpful in performing basic BI-related tasks. Just in case, there is no separate resource to handle Business Intelligence And Analytics activities, ETL developers can compensate well and offer great results.
Frequently Asked Questions (FAQ) On ETL Developers
ETL is the consolidated process through which structured/unstructured raw data is extracted, transformed, and loaded into appropriate data warehouses.
ETL stands for Extraction, Transformation, and Loading.
An ETL tool is an appropriate instrument that automates the ETL procedure by providing the necessary framework and technology.
The ETL process is the basic method by which data is collected from disparate sources, transformed into a meaningful form, and loaded onto data warehouses.
ETL testing is the method to validate, verify, and quality data along with the prevention of duplicates and data loss.
An ETL pipeline focuses on a process of data extraction, transformation, and loading into destination databases, data mart, or warehouse. All the three phases are executed one after the other, through a pipeline.
Talend ETL is a popular ETL tool for data integration that offers comprehensive software solutions for various activities like data preparation, application integration, etc.
ELT stands for Extract, Load, and Transform. The basic difference between ETL and ELT lies in the fact that in ELT, the data warehouse is supposed to do the basic transformations whereas, in ETL, the data reaches the warehouse after the transformation.
Informatica ETL is a good tool to carry on the ETL process. It is usually leveraged to connect and fetch data from various data sources.
Python ETL is a popular tool used to build ETL pipelines. It facilitates users in customizing and controlling all aspects of the pipeline.
An ETL architect is someone who works on business intelligence projects and guides the organization through the ETL process.
ETL Developer: The Wrap-up
Though ETL does not sound like a highly prominent process as compared to big technological names being heard nowadays, it forms the basic building block of any data-related process. And, to bring a good result to it, the role of an ETL developer is prime, as seen above.
No wonder, the career opportunity and scope of ETL developers is increasing globally, with the newer generation offering the best of their skill sets!
SPEC INDIA, as your single stop IT partner has been successfully implementing a bouquet of diverse solutions and services all over the globe, proving its mettle as an ISO 9001:2015 certified IT solutions organization. With efficient project management practices, international standards to comply, flexible engagement models and superior infrastructure, SPEC INDIA is a customer's delight. Our skilled technical resources are apt at putting thoughts in a perspective by offering value-added reads for all.