Top ETL Tools Offering The Best Of Data Integration
The involvement and evolvement of data in today's businesses is growing leaps and bounds. The value of data and its importance in taking business decisions is now indispensable for organizations. Managing customer information, studying trends and patterns, analyzing KPI and metrics are all fundamental processes for effective business output.
One such process that can help in getting the best out of data is ETL and ETL software tools today are competent enough to optimize capabilities and avail real-time information from data warehouses.
Before we plunge into the pool of best ETL tools, let us glance through the fundamentals of ETL and its salient features.
What Is ETL?
In computing, extract, transform, load (ETL) is the general procedure of copying data from one or more sources into a destination system that represents the data differently from the source(s) or in a different context than the source(s) – Wikipedia
ETL signifies E – Extract, T – Transform, and L – Load. It is the approach that data engineers leverage for extraction of data from disparate sources, transformation into accurate information, and loading of that data into approachable, consolidated systems – the data warehouses. It enables detailed analytics of data that can be used for resolving business issues and offer insightful business information for further prospects.
It holds an important place in data integration processes, facilitating a variety of data to work together. As an important arm of the data engineering process, ETL is the core process for any type of data management. It is a trilogy of procedures that deal with heterogeneous databases leading to data in consolidated data warehouses.
Functions of Extract, Transform, Load – 
Extract:
Converts data from various data sources and gets necessary data sets
Retrieves needed data with the best utilization of resources
No disturbance to data sources, performance, and operating processes
Transform:
Filtering, cleansing, and data readiness for extracted data
Validation of records, contradiction, and assimilation of data
Sorting, filtering, clearing, standardization, translation, and verification of data
Load:
Extracting and transforming data to a data warehouse and then writing of data output
Inserting records physically as new rows in tables or linking of procedures from the major source
Key Features Of ETL:
Extraction of meaningful insights and patterns
Conversion of assorted data into a consistent and accurate form
Enhanced derivation of business intelligence from data
Possesses readily usable components
Easy management of complicated transformation
Maximum Return on Investment
Support for all types of data management
Perfect data formats and accuracy
What Is ETL Tool?
It is interesting to perceive what is ETL tool and what can it do. A single ETL tool performs all three processes as a single unit. Hence, the responsibility that it shoulders is quite high. It must offer accurate, secure, usable data for further analytics.
Over the years, the configuration of ETL tools has evolved and some best ETL tools have come up as competitive alternatives.
Organizations today need an ETL tool because of the following reasons:
Streamlining of data pipeline procedures
Reduction in manual processes
Managing repeatable and mundane tasks
Involvement of latest technologies like IoT, AI, and ML
Data governance requirements like GDPR etc.
Ensuring data quality and secure, trustworthy information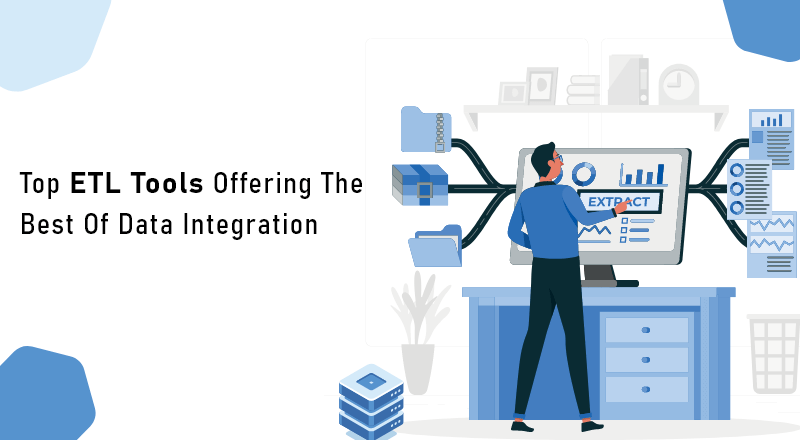 Top 30 ETL Tools To Consider In 2022
Pentaho
Apache NiFi
Talend
Hevo Data
Azure Data Factory
Blendo
AWS Glue
Google Cloud Dataflow
Xplenty/Integrate.io
Rivery
DBConvert
Logstash
SAS
Apache Camel
Xtract.io
Qlik Real-Time ETL
Oracle Data Integrator
Alooma
Jaspersoft
IBM Cognos Data Manager
Bubbles
Fivetran
RightData
Sybase ETL
Informatica PowerCenter
Airbyte
Apache Kafka
Matillion
Starfish
Parabola
Let's now have an overview of each tool from the above-mentioned ETL tools list.
Pentaho:
Pentaho is a highly popular ETL tool that offers data integration, analytics, and mining abilities. It is one of the prominent open-source platforms and provides a complete range of data integration, mining, dashboarding, customized ETL, and reporting facilities. This contemporary and robust BI software helps in integrating data from different resources, executing real-time analysis, and presents results in an interesting way, supporting and perfecting the decision-making procedure across the business.
Apache NiFi:
Powered by the Apache Software Foundation, Apache NiFi is designed for the automation of data flow between different software systems. It is a simple yet powerful and accurate tool for data distribution and processing. There is good support for robust graphs of data routing and transformation. There is a web-based user interface, high configuration, data attribution, and multi-tenant authorization. It offers a concurrent model with proper visual management. It is asynchronous and encourages the development of loosely coupled components.
Talend:
Talend is a popular ETL tool that helps in all the stages of the data lifecycle and offers authentic, clean, complete, and healthy data for your organization. It provides effective support for all cloud data warehouses with data integration, application and API integration, data governance, cloud-driven environment with multi-cloud and hybrid cloud as its salient features. There is good support for on-premises and cloud databases with connectors. It works most effectively with batch procedures.
Hevo Data:
Hevo Data is an intuitive data pipeline that offers good ETL capabilities. It can upload data from data sources to the warehouse for better analytical processes, in real-time. It is a no-code platform and can integrate data effortlessly and in a pre-built manner. It has a minimum learning curve and hence saves big on time. It easily manages all pipeline operations and futuristic changes in an automatic manner. It offers preload transformations through Python code. It supports multiple integrations to different SaaS platforms, analytics, and BI tools.
Azure Data Factory:
Azure Data Factory is a fully managed data integration capability that is perfectly fit to execute ETL processes. It can easily construct ETL and ELT procedures and offer integrated data to Azure Synapse Analytics for insightful information. It can integrate data with multiple, inbuilt connectors. It offers a cost-effective and pay-as-you-go model. It can rehost SSIS with inbuilt CI/CD support. It helps in accelerating data transformation with code-free data flows.
Blendo:
Blendo is a popular ETL tool that connects data sources to data in minutes. It simplifies the movement from cloud data to data warehouse and has native, inbuilt connection types. Data management and transformation is automated for swifter decision making. Cloud data is easily accessible from support, sales, marketing, for data-based BI analytics. Synchronization and automation from any SaaS application into a data warehouse is easily possible. Readymade connectors can be leveraged for connecting to different data sources. Integration is possible with other tools like Shopify, HubSpot, Salesforce, Google Ads, etc. in no time.
AWS Glue:
As an integral part of Amazon Web Services, AWS Glue is a serverless computing and data integration platform that executes codes in response to events. It is simple for discovering, preparing, and combining data for analytics and ML. It is event-based and has automatic management of computing resources. It provides code-driven interfaces and visual interfaces for making data integration an easy task. Along with Lambda functions, AWS Glue implements a complete serverless ETL pipeline. It possesses automated schema discovery and an integrated data catalog.
Google Cloud Dataflow:
Powered by Google Cloud, Dataflow is a unified stream and batch data processing tool that is quick, serverless, and user friendly. It is a fully managed service that provides huge scale data processing with real-time computational facilities. It has automatic management and provisioning of resources with accurate processing. There is horizontal autoscaling of worker resources for maximum resource usage. It helps developers focus on their programming activities rather than cluster management. There is almost a limitless allocation on a virtual level, for workload management without any extra overload.
Xplenty/Integrate.io:
Xplenty, now known as Integrate.io, is a known data integration tool that can strengthen your warehouse with ETL, ELT related processes. As a cloud-driven ETL solution, it offers simplified visual data pipelines around several data sources. The organization has powerful transformation competencies that help clients in cleaning, normalization, and data transformation. It assists in data preparation and centralization, transferring data within data warehouses.
Rivery:
Rivery is a leading ETL tool that offers a fully managed solution ideal for data transformation, orchestration, etc. All data processes are automated and orchestrated for garnering the best of data from huge datasets. The ETL platform looks at consolidation, transformation, and management of the disparate data sources involved. There are pre-built data models supporting Rivery which is a no-code and trouble-free platform. It helps teams with the construction of customized infrastructure for specialized projects.
DBConvert:
DBConvert is a cross-database conversion tool that helps in data migration within databases. This software converts and replicates data between well-known databases like SQL Server, Oracle, etc. It has more than 10 database engines that are accessible for tools like Microsoft Azure SQL, Google Cloud, Amazon RDS, etc. There are more than 50+ common migration directions. It migrates your data fast, transfers data in error-free mode converts views automatically, and synchronizes databases quickly.
Logstash:
Logstash, a free, open server-side pipeline, takes care of centralizing, transforming, and stashing your data. It collects data from disparate data sources and uses it for further use. It provides centralization of data processing and unifies data with equal data normalization. There is a lot of structured/unstructured data that is involved. There are other plugins that are used for connection with other platforms.
SAS:
SAS is a popular ETL tool and data integration software that permits data distribution amidst multiple data sources. There can be a virtual connection to any data source, with detailed analytics. Since all activities are centrally managed, users can access them remotely through the Internet. It also lets viewing of raw data files possible in external databases. Data management is possible through traditional ETL tools for data formatting, with the help of reports and statistical graphics.
Apache Camel:
Apache Camel is a known, open-source ETL tool that assists in the fast integration of different systems that involve data. It is an integration framework that involves a lot of integration patterns. There is support for about 50 data formats and multiple protocols that permits the translation of messages in different formats. There are hundreds of components to avail messages, databases, API, etc. It is based on enterprise integration patterns. It is standalone and can be embedded as a library, making things easy.
Xtract.io:
Xtract.io is a popular and innovative ETL tool that performs multiple activities like BI, data management and extraction, workflow management supported by different AI and ML activities. It fastens the data-driven business with data aggregation and extraction possibilities. It offers accurate location information for insightful information into the trends and market conditions. Data is combined from different sources and data is allowed to be consumable. The powerful dashboards and reports published by them can take impactful decisions.
Qlik Real-Time ETL:
Qlik is a popular family of ETL tools that help in creating visualizations and dashboards. Qlik Real-Time ETL has components such as Qlik Compose for designing, creating, and managing data warehouses, Qlik Visibility for identification of ETL-based workloads, Qlik Replicate for migrating data from the data warehouse to data lakes. These tools offer a variety of drag and drop interfaces for designing attractive data visualizations. It facilitates the usage of the natural search for navigating into complicated data. There is good support for different data sources and security too, for all devices.
Oracle Data Integrator:
Powered by Oracle, Oracle Data Integrator is an effective data integration platform that possesses all data integration needs. ODI is a collection of data components that can be accessed by multiple users simultaneously. It offers the best of productivity and user experience, big data support, and interoperability with other Oracle components. It offers real-time application testing and works for single-instance and real app clusters. Remote connect to the database, table, or view is facilitated with strong support for virtualization.
Alooma:
Alooma is the enterprise data pipeline that offers teams the best of visibility and control. It has ETL capabilities with safety nets that help in managing errors without any disturbance in pipeline functioning. It gives a modernized approach to data migration with scalability in its infrastructure. It combines data storage silos into a single location be it the cloud or on-premises. Alooma helps in solving problems related to data pipelines. It is simple, flexible, secure, reliable with effective error handling.
Jaspersoft:
Jaspersoft is a leading BI tool that has a good focus on ETL jobs and data integration functionalities. It is considered ideal for designing data visualizations just the way it is required. It is a part of the Jaspersoft BI suite accompanied by flexibility, customization, user-friendliness. There is a JavaScript API for embedding web standards. Multi-tenant support is available for better data security and resource availability. The architecture is open and can be executed on any device and any medium.
IBM Cognos Data Manager:
IBM Cognos Data Manager is a powerful ETL tool that creates data repositories and warehouses. It is an important part of the IBM Cognos Enterprise family of products. It culls out operational data from different data sources for transforming them into enterprise-level data, being offered to multiple data marts. There are other products like IBM Cognos Insight, Express, and Enterprise that can be leveraged for data-related activities. It also offers dimensional ETL competencies for high-grade BI. It offers multilingual support for better data integration competencies.
Bubbles:
Bubbles is a Python-based ETL framework that is used for data processing and measuring quality. It supports fundamentals like dynamic operation dispatch, abstract data objects, etc. there is versatility, usability, understanding of the procedure, audit of data, etc. It is based on metadata explaining the data pipeline and not on the script-based description. There are data objects as different abstractions of the datasets. Data objects can be used with operations that rely on metadata.
Fivetran:
Fivetran is a known ETL tool that has fully managed data pipelines. It easily adapts well to the data with newer fields. It is easy to set up since all sources of data have easily authenticated fields. It is simple, reliable and one of the best clouds-driven ETL tools. It does not need much coding skills or any data warehouses. You can add on newer data sources as and when needed. It helps in the creation of automatic and robust data pipelines with standard schema generation.
RightData:
RightData is a self-service, data integration, and DataOps solution that performs ETL and data integration testing and other processes. It helps in modernizing data platforms and ensuring data quality control. It helps users in validation and coordination of data be it any type of data model or source. RightData helps users to gather insightful information from the data with the help of advanced analytics and machine learning. There is a two-way integration with CI/CD tools and DevOps processes.
Sybase ETL:
Sybase ETL is a set of ETL tools that include Sybase ETL Development – a GUI to create and design data transformation jobs and Sybase ETL Server – a scalable grid engine for connection to various data sources and then loading data onto data targets. It also includes an ETL Development Server for controlling the processes like database connection and execution. Different ETL servers can be added on different OS in the system to extract data from different sources like Oracle, MS SQL Server, Sybase IQ, Microsoft Access, etc.
Informatica PowerCenter:
Informatica PowerCenter is a popular ETL tool that takes care of ingesting, integrating and cleansing data with different ETL and ELT solutions. Powered by Informatica, PowerCenter is apt for connecting and fetching data from disparate sources. It is ideally used for the creation of enterprise data warehouses. It has inbuilt intelligence for bettering performance with a limited session log. There is a centralized error logging system that helps in error management. Code integration is possible with other software configuration tools.
Airbyte:
Airbyte is an open-source ETL/ELT platform that looks at data integration for modernized data teams. Users can have all the data pipelines executing fast with teams relying on innovation. It has connectors, that run as Docker containers, and can be used out of the box via a UI and API that help monitor, schedule, and orchestrate well. These connectors can be created in the desired language and offer a great deal of flexibility via modular components. It integrates with DBT -Data Build Tool for transformation and hence makes a good ELT tool. It utilizes a singular repository for standardization and consolidation of all actions from the community.
Apache Kafka:
Powered by Apache, Kafka is one of the most dynamic products of the Apache Software Foundation. It offers enhanced documentation – online training, tutorials, sample projects, and broad community support. It is used to generate real-time streaming data pipelines. It is a perfect blend for messaging, storing, and streaming data, with proper storage and analysis. There is fault-tolerant storage because of which it is secure and trustworthy. It is written in Scala and Java and has emerged from a messaging queue to a complete event streaming platform.
Matillion:
Matillion is a known ETL tool that loads, transforms, and synchronizes data to offer analytically ready data with cloud-native data integration. It has simplicity, scalability, and speed. It offers modern-day analytics that converts raw data into analytically ready data for better insight into the future. It helps in unlocking the potential of the bulk of data. Enterprises can achieve business outputs in a streamlined manner. It is built for the cloud and for the enterprise.
Starfish:
Starfish is a successful integration and migration tool that handles ETL activities with client insight as the main aim. Users must select the app connector, offer the needed information and it is all set to extract the best of client insight competencies. The dashboard is simple and easy to create, with effective reports generated for marketing activities and newer products. It is flexible, robust, and can integrate easily with any possible database. There is a good amount of community support available for the resolution of queries.
Parabola:
Parabola is a popular ETL toolkit for smart and quick output. It takes care of automation of any manual activity that is to be done through spreadsheets. It is simple to use and implement, easy to understand, with a user interface easily made on the front page. The drag and drop facility can extract data from databases and port to relevant outputs. It has a good technical community. There is no requirement for the hiring of specified skills for the same. It helps users to create complicated reports on their own, in a fast and accurate manner.
Also Read: What Is ETL Developer? Roles, Responsibilities, Skills And More
As We Wind Up
From amongst the plethora of ETL tools list, selecting the ideal one is a challenging task and relies on different factors. Organizations must survey the tool's competencies, data analytical capabilities, user cases, pricing schemes, skilled expertise, working scope, etc. All these parameters will help in choosing the better out of the best. ETL is a fundamentally important process and hence choosing the right ETL tool is prime and calls for a detailed evaluation!
SPEC INDIA, as your single stop IT partner has been successfully implementing a bouquet of diverse solutions and services all over the globe, proving its mettle as an ISO 9001:2015 certified IT solutions organization. With efficient project management practices, international standards to comply, flexible engagement models and superior infrastructure, SPEC INDIA is a customer's delight. Our skilled technical resources are apt at putting thoughts in a perspective by offering value-added reads for all.