IoT, Power BI, And Azure Stream Analytics: Make The Most Out Of Real-Time Data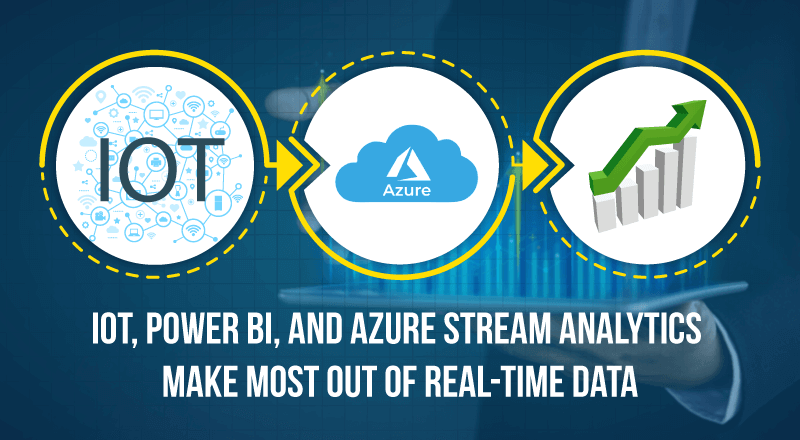 Microsoft has relentlessly worked on 'cloud-first' and 'mobile-first' strategy as promised by Satya Nadella, CEO of Microsoft.
By taking a bigger jump from subscription business models to modern technology solutions, Microsoft is now a top leader in cloud, intelligence, and IoT solutions.
Microsoft's Azure, a cloud computing service is gaining mega momentum and giving direct competition to Amazon's AWS and Google Cloud.
Adding more to the valuable and affordable solution stack, Microsoft's Power BI solution offers an advanced analysis of data, allowing users to make the most of the data to make better decisions.
Microsoft community is continuously enhancing Power BI to make it more accessible to those businesses that are making data-based decisions to solve problems and uncover true business potential.
Microsoft's Power BI And IoT: A Combination That Paves The Way towards Real-Time Reporting
Data is all around us. Data is everywhere.
Data is the most valuable asset and businesses must become data literate to drive better decisions at every level of business by manipulating, analyzing, and identifying an enormous amount of data.
With the more accessible and affordable technology solutions, it is easy to transform data into meaningful, actionable insights that would further improve your decisions.
Power BI is one such solution that makes it easy for businesses to extract useful data and then transform into knowledge using predictive analysis, various data visualizations, and advanced analytics.
Here, we are talking about Power BI's real-time IoT dashboard feature.
Before we understand this feature in details, there are few things you might want to take a look at:
What Are Real-Time Dashboards?
Real-time dashboards display real-time data i.e. time-sensitive, live data from IoT devices. This feature helps businesses to leverage the power of real-time reporting to make quick and instantaneous decisions based on the live data and identify trends as they take place.
For more clarity, here are some examples of real-time data use:
Media agencies can monitor live social media campaigns
Factories can monitor equipment using IoT sensors
The weather control system can use real-time data from sensors to predict accurately
Home devises management in real-time using sensor data
What Are Streaming Data sets?
Streaming data sets represent multiple streams of incoming data. With streaming data sets, you can manage and update dashboards in real-time.
What Are The Sources Of Streaming Data?
Sources of data can be sensors, usage metrics, social media, or any device from which real-time (time-sensitive) data can be collected.
Power BI enables you to create dashboards using real-time data and visuals with an easy setup process. In Power BI, there are three types of real-time datasets that can be used to present on dashboards. These are:
Push Data set – data is pushed into the Power BI service
Streaming Data set – quickly display real-time data using streaming dataset source by adding a tile and setting up custom streaming data
PubNub streaming dataset – a popular real-time streaming service using PubNub SDK and configuring a PubNub data stream as the source
Now, once the source of data is decided, there are three ways you can push data into a data set.
You can use Power BI REST APIs
Use Streaming Dataset UI
Use Azure Streaming Analytics
In the first approach, you can use Power BI REST APIs to push data into data sets and, in the second method, you can use the API approach to push data.
To understand the third method, we need to understand what Azure Streaming Analytics is:
What Is Azure Streaming Analytics?
According to the official Microsoft Azure blog, the definition goes like this:
Azure Stream Analytics is real-time analytics and complex event-processing engine that is designed to analyze and process high volumes of fast streaming data from multiple sources simultaneously.
Simplifying this, with Azure Streaming Analytics, you can run real-time analytics on a number of streams of data from sources such as IoT devices, websites, social media platforms, and other applications.
Have A Closer Look Into Real-Time Data With Azure Streaming Analytics
For any organization, collecting and analyzing data is not just enough. With the rise of IoT and cloud-enabled environment, having access to time-sensitive information on-the-go is of great significance.
Moreover, performing analytics on real-time data can yield a better result and can be useful in the below scenarios:
Fleet and driverless vehicle management
Predictive maintenance of devices
Real-time inventory control and anomaly detection
Stock trade and analysis based on real-time transactions
Scheduled maintenance and trigger events when certain conditions are met/observed
Website analytics to gain quick insights and to identify users' patterns
Measure performance of service, apps, websites based on the data collected from devices
Real-time monitoring and analysis of various values from IoT devices
Implementing such a system that takes real-time data and allows you to perform real-time analytics is a complex process. To make it more easy and accessible, Microsoft has come up with Azure Stream Analytics (ASA) that is powerful, high-performing, easy-to-use, scalable, and accessible.
How Does It Work?
Basically, it takes an input, processes it with SQL-based query, and generates output. Azure Stream Analytics supports three types of input sources. These sources are:
Azure Event Hubs
Azure IoT Hubs
Azure Blob Storage
It is a real-time analytics service that allows you building rapid streaming data pipelines that can further be used for storage, presentation, and actions like batch analytics.
The below image shows how data is being taken from various events, applications, sent for analysis, and then used for various purposes.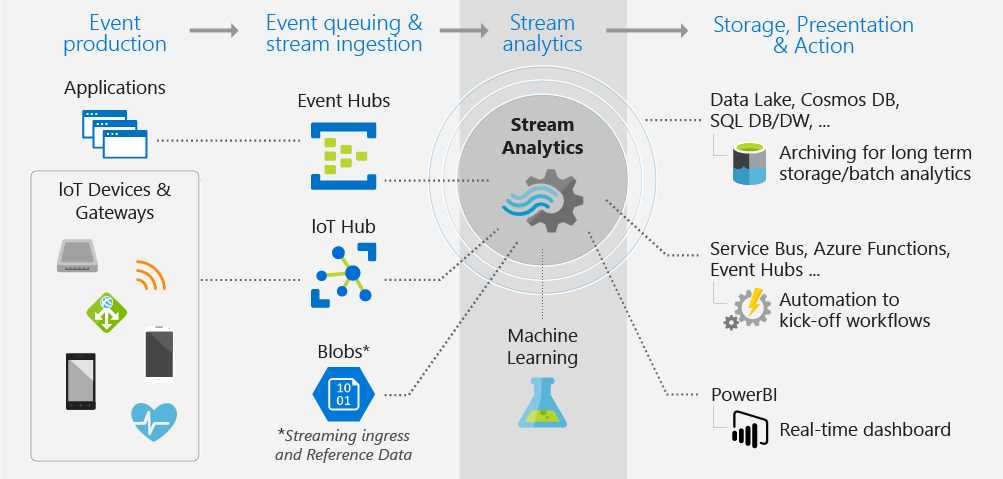 What Are The Advantages Of Using Azure Stream Analytics For Real-Time Streaming?
Easy-To-Use: This end-to-end analytics pipeline is easy to use and you can set up this in minutes.
SQL-based Query Language: It uses simple SQL-based query syntax and also extensible with JavaScript and C# custom code.
Cloud-ready And IoT-Ready: It is fully managed, platform-as-a-service in the cloud, handling a number of events (data from various sources, connected IoT devices, and maintenance of logs and streams) to perform the large-scale analysis in real-time. You can also integrate with Azure Event Hub and Azure IoT Hub to derive real-time insights. It can also run on IoT edge for data streaming and ultra-low latency analytics.
Secure: As per the official blog from Microsoft, Azure Stream Analytics encrypts all incoming and outgoing communications. It does not store any incoming data and it does all the processing in memory. Additionally, it supports all industry-specific and international compliance standards to secure every transaction.
Cost-Effective And Efficient Throughput: It offers a complete and efficient stream analytics solutions. It is high-performing, enterprise-grade, and scalable to handle complex queries, events, and applications and give reliable output based on multiple streams of data.
Machine-learning Capability: It has built-in support for machine learning capabilities, allowing the enterprise to use predictive intelligence. It helps organizations to take proactive actions based on real-time predictions.
The integration of Power BI and IoT has a lot to offer to the IT world, enabling powerful insights based on the real-time data to improve the decision-making process.
It makes real-time dashboarding possible and supports a wide variety of input and output data sources and destinations.
Transform Live Data Into Insightful Information With Power BI
IoT and business intelligence are being popular among developers, organizations, and industry verticals to strategically improve data analysis, creating a way towards improvised decisions and actions.
The potential of data in IoT devices and the performance of real-time analytics could bring many opportunities to many of the industry verticals.
'Data is the new oil' and such solutions are enabling smart use of data to maximize the growth rate. IoT-driven economies are still evolving and we yet to see what impact it could bring into the IT industry. But, having tools and technologies that support real-time data analytics is quite interesting to explore.
Isn't it? Did you find it interesting?
SPEC INDIA, as your single stop IT partner has been successfully implementing a bouquet of diverse solutions and services all over the globe, proving its mettle as an ISO 9001:2015 certified IT solutions organization. With efficient project management practices, international standards to comply, flexible engagement models and superior infrastructure, SPEC INDIA is a customer's delight. Our skilled technical resources are apt at putting thoughts in a perspective by offering value-added reads for all.