Top 20 Jira Alternatives That Will Shine Bright in 2023
Agile project management and Atlassian's Jira go together, for all those organizations that are going the agile way. Jira is a highly popular, agile project management tool leveraged for tracking and supporting agile tasks, bug solving, etc. It assists teams in moving fast, staying aligned, and building better.
Just like all other tools, Jira too has many alternatives. There are certain drawbacks of Jira that is leading organizations to look for Jira alternatives. Jira competitors could be free, open-source or paid. These alternatives to Jira work for a range of platforms like Windows, Linux, Mac, online, web-based, and self-hosted solutions and fall under the category of project management tools, task management tools, or Kanban Boards.
Before we plunge into the best Jira alternatives, let us glance through the goodness of Jira and later, understand why Jira competitors are in vogue.
What Is Jira?
Powered by Atlassian, Jira is a robust and agile project management software tool used extensively by agile teams. It empowers the team members to collaborate effectively and track and resolve issues with ease. It offers a variety of reports through dedicated dashboards, charts, Scrum Boards, and Kanban Boards.
It also simplifies reporting and follow-up on issues till they are solved. It does have a free version but not with too many features. The paid version has the most features. Organizations undergo planning, tracking, releasing, reporting, and automating activities with efficacy and ease with Jira.
Jira Features:
Customized workflows
Bug tracking
Permission settings
Third-party integration
Incident management
Completion of Scrum projects
Overview of team activity
Addition of custom fields
Incident inquiry for releases
Why Should You Look for a Jira Alternative?
Jira is popular since years, but it is not as easy as it looks. Here are certain evident reasons why organizations may now want to look for a Jira competitor:
Tough to learn especially for novices
Rigid pricing models
Complex migration capabilities
Obsolete interface
Not fit for freelancers
No support for multiple assignees
End of Life date for the Jira server nearing by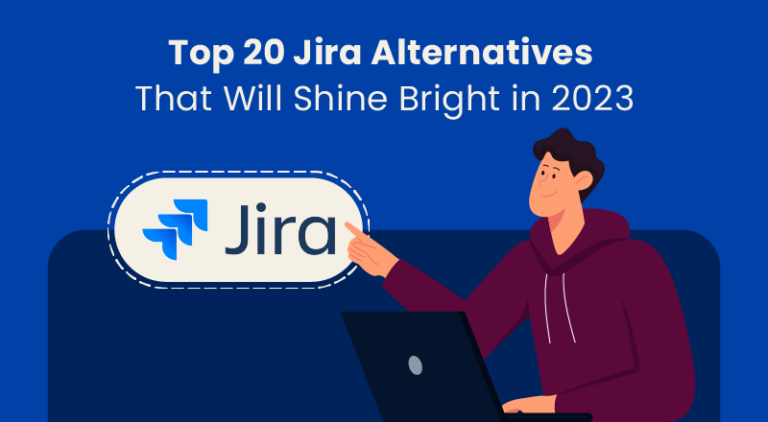 Top 20 Jira Alternatives To Look For In 2023
ClickUp
ProofHub
monday.com
Workzone
Redmine
Hive
Asana
Trello
Basecamp
Bitrix24
Kanboard
GitLab
Todoist
Pivotal Tracker
Shortcut
SmartTask
Wrike
Bugzilla
Trac
Taiga
ClickUp:
ClickUp is a popular Jira competitor utilized by organizations worldwide. It empowers users to completely tailor the experience in their own Space. You can set priorities, custom fields, tags, and synchronize Spaces with the workflow. It offers task checklists, multitasks toolbar, sprints, goals, super-rich text editing, etc.
Key Features:
Recurring tasks and multiple assignees
Seamless integration on Git workflows
Flexible status as per the workflow
Notepad, Sorting, and Filtering
List view, Board view, Box view, Calendar view, Gantt chart
ProofHub:
ProofHub is a well-known alternative to Jira that offers the best project planning and management services for all your projects and workforce. It offers a variety of competencies like sending direct messages through chats, creating topics for discussions and collaborating on them with the task force, creating different reports through Gantt charts, Calendar view, etc.
Key Features:
Set activities to be repeated at intervals
Division of projects into tasks and subtasks through Kanban boards
Announcements section for recognizing achievements and success
Timesheets, Files, Notes, Proofing, Advanced search
Easy integration with other portals like Google Calendar, Dropbox, etc.
monday.com:
monday.com is an innovative platform that signifies a new way of working and hence comes out as a good Jira alternative. It assists users in building tailor-made workflows and automates them to increase the efficacy levels of projects. It offers a visual collaborative workspace for all kinds of businesses and departments. It offers a variety of app integrations, easily usable automation, and real-time notifications.
Key Features:
Personalized work automation
Data visualization and end-to-end analytics
Round-the-clock client support
Centralization of all processes, tasks, files
Simple collaboration across departments
Workzone:
Workzone is a simple yet powerful alternative to Jira that is apt for teams where there are many non-technical users. It comes out as an ideal project management solution that offers personalized workspaces for IT, software development, marketing department, or product management.
Key Features:
Customized to-do-lists for specific action
Templates, tasks, and projects for each team member
Variety of reports for individual workspaces
Alerts and notifications for the completion of tasks
Document management, customizable reporting, project collaboration
Redmine:
Redmine is one of the free Jira alternatives that is flexible, cross-platform, and works well with all major databases. It is written using the Ruby on Rails framework. As a project management web application and issue-tracking tool, it offers a versatile file versioning system that lets users access the older versions of all documents, files, and projects, with ease and security.
Key Features:
Easily customizable with different themes and features
Effective time recording of tasks being handled
Access to multiple add-ons, plug-ins, and extensions
Open-source, flexible, and free to use
Advanced tools for Gantt charts, calendars, etc.
Hive:
Hive is one the best Jira alternatives that were created by the users for the users. It offers flexible project layouts that empower users to toggle between 6 different views with a single click. It is an adaptive tool since it is created based on user feedback. It has great collaboration and meeting features that can escalate the productivity levels of the task force.
Key Features:
Kanban project view for visualization and real-time information
Time tracking features for assigning time estimates to tasks
Native chatting system for better teamwork
Seamless meeting and calendar integration through a note-taking tool
Adaptable project layouts
Asana:
Asana is one of the leading Jira competitors that assists the workforce in tracking their work and marking their progress on different strategies. As an easy-to-use tool, it provides a range of integrations with other tools like Slack, Dropbox, etc. You can work through to-do lists, facilitate communication, and have effective project management.
Key Features:
Integrated time tracking and Kanban boards
A collaborative environment for project management
Multiple workspaces for teams and clients
Transparency for users to view all tasks and activities
Work, project, and task management
Trello:
Trello is known as a productivity center that eases project management for teams. It acts as a visual tool that leverages teams for any kind of workflow or task management and tracking. It is one of the tools that has a simple learning curve. There is a board view with drag-and-drop functionality that can change the status of tasks.
Key Features:
Simplistic, adaptable, and robust
Organizing tasks through Boards
Usage of Cards to represent and store tasks
Kanban-based collaboration and task management
Easy and real-time alliance between teams
Basecamp:
Basecamp is a known project management and online collaboration software that can serve as an apt Jira competitor. It involves an organized, superior, and simple methodology to manage projects. It has proven to be an easily adaptable tool because of its easy features and instant access to all the work done by users.
Key Features:
Simplistic task management and reporting
Group chatting and direct messaging
Docs and Files section for deep linking and uploading files
Universal search feature
Intuitive and easily navigable
Bitrix24:
As a free Jira alternative, Bitrix24 is a powerful project management workspace that offers effective monitoring of tasks, projects, time tracking, Gantt chart, Kanban board, task automation, task, and project templates. It offers seamless integration with all major services and applications.
Key Features:
Easy migration of data from third-party systems
Advanced functionality for documentation
Responsive templates, easy to perceive
Combines CRM, communication, and project management features
Ideal for all sizes of business teams
Kanboard:
Kanboard is an ideal Jira open-source alternative and a popular Kanban project management software tool. It is effective for visualizing tasks with the Kanban approach. Users can review projects along with project management and board sharing. It can maximize efficacy and assist agile and DevOps teams to ascertain the order in their work schedule.
Key Features:
Automatic actions for task management
Visual signals for quick understanding of work
Board configuration for numerous task administration
Analytics for creating user reports and task distribution
Assignment of user roles and administrative access
GitLab:
GitLab is a leading DevOps platform that provides task management activities for code and project planning. It is a Jira open-source alternative for huge DevOps and DevSecOps projects. There is a particular location that is earmarked for storing the code online and managing the CI/CD.
Key Features:
Code repository with collective software development
Issue tracking and vulnerability management
Code analytics for request merging
Managing designs by uploading design sheets
Time tracking and Roadmaps
Todoist:
Todoist is an ideal tool to organize your life and work schedules through a to-do list. It can be included as one of the prime contenders for Jira Alternatives. It makes use of the 'Getting Things Done' approach from the very start of the project. All activities can undergo assignment, planning, delay, or shift to a new location.
Key Features:
Surfaces the right tasks at the right time
Creation of sub-tasks, sub-projects, and recurring tasks
Automated backups
Access to multiple applications
Collaboration on shared activities
Pivotal Tracker:
Pivotal Tracker, as an agile project management tool, is one of the alternatives to Jira that provides access to boards, projects, and tasks. It offers the provision to perform automatic calculations of how fast the team can execute tasks. It takes a realistic approach and hence offers an honest view of how projects are functioning and their comparison with each other.
Key Features:
Scalable pricing model
No need for traditional timelines
Visual graphs for observing team performance
Easy integration with tools like Zendesk, GitHub, etc.
Unified view of all priorities for easy management
Shortcut:
Shortcut is a simple and robust project management tool that brings along planning and development as a unified experience along with securely coupled documents, issue tracking, and sprint planning. It offers a great deal of flexibility and attractive features like markdown support, seamless integration with GitHub, etc.
Key Features:
Toggle between weekly sprints, task boards, and planning with ease
Well-designed API for enhancing software development workflow
In-depth and instinctive visibility from a single agile dashboard
Supports all departments and hence easy for users to communicate internally
Zoom In, Zoom Out for better transparency
SmartTask:
SmartTask is a good Jira alternative with online collaboration competencies for the management of teams. It handles all business activities as a project management software. It integrates well with applications like Zapier, Slack, etc. It has a simple user interface yet robust management features.
Key Features:
In-built CRM and time tracker to manage contacts and time
Communication with video conferencing and chats
Project and custom dashboard to avail an outline of projects
Portfolio and Workload View
Automated check-in to meetings saving time
Wrike:
Wrike has been considered a leader in the category of project management tools. Its work management policy offers complete visibility and total control over all activities and projects. It offers optimal business performance, collaboration, and client experience. It is an easy-to-use tool that simplifies the internal partnership between the task force and project management procedures.
Key Features:
Seamless integration with multiple apps
Works well with tools like Google Drive HubSpot etc.
Pre-designed workflows for faster execution
Customized dashboards, tasks, workflows, forms, etc.
Efficient security and control mechanisms
Bugzilla:
As an effective alternative to Jira, Bugzilla has been a robust, web-based bug-tracking tool that facilitates teams to keep tracking bug fixes and changes in the code. It is ideal for situations in which there is a high volume of transactions and the complexity level is also more. You can avail of modernized bug database reports in different formats like line graphs, bar graphs, tables, and pie charts.
Key Features:
Supports Windows, macOS, Linux
Modern-day search competencies with time-based searches
Automated duplicate bug recognition
Planned daily/hourly/weekly reports through email
Time tracking and sanity check
Trac:
Trac is a popular tool that is ideal for users who are a part of software development, and need to keep a track of project milestones, issues and documents but wish to do so in an in-house environment. It is an open-source alternative to Jira and offers seamless integration with Wiki, a version control system, and a project roadmap.
Key Features:
Light weighted and web-based
Effective planning for simple projects and tasks
Choice of adding third-party plug-ins
Online viewing of the code repository
Wiki and issue tracking system
Taiga:
Taiga is one of the popular free Jira alternatives that is open-source and offers end-to-end, agile project management through a simplistic and attractive user interface. It leverages the Kanban, Scrum, and Scrumban methodologies for managing projects effectively. There is an in-built communication capability that is utilized by the teams for the best interaction output.
Key Features:
Easy to setup from scratch and simple user interface
Strong graphic capabilities
Secure, intuitive, stable, and independent
Ideal for cross-functional agile teams
Complete transparency into activities, deliverables, and resources
Jira Alternatives: A Concluding Note
Jira itself is a big name in the world of project management. Looking for an alternative to Jira is a tough task since the tool must have all the goodness that Jira has been spreading till now.
While looking for a Jira competitor, one must look at your chosen project management methodology, the way in which your team collaborates with each other, and the must-have features that your chosen tool must possess.
Jira surely has its own fan following but with technology advancing far and wide, there are newer tools, as listed above, that offer lesser complexity and better returns. Finally, it is up to you and your team to decide which one to choose from the list of Jira alternatives.
Many Jira competitors offer a free version or a free trial, that can be tested prior to choosing the best competitor to Jira.
SPEC INDIA, as your single stop IT partner has been successfully implementing a bouquet of diverse solutions and services all over the globe, proving its mettle as an ISO 9001:2015 certified IT solutions organization. With efficient project management practices, international standards to comply, flexible engagement models and superior infrastructure, SPEC INDIA is a customer's delight. Our skilled technical resources are apt at putting thoughts in a perspective by offering value-added reads for all.