Legacy Application Modernization – Digitizing the Future
Updated
December 19th, 2022
There are some things that grow better with age and some that cease to do so. The software is one such thing that is a necessity but needs to be better, upgraded and modernized with age. Though the importance of legacy systems doesn't decrease with time, since they contain important information, possibly, the usage of the same may not turn productive with time. Though seemingly outdated but highly critical, legacy application modernization is a must since they handle significant business processes within an organization.
There are various reasons as to why these legacy systems tend to be less usable. It could be because of their age, less support, unable to stand by the user expectations or unable to match up with the latest frameworks, architectures, technologies.  With digital transformation setting trends and latest application modernization services available, the best of information can be modernized through custom software solutions that can give totally new life to the legacy system. Enterprise digitization is on a success wave today and will continue so, offering a great deal of advantages to such legacy solutions to provide best of their information and enhance business to a large extent.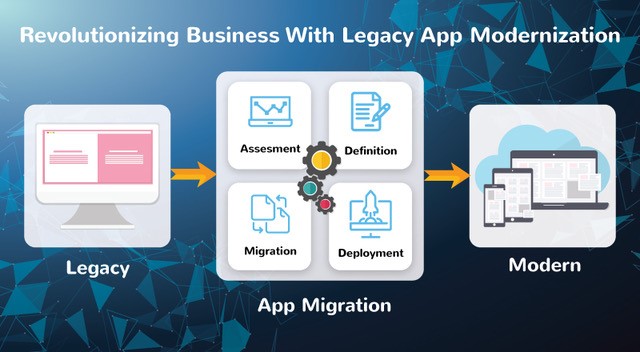 Why Is Legacy Application Modernization Essential Over A Period of Time?
As such, legacy systems meant for an industry are self-sufficient for a certain period. But with time passing by, there are certain evident reasons why the need to undergo modernization of these systems through custom software solutions is felt strongly:
Maintaining and supporting the legacy system can prove to be costlier than its original budget
With new industry rules and regulations always coming up, it becomes difficult for the system to integrate and comply with standards to match them
Security standards might prove to be outdated over a period with latest innovations never stopping their way
There could be a dearth of innovation impacting business performance and profitability
Efficiency levels of some business processes would tend to reduce with outdated software solutions
Key Benefits of Going in For Application Modernization Services
By modernizing your solution, you surely stand an opportunity to perform better than your peer competitors in terms of business agility, performance, profits and cost effectiveness
With today' business focus primarily on customer satisfaction and happiness, transitioning legacy systems into an enhanced digital version can surely bring in an enhanced level of user satisfaction, loyalty and retention
By deciding to move on to a modern-day software solution from an old one, you are all set to lead a cutting-edge and profitable business future thereby helping you focus on your goals in a better way
The legacy solution would be containing ample information which possibly may not be getting utilized to the finest. With modernization, a great level of information utilization is possible making the most of it
With systems going old, risks and errors are bound to increase. Migrating onto a modern-day solution immediately takes care of all the risks involved and their mitigation strategies as well
All important business processes, decision making, futuristic vision, financial implications, employee performance will get a higher boost affecting the productivity and profitability of business to a large extent
With modern day business focussing highly on inter-team and inter-department communication, migrating to modern solutions is sure to enhance team collaboration
The 'go-to-market' time will fasten garnering market benefits with novel development tools and technologies
6 Important Specification Pointers for A Successful Legacy Application Modernization
However best you try with modern-day custom software solutions, there are certain areas that could be missed out, directly impacting the performance and success of modernizing legacy systems. Following are certain questions that need detailed analysis and answers before proceeding for this transition:
Have you assessed the current state of legacy solutions? Is the assessment done systematically and in detail?
Amongst the multiple modernization methods available, which one suits your requirements the best and can garner quick business value?
Have you adopted a scalable, simple and integrable approach to migration?
How have you chosen your technology stack in terms of finest performance and integration?
How well is your transition from legacy to modern solution planned and how is the legacy solution going to rest comfortably?
Have you planned a thorough training schedule to orient business users with the intricacies of the modernized solution?
We @ SPEC INDIA have been actively involved in Legacy Application Modernization and Interface Development for global enterprise clients, which include Fortune 100 companies and SMBs. Our enriched quality standards and project execution methodologies have been instrumental while performing successful legacy migration for multiple industries, across the globe.
As a leading Custom Software Development Company in India, our skilled software resources have been implementing consistent and sustained custom software solutions with a multilayered range of services, in vivid technologies that can give your organization the best of business efficiency and effectiveness. Our Custom Software Development solutions have been successfully implemented across a wide range of enterprise clientele, all around the globe.
SPEC INDIA, as your single stop IT partner has been successfully implementing a bouquet of diverse solutions and services all over the globe, proving its mettle as an ISO 9001:2015 certified IT solutions organization. With efficient project management practices, international standards to comply, flexible engagement models and superior infrastructure, SPEC INDIA is a customer's delight. Our skilled technical resources are apt at putting thoughts in a perspective by offering value-added reads for all.