Top 12 Looker Competitors That Provide Optimal BI Services
The world is all about data and the technology that drives data to its finest is Business Intelligence. Organizations, worldwide, are leaning towards a variety of BI tools, to garner detailed and intuitive information from their heaps of data.
Looker is a popular Business Intelligence solution that offers an efficient way to explore and perform data analytics. It is considered ideal for organizations who are attempting to have data available for their full task force. It is competent to sail across business intelligence analytics to its users through attractive dashboards, reports, and data visualizations.
But, as we understand, it may not always be the apt choice for all organizations owing to unavoidable reasons like a high learning curve, costly pricing models, etc. Business owners may be looking at other Looker alternatives for their companies.
This write-up evaluates the best alternatives to Looker that have been popular for their BI capabilities and robust features and are best suited to your organizational needs.
Before we evaluate the Looker competitors, let us have a glance at what the Looker software is.
What Is Looker?
Looker software is a business intelligence software and big data analytics platform that helps you explore, analyze, and share real-time business analytics easily. As an enterprise BI platform, it is fit for data applications and embedded analytics for sharing insightful information.
Looker BI tool helps organizations create attractive visualization that offers interactive and dynamic dashboards. It helps create a trusted data bank from which users can create innovative data experiences themselves, without having to rely on others.
A variety of reports are generated which can be scheduled and automated. Implementation of Looker BI accelerates business growth, boosts revenue, enhances productivity, and offers intuitive information to all users. It makes use of Data Modelling Language with a predefined framework.
Looker Features:
Easy filtration to granular slices of data from the dashboard
Cost and performance optimization
Faster creation of data products
Enhanced decision-making and enriched data experience
Smarter insight into information
Embedded analytics
Seamless integration with Data Studio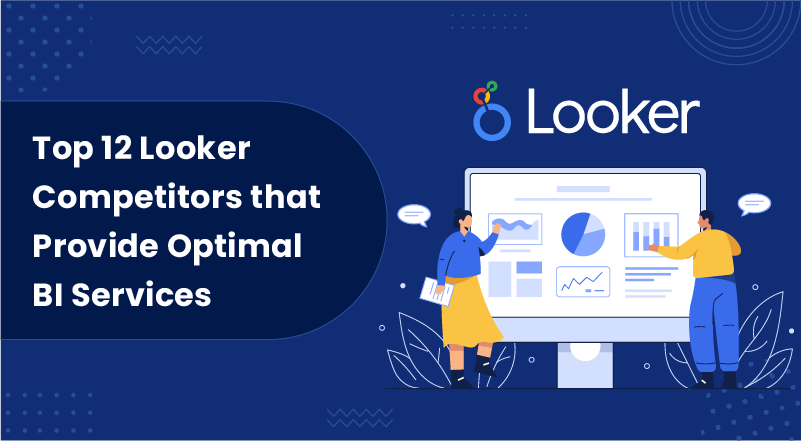 Top 12 Looker Competitors To Know
Microsoft Power BI
Tableau
Trevor.io
Sisense
Holistics
Metabase
Qlik Sense
Redash
SAP BusinessObjects BI Suite
MicroStrategy
TIBCO Spotfire
IBM Cognos Analytics
Microsoft Power BI:
Microsoft's Power BI is a strong business analytics tool and an ideal candidate as a Looker competitor. It provides users with a platform for the collection, analysis, and visualization of data via interactive reports and dashboards, energizing businesses to enhance profitability and discover insights.
It is a highly effective business intelligence tool that empowers users to connect with a disparate range of data sources, utilizing that data to execute enterprise analytics instantly, almost in real time.
Power BI Features:
Modernized dashboards and reporting
Real-time data stream analytics
Cloud-driven warehousing with Azure integration
Secure sharing and collaboration
Custom visualization
Tableau:
Tableau is a potent, comprehensive, secure, and scalable business intelligence and analytics tool that works as an apt Looker alternative. It offers a suite of products leveraging data aggregation, insightful analysis, and superior visualization to take data-driven decisions.
Tableau supports non-technical user groups to design and create flexible dashboards. It has been judged appropriate for secure and accurate analytics through data algorithms. There is easy integration with distinct data sources and quick designing of interactive visualization.
Tableau Features:
Saves on time and efforts
Secure and reliable analytics with data algorithms
Unified collection, sharing, and collaboration of data
Mobile-friendly, cloud-friendly analytics
Seamless and fast connectivity with different data sources
Trevor.io:
Trever.io is a complete, self-service data analytics tool that manages all your data requests and offers detailed insights with just a few clicks. Non-technical users can easily explore data intuitively, without any detailed coding, and get replies to all their queries.
Users can execute ad-hoc queries and avail detailed view of metrics. It offers a drill-down facility to explore connected data. It has the facility to detect database joins in an automatic manner, across different data sources. There is seamless integration with APIs and the workflow is completely modernized.
Key Features:
Offers protection to the database against heavy loads
Affordable pricing models
Live chat support
Secure ways to share live results
Access underlying SQL through query builder
Sisense:
Sisense is a known alternative to Looker that empowers users with infused analytics into different streams of work and creates a self-service experience for availing AI-based information. Users can handle multiple consumers with a common server and get the best of data visualization, modeling, and AI analytics.
Sisense is a flexible tool and caters to the needs of any size and segment of the industry. It provides a 360-degree view of the valuable information extracted across workstreams. It offers seamless cloud and on-premises integration.
Sisense Features:
Data exploration with code and no-code methods
Predictive and intuitive analytics powered by ML
Easily embeddable analytics and visualization
High end customer support and documentation
Scalable, robust, user-friendly, and easy to learn
Good Read: Sisense vs Power BI: Which BI Tool Is Ideal For Your Project?
Holistics:
Holistics is a self-service BI tool that assists users of non-technical groups in availing data in the way they want, without depending upon IT teams. It offers a centralized data modeling mechanism through which users can create business metrics, and reports with data logic and detailed analytics.
It has an easy learning curve and a self-service nature, because of which users find it attractive to use. There is a drag-and-drop interface that helps in the faster creation of dashboards and reports.
Key Features:
ETL capabilities with multiple integrations
Centralized management of data
Self-service analytics ideal for non-IT users
Robust delivery competencies through alerts, emails, embedded analytics
Access to Git version for committing and tracking code
Metabase:
Metabase is an open-source BI tool with efficient features like drag-and-drop functionality, making analytics easily accessible to users. It offers a variety of reports and dashboards that are understandable and come in different formats like graphs and tables. It does not demand the knowledge of SQL, for the users to work on it.
It is instinctive, comprehensive, and involves data modeling that is best for teams that don't need to get into minute details of data. It looks at the main level of information not going into the intricacies of other levels of data.
Key Features:
Free and open source
Light weighted
Easy-to-use interface for non-technical users
Fast access to the first layer of information
Flexible and all-in-one BI platform
Qlik Sense:
Qlik Sense is a dynamic and comprehensive analytical tool that can easily manage the most complicated analytical issues. It offers fast and effective insights into data along with their relationship with each other, for the entire range of users. There are drill-down and drag-and-drop features that can help users in extracting valuable insights from data.
Users can create modern-day, interactive reports and dashboards with attractive graphs and charts, with a self-service competence. It moves a step beyond dashboards to offer predictive analytics and discover patterns and trends.
Qlik Sense Features:
Centralized management for sharing and creating applications
Self-service capabilities
Mobile-first approach for mobile apps
Associative analytics engine
Data-driven enterprise
Redash:
Redash is an important Looker alternative that offers an SQL-based BI platform that performs a wide range of data analytics. It is open-source in nature and offers faster connections to data sources. There is a drag-and-drop data visualization capability that is effective and offers excellent results.
Redash empowers users to make the most out of data irrespective of the technical knowledge they have. It helps in the exploration, querying, visualization, and sharing of data from disparate data sources.
Key Features:
Auto update of data
Seamless integration with third-party apps
Drag and drop facility
Executable on own servers
Supports SQL, NoSQL, Big Data, and API data sources
SAP BusinessObjects BI Suite:
SAP BusinessObjects BI Suite is a popular suite for monitoring performance and measuring KPIs, data reporting, visualization, and sharing. It relies on SAP's Business Technology platform and makes use of it for converting data into insightful information that can be accessed from any location, any time.
It stresses financial documents that have monthly reports, forecasting figures, the performance of the organization, etc. Thorough reporting and analysis can be done by users to extract in-depth information from huge bulk of data.
Key Features:
High performance and efficiency
Enhances business process agility and growth
Robust expertise and experience
Strong financial background
Helps in in-depth visibility and fast decision making
MicroStrategy:
As a strong Looker competitor, MicroStrategy is a popular embedded analytics and enterprise BI platform. It assists organizations in taking insightful decisions and optimizing business flow. It offers extended analytics with the flexibility to give out attractive visualizations. Data can be extracted from multiple resources and comprehensive reports can be generated.
Reports and dashboards, here, can be accessed from any device, at any time and are dynamic in nature. There are many functions, features, and settings that make reporting easy for non-tech users.
MicroStrategy Features:
Designs and created smart applications
Connects easily with third-party applications
Easy customization and sharing of reports
Useful and concise collection of information
Effective risk management and compliance
TIBCO Spotfire:
TIBCO Spotfire is a common BI platform that presents driven insights, performances from AI-inspired analytics, and custom business products. It maintains a massive client base with a bigger market share.
It is an intelligent, adaptable, enterprise analytics platform that extends data visualization and predictive analytics over efficient dashboards. Its collaborative analytical app facilitates the derivation of perceptive information from large business data that is processed.
TIBCO Spotfire Features:
Big Data and Predictive analytics
Enhanced decision making
Reduced time to market
Efficient UI and visual controls
Strong user community support
Good Read: Spotfire vs Tableau: A Comparison Between The Two BI Titans
IBM Cognos Analytics:
As an alternative to Looker, powered by IBM, Cognos Analytics offers AI-driven business analytics that helps you understand organizational data comprehensively and take important business decisions. It offers seamless integration of different activities like reporting, modeling, generation of dashboards, and managing events.
It helps organizations discover perceptions that are concealed in the data and accelerate revenue and growth with AI-based decisions. There are many plug-ins available that integrate seamlessly with the tool and thereby offer quick results.
IBM Cognos Analytics Features:
Creates operational efficacy and control
Accelerates business growth and decision making
Centrally integrates all involved business functionalities
Robust customer focus and community support
Reduced time to market
Looker Competitors: The Wrap-up
The above alternatives to Looker are interesting and capable enough to fulfill all your BI-related requirements. As a final call, which Looker competitor to choose is a decision you may take after a detailed analysis of various parameters.
It is necessary to study different areas of work like skilled expertise, project costs, budget figures, project deadlines, the scope of work, and technologies accessible. After which, a joint decision can be taken wherein you can choose the best Looker alternative for your project!
SPEC INDIA, as your single stop IT partner has been successfully implementing a bouquet of diverse solutions and services all over the globe, proving its mettle as an ISO 9001:2015 certified IT solutions organization. With efficient project management practices, international standards to comply, flexible engagement models and superior infrastructure, SPEC INDIA is a customer's delight. Our skilled technical resources are apt at putting thoughts in a perspective by offering value-added reads for all.