Looker vs Tableau – A Detailed Evaluation Of Two BI Tools
"BI is about providing the right data at the right time to the right people so that they can take the right decisions." – Nic Smith
In a world driven by self-service business intelligence, there are two technologies that are assisting organizations in extracting the best of valuable information – Looker and Tableau. These two tools have come in very handy to users in offering clear, accurate, and useful visualization. Both are simple to use, have high standards of client service, and alluring, interactive visualizations.
There has been a constant comparison between, Looker vs Tableau especially because both have good points to showcase. Of course, the decision on choosing the right one depends upon many factors like current infrastructure, organization size, and needs, types of visualization needed, type of access wanted, etc. Both have been instrumental in offering in-depth information about the organization's business position and futuristic goals.
Before we look into a detailed comparison of Tableau vs Looker, let us, individually go through the characteristics of each, to know them better.
Looker BI Tool – An Overview
The Looker BI tool is a big data analytics program and BI software solution that looks at communicating, discovering, and scrutinizing real-time business analytics easily for business users. It has been helping organizations of all sizes and segments, as a strong data analytics platform. Looker is browser-based and gives a distinct modeling language. It offers various ways of interactive visualizations, making it simple for users to grab their data in their desired output format.
Tableau – Overview
Tableau is the world's leading analytics platform. It helps people see and understand data. Its visual analytics platform is transforming the way people use data to solve problems. It is a powerful BI tool that is augmenting data visualization by analyzing huge volumes of data and easy, effective report creation. It has salient features that help in creating innovative dashboards and reports, with the provision to embed dashboards into a certain business application like Salesforce, Jive, etc.
Looker vs Tableau Key Features:
Features of Looker BI Tool
Browser-based offers singular modeling language
Highly customizable and intuitive
A vast library of visualization charts and diagrams
Easy integration with databases and big data platforms
Good customer support and technical documentation
Simple to use, device friendly
Easy sharing of links and collaboration with teams
Features of Tableau BI Tool
Fully customizable, interactive visualizations
Storyboarding and Spatial file connector
Easy integration with a number of data sources
File access with cloud and data warehouses
User friendly, intuitive, and single sign-on
Point and click user interface with online analytics
Drag and drop feature
Looker vs Tableau: The Organizations Using Them
Companies Using Looker
Boston Limited
Kaseya Limited
Stanley Black & Decker Inc.
Whole Foods Market Inc
Square
Deliveroo
CircleCl
Typeform
PLAID,
Cisco
Databricks
Kohler
Mitsubishi
Companies Using Tableau
Accenture
Coca-cola
Skype
The New York Times
Citigroup
Nike
The World Bank
Amazon
Cisco
Intel
Lenovo
Merkle,
Nokia
Pepsico
Looker vs Tableau:
Possible Alternatives
Looker Competitors:
Sisense
Mode
InsightSquared
Domo
Qlik Sense
Zoho Analytics
MicroStrategy
IBM Cognos Analytics
Alternatives To Tableau:
Looker
Sisense
InsightSquared
Domo
MicroStrategy
Qlik Sense
IBM Cognos Analytics
Microsoft Power BI Desktop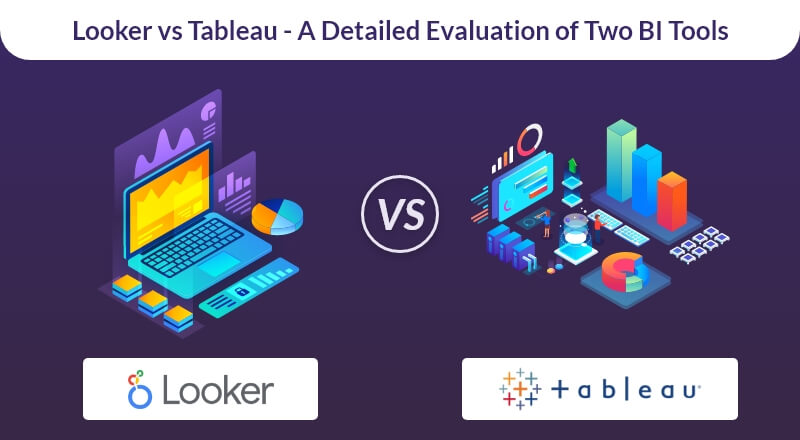 Looker vs Tableau: Comparing Two BI Stalwarts
Looker and Tableau have different positive points and negative points, some of which are even similar in both. Both have carved a niche for themselves in the world of business intelligence solutions. They have been serving a wide range of clientele with an assorted variety of business reports, dashboards, and other reporting styles, in a self-service manner. No wonders, users are impressed with them both, since there is the least dependency of users on their IT staff, to avail their desired reports.
Here are some of the key parameters by which the comparison between Looker vs Tableau can be determined to know their difference
| | | |
| --- | --- | --- |
| Parameters | Looker | Tableau |
| Customer Service and Support | Email support, training platform, extensive online support | Responsive customer support, category-wise subscription |
| Pricing | Offers customer-friendly pricing models | Offers tailored subscription models |
| Ease of usage | Simple, straightforward, smooth, efficient | Simple, more tailored to help professional analysts |
| Implementation | Faster to deploy since it is browser-based and packaged in a .jar file | Wide variety of implementation plans including phase-wise processes |
| Key characteristics | A data discovery platform, real-time data access, browser-based | A robust tool, with a drag and drop feature, promotes sharing of insights |
| Integration | Easily integrable with any data warehouse or SQL database, has good extension features to facilitate work with other products | Offers alternatives to embed dashboards in existing applications through CSV, spreadsheets, Google Analytics, etc. |
| Embedded Analytics | With developer tools like APIs, SDKs, and an integration library | With a fully customizable interface through JavaScript API |
| Data Visualization | Ideal for creating charts and graphs with drag and drop feature, mapping feature encourages self-service BI | Visualization can be created with dashboards, worksheets. Readymade templates help in self-service |
| Data Modeling | Powerful and flexible LookML data model offers sophisticated tools for high-end analytics | Snowflake and dimensional data model, used in a data warehouse, helps in enhancing performance |
| Reporting | Standard reporting templates, ad-hoc reporting for customized reports | Customizable reports with extensive connectors, in multiple output formats |
| Speed | A bit slow in data processing and creating reports. It takes a lot of time to share reports with users. | Process of creating reports and faster and simpler since it will share reports in online and offline mode |
| Data Security | Security features like two-factor authentication, HDAP, etc. | Security at all levels, user-specific permissions for accessing reports |
| Operating Systems | Supports Windows, Linux, and Mac OS | Supports Windows and Mac OS |
| Mobile-based Support | It can be availed on any browser through web-connected mobile devices | It has a mobile web application supporting Android and iOS devices |
| Big Data Integration | Access to Amazon Redshift, Snowflake, Google BigQuery, etc. | Access to Cloudera, Hadoop, Oracle, AWS Redshift, Teradata, etc. |
| Document management | Conversion of reports into HTML, JSON, TXT, CSV, PNG etc. | Conversion of reports into PDFs, images, crosstabs, spreadsheet files, etc. |
| Customer category | Small business/large enterprise/medium enterprise | Large enterprise/medium enterprise |
| Language | English/Dutch | English |
| Online Analytical Processing (OLAP) | Replaces traditional OLAP with in-depth data examination. | Data is organized in cute format with layered data. Includes data drilling, filtering, exploration. |
| Data Analytics | Has customizable blocks with SQL patterns, visualizations | Uses cross-database technology with extraction from multiple datasets |
Looker vs Tableau – Final Say
Through the above comparison between Tableau vs Looker, it can be seen both Looker and Tableau have their own strengths to portray, both being one of the most sought-after BI tools across the globe. Tableau is more sophisticated; Looker is easier to use. To each its own! Based on user requirements and a detailed study, organizations can decide on which one to choose from. Whichever they finalize, it is a deal to be happy about!
SPEC INDIA, as your single stop IT partner has been successfully implementing a bouquet of diverse solutions and services all over the globe, proving its mettle as an ISO 9001:2015 certified IT solutions organization. With efficient project management practices, international standards to comply, flexible engagement models and superior infrastructure, SPEC INDIA is a customer's delight. Our skilled technical resources are apt at putting thoughts in a perspective by offering value-added reads for all.