Microsoft Hits $1 Trillion Market Cap Case Study: Lessons For Enterprises
Hit Refresh.
Satya Nadella, CEO of Microsoft wrote the book titled 'Hit Refresh' and he did the exact same to position Microsoft as third $1 trillion Market Capital Company after Apple and Amazon.
We know that Microsoft is a legacy.
With the cloud-first approach and Satya Nadella's strategy to refocus on the products which were struggling in the market, the company made a new record of hitting $1 trillion market capital. This comeback is recognized all over the world and receiving a laudable response.
And there is a lesson to learn for all enterprises, big or small, regardless of the business they operate in.
Yes, how Microsoft regained its lost position with the help of apt strategy and adaptive leadership can teach a valuable lesson to enterprises.
Many companies aspire to change the world. But very few have all the elements required: talent, resources, and perseverance. Microsoft has proven that it has all three in abundance.
– Satya Nadella
Here Are Some Supportive Figures And Facts:
Revenue for Azure, Microsoft's flagship cloud services increased by 73 percent over the last quarter
Microsoft's profit rose 19 percent, making it a leader in cloud computing space
Social Networking platform, LinkedIn and productivity tool, Office generated $10.2 billion revenue
How They Achieved That? What Are The Lessons For Us Being An Enterprise?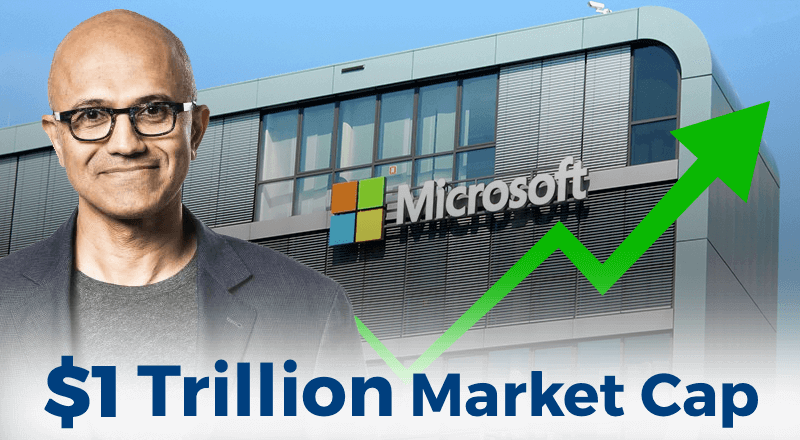 What worked for them?
Microsoft is not just the "Windows company" anymore.
This 43-years-old company has gone far beyond the subscription-based model for enterprises and businesses. They are laser-focused on business, productivity, and utility tools rather competing in the mobile market.
There are several things that played a key role in Microsoft's comeback.
They Embraced Powerful, Modern Technologies
Microsoft embraced the cloud-first approach and today it has become a leading player in cloud-computing, competing with Amazon's AWS and Google's cloud offerings.
Use of modern technologies drove growth for Microsoft.
The Lesson For Enterprises:
Outdated technologies often lead to less productivity, fewer opportunities, and often fail to capture significant attention.
To grow, one must keep the pace with change. Fundamentally, Microsoft adopted the use of the latest technologies and now it's stock prices have nearly tripled.
Satya Nadella quoted Microsoft as the productivity and platform company for the mobile-first and cloud-first world.
Microsoft shifted its focus from old license-based technology services to modern, scalable, and suitable cloud services, encouraging small business owners to upgrade their technology toolset.
Have you 'upgraded' your business technologies?
They Are Focused On Its Strength
We all know that Microsoft has a clear focus on business productivity and utility tools. Despite that, Microsoft entered in mobile space and begun manufacturing a line of devices. Eventually, In October 2017, Microsoft ceases the operation and declared that they would no longer develop new mobile phones.
Microsoft abandoned mobile space.
A Lesson For Enterprises:
They didn't look upon on its past.
They continue to grow.
They continue to improve.
They continue to learn.
And that's how they achieved the leading position in the market.
Instead of discussing failure over and over again, they transformed Microsoft's strategy to cloud-first which, in turn, helped them acquiring new heights and innovation.
If you are going to have a risk-taking culture, you can't really look at every failure as a failure, you've got to be able to look at the failure as a learning opportunity.
– Satya Nadella
We often encounter failure. Microsoft hasn't stopped with the inability to continue in mobile space. They refocused and leveraged its legacy to build business-utility solutions and take them to the highest levels.
They adopted new technologies and modern ways to renovate their existing products to empower small businesses.
They didn't compete; instead, they chose a path to strengthen its own strategy to empower every business and professionals to create more useful solutions.
They are ahead of the game, already.
Don't stick to failure, learn a lesson, and move towards next milestone.
Think about other possibilities.
Leadership Goals From Satya Nadella
This is a crucial part of every enterprise.
Strategic and visionary leaders not only direct the company's growth journey but establish a culture where every employee is putting best efforts.
Leadership is all about how you act, how you treat employee, how you inspire them, how you make decisions, how you differentiate productivity and innovation, and so on.
Under Satya Nadella's leadership, Microsoft has evolved as a leader in cloud computing offerings and surpassed a market value of $1 trillion.
Technologies will come and go, so you need to be able to both ask and answer the question: What do you do as a company, why do you exist?
– Satya Nadella
That's how they shifted to cloud business and fueled the company's growth. Satya Nadella made cloud the main service rather let it run as a side business.
He also took decisions in favor of small businesses by launching Office 365 in a cloud. He believes in continuous learning and promotes healthy culture among the team to create something beautiful which people would love to use.
The Lesson For Enterprise:
The way I measure my life is 'Am I better than I was last year?'
It seems like Satya Nadella formula really worked. Microsoft has already taken significant decisions like making Microsoft apps available on every platform, shift from Windows-centric to service-based offerings, embracing the open-source environment, and so on.
Leaders are the one who establishes a culture of learning, encourage them to work passionately, inspire them to achieve something, and guide them whenever required.
Satya Nadella addressed his team and wrote in his email,
"Each one of us needs to push on what technology can do for people and for our world. It will take courage to keep learning and growing together — encouraging one another's individual strengths, building more diversity and inclusion across our teams, and collaborating as One Microsoft. It's amazing what we have been able to accomplish together, and yet I still believe we are in the very early days of what is possible."
Putting people first can make a difference.
If your enterprise is constantly missing that spark or energy, or often trap into wrong decisions, you need to redefine leadership.
Identify key people in your organization and give them the authority to make decisions. Allowing people in decision making and involving them in that process will always reward in the best way.
Have you thought about this?
Case Study Of Microsoft: What You Need To Learn?
We thought that Microsoft's milestone achievement should be considered as a case study rather just news. We believe that a growth-oriented mindset helps the company achieve new heights but that mindset starts from you.
Whether you are an employee, organization, leader, or decision-maker, take Microsoft as a source to learn something and apply those learning to create something that can empower people.
Your thoughts?
SPEC INDIA, as your single stop IT partner has been successfully implementing a bouquet of diverse solutions and services all over the globe, proving its mettle as an ISO 9001:2015 certified IT solutions organization. With efficient project management practices, international standards to comply, flexible engagement models and superior infrastructure, SPEC INDIA is a customer's delight. Our skilled technical resources are apt at putting thoughts in a perspective by offering value-added reads for all.