MVP for Startups – Leading the Road to a Successful Business
Updated
September 20th, 2023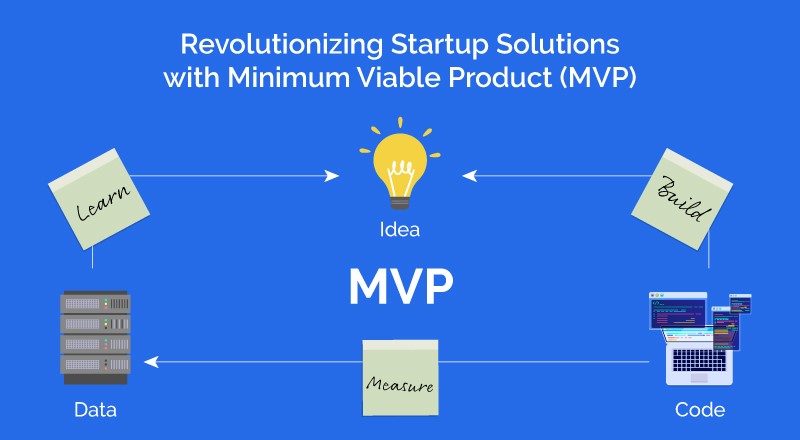 "Startup success can be engineered by following the process, which means it can be learned, which means it can be taught." – Eric Ries
With startups becoming the latest mantra today and young talent getting increasingly enterprising, implementation of Startup IT solutions is vital to the success of any business. Striking and scaling a balance between time, scope and money while developing startup solutions is challenging and so is easing out technology build in them.
Have a look at certainly proven statistics, depicted below that showcase the performance of startups:
74% of high growth Internet startups fail due to premature scaling
Startups that scale properly grow about 20 times faster than startups that scale prematurely
29% of businesses run out of cash before they are able to get fully established
Most startups end up in a mess owing to premature scaling and lack of planning the entire solution. That is where the need for a Minimum Viable Product (MVP) arises.
MVP Development For Startups
MVP is an acronym for Minimum Viable Product. As the name suggests, it is an initial product that possesses the fundamental features of an application that takes care of the basic needs of the customer. Breaking it further, to understand better:
It offers a minimum product that is simple and basic
It does cover all basic needs of the customer and is viable to use
It uses resources only as much as needed
It balances well between time, cost and scope
It is not unfinished or primitive and is a wholesome product, in its own terms
This is what the popular definitions of MVP are:
"A minimum viable product (MVP) is a product with just enough features to satisfy early customers, and to provide feedback for future product development." – Wikipedia
"A minimum viable product (MVP) is a development technique in which a new product or website is developed with sufficient features to satisfy early adopters. The final, complete set of features is only designed and developed after considering feedback from the product's initial users." – Techopedia
Garnering insights from MVP is usually less costly than developing a product with more features, which enhances costs and risk if the product fails. The term was coined and defined by Frank Robinson in 2001 and popularized by Steve Blank and Eric Ries.
The lesson of the MVP is that any additional work beyond what was required to start learning is waste, no matter how important it might have seemed at the time. – Eric Ries
Reasons Why and How Startup Solutions Benefit from MVP?
Here are the top 6 reasons why building an MVP for your startup is a wise choice:
Saving Big Time on Timelines
Imagine putting your best efforts in making a worthy product and releasing all together at the end, only to get feedback from the users that are not very promising. There is so much waste of time. Instead, while creating an MVP, there is less time involved with more focused work. This surely saves big time on time utilization.
Increased Chances of Bringing in Investments
For a startup, money is always crucial. Preparing MVP and implementing it successfully could grab a few eyeballs in terms of appreciation. This could attract investors to put in their money into our startup venture and thereby offer a great financial support. Once your MVP is implemented with focus and planning, there are sure chances of investors wanting to put more.
Development Cost Will be Lessened
Whatever comes, comes with a cost. Bigger the startup, the complex is the requirement, more is the cost involved. With an MVP implementation in the picture, there is an automatic reduction in the development cost involved in the project. Even if there are challenging consequences, there is not much to lose as compared to implementing the whole solution together. Once a small basic portion is done, there is lot more clarity, confidence and assurance of further success and that is what MVPs help in achieving the best.
Understanding User Readiness Becomes Easier
After all, it is the end user for whom the entire development, design, and testing is being done. Knowing what the user exactly wants, well ahead of time, assures you of a successful implementation schedule. Because of MVP, there is a close interaction between the development team and end-user team right from the start. This leads to a deeper and accurate understanding of user requirements creating the minimal gap between the user needs and the actual solution. Providing a big bunch of features that the user may not even want doesn't lead to a successful product.
Getting Response from Customers Strengthens the Product Further
It is always a vital element to understand and perceive user's feedback as early as possible. With the help of MVP, you can get an early feedback from users in terms of their requirement fulfillment, UI, UX, wanted and unwanted features and other aspects of development. This helps in managing the software in the correct direction with the help of needed response from users.
There is Lot of Effort Savings
With MVP development, there is a lot of focussed effort put in the start, but it is totally worth it. Once the MVP for startups is implemented, there is a lot of effort that can be saved for the further course of action since the base fundamental is ready and fine. Risk involvement also is lesser as compared to building the whole application together.
How to Implement MVP for Startups Most Effectively?
Get realistic and form a project plan that is feasible. Stick to KPIs that are applicable to the MVP and ensure its applicability
Don't overspend time on the UI and design for the MVP since that may later, undergo changes based on further analysis. While making the MVP, the design and look component isn't that important
Involve actual end users while testing the MVP. That is sure to give authentic results and suggestions that can help strengthen the foundation of the entire solution. MVP involves testing and implementing your vision to garner great business. It is not dummy work. It is an actual business output
You need to utilize your MVP for a specific resolution and then have it launched like a proper application. As like a normal solution being implemented, a thorough measurement of metrics and targets should be made
Create a perfect balance between adding novel features and removing unwanted ones. That is most crucial to building a solution that is exactly as per user requirements and has no unwanted functionalities
In this fast-moving world, you must be quick. Design and develop, watch results, learn and start the cycle again. An iterative round of this leads to satisfactory results from the end users and with real-time circumstances
The Lean Startup Movement & MVP – An Association to Look For
Eric Ries, the author of Lean Startup, describes the minimum viable product (MVP) as: "The minimum viable product is that version of a new product which allows a team to collect the maximum amount of validated learning about customers with the least effort." It is a movement that is transforming how new products are built and launched, in association with MVP. According to Eric Ries, MVP is minimizing time and effort building while maximizing learning. The fundamental reason why the minimal product is built is to get a quick output, measure data appropriately, learn from the output and reapply.
Here is an overview of what the Lean cycle conveys, through the Learn startup movement:
According to this principle, validated learning is the comparison between actions and metrics to ascertain if the actions taken are suitable as per the metrics or not. This methodology ascertains that what it focusses on is not the monetary portion but the very fact that whether the demands of end users are being met with the bare minimum resources or not.
Good Read: A Look-Inside Lean Startup: An Overview In 10 Minutes
Types of MVP and Their Characteristics
This type of MVP includes assisting your end users to attain their objectives by checking if the solution being offered suffices to their basic needs or not. In this, there is a real connection with clients along with total transparency. That is the entire crux of this type – manual, transparent and insightful information processing. It is just like a concierge at a hotel who interacts with each customer one-on-one to understand their needs and in parallel, figures out how the basic product will shape up like.
Considered to be a cheaper option, this style of startup offers an impression of the solution from outside with a different perspective than the inside portion. From the external portion, the MVP seems like an all-inclusive automated system but with human intervention. This turns out cheaper as it involves human touch. The output is much easier to judge and is generated from the actual data generated by the user. Hence, the data is quite honest and unbiased.
A unified look and feel of the solution are through its landing page, that on an overall, describes your solution and service. This homepage showcases certain basic needs of the enterprises, and if further interested, users can travel further pages. Even email id and further details of users can be stored and used for further processing. Landing pages can be constructed in a short span of time.
A smart methodology to offer a product to your customers by making use of existing tools and solutions available. A piecemeal MVP consists of components from various sources that are put together to design and develop the foundation of the solution. This directly leads to investing minimal money, time and efforts.
One of the easiest ways to reach a customer review is through emails. A safe way to start off is to approach customers with a basic roadmap, through emails. If you get a positive response, you can move ahead with further steps else think on what could have gone wrong. Even if you observe that the call to action isn't being opted for, it means the proposal isn't that attractive. Basically, it's all about being informed by sending emails right in the beginning. If there is a positive feedback, it can be further processed to construct a solution.
Minimum Viable Product Examples Benefiting Startups
You won't believe the following companies started off as MVPs and today are ruling the globe in their own industry segment. But, because they played safe in the start, they had uninterrupted business growth and there was no looking back.
Uber
 World-Renowned Taxi App

Had plain design
Only a single function to connect owners with drivers
Get fast and cheap taxis

Spotify
Popular Digital Music Service

Online music streaming
Slowly started big record labels
Gained a lot of investment for their venture

Airbnb
Worldwide Accommodations Leader

Offered short-time rent to travelers
Created a simple website and offered accommodation
Then moved forward to spread it globally

Facebook
Online Social Media and Social Networking Portal

Started with a website Facemash
Only for USA university students
Then spread globally and purchased the domain facebook.com
Opened it services to all 13 yrs and above

Groupon
eCommerce Marketplace

Initially started a website to find like-minded people
Started a customized blog to post information on group discounts
Tested their idea of good bargains with less effort and investment
MVP Development for Startups: Wrapping it Up
Building an MVP for Startups surely proves beneficial since it helps reduce risks, save on time, money and efforts. 'Slow and steady wins the race' – a good old saying that holds true for MVPs. It easily brings customer feedback and requirements to you much before you are too late in understanding them. Though there is no cent percent guarantee of success with MVP, there isn't any prominent drawback either. With increasing number of Startup IT solutions and services around the globe, MVP and Lean Startup movement are key USPs to a booming business kick-off.
SPEC INDIA, as your single stop IT partner has been successfully implementing a bouquet of diverse solutions and services all over the globe, proving its mettle as an ISO 9001:2015 certified IT solutions organization. With efficient project management practices, international standards to comply, flexible engagement models and superior infrastructure, SPEC INDIA is a customer's delight. Our skilled technical resources are apt at putting thoughts in a perspective by offering value-added reads for all.