Oracle Cloud Services: Detailed Overview And Benefits
Oracle has always been amongst the top Enterprise IT database companies for 40 years. In 2018, it was the third-largest software company as well as ranked no. 82 in fortune 500 lists of US corporations by total revenue.
It is just not a technology provider but also helps the companies with their cloud services.
Its cloud infrastructure provides the basic building block with many computing options, reliable storage, fast networking, AI-driven analytics, and robust security. The evolution of the Oracle cloud has brought a new level of integration and enabled employees to focus on productive activities.
Customers like Dropbox, AT&T, Yamaha, and many more have already shared their success stories on transforming their business with Oracle's cloud.
This means Oracle Cloud is huge!
Let's study in brief,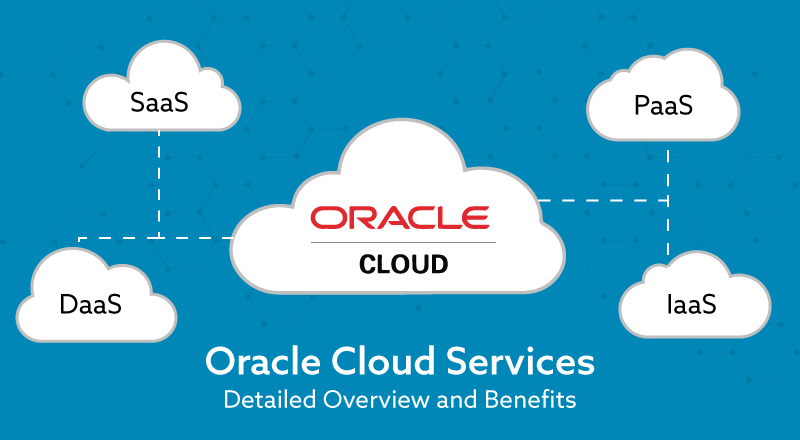 What Is Oracle Cloud?
Oracle Cloud is a cloud computing service offered by Oracle Corporation providing storage, servers, applications, network, and services through a global network of managed data centers.
Oracle Cloud provides Data as a Service (DaaS), Infrastructure as a Service (IaaS), Software as a Service (SaaS), and Platform as a Service (PaaS) which builds, integrates, deploys, and extends applications in the cloud.
This platform supports many open standards, open-source solutions as well as a variety of databases, programming languages, tools, and frameworks including Oracle-specific, Open Source, and third-party software and systems.
SaaS, IaaS, DaaS, and PaaS are the principal categories of the cloud computing world.
Let's have a basic understanding.
Software as a Service (SaaS)
Software as a service (SaaS) is a software distribution model in which third-party providers host applications and releases to the customer over the Internet.
Key features:
Users do not have to upgrade, install or even manage software; SaaS providers manage all this.
High Data security in the cloud; a failure in equipment does not result in data loss.
Resources that are used can be easily scaled depending on service needs.
Access the applications from any internet-connected device, virtually from anywhere in the world.
Platform as a Service (PaaS)
Platform as a Service provides a platform to develop, deploy and operate applications without the complexity of building and maintaining the infrastructure including servers, storage, network or operating systems. But, it has control over the deployed applications and configurations of application hosting environment.
Key features:
PaaS fastens provisioning, improves scalability, increases automation, standardizes deployments and eliminates routine tasks.
Integrates with IaaS services
It provides security threats and disruption.
Highly availability.
Minimizes downtime and data loss.
Ensures rapid recovery.
Enables rapid scalability.
Increase in speed and quality of the developer.
The coding environment is easy to use for end-users.
Infrastructure as a Service (IaaS)
Oracle Cloud Infrastructure offers high-performance computing capabilities as well as storage capacity in a flexible overlay virtual network which is accessible securely only from your on-premises network.
Key Features:
Compute: The Company provides Virtual Machine Instances that enable us to cater to various types of workloads and performance. Also, they provide Bare metal GPU servers, bare metal servers and, capability to scale up and down without a hypervisor.
Storage: The platform provides Block Volumes, Object Storage, and Archive Storage along with capabilities to enable database, analytics, content, and other applications across common protocols and APIs.
Networking: This cloud platform provides a network with fully configurable IP addresses, subnets, routing, and firewalls to support new or existing private networks with End-to-End Security.
Governance: For Identity, Auditing and Access Management, the platform has capabilities for Data Integrity Checks, Traceability, and access management features.
Database: Oracle databases are allowed to be deployed on demand by the platform in the cloud environment with data security, Real Application Clusters, and granular controls.
Load Balancing: The cloud platform offers load balancing capability which automatically routes traffic across Availability Domains for high availability and fault-tolerance for hosted applications.
Edge Services: This service monitors the path between users and resources which adapts the change and outages using secure DNS infrastructure.
Ravello: This service allows the deployment of existing KVM based data center or VMware workloads on Oracle Cloud Infrastructure (OCI), AWS, or GCP as-is, without any modification to the VMs, storage or network.
FastConnect: The cloud platform provides private connectivity across on-premises and cloud networks.
Data as a Service (DaaS)
This platform is known as the Oracle Data Cloud (ODC). It analyzes and aggregates consumer data which is managed by Oracle ID Graph across channels and devices that creates cross-channel consumer understanding. Oracle's Data as a Service (DaaS) provides access to more than 300 million company records and 100 million contact records worldwide so that you can have the latest up-to-date information.
With Daas (also known as Social Data and Insight), you can:
Keep your company and contact data up-to-date by matching and cleaning existing company data and contact records in all your applications.
Meet business objectives by enhancing and matching your business contact data with external reference data.
Improve the data integrity, completeness, and accuracy which allows better prospecting, database validation, and competitive insights.
What Are The Advantages Of Using Oracle Cloud Services?
Oracle leverages the database, analytics, security, integration, and extensibility capabilities of its underlying Oracle Cloud services.
Some of the benefits are:
It provides hardware cost savings, increases business flexibility, and provides greater efficiencies in the short- and long term
Oracle automates most of the tasks and provides streamlined performance through a shared infrastructure. It empowers businesses to run faster and scale up (or down) to meet demands with ease.
Easy and hassle-free to work with, and provides a future-proof solution to move your legacy workload to modern platforms.
Offers a streamlined process to migrate applications such as your ERP, analytics software, and even your existing architecture to the cloud
It provides scalable infrastructure, development capabilities, hardware, and software options that support your business
Frequently Asked Questions (FAQ) – Oracle Cloud Services
What is Oracle cloud services?
Oracle Cloud is a cloud computing service from Oracle Corporation that offer on-demand storage, network, applications, and servers through a global network.
What is Oracle field service cloud?
Oracle field-service cloud is a cloud-based field service that facilitates customer communication. It collects real-time data from the field and learns in real-time to predict events.
What is Oracle managed cloud service?
Oracle Managed Cloud Database Service is an on-premise database cloud solution that is fully managed by Oracle and offers better scalability, performance, and availability.
Which statement best describes oracle container cloud services?
Oracle Application Container Cloud service allows you to deploy Node.js, PHP, Java SE, Python, Go, Ruby, and .NET applications to the Oracle cloud.
Is Oracle cloud better than AWS?
This choice is subjective and depends on many factors. Both are leading cloud service providers and offer the best solution to host, deploy, and manage your applications.
What are companies that use Oracle cloud?

Dropbox
JetBlue
Macy's
Nissan
Yamaha
Zoom Video Communications,
Morningstar
Samsung
Avaya
these are some of the companies that use Oracle Cloud.
What are the 3 types of cloud services?
Three main service models of cloud computing – Infrastructure as a Service (IaaS), Platform as a Service (Paas), and Software as a Service (SaaS).
Is Oracle Cloud Service Better Than Other Cloud Services?
Oracle has always been able to provide excellent expertise in deployment, performance, and keeps the system up-to-date in either private or public environment.
Moreover, it can be preconfigured and tightly integrated and reduces IT complexity.
Oracle Cloud Database is a giant leap forward from traditional databases where numbers of resources were required to keep it up and running and secure.
What are your thoughts? Are you looking to execute Oracle Cloud for your business?
We can help! Connect with us today to know how we can implement oracle cloud services for your next project.
SPEC INDIA, as your single stop IT partner has been successfully implementing a bouquet of diverse solutions and services all over the globe, proving its mettle as an ISO 9001:2015 certified IT solutions organization. With efficient project management practices, international standards to comply, flexible engagement models and superior infrastructure, SPEC INDIA is a customer's delight. Our skilled technical resources are apt at putting thoughts in a perspective by offering value-added reads for all.