Microsoft Power BI In 10 Minutes– What, Why, Who, How Justified [Quick Guide]
Updated
December 7th, 2022
Do you face difficulties in providing more accurate reporting and analysis?
Are you unable to identify the latest trends, market conditions and respond quickly to change?
Having problems in optimizing internal business process and driving decisions?
Do you have trouble in obtaining important business reports?
Is it challenging to convert raw data into actionable insights?
If yes, then this blog is definitely for you!
Well, if you are using Excel, it may be difficult to work with the large data which ultimately creates roadblocks for data-driven enterprises.
And if you are using any other tools which have fewer competencies, it may be difficult to harness data for driving the business decision.
So, how to make an informed decision with the use of data?
Well, in such a scenario, the powerful Business Intelligence system can come to rescue!
Do you know?

Gartner recognizes Microsoft as a leader in Analytics and BI platforms for 11 consecutive years
Well, let's understand, why organizations prefer to use Power BI?
Before going in-depth let's start with basics.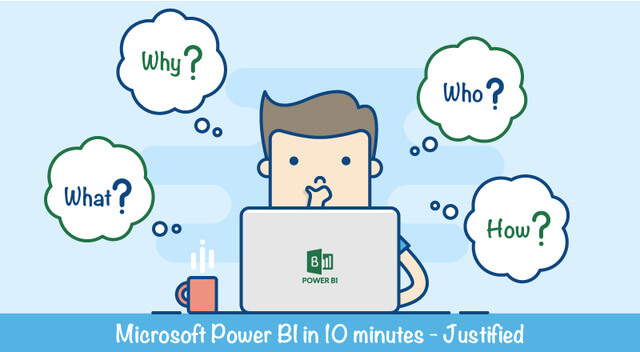 What Is Power BI?
Power BI is a cloud-based business analytics service by Microsoft enabling anyone to visualize and analyze data with greater speed, efficiency, and high understanding.
Moreover Power BI:-
It is an interactive data visualization tool that makes it easy to share data across the organization.
Delivers valuable insights to make quick and informed decisions
Transforms raw and unprocessed data into insightful and stunning visuals for officials to communicate and understand the business better.
Provides access to the customized reports and interactive dashboards which help to have a complete 360-degree view of the business.
Companies like Dell, Wipro, Metro Bank PLC, Edsby, Oraylis, Vizion solutions and many more are already using Power BI consulting services to grow their businesses.
Have a look at this video
Who Can Use Power BI?
It can be used by Busines Analysts and IT personnel to

create interactive data visualization from multiple data sources
deliver real-time insights across the organization

It can be used by Enterprises to

simplify management
achieve compliance
get accurate and reliable reports
detect anomalies
streamline the workflow

Developers can use Power BI REST API to automate the application lifecycle. Moreover, they can

Embed stunning visuals in apps, portals, websites, etc.
Develop and test visuals with open-source JavaScript libraries like D3, jQuery, and more.
But, How Professionals Can Have Access To This Tool?
Well, there are three ways to use Power BI
Power BI Desktop: You can connect to data through multiple data sources, combine them into a data model and create compelling visuals.
Power BI Service: It is a cloud-based, online service for collaboration with the teams and corporations. The reports created in Power BI desktop can be shared in Power BI service, where you can continue modifying them. You can also create dashboards based on your reports in Power BI service.
Power BI Mobile Apps: Power BI offers a set of mobile apps for iOS, Android and Windows 10 mobile devices, where you can view, interact and securely access reports, dashboards, and other data on the go – all in one app.
To be precise, the desktop is for creating content; the Service is for sharing the content; the mobile apps are for getting insights anywhere on any device.
To understand in a better way, you need to know the Power BI architecture.
But before that, you must be aware of Power BI components.
Power BI is a combination of components where each component plays an important part in the Power BI solution.
Overview Of Power BI's Components
Power BI offers several components that enable users to create and share data reports which include:
Power Query: Facilitates data search capabilities and transform & merge data from multiple data sources.
Power Pivot: In-memory data modeling component which enables highly-compressed data storage and extremely fast aggregation and calculation.
Power View: An interactive visualization tool that enables drag-and-drop interface to the users.
Power Map: a 3D geospatial data visualization tool
Power Q&A: A natural language question and answering engine
Data Management Gateway: By using this component you get periodic data refreshers and data feeds.
Data Catalog: Users can easily discover and reuse queries using the Data Catalog. Metadata can be facilitated for search functionality.
Let's have an overview of the Power BI architecture
Power BI Architecture: Sharing And Deploying Files For Power BI solution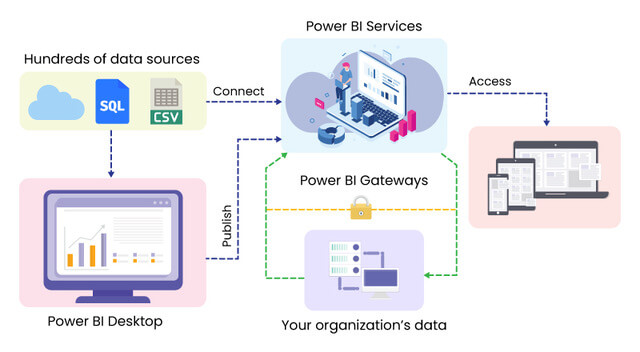 Power BI can connect data from a variety of data sources.
There are two primary options for sourcing data:
(1) Importing the data to Power BI
(2) Using the Direct Query.
If you are importing a file to Power BI, it limits the data sets to 1 GB, but if the size is more than 1 GB, you can use Direct Query (you can build reports based on extremely large datasets).
Once the data is connected, you can transform it as per your needs. Transforming data includes changing the name of columns or tables, modifying the text to numbers, removing rows, adjusting rows, headers and much more. There is a number of transformation options available to shape your data.
Here reports are created which represent different findings and insights from that dataset. Basically, it is in the form of a graph, pie charts, slicers, etc. It is highly interactive and customizable; which updates as the underlying data changes. After creating a report, you can publish them to Power BI services.
A Power BI dashboard consists of a single page, often called canvas that tells a story through visualizations. You can create a dashboard by pinning the individual element or live report page. As it is limited to one page, a well-designed dashboard contains only the overview.
Power BI
Experience Your Data. Any Data, Any Way, Any Where
Power BI: How It Can Be A Game-Changer For Enterprises?
Gathers Data From All The Data Sources
Power BI makes it easy to fetch data from cloud services including Microsoft Dynamics, Salesforce, Google Analytics, Zen desk, Facebook, and more. No matter where your data is available, Power BI enables you to shape the data from different sources; enabling you to create visual reports that you can easily share with others.
Rich Power BI Dashboards To Make Informed Decisions
With Power BI, you can create personalized dashboards enabling it to monitor the business needs in real-time. It makes easy to solve the problems as they occur and provides a holistic view of the business empowering the teams to make informed decisions. You can easily embed the dashboards and BI reports in the applications to provide a unified user experience.
Ask Questions- Get Answers In Real-Time
How about asking queries in natural language and getting answers in stunning interactive visualization?
Well, with Power BI, you can ask a question and get an answer in the form of the right chart and right graph. It has auto-search functionality which lets you scan the hidden insights in seconds. It stores all the information in a centralized location and makes interaction with fast and quick data.
Tell Stories With Interactive Reports
The timeline storyteller is one of the trending custom visuals in Power BI that convey information and details that vary over time. It presents data in the form of circle, grids, spirals or any custom shapes, or even a simple linear list. It also has layouts, different scale representations like logarithmic and relative, controls for filtering, highlighting and annotation. You can decide how you want your data to be represented, scaled and designed in a timeline.
Make Business Decisions From Anywhere
Power BI offers native BI mobile apps for Android, iOS and Windows where anyone can securely access and view live Power BI dashboards and reports on any device. It is easy to access on-premise data stored in SQL server or data in the cloud; no matter wherever you are.
With Power BI Mobile App You Can:
View live dashboards and reports on a mobile device
Directly share reports and dashboards from the app, which helps to keep the team on the same page
Get push notifications for personal data alerts to your device
Other Perks Of Power BI
Little assistance is needed to implement Power BI; No technical support is required
Service provided by Microsoft and has tight integration with its other business tools such as Office 365, Microsoft Excel, Azure, and SQL Server
Integrates easily with your existing business environment
Helps you to set up automatic data refresh
Users can publish their visualizations on social media posts and emails, making them accessible to whoever may be interested in them
Data is more accessible as Power BI can connect to the software like Spark, Hadoop, etc. and combine the data into a centralized dashboard
No memory and speed constraints
Provides frequent updates with new features and functions
The community has grown significantly over the years
Looking At The Other Side
Although Power BI shapes the business world and offers numerous advantages but with every advantage, there is always a corresponding disadvantage.
Dashboards and reports can only be shared with users who have the same email domains or email domains listed with your Office 365 tenant.
The list of Power BI components is very long and sometimes it becomes difficult to understand which component is required.
Microsoft Power BI doesn't allow you to build scheduled reports, personalized user views, personalized notifications, personalized security views
Not all reports can be shared with colleagues as it needs a pro-license to work collaboratively
Although, Power BI has few disadvantages; its unique features and functionalities are aligned with the business decisions. Thus it is loved by most of the organizations.
How Power BI Is Different From Other BI Tools?
To simplify this, let's compare Power BI with Tableau and QlikView which are the industry-leading BI tools.
Tableau doesn't have a free version. The Personal version of Tableau costs $420 and the Professional version will cost you $840 annually. Whereas, the PRO version of Power BI will only $120 but the free version itself covers a lot more than Tableau.
QlikView doesn't support Predictive Analytics which makes it difficult to make data-based decisions whereas Power BI can help you to create predictive models and with the content pack of Power BI, you can visualize the predictive results.
The Future Of Power BI
The future belongs to the solution that is
Flexible
Affordable
Innovative
Integrates with other solution hassle-free
Easy to configure and can be viewed anywhere on any device.
Most importantly, it should have the features and functionalities that enable them to make quick business decisions. And Power BI fits all these criteria.
So, of-course future holds the best for Power BI and it is here to stay for many more years ahead.
What is your opinion? Do you think businesses should use Power BI? Please express your opinion below or connect with us to know more about Power BI.
SPEC INDIA, as your single stop IT partner has been successfully implementing a bouquet of diverse solutions and services all over the globe, proving its mettle as an ISO 9001:2015 certified IT solutions organization. With efficient project management practices, international standards to comply, flexible engagement models and superior infrastructure, SPEC INDIA is a customer's delight. Our skilled technical resources are apt at putting thoughts in a perspective by offering value-added reads for all.