Progressive Web Apps For Startups – A Driving Force To Business
The world is driven and motivated by startups – beginning with an enthusiastic and innovative vision in mind, keen to fulfil their ambitions and achieve great business results. Their main objective is to develop in-depth client relations, enhance business profitability and productivity.
For this, they would surely need software solutions, web applications, mobile applications to reach their goal. With the advancement of technology, involvement of proven technological support is essential and one such name is Progressive Web Apps (PWA).
Have a look at certain proven statistics on PWA that signify its popularity:
Kubota launched their eCommerce PWA which resulted in a 192% growth of daily visitors and 26% growth of average monthly visits

The Starbucks PWA has increased daily active users 2x. orders on desktop are nearly the same rate as mobile

Source: pwastats.com
PWAs have 36% higher conversion rates than native apps

Progressive web apps register 50% higher customer engagement

Progressive web apps cost 33% less to maintain

Source: beezer.com
There is a lot that has time and again, proven the worth of PWA. Fast development and deployment, effective delivery and quickened go-to-market stand out as its USPs. It offers you the best of both worlds – the web and the mobile, accelerating your business to a different level.
A Look At Progressive Web Apps And Its Key Features
A progressive web application (PWA) is a type of application software delivered through the web, built using common web technologies including HTML, CSS and JavaScript. – Wikipedia
Progressive Web Apps Signify:
Applications that have been designed for capability, reliability, and installation. These three attributes are instrumental in offering a native application.
Use of emergent web browser APIs and features with conventional progressive development approach to offer a native app-like user experience to cross-platform web applications
A web app that leverages modern web abilities to deliver an app-like experience.
Google has been one of its prime advocate. Since the term came into existence in year 2015, Google has been using it extensively in combining their platforms. Global stalwarts like Twitter, Uber, Forbes, MakeMyTrip, Trivago, Flipkart, OLX have been leveraging the potential of PWA.
The best part of using PWA is that you do not need to download / search the application and can simply share / link / install it on the web as if it were a native app.
Major Features Of PWA
Easy to install, use and share
Offers a seamless experience on any device or OS, progressive in nature
UI fits into any screen size and form factor, offers a near native feel and look
Augmented with service workers that facilitate independent working
Regular and transparent updates
Hosted over secure and safe environment, with an in-depth user experience
Easily recognizable by search engines
Accessible and installable on the home screen
Good Read: Progressive Web App: Here's Everything You Need To Know About PWA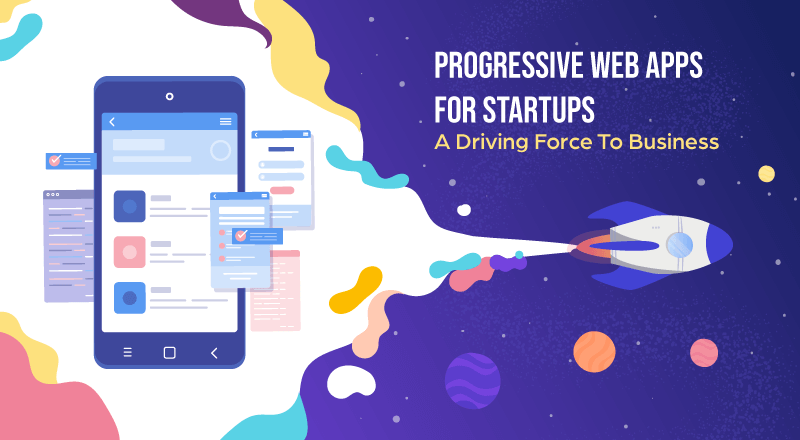 Key Reasons Why PWA Are Apt For Startups
Startups have their own boundary to draw when it comes to leveraging technology and expand their business, in terms of costs, affordability and experience. At such times, PWA comes up as a perfect choice – balancing between a good gain in terms of technology, working and cost effectiveness. PWA range from virtual ordering to client information management. Let us have a look why PWA are a good choice for startup businesses:
Fast And Efficient Execution / Installation
Startups need to prove a lot in a short time. What they need is fast execution of technology and that is what PWA does the best. PWA are fast, efficient, secure and need minimal storage space and processing competency. Users can utilize JavaScript for instant app loading, even when the internet connectivity is poor or unavailable.
PWA, unlike other mobile apps, are accessible through the web browser on your chosen device. Hence, issues of storage, downloading, installation etc. do not occur. They ensure automatic update, relieving users of keeping a track of the latest update to be installed.
Secure Setup, Protecting Private Information
Since PWA makes utmost use of HTTPS, there is a lot of security and privacy ensured while doing any transfer of information. The secure setup takes care of preventing any malicious activity – phishing, spoofing, cyberattacks or sharing of any private information.
Developers utilize Cache and Fetch APIs for faster loading and execution of PWA and thereby making the entire setup secure and private. They can perform at their best even without net connectivity under a complete secure regime.
Since they are accessed directly through a web browser, users can immediately monitor their level of hardware access and contextual functionality.
Increased Lead Generation / Customer Engagement
Many organizations like Pinterest, Twitter etc. have witnessed a multi-fold growth in their customer conversion ratio, after implementing PWA. Thanks to salient features like best of web and mobile features, easy accessibility under all conditions, push notifications, native like experience etc., customers get increasingly attracted and newer leads are getting generated.
This surely is a great experience for startups for whom increased business is a big boost. Even a variety of updates, offers, discounts keep showing on the user's device, that engages the users more.
Wide Coverage Of User Audiences
PWA, being platform independent, is competent to execute smoothly on all kinds of devices, even those with low-key specifications. This helps users to easily implement PWA and access them anytime, anywhere. Hence, there is a wider audience that is comfortable using these apps and the coverage globally is wider.
Even in the remote areas, PWA are accessible because they can perform perfectly on low bandwidth networks also. They are not platform dependent since they do not execute on the browsers of devices.
These apps exhibit the user portfolio and services to a wider set of audience on their chosen devices. Startups find it easy to reach out to a vaster community with a variety of approaches that use online / offline features.
Highly Cost Effective As Compared To Mobile / Web Apps
The costs involved in building a PWA is comparatively less as against creating a mobile or web application. For startups, dealing within a limited budget is of prime significance and that is where a PWA helps bigtime. Developing a PWA proves to be simple and less costly.
Offers Customized User Experience
Users leveraging PWA enjoy a personalized experience, owing to key features like push notifications, offline availability, faster loading, access at home screen, secure setup etc. Since they offer the finest of the web world and mobile world, users are happy with the customized experience that they get. Users get to enjoy a complete experience with a fast loading time, irrespective of the speed that the network connectivity offers, at that time.
Addition To Home Screen Directly
The good part about PWA is that it can be easily added onto the home screen directly through the browser. Since they are not actually apps, you need not publish it always on the play store / app store / global platform. Even in iOS devices, this is possible and hence offers a great deal of flexibility to users. These apps are showcased on mobile devices just as other apps do.
Inclusion Of Push Notifications
Progressive Web Apps consist of push notification features through which they can avail inbuilt features of the devices that are being used. This feature is not available with all other hybrid applications.
These features help in augmenting marketing strategies and implementing different means of spreading business. It turns out to be a boon for marketing taskforce.
Good Read: Progressive Web App vs Native App vs Cross Platform vs Hybrid App
On A Finishing Note
Startups are set to soar high, be it any industry, any geography. And Progressive Web Apps are proving to be the ideal catalyst to boost their business. In the world of web application development services, PWA have proven their worth as we see a fleet of organizations making the most of this innovative technology.
SPEC INDIA, as your single stop IT partner has been successfully implementing a bouquet of diverse solutions and services all over the globe, proving its mettle as an ISO 9001:2015 certified IT solutions organization. With efficient project management practices, international standards to comply, flexible engagement models and superior infrastructure, SPEC INDIA is a customer's delight. Our skilled technical resources are apt at putting thoughts in a perspective by offering value-added reads for all.