QlikView vs Qlik Sense: Comparing Two Popular BI Tools
Business Intelligence is now an indispensable ingredient in businesses today, with data becoming the major crux of organizational performance. With data growing by leaps and bounds, the need for a good BI tool is on the rise. Multiple tools are popular – Power BI, Tableau, etc. Of these, two names come from the same family and have been strong BI competitors in the business circuit.
QlikView vs Qlik Sense belong to the same product family – Qlik but have significant differences. QlikView is the first-generation analytics platform, Qlik Sense offers modern analytic solutions. Comparing Qlik Sense vs QlikView is an interesting evaluation of two of the market's leading competitors.
This article compares them both against their pros and cons, the companies using them, and many other parameters. Before we look at their differences, let us have a glance at what they are.
What is QlikView?
The modern analytics era truly began with the launch of QlikView, our classic analytics solution, and the game-changing Associative analytics engine it is built on. It revolutionized the way organizations use data with intuitive visual discovery that put business intelligence in the hands of more people than ever.
QlikView is a modern, data analytics and visualization tool, that empowers users to collect, integrate, process, and analyze data from different sources. It delivers insights for further business expansion and monitoring. Data models, dashboards, and analytical apps can be created and offered to users through the access point.
QlikView depends on guided analytics and is considered apt for converting raw data into knowledgeable information. It leads to exceptional business insight by creating innovative data models, layouts, charts, formulas, etc., and then creating an insightful dashboard with drill-down facilities. It is created on an effective associating engine and hence has enhanced the definition of innovative and insightful analytics.
What is Qlik Sense?
Qlik Sense's one-of-a-kind Associative technology brings unmatched power to the core of our industry-leading analytics experience. It empowers all your users to explore freely at the speed of thought with hyper-fast calculations, always in context, at scale.
Qlik Sense is a self-service, discovery application, the next-gen analytical version of QlikView, and thanks to its analytical capabilities, it has been popular for its multi-cloud infrastructure. As a modern and intuitive tool, it is easy to create fast visualization with this tool along with sharing insights, exploring data, and viewing opportunities.
It is a user-friendly tool that creates interactive dashboards and reports, after extracting data from disparate sources. It is apt for technical and non-technical users and works best for data visualization since there are enhanced graphics for better viewing. Developers do not need to create scripts and hence development is faster. It can be used easily on touch screens and various screen sizes for data modeling and management, layouts, and stories.
QlikView vs Qlik Sense: Pros and Cons
Pros of QlikView:
Directed and enhanced analytics
Custom and default connectors with dynamic BI ecosystem
Smart search options and associative functions
Data connectivity and collaboration with tools
Self-service data discovery
Quick and trustworthy connections to data sources
Drag and drop visualizations
Agile application development
Scalability, mobility, sharing of data
Centralized information sharing
Cost-effective with good language support
Cons of QlikView:
Limited RAM capacity
Needs detailed knowledge of SQL
Lack of new features
Pros of Qlik Sense:
Support for all types of devices
Creation of stories and layouts
A flexible, extensible, and robust ecosystem
Accessible cloud-native platform
Enhanced data literacy with better graphics
Associative model characteristics
Embedded analytics with data reporting
Self-service analytics and visualization
Easy connection to disparate data sources
Drag and drop visualization
Increased data literacy for users
Cons of Qlik Sense
Occupies large memory space
Hitches with ODBC connections
Need to install the old version to update to the new one
Qlik Sense vs QlikView: Companies Using Them
Companies Using Qlik Sense:
Son, Cisco, JP Morgan Chase, Singapore Tourism Board, Alstom, CSL Behring, News Technology Services, Sanofi, 7-Eleven, Zurich, Lorven Technologies, Airbus Group, etc.
Companies Using QlikView:
Cognizant, TCS, Citigroup, Red Hat, AmerisourceBergen Corp., Mercedes Benz, Nordic Bank, California Casualty, Berenberg Bank, Ford Motor Company, Citigroup, Humana Inc., etc.
QlikView vs Qlik Sense: The Similarities
Both these tools have a lot of similarities since they belong to the same family:
Management and handling of huge amounts of data in less time
Owned by a software company called 'Qlik'
Robust associative indexing engine, ELT services
Consolidated sharing and collaboration
Smooth Visualization and Analytics
Similar analytical algorithm features and functions
Enriched user interface experience
Mobility and Ease of Access
Security, Scalability, and Performance
User-Driven Creation
Customization and Extension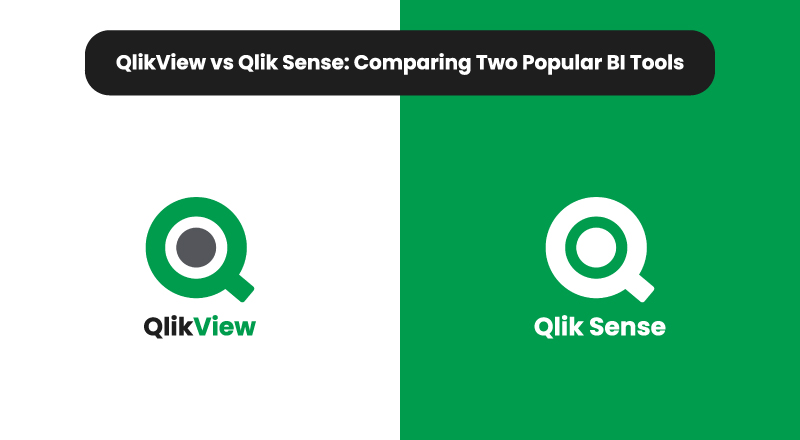 QlikView vs Qlik Sense: Difference between QlikView vs Qlik Sense
| | | |
| --- | --- | --- |
| Parameters | QlikView | Qlik Sense |
| Overview | QlikView sets a benchmark for data visualization and is meant for advanced analytics. It offers better control to developers over the design and control of applications and hence is more customizable. | Qlik Sense is a self-service form of data visualization and is meant for business use cases. It is easy to use and user-friendly but does not offer many customization and development options to users. |
| AI-Driven Insights and NLP | Not available | Available |
| Targe Business Sizes | Targets small, medium, and large industry segments | Targets small and medium industry segments |
| OLAP Functionality | Makes use of OLAP for analytics for analytical operations | Does not have OLAP functionality for analytics |
| Self Service Visualization | No provision for self-service visualization | Offers self-service visualization capabilities |
| Guided Analytics | Offers guided analytics function | Does not have guided analytics |
| Augmented Intelligence | Not available | Available |
| Data Filters | Needs data filters | No need for data filters |
| Integrated App Development | Offers an environment for Integrated App Development since it is a development-based tool | No provision for Integrated App Development since it is a visualization-based tool |
| Data Storytelling | Feature not present | Feature present in Qlik Sense |
| Modernized Analytics | Provides basic visualization with no support for data mining | Provides modern analytics with interactive UI and support for data mining |
| Visual Data Preparation | Not available | Available |
| Data Loading | Slower in QlikView as compared to Qlik Sense | Faster in Qlik Sense as compared to QlikView |
| Skilled Resources | Needs specially trained developers | No need for technically trained developers, it is more user friendly |
| Language Support | Supports only English as a language | Supports English, Chinese, Japanese, and German |
| Popularity | There are currently around 418 websites. The market share is around 0.42%. The overall position is around 42nd. | There are currently around 839 websites. The market share is around 0.84%. The overall position is around the 25th. |
From QlikView to Qlik Sense – The Rise of Modern Analytics
Whenever there is a comparison – of QlikView vs Qlik Sense, there is a very common question that arises – 'Is Qlik Sense a replacement for QlikView?' and the answer is No. It feels like since Qlik Sense is an advanced version of QlikView, it can replace the former. But that is not right.
As we compare Qlik Sense vs QlikView, both have different competencies and can be used in conjunction with each other or as two independent BI tools. If you already have QlikView, you can upgrade to Qlik Sense for advanced capabilities and if you don't have it, you can directly implement Qlik Sense.
When you see the difference between QlikView vs Qlik Sense, QlikView is apt for guided and complex analytics whereas Qlik Sense is apt for self-service and attractive visualizations. Both tools are simple and easy to use with an enriched experience in building a variety of visualizations.
It finally depends on your project requirements and other factors like organizational objectives, budget estimated, skilled resource availability, project deadlines, etc. You can utilize both products at the same time for different reasons.
Choose either, it will surely reap good benefits! After all, both are reigning on the top in the list of effective and popular business intelligence tools. Many organizations use both QlikView and Qlik Sense as their information, data models, discovery features, support systems, and core capabilities are similar, despite their differences.
We, as a business intelligence consultant and partner, have an accomplished pool of BI experts who have full knowledge about comprehensive and customized BI solutions and services. Our Business Intelligence consultants possess the knack of converting huge volumes of data into almost real-time, in-depth, and intelligent information.
Hiring a BI developer from SPEC INDIA is a profitable and simple process. Our process enables the flexible engagement of BI experts who have had extensive implementation experience with complex BI projects. Contact us to hire BI Developers to transform data into intelligent and actionable insights based on custom reports and dashboards to drive better business outcomes.
SPEC INDIA, as your single stop IT partner has been successfully implementing a bouquet of diverse solutions and services all over the globe, proving its mettle as an ISO 9001:2015 certified IT solutions organization. With efficient project management practices, international standards to comply, flexible engagement models and superior infrastructure, SPEC INDIA is a customer's delight. Our skilled technical resources are apt at putting thoughts in a perspective by offering value-added reads for all.