React Native vs. Ionic vs. Flutter: Comparison of Top Cross-Platform App Development Tools
Can you tell us a difference between a mobile app and a high-performing mobile app?
There are millions of apps available that are used by the majority of the people on this planet to transform everyday tasks into pleasurable experiences. Mobile apps have changed the way one thinks and executes routine functions right from commuting to cooking.
You can check the statistics: Here
The 'always-on' mode of mobile connectivity lures users to build an entirely digital-powered lifestyle and we believe, it's not new at present.
Mobile apps become a necessity, but high-performing apps are more than a requirement to prove the potential of your business over the course of time. [Focus Reduced and Also App uninstallation rate due to performance issue]
Performance is crucial for any mobile app.
You might have noticed that only high-performing apps are downloaded and used by users among thousands of apps. If your app does not perform well or they find unpleasant experiences, then your users will choose to abandon it and find another alternative. Unfortunately, it also affects your overall impression and you may end up losing your valuable customer.
Performance includes many factors such as speed, network, device, responsiveness, execution, faster loading time, and user experience. Performance of mobile app is 'critically' important to grow your user base.
So, how can you build high-performing mobile apps that can withstand the ever-changing business landscape?
Cross-platform Mobile App Development Is The Answer.
And here in this post, we will be comparing the top three best cross-platform mobile app development frameworks, React Native vs. Ionic vs, Flutter.
We know that native app development has its own advantage of superior performance but you can't overlook the power of cross-platform apps to create flawless apps in fewer resources, reduced time, and noticeably less cost.
React Native, Ionic, and Flutter are considered as top choices for next-gen, modern app development and each of these frameworks has a fair share of benefits over others.
We already compared Flutter vs. React Native and also wrote a detailed article on React Native vs. Ionic which you can refer to get yourself fully understand with the advantages and disadvantages of each over another.
React Native vs. Ionic vs. Flutter: Modern-Day Cross-Platform App Development Tools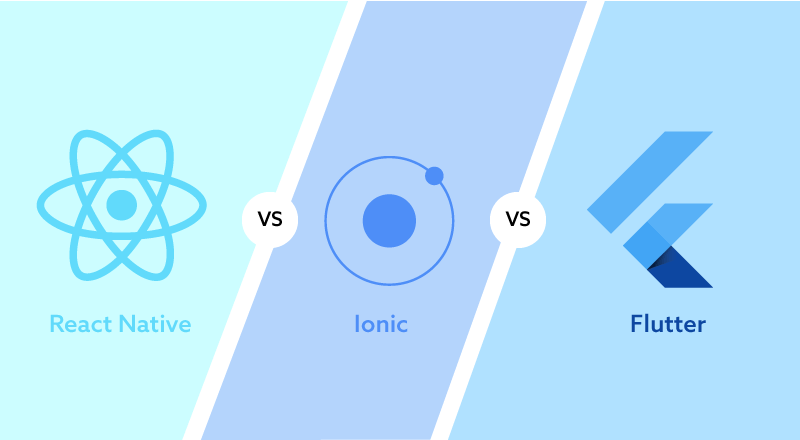 We are starting with a little introduction to each open-source framework:
React Native:
Backed by Facebook, React Native is a mobile app development tool to build cross-platform apps on iOS, Android, and UWP platforms with an ability to deliver native-like performance.
React Native Development is used by many tech giants such as Instagram, Facebook, Airbnb, Walmart, Tesla, UberEats, and so on.
Ionic:
A Cross-platform app is an app that can be used on multiple platforms using a single code base.
As 'cross-platform' and 'hybrid' apps are almost similar accept several structure and technologies differences, we are referring here Ionic as a cross-development app development tool. This is because, using Ionic you can build cross-platform hybrid apps(refer official website here) for web, native iOS, and Android platforms.
Flutter:
Again, powered by Google, Flutter is a power player when it comes to delivering first-rate native experiences on Android and iOS platforms. Flutter App Development is growing in popularity and often compared with React Native and other best cross-platform app development tools.
It uses Dart, a programming language developed by Google and also uses many advanced features of popular programming languages.
What's The Point Of Comparing These 3 Best Tools For Modern App Development?
We have got your back in case you are finding the best tool to develop a new mobile app or revamp existing app. This post tries to solve all your questions regarding best cross-platform app development tools and what to choose and when.
We also want to make one thing clear that what to choose and when always remains subjective and depends on many factors. But this post can help you decide the best framework according to your needs.
Core Differences: React Native vs Ionic vs Flutter
When we talk about differences, we generally consider below-mentioned factors in mind:
Programming language:
React Native uses React library and JavaScript to deliver a native experience on iOS and Android. While Ionic makes the best use of web technologies like HTML, CSS, and JavaScript and requires a Cordova plugin to wrap the applications in native containers.
Flutter is a bit different here as it uses Dart language which is developed by Google. Dart is a modern, multi-paradigm, and objected-oriented programming language used for building apps for web, mobile, and desktop apps.
Community:
React Native and Ionic are having strong community support compared to Flutter. Flutter is relatively new in the battle of mobile app development tools, making it less mature than Ionic and React Native. As Ionic is built on AngularJS, almost 6 years ago, resulting in very strong community support in provisions of the quick solution of errors and constant updates.
However, Flutter has made its space and attracted developers to learn Dart which, in turn, help developers to build high-performing native apps with the support from Google community.
All of these frameworks seem to be having a bright future as all three are backed by strongest tech communities from Google and Facebook.
Performance:
This is one of the deciding factors to choose the best framework.
Although, performance depends on many factors including developers' efficiency in writing code but, here we are considering it from the runtime perspective.
React Native lets you build an application that provides native look-and-feel by invoking native APIs and components.
Ionic is different than other frameworks as it uses web technologies like HTML, CSS, and JavaScript to create hybrid cross-platform apps. It needs plugins and third-party packages to wrap your application in native cover.
React Native and Ionic both deliver superior performance but Flutter goes a step ahead because there is no native transition or some bridges to connect with the native environment.
Flutter uses Dart which is still new and requires learning Dart to create an application. It is gradually improving and has many to-dos to accomplish.
If we talk about user interface design or front-end environment of these frameworks, they offer high-quality, native-like experiences which are loved by the developer's community.
Platforms And Popularity:
Going straightforward, React Native is more popular than the other two as many tech giants are using it in their production environment including Facebook, Instagram, Pinterest, Skype, Tesla, Uber, Walmart, Salesforce, Vogue, and so on.
On the other side, Ionic is very popular among web and mobile app developers due to its easy learning curve. It is used by MarketWatch, Pacifica, Sworkit, Nationwide, and many more.
Flutter has just entered the market but grown in popularity in very less time. It is used by Alibaba, Hamilton Musical, Greentea, Google Ads, and so on.
These frameworks are popular in their respective realms and having future plans of enhancement, too.
Architecture And Execution Of Code:
React Native:
Learn once, write everywhere – this principle saves a lot of time and cost as there is no need to build a separate app for different platforms.
Native UI components and features like Hot Reloading make it one of the best cross-platform app development tools available in the market. One of the architectural advantages of React Native app development is JavaScript. React Native offers native capabilities through React and JavaScript to build better apps, quickly.
Ionic:
One codebase, any platform, this gives developers a significant benefit of code reusability. Ionic's powerful features and strong community support help developers to build highly-interactive apps in no time. You can also use Ionic with Angular, React, Vue, or JavaScript.
Flutter:
Flutter comparatively offers high performance as it uses Dart language which is advanced, compatible and comprehensive language.
Flutter's engine connects with platform-specific SDKs which gives developers a modern, reactive, and a rich set of features that can be leveraged to create beautiful mobile experiences.
We almost covered major differences between these 3 frameworks in details. Now, here is the quick comparison table of React Native, Ionic, and Flutter.
Which Framework Is Best, When, And Why?Ionic is popular for its easy learning curve due to web technologies while Flutter requires developers learning Dart to build apps. Also, Ionic is not a preferable choice for intense graphical apps or game development because of wrapper plugins that cause performance issues sometimes. Flutter is new and gradually growing with the support from best developers of Google and the community.But, let us say that all these frameworks are best at their own. While choosing a framework for your cross-platform app development, you need to analyze many factors like budget, time, application size, platforms, and so on.If you are unable to understand the difference or in dilemma choose a suitable framework, we are here to assist you in meeting your business goals.Connect with us today to know how we can help you in next-gen cross-platform app development.
PARAMETERS

React Native

Ionic

Flutter

Language
JavaScript &

React

HTML,CSS,

JavaScript

(you can use with React, Vue, or Angular)

Dart Language
Nature of apps
Cross-platform
Hybrid cross-platform
Cross-platform
Founded Year(Initial Release)
March 2015
2013
May 2017
Developed By
Facebook & Community
Drifty Co.
Google & Community
Community Support
Strong
Strong
Lack of community support as it's new
Supported Platforms
Android, iOS, UWP
iOS, Android, and Web
Android, iOS, Google Fuchsia
Open source
Yes
Yes, paid also
Yes
Front-end support
Native components &

Declarative UI

HTML, CSS, and a wide range of UI designs
Great support for attractive UIs with built-in widgets
Code reusability
Learn once, write everywhere
Once codebase, any platform
Reusable widgets
Used By
Facebook,

Instagram,

Tesla,

Uber,

Walmart,

Airbnb

MarketWatch,

NHS,

Sworkit

Instant Pot

Untapped

Alibaba,

AppTree,

Google Ads,

Reflectly,

Tencent

Performance
Faster and native-like experience
Interactive and faster apps
High-performing and graphically-enhance app
SPEC INDIA, as your single stop IT partner has been successfully implementing a bouquet of diverse solutions and services all over the globe, proving its mettle as an ISO 9001:2015 certified IT solutions organization. With efficient project management practices, international standards to comply, flexible engagement models and superior infrastructure, SPEC INDIA is a customer's delight. Our skilled technical resources are apt at putting thoughts in a perspective by offering value-added reads for all.