Read 10 Popular Posts About How Technology Proved Its Reign in 2018
"The great growling engine of change – Technology." – Alvin Toffler
Technology has never ceased to amaze. The year 2018 saw many technological advancements that ruled all over the globe. We @ SPEC INDIA have always strived hard to stay abreast with the latest happenings. Here are a few of our blog posts that focussed on multifaceted technological moves and garnered a good amount of reader attention during the year.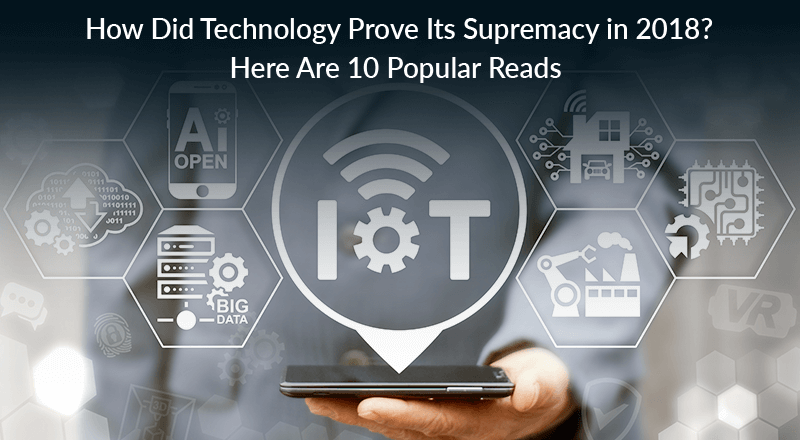 Women's Day is here and so are thoughts about empowering women. Are these obligatory? Chipping in bit by bit on every front, balancing careers, homes, and children the millennial age woman is all about taking things in her stride, multitasking like never before, clearly not requiring special attention!…
Well, thought of Digital Transformations implemented with prudent roadmaps lead the millennial enterprises to Digital Maturity. Most studies, like Gartner, tend to agree that Artificial Intelligence shall win over traditional machine mindset, which should see more research-oriented cutting-edge technologies. 2017 saw the initial days of the chatbots and 2018 is all geared for a sophisticated, immersive user experience powered by technology, specifically AI….
Digital transformations are trending across software development companies, focused on improving enterprise performances & outreach with innovative technology initiatives in place. Digital transformations did start catching pace way back in the early nineties, especially with the advent of the internet. Over the years, as the virtual & the physical worlds seamlessly merge in with intelligent devices becoming commonplace along with disruptive technologies like Mobile, Analytics, Social Media, IoT, AI, Blockchain and the various practical & scalable services from the Cloud….
Implementation of the proposed General Data Protection Regulation (GDPR) Regulation, in European Union (EU) law, is on the horizon, about to be launched from an effective date of 25th May 2018. Identified as one of the most significant acts that will lead to high-end data privacy for all citizens of the EU, GDPR is all set to change the face of data protection, on a global front….
Data security and privacy rights have been a burning concern over the years now. With technology booming each day, the significance of having secured data has increased exponentially. There have been laws and policies defined globally to protect the integrity of data as far as possible. There have been initiatives like the data protection drive implemented in the late 1990s, in the European region….
Set a reminder on your phone to shop online or head to your local market, the retail industry's biggest event is here! Yes, holiday shopping season is knocking the door and will be offering doorbuster deals! Almost every retailer and shopper is excited about Black Friday, Cyber Monday, and Thanksgiving festivities along with the biggest holiday shopping season….
The Chinese conglomerate continues to set benchmarks for the e-commerce companies across the world. Alibaba's Singles' Day, world's largest shopping festival observed a tremendous response globally despite several hurdles such as China-United States trade dispute, cut-throat competition, and tech-dominant environment….
The world is absolutely engrossed in the novel and exciting future technologies, Virtual Reality (VR) and Augmented Reality (AR) being the most popular ones. You put on some hi-tech gadgets and you are into a different world altogether, interacting with the world around you. It is not only limited to entertainment, but there is also much more to offer now. And, to add icing to the AR-VR cake, comes a wonderful merger of the two – Mixed Reality technology (MR), also known as Extended Reality or Hybrid Reality…
Imagine yourself without smartphones, tablets, and computers, can you? It would not be an extravagant statement if we say that technology runs our lives at the moment. We are witnessing a biggest technological shift which has already transformed the way we live and work. In a race of building a better future, technologies have been changing a whole perspective with automation, speed, and efficiency….
Technology has never ceased to amaze. Year after year, there are innovative advancements happening which take us by surprise. It is almost unimaginable how technology has penetrated our personal and professional lives positively. As the year is about to end, the coming year 2019 is all packed with technological surprises for us….
"It's not that we use technology, we use technology." – Godfrey Reggio
SPEC INDIA is an ISO 9001:2015 certified software solutions and services company based in Ahmedabad, one of the most enterprising cities of Gujarat in India. With our marked beginnings 30 years ago, we have proven our capabilities in providing accelerated and cost-effective enterprise software development solutions to a large portfolio of customers across the globe, showcasing end-to-end business transformation. We strive to serve our esteemed clientele with focused collaboration, cutting-edge technologies, immaculate user experience, well-tested solutions, and round-the-clock support.
SPEC INDIA, as your single stop IT partner has been successfully implementing a bouquet of diverse solutions and services all over the globe, proving its mettle as an ISO 9001:2015 certified IT solutions organization. With efficient project management practices, international standards to comply, flexible engagement models and superior infrastructure, SPEC INDIA is a customer's delight. Our skilled technical resources are apt at putting thoughts in a perspective by offering value-added reads for all.