Sisense vs Tableau: Comparing Two Popular BI Tools
With organizational data growing by leaps and bounds, the indispensable need for business intelligence tools is increasing exponentially. As we talk about BI tools, an interesting comparison that goes strong is Sisense vs Tableau – two popular and revolutionary business intelligence and analytics platforms.
Both the tools have their own popularity quotient, have been scoring well as BI leaders, and are often contrasted. Choosing between the two is a challenging task since a lot depends upon what organizational requirements are there.
Sisense is a well-known AI-driven, BI tool that offers modernized analytical solutions and data visualization, going a step ahead of the traditional way. It includes competencies like data analysis, management, visualization, and reporting.
Tableau is a popular BI and data visualization tool that helps in extracting information from all types of data sources and garner insightful information from business data. It includes empowering businesses with reporting insights visa customizable, flexible dashboards and visualizations.
As we look at Tableau vs Sisense, this article evaluates the two industry leaders comparing their pros and cons, the organizations using them, key alternatives, and their similarities and differences against each other. Here we go:
What is Sisense?
Sisense goes beyond traditional business intelligence by providing organizations with the ability to infuse analytics everywhere, embedded in both customer and employee applications and workflows.
Sisense is a modern-day, AI-driven, business intelligence tool that offers APIs for customization to create personalized experiences for any application. It simplifies business tasks of collecting, analyzing, and presenting data for creating interactive and insightful visualizations.
It helps business users in exploring and connect different data components so that they can embed data analytics within applications, with ease, on their own, for further collaboration. It has a drag-and-drop interface through which personalized, and drill-down dashboards can be created in no time.
Since Sisense is AI-driven, it offers analytics that supports AI and ML features. Users can build forecasts depending on historical information and send alerts if it detects irregularities. Users can also embed widgets and customize elements through features like embedded SDK, iFrame HTML tags, etc.
Sisense offers a comprehensive BI process that makes data discovery and analytics available through its scalable architecture. It has a backend powered by in-chip technology that simplifies the merging of huge datasets from different sources. It can be deployed as a private cloud-based SaaS, on-premises, or in a hybrid manner.
Key Features of Sisense
Ad hoc analysis of huge bulk of data
Solves complicated business queries without programming
Embeds dashboards and widgets like gauges, charts, graphs, etc.
Interactive, browser-based dashboards and visualizations
Insightful script-less user interface
Removes restrictions to data size
What is Tableau?
Tableau drives better business outcomes and intelligent customer experiences with insights everywhere, for everyone. It helps people see and understand data with its visual analytics platform, transforming the way people use data to solve problems.
Tableau is a convincing, comprehensive, secure, and scalable BI and analytics platform that makes brands change their data approaches. It connects seamlessly to almost all databases, leverages its drag-and-drop functionality to create interactive visualizations, and offers easy sharing of the same.
It has been assisting organizations worldwide in reducing their processing time and ensuring data-driven outputs with accuracy, security, and flexibility. As a BI tool, it offers visual analytics through which users can undergo data management on their own and discover insightful information.
Without prior knowledge of programming, users can leverage Tableau products for creating a variety of dashboards and reports. It offers real-time insights into data by exploring it through different means like natural language queries, drag-and-drop filtering, etc. The dashboards created by Tableau communicate detailed business workflows.
There are specific customizable tools that Tableau comes up with, for different industry domains and functionalities for gaining insightful information. It gels well with artificial intelligence and data management tools with complete support for dynamic visual representation in real-time, with immediate visual feedback.
Key Features of Tableau
Multiple integration and platform support
Special drag and drop feature
Easy sharing of dashboards outside the organization
Connects well to data on-premises in the cloud
Calculates robustly from forecasts, statistical figures
Builds interactive and automatic maps with faster mapping
An Interesting Tableau Visualization: CMO Dashboard
Tableau vs Sisense: Pros and Cons
Pros of Tableau
Augmented client experience
Insightful and futuristic view
Enhanced operational efficacy
Added benefit with a data-driven culture
Attractive user interface
Roust data visualization
Flexible to accept any type of data
Cons of Tableau
Scalability and security issues
Slow loading of dashboards
Inflexible pricing
Pros of Sisense
Good quality user interface and experience
Less technological exposure needed
High-end documentation support
Real-time insights with flexibility
Range of advanced analytics and visualization
In-depth insight for effective analytics strategy
Smart calculation and charting options
Cons of Sisense
Difficult to understand error messages
Needs strong technical know-how of BI
No advanced graphics are accessible
Sisense vs Tableau: Key Competitors/Alternatives
Sisense Competitors
Here are some of the well-known Sisense competitors that have been giving Sisense a tough run:
Tableau
Looker
Domo
Qlik Sense
IBM Cognos Analytics
MicroStrategy
QlikView
Oracle Analytics Cloud
Dundas BI
Zoho Analytics
Tableau Competitors
Here are some of the well-known Tableau competitors that have been giving Tableau a tough run:
Sisense
MicroStrategy
Alteryx
Amazon Web Services
Domo
Qlik Sense
IBM Cognos Analytics
Looker
GoodData
Dash
Sisense vs Tableau: Organizations Using Them
Sisense Customers
There are many Sisense customers who are leveraging the goodness of the BI tool. Here are some of them:
Acosta, Covetrus, NBC Universal, Verizon Communications, General Electric Company, Air Canada, Nasdaq Inc., Freelance IT, TIAA, Rolls Royce, etc.
Tableau Customers
There are many companies that use Tableau, who are experiencing the good qualities of the BI tool. Here are some of them:
Nissan, Walmart, Amazon, CVS Health Corporation, Apple Ireland, The North Face, Acrelec SAS, Lenovo, LinkedIn, Netflix, etc.
Tableau vs Sisense: Tools That Can Be Integrated
Tools That Can Be Integrated with Tableau:
R, Python, MATLAB, Microsoft Azure Data Lake, AWS, Snowflake, Data Bricks, Mulesoft, Oracle, SAP, Cloudera, Google Cloud Platform, TimescaleDB, Dremio, SAP HANA, Apache Kylin, Vertica, etc.
Tools That Can Be Integrated with Sisense:
Git, Adobe Photoshop, Adobe XD, ChatGPT, Snowflake, AWS, Google BigQuery, Teradata, Exasol, Amplitude, Salesforce, Amazon Athena, Dremio, SAP HANA, Vertica, DataRobot, AtScale, etc.
Similarities between Tableau and Sisense
Good visualization capabilities and embedded analytics
Free trial, multiple data importing ways
Business intelligence and analytical competencies
Analysis of historical data and identifying trends
Valid connectors for external data sources
Natural language features to produce narratives
Flexible deployment and pricing models
Priority to customer requirements
Available on-premises and cloud-based
Ideal for medium to large organizations
Offers total control over powerful visualization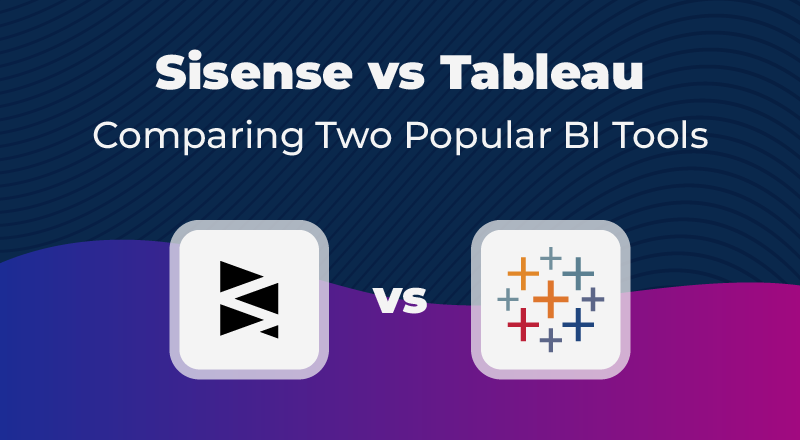 Sisense vs Tableau: A Comparative Evaluation
| | | |
| --- | --- | --- |
| Parameters | Tableau | Sisense |
| Overview | A popular tool for data visualization and BI reporting business insights via customizable dashboards and reports | A well-known single-stack BI tool that includes analyzing, visualizing, and reporting competencies with smart calculation options |
| Desktop and Mobile Platforms | Windows, Macintosh, iOS, Android | Windows, Macintosh, iOS, Android |
| Data Import and Preparation | Stores data on the cloud easily import data with Prep and Prep Conductor, smooths process | Sufficient data storage for easy import of data, in-cloud data storage, and on-premises too |
| Type of Software | Tableau is a downloadable software | Sisense is a web-based tool |
| Solutions | Does have a solution for sales taskforce and government organizations | Does not have a solution for sales taskforce and government organizations |
| Pricing | Pricing details are available on the website | Does not release its pricing details to the public |
| Coding Knowhow | Needs prior coding experience | No coding know-how needed |
| Data Visualization | Charts, tables, and geospatial visualizations at an advanced level | Static and interactive visualization, at an advanced level |
| Data Governance | Flexible data governance models for a completely customized experience | Fixed data governance models including four key user roles for administration |
| Embedded Analytics | Analytics can be embedded into the application through JavaScript API or iFrames | Analytics can be embedded into dashboards through an embed code |
| On-premises & Cloud | Tableau wins for on-premises data and systems | Sisense wins for cloud-based services |
| CRM Support | Tableau is powered by Salesforce and hence offers inherent support for CRM | Sisense can use CRM with the help of Sisense Inherent Apps which is an external app |
| Processing Capability | It uses in-memory technology called Hyper to increase processing speed | Uses in-chip technology for processor-based computing and running concurrent queries |
| Training Schedules | Offers in-person and online training, webinars, documentation | Offers online training through webinars and documentation |
| Dashboard Comments | Tableau provides dashboard comments | Sisense does not provide dashboard comments |
Good Read: Sisense vs Power BI: Which BI Tool Is Ideal For Your Project?
Sisense vs Tableau: Summing It Up
As we start concluding the comparison between Sisense vs Tableau, we feel that Sisense will be a perfect choice if the team prioritizes the creation of analytical tools and has multiple integration choices to make.
Sisense is also suitable for embedding your dashboard into the application. If you are looking for a tool that will assist in creating data-driven and analytical apps, Sisense is a better choice with its inbuilt features.
On a similar note, Tableau is a great choice when there is a need for varied visualizations and a high level of granularity in their activities. It is of great importance when you need detailed yet simple visuals to be shown. Also, it is best when there are multiple sources of data to be combined into a dashboard.
If you are searching for a tool that will have specified control over data permissions with internal dashboards for data analysis, Tableau is a better option.
Whichever you choose out of the two – Tableau vs Sisense, both have their own set of characteristics that can lead businesses to success. Select either and enjoy the great distinctions of the technology.
We @ SPEC INDIA offer a complete suite of business intelligence and analytics services that help organizations drive data literacy and unleash the power of data to be ready for a data-driven tomorrow.
Our extensive business intelligence services help organizations transform data into actionable insights for precise, strategic, and calculated business conclusions.
Our BI professionals help develop data-driven approaches that supply insights into key areas, validate your decision-making process, organize emerging trends, and discover the hidden potential of data.
SPEC INDIA's business intelligence and analytics services are aimed at building a data strategy that covers full-cycle data management, data analytics, and data visualization services to make the most of your data assets. You can talk to our BI consultants to get a 360-degree view of your business.
Hire our dedicated business intelligence developers/consultants as they help startups, mid-sized, and enterprise businesses unlock the power of data to make better business decisions.
SPEC INDIA, as your single stop IT partner has been successfully implementing a bouquet of diverse solutions and services all over the globe, proving its mettle as an ISO 9001:2015 certified IT solutions organization. With efficient project management practices, international standards to comply, flexible engagement models and superior infrastructure, SPEC INDIA is a customer's delight. Our skilled technical resources are apt at putting thoughts in a perspective by offering value-added reads for all.