Smart Cities: An Urban Optimism. Connected, Captivating, And Comprehensive
The year of 2018 said goodbye! We can say that it has been a year of technology that made us climb the next level of automation. It seems like we are in a race of using technology as much as we can.
We are moving from 'Smartphone' to 'Smart Cities' and adding one more to our set of worthy-read, here we are again with one of the most discussed topics of this year, 'Smart Cities'.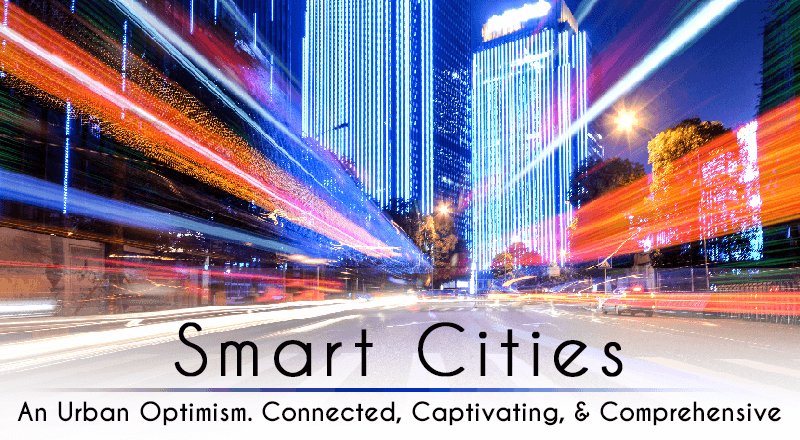 What is a Smart City?
Take a look at this video:
According to Intel,
"A Smart City is an urban ecosystem that places emphasis on the use of digital technology, shared knowledge, and cohesive processes to underpin citizen benefits in sectors such as mobility, public safety, health, and productivity."
A smart city is not focused only on the usage of smart technologies; it is more about sustainability, security, connectivity, a healthy economy, and the environment.
This year, according to IESE Business School's Center for Globalization and Strategy, the list of world's top ten 'Smart Cities' includes New York at top position, London and Paris having second and third positions respectively. Along with the apt utilization of technologies, this study has also considered several other factors such as environment, development, economy, e-governance, ease of transportation, accessibility, planning, and human talent while ranking them.
Technology has paved the way for global connectivity.
Looking into the figures, according to Frost & Sullivan Experts, over 80% of the population in developed countries is estimated to live in cities.
More from that report,
The Asia-Pacific region is expected to be the fastest-growing region in the smart energy space by 2025.
Smart cities are projected to create a number of business opportunities with a market value of over $2 trillion by 2025.
Europe will have the largest number of smart city projects and initiatives globally.
The North America smart buildings market (sensors, software, hardware, and controls) is expected to grow $5.74 billion in 2020.
How Smart Cities Are Different From Other Cities?
When we are talking about smart cities, Singapore is the city that is not to be missed. Singapore has set a perfect example of maximum utilization of technology to enhance the healthcare, employment, connectivity, transportation, and education.
In this list, Singapore ranks 6th following Seoul at 7th, Toronto at 8th, Hong Kong at 9th and Amsterdam at 10th position.
Singapore is recognized as the most 'technology-ready' nation by the World Economic Forum. It is one of the smartest cities as they make use of technologies to empower human lives.
Watch below video to see how Singapore is transforming the process and people with the help of technologies.
Smart Cities differ from other cities because of the following factors:
Streamlined, faster, and accessible transportation across the city
Integrated and shared services to offer through multiple providers
High-tech enabled healthcare services to improve the quality of life
IoT – enabled smart homes and workplaces making a chain of constant communication
Automated and robust security planning across the city
Energy-efficient lighting system to implement 'sustainable energy' plans
High-speed internet along with maximum security and accessibility
Smart drainage systems to improvise conditions in all the areas
Technology-driven, efficient, faster governance to quick fix citizens' issues
In a nutshell, smart cities are all about citizens and their needs. It forms a universal environment where every organization, individual, and government bodywork in a synchronized manner.
Smart Cities: A Look Into The Future
One Statista report predicts that global smart city spending will reach $34.35 billion, more than double the 2015 spending.
Why we are discussing 'Smart Cities'?
Once a new technology rolls over you, if you're not part of the steamroller, you're part of the road.

– Stewart Brand
This wise man's saying actually goes well here.
Whether you adopt it or not, technologies are here to stay. A number of cities have already started adopting smart ways like smart waste management and energy-efficient lighting system. Moreover, digital channels and IoT networks enable the stronger collaboration of organizations by keeping data-flow running across the city.
Keep in mind that, the smart city doesn't mean that we are prioritizing technologies above all the factors. A smart city is a smart plan to improve sanitation, healthcare, transportation, and accessibility.
Key Technologies In Smart Cities:
IoT: Connectivity Is At Its Peak
Internets of Things devices (sensors, actuators, electronic devices, and software systems) together form a connected environment to interact and communicate with each other via the internet.
A range of applications of IoT covers assistance for persons with disabilities or elder individuals, controlling media and security systems through your mobile devices, managing lighting, and air conditioning through sensors, and so on. It also involves modern alert systems that overall enhances the preventive maintenance of your homes.
Wearables and smart monitoring enabled better healthcare systems and give better insights into preventive care. Transportation, manufacturing, environmental predictions and monitoring, energy management, and smart drainage can overall improve the lifestyle and health of individuals.
"Artificial intelligence would be the ultimate version of Google. The ultimate search engine that would understand everything on the web. It would understand exactly what you wanted, and it would give you the right thing. We're nowhere near doing that now. However, we can get incrementally closer to that, and that is basically what we work on."
—Larry Page
The process of making machines intelligent like a human is attracting the tech world nowadays. The scope of AI is still not clear but smart assistance and personalized experiences are already taking over the tech industry.
Amazon's Alexa, Google Assistant, and Apple's Siri are examples of intelligent personal assistant and people seem to be overwhelmed by its ability of self-learning. Smartphones, smart machines, and smart devices are leading the way towards Smart Cities which can be a next 'big thing' to see in the future.
Smart Energy Solutions: Modern Techniques To Achieve More
Energy-efficient lightings are designed to save more energy and cost. With the help of solar power systems, electric vehicles, LED lightings, and smart lighting controls, citizens can achieve more with less.
We are surrounded by data.
The massive amount of data will be generated by hundreds and thousands of devices when it comes to the concept of 'Smart Cities'. The fact is, every data is not useful. Data should be monitored, analyzed in a manner that can be used for better decision-making processes.
AR/VR In Smart Cities: Will They Deliver Value?
Immersive experiences and virtual world have taken the user interaction and imagination to the next level.
The use of augmented reality and virtual reality has been transforming the real-time world into the virtual world by proving its potential with extremely detailed, pleasurable, and the real-life world.
AR/VR can be used to enhance the government-citizen interaction, education, planning, emergency management, and training. Additionally, the use of AR-VR in asset management and in construction together can draw a fully-immersive, thorough, and pleasant picture. Augmented-virtual reality can be thought of one of the useful tools to reduce human errors by providing 'preview-mode' wherever possible.
Culture and tourism industry, healthcare industry, and planning – many such areas can deploy AR/VR tools to deliver value to the citizens. These technologies are a key attraction in smart cities and expected to be used in a realistic way rather chasing the pricey tools and deployment.
Security: The Ultimate Need Of A Citizen
It's not wise to let technology breach the security of a person.
Security is a major concern with the growing usage of technologies in our day-to-day life. Planning of Smart Cities must prioritize security and its robustness considering a huge number of devices.
Technologies like Blockchain can help as it works in a decentralized manner. It is one of the secured architecture as it does not allow you to edit or update any information in the chain, instead, it will add one more block in the chain as an update.
The hype of blockchain also failed to sustain due to lack of awareness and inability to suit all the business models. Security in smart cities would require more advanced and proper planning to keep privacy intact.
Mobility: A Winning Factor
Mobile has won the game of digital transformation.
Secure digital payment integration, accessibility, information at fingertips, controlling & administration, and 24*7 readiness of mobile acted as a 'personal assistance' to us.
Mobility covered almost all the domains due to ubiquity and usefulness. Mobility will play a major role in the development of smart cities as more than half of the population already own a mobile phone. Industry-specific usage of mobile surpassed desktop in several areas and it continues to show a rise in upcoming time.
Calling It A Conclusion:
'Smart' is our way of life!
Cities like Singapore, San Francisco, New York, London, Paris, and many more are ahead on the journey of 'Smart Cities'. It is more than 'technology-driven' approach aiming at improvising conditions of human lives. Technologies should be part of the person's life, it's not life – ending with this thought, we hope that we can work in the 'smart' direction yielding great results.
We hope that you liked this post! Stay connected for more such insights and keep sharing!
SPEC INDIA, as your single stop IT partner has been successfully implementing a bouquet of diverse solutions and services all over the globe, proving its mettle as an ISO 9001:2015 certified IT solutions organization. With efficient project management practices, international standards to comply, flexible engagement models and superior infrastructure, SPEC INDIA is a customer's delight. Our skilled technical resources are apt at putting thoughts in a perspective by offering value-added reads for all.