Snowflake vs Redshift: Revolutionizing Cloud-based Data Warehousing
Any successful business depends upon business intelligence and analytics with comprehensive data playing a significant role in it. It is vital for these data bulks to undergo the finest analytics possible through modern-day technology – data warehousing in the cloud.
And as we talk about data warehouse solutions in the cloud, two popular tools that are often evaluated are Snowflake vs Redshift. These two are leading cloud-based data warehousing players offering excellent speed, scalability, performance, volume, and enhanced quality of insightful information.
Both possess security, relational management, cost efficacy, and scalability. Yet, as we look at Redshift vs Snowflake, they possess key differences that must be evaluated as you choose the apt one for your project. Choosing the right one is vital since it plays a key role in providing your business an edge over the rest in the business arena.
Certain expectations like enhanced decision-making, increased client service and satisfaction, intuitive analytics, and futuristic decision-making are a must from these popular tools. Before we ponder on the differences between the two, let us understand their individual characteristics.
What Is Amazon Redshift?
Amazon Redshift is one of the fastest, easiest, and most widely used cloud data warehouse. It uses SQL to analyze structured and semi-structured data across data warehouses, operational databases, and data lakes, using AWS-designed hardware and machine learning to deliver the best price-performance at any scale.
Powered by Amazon, Redshift is a data warehouse offered as a service. It can manage huge amounts of data and possesses scalability and flexibility. Fast querying of petabytes of data is possible without bothering about storage or servers.
It is a cloud-ready, fully managed warehouse service that readily integrates with modern-day BI tools. What is needed is just executing the ETL process in the warehouse to kick off appropriate business choices.
Since there is a great deal of scalability, scaling up or down as per needs is easy and effective. Data can best be leveraged for garnering insightful information for both business owners and customers both. There are Redshift clusters with a set of compute nodes that are partitioned into slices. Each slice is given a part of the memory of nodes and disk space.
Redshift offers great performance by making the most of internal networking elements. There is a high-speed collaboration between nodes because of high-bandwidth connections, vicinity, and flexible communication procedures. It utilizes column-based databases for relating BI solutions with SQL-based query engines.
It uses Massively Parallel Processing (MPP) on strong storage nodes for faster query outputs on huge datasets. For faster cluster management, it also offers Amazon Redshift Query API, AWS SDK, AWS CLI, or Amazon Redshift Console.
There is an Advanced Query Accelerator (AQUA) that provides a cache to speed up query operations by around 10x, offering detailed insights into the business.
What Is Snowflake?
Snowflake is one popular platform that powers the data cloud. Business users can execute the most critical workloads on top of Snowflake's multi-cluster shared data architecture in a fully managed platform that capitalizes on the near-infinite resources of the cloud.
Snowflake is a leading cloud-driven data warehousing tool that offers decoupled storage and computes architecture with unlimited compute scale and workload isolation. It executes seamlessly on leading platforms like Azure, AWS, and Google Cloud Platform. It offers multi-tenancy for shared resources.
It is a powerful RDBMS that provides analytical data warehousing services for structured and semi-structured data, through a SaaS-based model. It makes use of an SQL database engine especially meant for the cloud.
Snowflake has a peculiar architecture that combines a traditional shared disk (using a central data store for accessing nodes) and a shared-nothing model (cluster nodes store a local copy of the complete data set).
It represents a three-tiered system having database storage for managing information in the database, query processing with virtual warehouses, and cloud services that bind together system components like access, authentication, infrastructure, and query parsing. The output is user-friendly, quick, and flexible since it separates compute and storage functions.
Snowflake provides data storage and analytics in the structure of Snowflake Elastic Data Warehouse. This way, users can collect and evaluate data with cloud-driven infrastructure. Data that gets stored in Amazon S3, can be utilized by the public cloud system as per requirements.
Snowflake is specially designed for the cloud and hence reflects the goodness of the cloud in terms of being flexible, scalable, powerful, and cost-effective. This makes it perfect for businesses of all sizes and segments.
Being a SaaS-based platform, it facilitates a smooth multi-cloud experience, secure sharing of data, and limitless scaling of resources. It abstracts compute from storage and hence data can reside in a unified repository whereas the sizing, scalability, and management of compute instances can be done independently.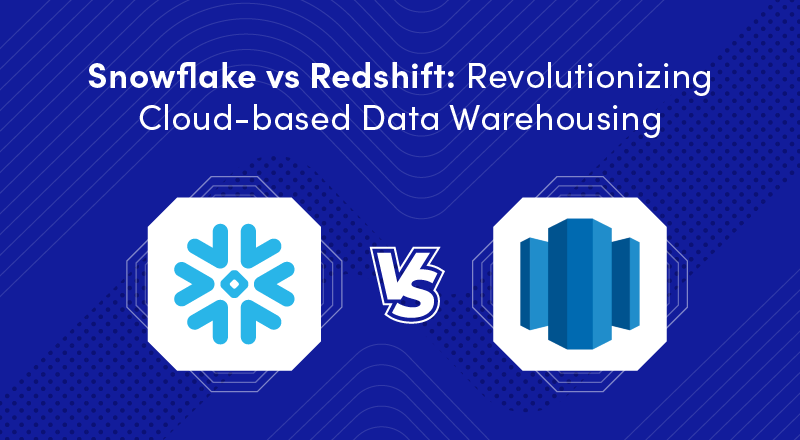 Snowflake vs Redshift: Best Alternatives
Snowflake Alternatives –
Here are the popular Snowflake alternatives:
Cloudera
Google Cloud Platform
Microsoft Azure
Teradata, Oracle
Databricks
Panoply
Redshift
Google Big Query
PostgreSQL, IBM
Redshift Alternatives –
Here are the popular Redshift alternatives:
Google Big Query
Vertica, Snowflake
IBM Db2
Databricks
PostgreSQL
Microsoft SQL Server
Panoply
Azure SQL Data Warehouse
Cloudera
Azure Synapse Analytics
Teradata Vantage
Redshift vs Snowflake: Pros and Cons
Pros of Redshift:
Intuitive, user-friendly, need minimal administration
Ability to execute complicated queries
Easy service management and scalability
Seamless integration with other AWS services
Fast and complex analysis of objects in AWS Cloud
Data aggregation and denormalization
Quick query results with simultaneous analysis
Data output in many formats like JSON
On-demand retained instance pricing model
Secure storage of data with an appropriate, accurate backup facility
User-friendly console for better query resolution
A completely managed platform with the least maintenance
Effectively works with SQL data with PostgreSQL syntax
Cons of Redshift:
Not ideal for transactional systems owing to the need of using two separate database services
Issues with hanging queries in external tables
Does not support many common PostgreSQL data types
Pros of Snowflake:
Ideal for enterprises that work on the cloud
Seamless integration and compatibility with peer technologies
Insightful SQL interface with auto-complete features
No need for installation, configuration, or management of the warehouse platform
Easy start, setup, and execution
Offers cloud-based data warehouse for easy integration with the current system
Support for a wide range of third-party technologies and partners
Easy integration of SaaS with data storage, query processing, and cloud services
Enabling data sharing within accounts through database tables
Seamless integration with AWS
Secure user-defined functions and views
Enhanced security features ideal for enterprises
Efficient working with AWS and Microsoft Azure
Cons of Snowflake:
Only bulk data loading during data migration
No support for unstructured data
Not fit for on-premises businesses that don't integrate with the cloud
Amazon Redshift vs Snowflake: Companies Using Them
Companies Using Redshift:
BlocPower, Vyaire, Amazon, GE, Philips, Coca-Cola Andina, FOX, 21st Century Fox, Toyota, Kyowa Hakko Kirin, All Nippon Airways (ANA), ENGIE, Euronext, and more.
Companies Using Snowflake:
Instacart, Square, Primer, Deliveroo, AB180, Postclick, Western Union, Live Nation, Federal Reserve Bank, Warner Music Group, Anthem, Capital One, Kraft, Sainsbury, and more
Snowflake vs Redshift Similarities
Ever since Redshift vs Snowflake is being compared, there have been certain evident similarities that are as below:
Massive Parallel Processing (MPP) for quick performance
Data access through SQL-driven query engines
Abstraction of data management activities for intuitive decision making
Flexibility, security, and scalability of data and data storage
Easy connection of BI solutions to databases and third-party ETL tools
Large integrations and healthy ecosystem partners
Snowflake vs Redshift Comparing Two Top Data Warehouse Tools
| | | |
| --- | --- | --- |
| Parameters | Snowflake | Amazon Redshift |
| Release Year | 2014 | 2013 |
| Delivery Approach | Software as a Service (SaaS) | Platform as a Service (PaaS) |
| JSON Based Functions and Storage | Increased and robust support for JSON storage. Store and query JSON with inbuilt functions. | Limited support for JSON based functions. JSON splits into strings which is little tough to query. |
| Architecture | Shared-nothing and shared-disk | Shared-nothing |
| Maintenance | Automatic database maintenance activities, saving on time and issue resolution | More of hands-on maintenance for a wide range of activities that cannot be automated |
| Cloud Approach | Cloud Agnostic | Cloud Native |
| Compute Types | Compute types not customizable | Customizable Compute types |
| Compute and Storage | Splits compute and storage to offer tiered edition and flexibility to enjoy needed features | Bundles compute and storage to offer direct potential for scalability to an enterprise level |
| Security Features | Offers security and compliance based on specified editions. Always-on encryption that imposes strict security checks. | Offers an in-depth bench of flexible encrypted solutions. Offers a customizable security model based on need. |
| Sharing of Data | Data can be shared without data replication and more storage | Data cannot be shared easily and flexibly |
| Pricing Model | Snowflake pricing depends on a time-based model, in which the charge is levied on the time spent on queries. Data storage and computational warehouse are separately billed since they are decoupled. There is a dynamic pricing model in which costs change based on changing workload. | Redshift pricing depends on on-demand instances (no upfront costs) or reserved instances (long term commitment). It empowers users to pay as per utilization by scaling up or down, as needed and pay on actual basis. It charges per hour, per node and offers discounts on long term commitments. |
| Fast Cloning of Tables | Yes | No |
| Third-party Integrations | Kinesis, Glue, S3, Domo, Recurly, Improvado, PopSQL, Peekdata, Immuta, Hevo, WordPress, Google Cloud Platform, Azure, Datadog | Kinesis, CloudWatch, SageMaker, Athena, Glue, EMR, Schema Conversion Tools, DynamoDB, Database Migration Service |
| Scaling | Implements instantaneous auto-scaling. Autoscaling up to 10 warehouses. | Needs to add or remove nodes for scaling. 15 concurrent queries per cluster. |
| Data Customization | Supports lesser options for data customization | Supports data customization with distribution and partitioning |
| Supported Cloud Infrastructure | Cloud-based only AWS, GCP, Azure | Cloud-based and on-premises infrastructure AWS only |
| Dedicated Resources | Multi-tenant pooled resources | Isolated resources and tenants |
| Storage Setup | Columnar micro-partitioned and compressed storage | Columnar and uncompressed storage |
| Table-level Partitioning | Automatic division of data into micro partitions | No table partitions. Sort keys and user-defined distribution are used. |
| Data Sources | Google Cloud Storage, Amazon S3, Azure Blob Storage | Amazon S3, RDS (Postgres, Aurora, Postgres) |
| Automated Tuning | Yes | No |
Good Read: Teradata vs Snowflake: Two Data Warehousing Solutions Often Compared
On a Final Note:
In this modern-day world, where most businesses are executed based on valuable data inputs, the two top cloud-based data warehousing tools – Amazon Redshift vs Snowflake, being compared offer provide fast retrieval times, data management, and easy analytics.
Both have been well-known for providing high-end availability with the least downtime and scalability across many servers via replication. Hence, the final selection between the two depends on different parameters such as workload pattern, resources, business needs, bundled services, specified use cases, scalability, data volumes and strategies, security, support and maintenance, pricing models, data geolocation, nature of queries.
The comparison between Snowflake vs Redshift has always been increasing. There are certain instances when Snowflake is the apt choice and certain when Redshift is recommended.
Snowflake is ideal when – 
There is a light query load
The need for frequent scaling is known
A managed and automatic solution with the least functioning overhead is the need
Redshift is recommended when – 
There is a heavy query load
Usage of AWS services is already existing
Structured data is being executed by workloads
Even if there are differences between Snowflake and Redshift, be it whichever, organizations are sure to gain insightful data analytics and effective data warehousing services since both have their own loyalty quotients and a bright year ahead!
SPEC INDIA, as your single stop IT partner has been successfully implementing a bouquet of diverse solutions and services all over the globe, proving its mettle as an ISO 9001:2015 certified IT solutions organization. With efficient project management practices, international standards to comply, flexible engagement models and superior infrastructure, SPEC INDIA is a customer's delight. Our skilled technical resources are apt at putting thoughts in a perspective by offering value-added reads for all.