Splunk vs ELK: Comparing Two Powerful Log Management Solutions
Updated
December 7th, 2022
A critical area that any organization must focus on is log management. To manage and handle logs is highly critical for any company's layered security framework else, it may end up with security hassles, data breaches, etc. Not having a proper log management system offers low-end visibility into the happenings in the organization.
Most businesses generate huge bulks of log files that record multiple things like activities done, errors encountered, resources availed, etc. The volume of these log files is quite high and hence needs a thorough management tool to take care of.
Splunk and Elk are two popular enterprise solutions in the category of operational data analytics and log management solutions. These tools focus on solving log management matters, enabling companies to collect insightful and intelligent information from the huge logs of data.
Splunk and Elk both offer a competitive approach for collecting and indexing log files, expanding log data, offering a search interface for data interaction, creating effective visualizations like reports, dashboards, etc. Though both have the same objective, they tend to showcase many differences also.
Before we compare the two, let us understand what Splunk is used for and what does Elk tool do.
What Is Splunk?
Splunk turns data into doing – powering security, IT, and DevOps. Also known as the 'Google for log files', Splunk has been a leading DevOps tool. It has been a powerful log management and analysis solution and has a good focus on security management.
So, what does Splunk do?
It is more like log management as applicable to security with detailed search facilities. It has three main components: Forwarder to push the data to the next, Indexer for response to queries, and Search Head as a user interface to portray all three for a clear vision.
Splunk uses a search language called Search Processing Language (SPL) to navigate and implement large queries. With the help of Splunk, users can perform effective security analysis on diverse log files garnered from different environments and systems. Users can gain further insight into the log information by the generation of different charts, graphs, alerts, etc.
One of Splunk's unique selling points is its real-time processing capabilities. Users can have their input data in any format they wish to. Splunk can be configured to offer alerts and notifications whenever a machine state starts off. Accurate prediction of resources can be done easily to ensure proper scalability. The creation of knowledge objects for operational intelligence is also possible.
Key Features Of Splunk
Fastens development and testing of applications
Offers search and optimization competence for all users
Creates real-time data applications
Generates quicker RoI
Indexing, search, alerts, dashboards, and reports
Organizations Using Splunk
Adobe, Visa, Cisco, Walmart, Visa, Facebook, Motorola, IBM, Facebook, Adidas, Salesforce, etc.
What Is Elk Stack?
"ELK" is the abbreviation for three open-source projects: Elasticsearch, Logstash, and Kibana.
Elasticsearch is a search and analytics engine.
Logstash is a server‑side data processing pipeline that consumes data from various sources at the same time, transforms it, and then translates it to a "stash" like Elasticsearch.
Kibana allows users to envision data with charts and graphs in Elasticsearch.
It is considered a NoSQL database that stores unstructured data in a document format. It has many software tools for searching logs, routing data, processing data, and visualization of data. There is a provision for centralized logging due to which users can further perform analysis within applications.
The ELK stack is popular because it handles the log management and analytics space effectively especially when the IT infrastructure moves to the cloud. Its simple yet robust capabilities are its unique selling point for developers and DevOps architects to garner detailed insight into the application's performance, failures, and monitoring infrastructure. The Elastic Stack is the subsequent development of the ELK Stack. The different components in the ELK stack were meant to have a proper interaction based on the configuration parameters.
Key Features Of Elk Software
Ability to index any type of heterogeneous data
Horizontal and vertical scalability
Multiple language support, geolocation support
Facility to filter and query data for detailed perception
Scalability and resiliency
Organizations Using ELK
LinkedIn, Netflix, Stack Overflow, Accenture, Fujitsu, Medium, Tripwire, HipChat, Swat.io, etc.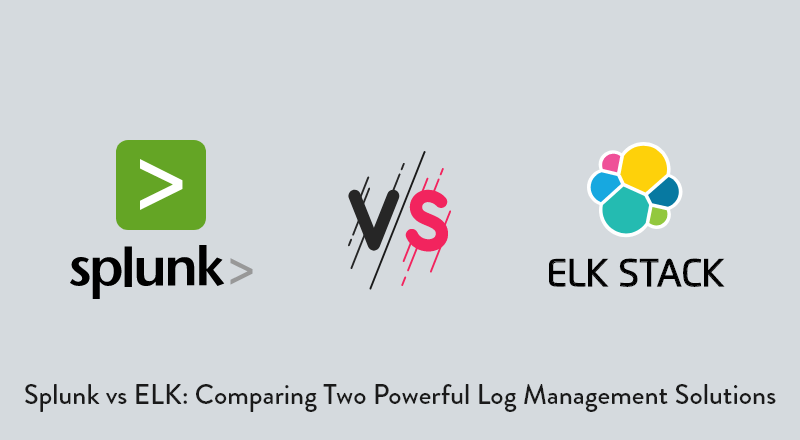 Splunk vs ELK – An Interesting Comparison
Though both these log management tools have a similar objective and certain similar features, there are basic differences each of them carries, because of which they are distinct in characteristics.
Here are some of the common characteristics that both Splunk and Elk carry, both solutions are
Easy to deploy and use
Having a lot of features and competencies
Powerful, thorough log management tools
Experts in complying with user requirements, especially the enterprise
Highly flexible and customizable
Possessing advanced reporting and data visualization features
Effective in search facilities
Market leaders in their own periphery
Regular is the latest updates and releases
Comparing ELK Stack vs Splunk, based on various parameters.
Parameters
Splunk
Elk
Technology
A single, closed source, commercial tool

The agent is Splunk Universal Forwarder

Uses Custom MapReduce for indexing/search technology

Uses Search Head for search interface

Querying is done by SPL, just like SQL statements

Offers support for Solaris portability

Combination of 3 open-source tools

The agent used in ELK is LogStash functions

Uses Apache Lucene for indexing/search technology

ELK uses Kibana for search interface

Querying is done by Query DSL like JSON formatted text

Doesn't support Solaris portability

Costs Involved
Enterprise offering with a high-end license fee
Free of cost but involves other infrastructure costs
Components
Forwarder, indexer, and search head
Logstash, Elasticsearch, and Kibana
Simplicity and Ease of Use
Splunk is much more accessible and has easy configuration
Elk is a little tough to access with challenging configuration
Learning Curve
Splunk is complicated and hence has a larger learning curve
Elk is free, with a lot of training courses and hence has a shorter learning curve
Community Support
Relatively less user community support
Active and responsive user community
API and Extensibility
Provides a well-documented RESTful API with 200+ endpoints
Distributed search and analytics engine uses standard RESTful APIs and JSON
Third-Party Integration Support
1000+ addons and apps with different categories
Multiple plugins and integrations from the community
Speed of Execution
Facilitates faster and accurate processing
Has a limitation in case of processing speed
Data Format
Splunk accepts data in any format – JSON, CSV, any logfile
Elk does not support all data types, plugins are necessary
Data Configuration
There is pre-configuration and hence data can be injected as it is
Data must be identified and configured before injection into the system
Vendor Lock-In
Because of its high price and comprehensive features, organizations might stick to one vendor
Since it is free and open-source, organizations may resort to multiple vendors for different features
High-End Accessibility
Possible through cluster replication factors
Possible through replica shard
Cluster replication for redundancy
Possible with multi-site architecture
Possible with leaders for each index
Security Packs
Access control list to provide basic SSL level security
X pack must be bought to avail security features
Deployment
Production-based deployment accessibility
Need for high-end RAM for big indexes
Parsing
Does event parsing once searches are executed
Does event parsing once data is ingested
As The Splunk vs Elk Comparison Comes To An End
Comparing Elastic Vs Splunk is an interesting job! Overall, Splunk and Elk both are meant for monitoring, analyzing, aggregating, and visualizing a variety of machine log files. But both have their own set of pros and cons.
Based on organizational requirements, client needs, budget, timelines, resources, and infrastructure, stakeholders will have to finalize which one to choose from. It would be recommended that if the organization is small or medium-sized, Elk can be preferred else for a large enterprise, Splunk is recommended. But then, to each its own!
SPEC INDIA, as your single stop IT partner has been successfully implementing a bouquet of diverse solutions and services all over the globe, proving its mettle as an ISO 9001:2015 certified IT solutions organization. With efficient project management practices, international standards to comply, flexible engagement models and superior infrastructure, SPEC INDIA is a customer's delight. Our skilled technical resources are apt at putting thoughts in a perspective by offering value-added reads for all.