Tableau Online: Do It Yourself Self-Service Analytics in Cloud
Tableau BI: 7 years a Leader: 2019 Gartner Magic Quadrant is here! [source]
Tableau BI, a global leader in the world of Business Intelligence, has been ruling the hearts of users, thanks to the plethora of key benefits that if offers – expert visualization, reporting and dashboard generation, quicker data retrieval, higher decision making, range of products anybody can use, ease of use with progressive acceptance, pioneering versatility with reduced costs and time, team association with tableau community reflecting innovation and culture.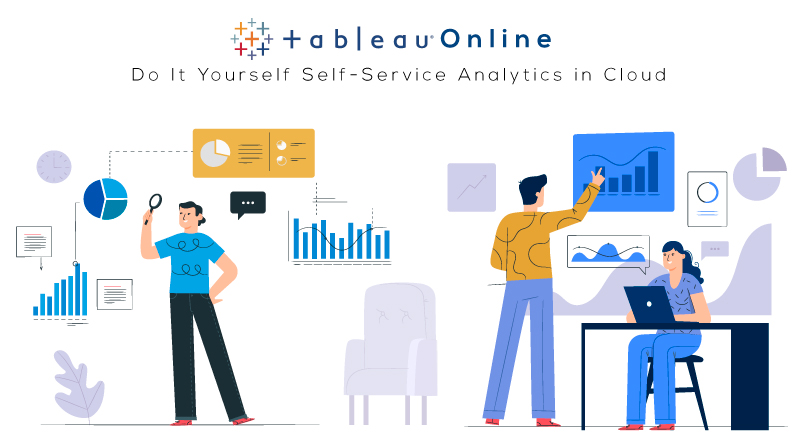 The Tableau Range Of Products:
Tableau Server
Tableau Online
Tableau Public
Tableau Desktop
Of these foursomes, the one tool that has been primarily responsible for getting users close to the technology and offering them what they want, in a self-service manner, is Tableau Online.
Tableau Online is a consistent and protected hosted Tableau server version to skip hardware configuration. With the help of iOS / Android apps, data can be availed on the go with Tableau Mobile, with enriched self-service analytics in the cloud. It offers a SaaS based business intelligence perspective.
Before we delve further into the nuances of Tableau Online and how it is successful in facilitating the users avail all information themselves, let us glance through the benefits of a self-service tool.
Self-Service BI (SSBI) & Analytics
Thanks to technology, as users, we are used to getting all information at the tip of a finger, through our mobile devices. No wonder, we expect our professions also to facilitate information access, by ourselves, in our desired format, at our desired time. That is what is self-service BI & analytics.
Although self-service analytics can be of great help anytime to establishments, there are certain factors that can justify in choosing the self-service BI tool to garner the needed information.
Limited budget for accessing IT support
Insistently fluctuating business requirements
Untimely access to information
Incomplete access to the IT department's support
Complex situation around
Need for systematically driven information
Absence of skilled resources
Tableau Online – An Overview
Tableau online, the well-known analytics platform for everyone. It is hosted in the cloud for user availability. It distributes dashboards and spread your discoveries with everyone. Anyone can easily utilize features of tableau online access through, tableau mobile apps.
Tableau Online's controlling data discovery and visual analytics competences make it a perfect tool for empowering end users to attain data driven insights at the swiftness of business. It offers data to the business users who have the most to benefit from it in an instinctive manner that permits for fast visualization and actionable insight through self-service analytics.
Its instinctual nature greatly reduces the pain of presenting a new tool to a big volume of business users. Empowered by drag-and-drop and double-click functionality, users can design new, useful analytics in a few clicks. This lets truly data driven business choices in alliance with current happenings with almost no pain needed to get there.
What Makes Tableau Online Popular For Self Service Analytics In The Cloud?
Fully Hosted Cloud Solution
Tableau Online is a fully hosted cloud solution that empowers an instantaneous setup and simplistic scalability for enhancing business growth. It's approach to cloud analytics offers a lot of flexibility and choice. There is no need to setup the servers, manage software upgrades or measure hardware volume. Different cloud databases like Google Big Query, Amazon Red Shift etc. can be leveraged to garner optimum benefits. Users can publish dashboards and share with anyone through interactive visualizations of authentic data. Even addition of number of users can be done, as needed since there is no maintenance of servers or software upgrades.
Easy And Fast Interaction From Anywhere
With Tableau Online, there can be easy collaboration through the web. Users can interact with the tool from around anywhere and get the desired insights by drill down, highlighting, searching, filtering and accessing data. External teams, clients, partners etc. can get secure access to the world of analytics with no virtual private network needed.
Even necessary formats can be garnered and utilized for showcasing the desired information. Data can be refreshed with the help of web apps like Salesforce, Google analytics etc. Detailed web editing can also be done for view customization. No need for any setup time or hardware infrastructure time – since everything is on the cloud.
Dashboard / Report Generation In Minutes
It creates and shares convincing reports & collaborating dashboards on your own in a matter of minutes. The users just need to secure access to analytics, embed dashboards in web and cloud apps, to get the desired result in a few minutes.
It does not require detailed expertise and is quite self-explanatory and easy to learn. Users can get onto the tool and start using it right then. There is enough documentation in the Tableau community that can help learn faster. Even the community support is of great use.
Make utmost use of dashboard starters that can offer you, your desired information in minutes. These starters are specifically designed to get you actionable data in minutes. Within no time, you can connect easily to different web apps and design your own pre-built dashboards. Types of dashboard starters could be Salesforce starters, Oracle Eloqua starters, Marketo starters, ServiceNow starters etc.
Ideal For Clients With Few Users, Multiple Locations
Tableau Online works well for organizations who have clients with a smaller number of users and who want to deploy the solution in several organizations that do not own the infrastructure to create their independent server location.
Meant For All Types Of Users
Tableau Online possesses the capability of offering the best of services to all kinds of users – be it casual users, technical users, managerial users, top management users and more. It can cull out reports and dashboards that any of these user category needs, just the way they like and need.
Supports Natural Language Processing
Tableau Online facilitates asking questions from any authentic data source through natural language processing. With the help of powerful algorithms, it can directly index and optimize the relevant data sources and proceed further with necessary dashboards/report generation. The high-end web authoring capacities help to append further data sources if needed.
Secure And Authenticated Infrastructure
User permissions, content and data are secured, authenticated and necessary permissions granted by the site administrator. Tableau Online's infrastructure abides by all SOC2 requirements and hence ensuring security and authentication is no big deal.
Empowers Businesses With Increased RoI
Owing to the above features, businesses are sure to garner best of benefits from Tableau Online. Some of the evident advantages are availability of data visualization in ample, enhancement in productivity with optimum time utilization, increase in independent execution of work, improvement in proactiveness and positivity, seamless third-party integration between systems.
As We Wrap Up, Self-Service BI With Tableau Online Steals The Show
As is, Tableau BI and Analytics is one of the most desired BI tools around the world. One of the gems in its crown is Tableau Online that serves the right purpose of offering BI analytics to the end users, all by themselves. Aren't we all today, keen to unveil the secrets of technology, all by ourselves? Tableau Online helps us do that, with the help of yet another powerful technology – the cloud. What more would a curious user want!
SPEC INDIA, as your single stop IT partner has been successfully implementing a bouquet of diverse solutions and services all over the globe, proving its mettle as an ISO 9001:2015 certified IT solutions organization. With efficient project management practices, international standards to comply, flexible engagement models and superior infrastructure, SPEC INDIA is a customer's delight. Our skilled technical resources are apt at putting thoughts in a perspective by offering value-added reads for all.