Top 25 SaaS Examples And Applications To See In 2022
Pandemic has taught us many lessons.
We won't forget the major and multiple impacts of the Corona Pandemic that have changed our lives in many ways. We almost became dependent on technologies when strict lockdowns were imposed worldwide. Technologies made it easier for us to effectively sail through this pandemic that has shaken the whole world.
Technologies, especially SaaS, have changed how we do just everything. It has changed the world and made new paradigms on how people leverage technologies in their day-to-day lives.
By now, you might have heard of SaaS and if you are not aware, you have used SaaS in your routine. How? We will see that through this blog and also help you understand what exactly SaaS is with the SaaS examples.
SaaS is an acronym of "Software as a Service."
What Is SaaS?
SaaS is one element of cloud computing. Simply, SaaS delivers applications over the internet based on subscription and you don't need to think about hosting, maintenance, and upgrades which ultimately makes you focus on your business rather than thinking about infrastructure and scalability.
It is also popular as 'On-demand' software and also web-based software. SaaS has changed how people use software applications. It is centrally hosted and allows users to connect to and use cloud-based applications over the internet. Users need to pay for software according to a subscription model, usage(monthly or annually), number of licenses, and the features they require.
If we see this by numbers, SaaS is growing at a pace and shows no signs of decline. The global Software as a Service (SaaS) Market is expected to reach a market size of $185.5 billion by 2024, growing at a CAGR of 21.4% during the forecast period according to one report by KBV research.
Also, Gartner forecasted end-user spending on public cloud services to reach $396 billion in 2021 and grow 21.7% to reach $482 billion in 2022.
Among other cloud options, SaaS has taken the significant lead due to its variety of business functions. SaaS software is affordable, flexible, easy to set up, and easily scalable.
Pandemic has increased SaaS usage more than ever as remote work became a norm and many businesses shifted to the digital model during that time. SaaS applications have become the go-to options for many businesses because they can meet modern challenges created by pandemics.
Popular SaaS application examples include many well-known organizations and SaaS products that you use every day. Let's see top examples of SaaS companies.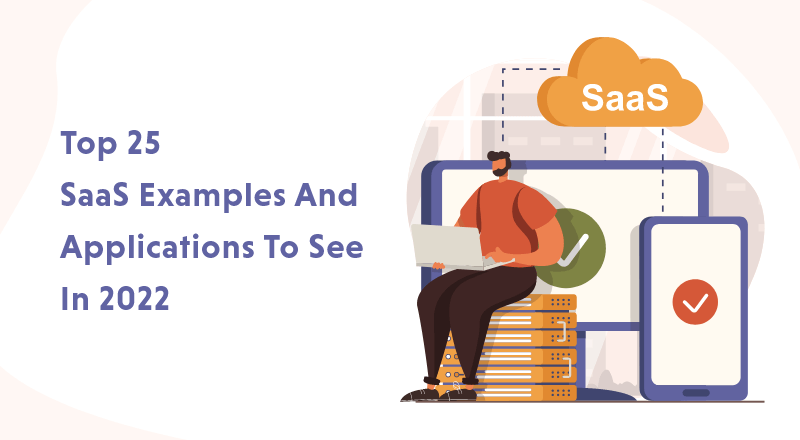 Top 25 SaaS Examples: Popular Software As A Service Companies
Adobe
Atlassian
Google
Microsoft
Salesforce
Shopify
Netflix
HubSpot
Dropbox
Zoom
Slack
Square
Wix
AWS
Zendesk
Sprinklr
MailChimp
DocuSign
Workday, Inc.
Oracle
New Relic
Tableau
Canva
Snowflake
ServiceNow
Adobe:
Adobe is counted as one of the world-famous companies in the creative, marketing, and document management space. Adobe's creative services are most popular and it has established a historical presence in software that offers creation and publication of a wide range of content. This includes graphics, illustrations, text, photography, motion pictures, animation, multimedia video, and so on.
Adobe's flagship products – Adobe Photoshop, Adobe Illustrator, Acrobat Reader, and Portable Document Format (PDF) are the most widely used and go-to tools for every user.
It is an American multinational computer software company, having millions of users worldwide, and offers software for web design, graphic design, video editing, visual effects, eLearning software, audio editing, server software, and digital marketing management software. It offers a bundled solution of its products as a subscription-based SaaS offering named Adobe Creative Cloud.
It was considered one of the top global leaders in Customer Experience Management in 2021.
Atlassian:
Atlassian Corporation PIc is an Australian software company that offers products for software developers, project managers, and teams.
Jira, a flagship product by Atlassian, is a proprietary issue tracking product popular for bug tracking and agile project management.
Jira was primarily developed as an issue-tracking software but later it evolved as a project management tool and was adopted by non-IT organizations also. Atlassian provides Jira as commercial software and organizations can purchase licenses to use it on-premises or hosted applications.
Google:
We don't need any introduction here as Google doesn't need one. Google's G Suite, also known as Google Workspace is a popular example of a SaaS. Google Apps consists of Gmail, Contacts, Calendar, Meet, Chat for communication, Drive for storage, Currents for employee management, Google Docs Suits for content creation, and education edition.
We all have used these apps and it is one of the best and free SaaS offerings from Google. Unlike Microsoft Office 365, Google workspace is purely cloud-based and can't be downloaded on a personal laptop or desktop. Google Apps are very useful and used by millions of users every day for their various day-to-day activities.
Google is one of the Big Five companies in the American information technology industry along with Amazon, Apple, Meta, And Microsoft. Google offers many products and services that have built a digital foundation of businesses worldwide.
Microsoft:
Microsoft is one of the biggest and oldest providers of cloud services that include IaaS, PaaS, and SaaS. Microsoft 365, a popular software suite is available in various subscription plans and aimed at serving different market needs and segments.
Microsoft 365 consists of apps for home, business, and enterprise that include Word, Excel, PowerPoint, Microsoft Teams, Outlook, OneDrive, and much more. Microsoft apps that we are using such as email, calendaring, and office tools are examples of a SaaS model. However, you can download and use these apps on your personal computers.
Microsoft is market-dominant in operating systems, cloud software products such as Azure, gaming, consumer electronics, and hardware products. According to a 2021 survey, Microsoft was selected as the best company of the year. In line with the other four – Amazon, Apple, Google, and Meta, Microsoft is one among the Big Five information technology companies.
Salesforce:
Salesforce is an American cloud-based software company specialized in offering customer relationship management services and software. It also offers enterprise applications for customer service, analytics, marketing automation, and application development.
It was founded in 1999 as a Software As A Service (SaaS) company and is considered as one of the leading SaaS examples. . Its flagship CRM (Customer Relationship Management) software provides customers with a wide range of software categories that include Commerce, Sale, Service, Data, Marketing Cloud, and so on.
Salesforce users are huge in numbers worldwide and it is popular for its CRM, analytical tools, and issue and task management software. Major acquisitions and partnering with leading tech companies made Salesforce one of the best SaaS companies.
Shopify:
Shopify is all about eCommerce. This one-liner introduction is adequate for this widely-used eCommerce platform.
Shopify Inc. is a Canadian multinational e-commerce company headquartered in Ottawa, Ontario. According to Builtwith, 1.58 million websites run on the Shopify platform as of 2021. It is also the largest publicly traded Canadian company by market capitalization.
It provides its users with end-to-end eCommerce services that include easy setup, marketing, analytics, and integration with various platforms and tools that make eCommerce development easier than ever before.
As Shopify is a SaaS-based system, users no need to worry about internal architecture, server management, and infrastructure setup. The subscription plans are designed according to different business sizes and market segments so users can select as per their needs.
Shopify has redefined eCommerce development and made it easier to create eCommerce stores through the SaaS model.
Netflix:
Netflix Inc. is an American subscription streaming service and production company. It offers a wide variety of award-winning TV shows, movies, anime, and documentaries on various internet-connected devices. Netflix is the most trusted and the largest entertainment/media brand globally with a huge user base across the world.
It has played a prominent role in popularizing independent film distribution where media services are directly offered to viewers via the internet. It is also called an OTT platform (Over-the-top) as it eliminates the need for companies that act as controllers and distributors. Thanks to the SaaS model, Netflix has over 214 million subscribers as of October 2021.
Initially, Netflix sold and rented DVDs by mail and introduced streaming media and video on demand in 2007. It is headquartered in Los Gatos, California in Santa Clara County.
HubSpot:
HubSpot provides tools for social media marketing, content management, lead generation, SEO, web analytics, and customer support. It was founded by Brian Halligan and Dharmesh Shah at MIT in 2006.
HubSpot software is categorized as Packaged SaaS products that help companies manage sales, marketing, and customer relationships. It has integration features for salesforce.com, SugarCRM, NetSuite, Microsoft Dynamics CRM, and others.
HubSpot's blogs social media, webinars, and white papers serve as very good resources for comprehensive digital marketing.
Dropbox:
Dropbox offers cloud storage, file synchronization, personal cloud, and client software. Simply, Dropbox brings files together in one central place and creates a special folder on the user's computer. Now, contents or files of this folder are synchronized to Dropbox's servers and to other devices where the user has installed Dropbox software.
It uses a freemium business model where users are offered a free account and have to pay for more storage and additional features if they want.
Dropbox was founded in 2007 by MIT students Drew Houston and Arash Ferdowsi as a startup. To date, it has been ranked as one of the most valuable startups in the US and the world.
The SaaS product offers lower costs, scalability and integration, easy upgrades, and time-saving so that businesses can focus on core business functions.
Zoom:
Pandemic has introduced us to many new words and one of them is 'zoom.' Zoom meetings became a part of our daily routine for various reasons during the lockdown period. Zoom is a video communications company that offers remote video conferencing using cloud-based computing.
It is a collaborative platform that allows users to set up virtual video/audio conferencing, screen-sharing, live chats, distance education, and webinars. Being a SaaS software, Zoom meetings can be easily set up and users can access the video conferencing software via the internet.
Zoom Video Communications, Inc. is an American communications technology company headquartered in San Jose, California. Zoom's software products are focused on videotelephony and online chat services.
Slack:
Slack is a proprietary business communication platform developed by American software company, Slack Technologies. It is now owned by Salesforce.
It has provided users with a modern way to communicate with the team in the workplace through appealing, faster, and better organized persistent chat rooms, channels, messaging, and private groups.
Slack has replaced traditional email for team communication as it makes work-based communication fun and engaging. It is so popular among professional companies, teams, and communities. It offers many IRC-style features that make communication faster, searchable, and topics.
It integrates with many third-party services and platforms and is available in 8 languages. Slack was built as an internal tool for Stewart Butterfield's company Tiny Speck during the development of an online game.
Square:
Square, Inc. is a financial service and digital payments company based in San Francisco. It focuses on mobile payment systems and offers various products that include business software, point-of-sale systems, hardware payment products, and other small business services.
It is retitled itself as Block, Inc. in December 2021. The company was founded in 2009 by Jack Dorsey(co-founder of Twitter) and Jim McKelvey. It is a very popular payments platform that allows small and mid-sized businesses to accept credit card payments and use a point-of-sale system.
Square payments systems are widely used to sell online, book appointments, hire staff, manage inventory, and handle omnichannel cash flow all in one place.
Wix:
You don't require a web developer if you want to build a website. Yes, Wix makes website development easier. Wix com Ltd. is an Israeli software company that provides users with cloud-based web development services.
Using drag and drop tools, users can create HTML5 websites and mobile sites. Today, Wix offers a wide range of customizable website templates and tools. This world-class SaaS platform was founded in 2006 by Israeli developers Avishai Abrahami, Nadav Abrahami, and Giora Kaplan.
Wix website builder is based on a freemium business model and makes money through premium upgrades.
AWS:
Amazon Web Services, Inc. is a subsidiary of Amazon offering reliable, scalable, and inexpensive cloud computing services.
As of 2021, AWS offers over 200 products and services that include computing, storage, networking, database, application services, analytics, deployment, management, mobile, machine learning, and developer tools. The most popular products of AWS are Amazon Elastic Compute Cloud (EC2), Amazon Simple Storage Service (S3), Amazon Connect, and AWS Lambda(a serverless function).
It is the world's leading cloud computing service provider and is widely used by businesses across a range of industries. The most prominent users of AWS include Netflix, Unilever, Kellogg's, Airbnb, Apple, BBC, Adobe, Baidu, Siemens, NASA, General Electric, Samsung, Pinterest, Reddit, Lyft, Coursera, Docker, and so on.
In the third quarter of 2021, revenues of AWS grew 39 percent compared to the preceding quarter as per one Statista report.
It offers on-demand cloud platforms and APIs through the pay-as-you-go model to customers.
Zendesk:
Zendesk is a popular name in customer services, support, sales, and customer communications. Zendesk's software-as-a-service products are used by a large number of organizations and popular brands such as Siemens, GrubHub, Instacart, Shopify, Mailchimp, Udacity, Vimeo, The Boston Globe, SQUARESPACE, Homebridge, and so on.
Zendesk is an American company founded in 2007 and mainly offers SaaS products related to customer management. It has helped many businesses make customer services faster and better. It also provides many other products such as Sunshine Platform, Marketplace, Zendesk for sales, CRM, and so on.
Zendesk is a leading solution offering customizable tools to create customer service portals, knowledge bases, and communities.
Sprinklr:
Sprinklr offers a unified SaaS platform for customer experience management. It is an end-to-end CXM platform that helps businesses monitor and interacts with customers' overall digital channels.
It is an American software company based in New York City and offers products related to social media marketing, social media advertising, content management, employee advocacy, customer care, collaboration, social media research, and social media monitoring.
Sprinklr was founded in 2009 by Ragy Thomas and in June 2021, it began trading as a public company on the New York Stock Exchange with the CXM symbol.
MailChimp:
MailChimp is an American marketing automation platform and email marketing service. It acts as an end-to-end marketing platform for small businesses consisting of marketing CRM, content studio, creative assistant, insights & analytics, and content optimizer.
This all-in-one marketing platform helps manage all marketing needs of today's digital-first businesses. It is acquired by Intuit Inc. in November 2021.
It is founded by Ben Chestnut, Mark Armstrong, and Dan Kurzius in 2001. MailChimp also counted as one of the leading SaaS product examples.
DocuSign:
DocuSign is the most reliable and globally trusted company that offers electronic signatures and approvals. Headquartered in San Francisco, California, DocuSign Inc. allows organizations to manage electronic agreements. It is known for its reliable eSignatures and approvals.
With DocuSign, users can access, sign and send important documents anywhere on any device. DocuSign has over 85 million users worldwide and many well-known companies such as LinkedIn, Tata, Yahoo, and many more use DocuSign to manage and sign documents.
These services are available free of charge through DocuSign mobile app and it runs on iOS, Android, and Windows platforms.
Workday, Inc.:
Workday, Inc. is an American cloud-based financial management and human capital management provider. It offers a software suite that consists of finance, HR, planning, and analytics together so businesses can manage these foundations faster and better.
It is recognized as a Leader in Gartner Magic Quadrant for Cloud Core Financial Management Suite, Cloud HCM Suites, and Cloud Financial Planning and Analysis.
Workday was founded by David Duffield, founder and former CEO of ERP company, PeopleSoft and Aneel Bhusari, former chief strategist at PeopleSoft in 2005. Oracle acquired Peoplesoft. Workday's SaaS products are used by small, medium, and large enterprises to manage resources, finance, and human capital.
Oracle:
In 2020, Oracle was the second-largest software company in the world by revenue and market capitalization. It is an American multinational computer software corporation based in Austin, Texas.
Oracle is popular for its dominant market in database software and technology, cloud engineering, and enterprise products. The company offers ERP software, HCM software, CRM, EPM – Enterprise Performance Management software, and supply chain management (SCM) software.
It was founded by Larry Ellison, Bob Miner, and Ed Oates under the name Software Development Laboratories in 1977. Today, Oracle is a leading technology company and is counted among the best SaaS examples offering a diverse range of software, middleware, servers, and workstations, databases, and storage solutions.
Oracle has a number of acquisitions mainly in the area of enterprise software applications, cloud services, and technologies. The biggest and game-changer acquisition Oracle made is – acquisition of Sun Microsystems, creator of Java programming language and various software and hardware.
Products and services offered by Oracle are widely used across industries and businesses that include FedEx, Nokia, Mayo Clinic, Honda Motor, Aviva, Panasonic, Bayer, and many more.
New Relic:
New Relic is the leading observability platform or we can say a full-stack data analysis platform where Dev and Ops teams come together and solve problems. It's cloud-based software that helps businesses track websites' and apps' performances through metrics, events, and logs.
It offers SaaS-based, end-to-end monitoring products and services that include Infrastructure Monitoring, Network Monitoring, Serverless Monitoring, ML Model Monitoring, Browser Monitoring, Tracing, Application Monitoring, Log Management, Synthetics Monitoring, and much more.
The name "New Relic" is an anagram of founder Lew Cirne's name. New Relic's monitoring platform is used by the world's large organizations as well as it's a leading AIOps platform to help businesses enhance IT operations.
Tableau:
Tableau promotes data literacy. Tableau's products and services help businesses see and understand data through analytics, visualization, and OLAP (online analytical processing services.)
Tableau is an American interactive data visualization software company focused on business intelligence and analytics. The company was acquired by Salesforce in 2019. It was founded by three researchers of the Department of Computer Science, Stanford University, named Christian Chabot, Pat Hanrahan, and Chris Stolte.
Tableau Desktop, Tableau Server, Tableau Online, Tableau Mobile, Tableau Public, Tableau Reader are some of the key products Tableau offers for data visualization and analytics.
Montclare has named Tableau one of the top 20 SaaS companies in the world. Also, the company was recognized as a leader in the Gartner Magic Quadrant for nine consecutive years between 2012 and 2021.
Canva:
Canva is a graphic design platform and it is free to use. It is used to create any kind of graphics, presentation, documents, posters, and social media images. It provides users with an easy-to-use and intuitive platform to create diverse visual content.
Canva is also available in paid subscriptions such as Canva Pro and Canva for Enterprise. This SaaS application example has a huge number of users worldwide as it offers a set of tools and components to let even novice users create beautiful designs.
Canva was founded by Melanie Perkins, Cliff Obrecht, and Cameron Adams in Perth, Australia.
Snowflake:
Snowflake Inc. is a cloud-based data warehousing company based in Montana. It allows users to store and analyze data using SaaS-based software and hardware. Snowflake is categorized under 'data warehouse-as-a-service' company and enables data storage, processing, and analytic solutions.
Snowflake is an advanced data platform that completely runs on cloud infrastructure. It was founded in San Mateo, California by three data warehousing experts in 2012.
Snowflake's products and services are faster, easier to use, and flexible. It is used by leading brands such as Dropbox, Fitbit, Instacart, Adobe, Rakuten, DocuSign, okta, Hewlett Packard, S & P Global, Sainsbury's, and so on.
ServiceNow:
ServiceNow provides technical management support such as IT service management, IT operations management, IT asset and business management, DevOps, help desk functionality, and modern digital workflow.
It is a cloud-based platform that helps businesses manage digital workflows and operations. ServiceNow was founded as Glidesoft, Inc. by Fred Luddy in 2003.
ServiceNow's products and services help enterprises deliver a great experience and enhance productivity through modern digital workflows across all areas and levels.
Top SaaS Examples: Tapping Into a SaaS Power
We have seen dramatic changes over the years due to the rise of SaaS applications. More and more companies are adopting SaaS models and SaaS products continue to flourish in the upcoming years.
There will be increased demand for SaaS software as it offers many benefits over the other traditional models. SaaS has changed the way how businesses operate in the digital era. It become easier to reach a wide audience, launch apps faster, and streamline business operations using SaaS software. Also, it frees you from the burden of upgrades and maintenance and allows you to focus on core business.
SaaS is growing and we will see more innovation in this space. SaaS is suitable for all types and sizes of businesses. It solves the challenges of modern businesses easily and effectively such as scaling, cost, and faster time-to-market.
SPEC INDIA, as your single stop IT partner has been successfully implementing a bouquet of diverse solutions and services all over the globe, proving its mettle as an ISO 9001:2015 certified IT solutions organization. With efficient project management practices, international standards to comply, flexible engagement models and superior infrastructure, SPEC INDIA is a customer's delight. Our skilled technical resources are apt at putting thoughts in a perspective by offering value-added reads for all.