Top Internet of Things (IoT) Trends In 2020
"The Internet of Things has the potential to change the world, just as the Internet did. Maybe even more so." – Kevin Ashton
In this technological era, Internet of Things (IoT) is a hot topic today and looks like, it will be hotter in the coming year.
Here are some self-explanatory statistics, laid down by industry experts and research organizations that need no words to prove the spread of IoT being predicted in the time to come.
IoT has been into existence since the late 90s and since then, never been the same. It has evolved over the years and continues to do so. Being a huge network of gadgets, sensors, vehicles, home appliances, electronics, software and much more, it has been instrumental in enhancing productivity and profitability, lessening the human error risk factor.
2020 is an important year for IoT Solutions, says the statistics and data gathered:
Organizations shall increase communication between people and processes with IoT
Data shall become the common factor between all IT processes and solutions
IoT shall be the prime way to share information between entities
Increased development of infrastructure to support IoT is highly visible
Smarter technologies, smarter cities are in vogue
IoT continues to rise as more and more things connect with each other
Top IoT Trends That Will Rule The Year 2020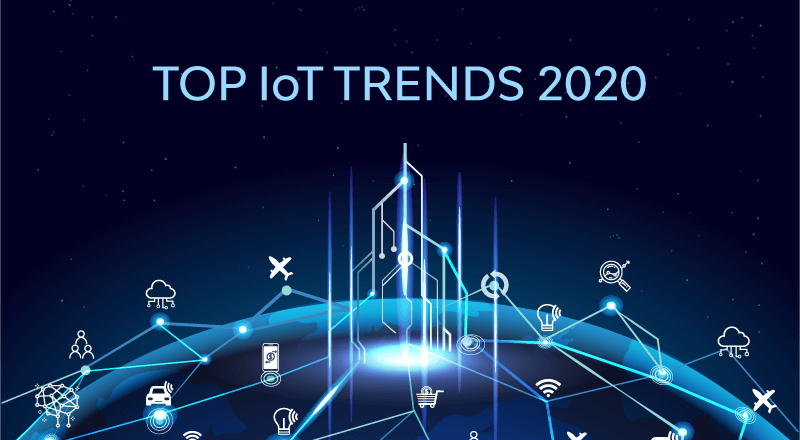 Conversion To Smart Cities Will Increase
As is, Smart Cities have been the urban choice today. Thanks to IoT, Smart Cities will continue to expand its reach, far and wide, in the year 2020. Very soon shall we witness the intelligent cities thinking about the future and investing in hi-tech technologies that will leverage data access between entities.
Information collection instruments like surveillance cameras, video kiosks etc. will be linked to the internet. Smart homes will be the preferred choice wherein all gadgets will be automated viz. integration of smart thermostats and security systems into newer homes. This will lead to a better lifestyle, increased security and development, disciplined traffic control. And, the best part is that it won't be limited to smart home alone, it will move on to smart offices too. Businesses can get smarter, faster, effective and profitable – all because of IoT getting embedded.
Security Measures Will Intensify And Stand Priority
More data exposure, more is the risk to data. And that is what has come up as the primary loophole to IoT. With IoT spreading its wings, there will have to be increased focus on taking care of that data and protecting it against cyberattacks, threats, hacking etc.
Majorly, the different routers being used, will have to be padded with security features that will protect them from hacking and cyberattacks. Security measures with IoT will now ensure secure routers with in-built antivirus software.
Specialized rules and regulations will be worked out to ensure security compliance in all IoT related projects. Different governments will get involved to assure citizens of no malfunctioning or misuse, while integrating their lives with IoT.
IoT based mobile app development will also see an active involvement of security related features in the applications, right from the beginning. Machine to machine authentication, biometric entry into systems etc. will be needed.
Blockchain Will Emerge As A Wanted IoT Trend
Blockchain, as a latest technology move, will turn out to be the best option for securing IoT devices and for better data management.
Blockchain will be the efficient backend for any IoT apps being installed. With the help of Blockchain, IoT will be able to seamlessly integrate with a variety of industry segments like the healthcare, finance, government etc.
Increase In People – Device Interaction
As increasing number of people and businesses are adapting IoT, there is bound to an upsurge in the IoT appliances and people using them. IoT will start entering unpenetrated areas, belonging to different industry fraternities.
Sensor based devices will be in vogue, during the year 2020. This technology will empower users to perform concise data assimilation and performance management. Based on this, better monitoring and control measure will be taken to ensure optimum business performance.
The coming year will showcase an increased number of IoT devices as seen in the past few years. The last years have shown big jumps in the number of IoT devices and hence 2020 is no different.
AI With IoT Will Trend On A High
Ranging through a variety of devices, artificial intelligence along with machine learning is already giving impetus to IoT devices. The trend will continue to grow higher and the coming year is sure to witness a lot of positive development in this arena.
Different AI techniques will be used to analyse the huge bulk of information that is being collected through these IoT devices. The merging of AI, Big Data and IoT will pave way for a next-gen experience for end users, in a big way. The coming year will make users understand the fact that it is no use connecting devices with IoT technology, if there you cannot optimize the user experience with the data collected.
Popular cloud service providers like Amazon, Microsoft, Google are looking forward to participating depending upon their AI competencies. Prior to plunging into IoT, organizations will have to define their AI roles and responsibilities.
The Need For IoT Will Almost Be Indispensable
Till this year, there are many businesses who are leveraging the power of IoT. The coming year will tell businesses that the power of IoT is unmatchable and it is almost mandatory aspect of their organizational operations.
Proven statistics show the increasing number of IoT devices and businesses adapting to it. More than 90% of businesses, belonging to different fraternities, will witness the influence of IoT on their working results.
Industrial IoT (IIoT) Will Garner More Importance
The entire shift is happening from IoT to IIoT, with newer companies looking to come up with innovative infrastructure. IoT will soon move beyond the personal and office space to start solving issues pertaining to big domains such as telecom, transportation, agriculture etc.
Edge Computing Will Win Over The Cloud
Till now, organizations have depended on the IoT devices to store data onto the cloud. Edge computing has played an important role in storing data on a local device near the IoT device, before sending it to the cloud. This local storing of data will be used for sorting, filtering and calculating the data and then moving it onto the cloud, as needed.
With edge computing, there will be less bandwidth consumption by IoT devices and ease of operation, when the cloud isn't working properly. The coming year will witness more organizations adapting edge computing, with affordable edge devices and decentralization of infrastructure. The technology will maintain a balance between cloud computing and edge computing, over the coming times.
Industry Segments Will Leverage The Power Of IoT
Healthcare Segment – One big industry that is benefiting out of IoT and will increasingly do so in the coming year is the healthcare segment. Various devices related to healthcare like medical equipment, sensors, monitors etc. relate to IoT. Stakeholders are becoming more aware of the IoT adaptation in the healthcare functionalities. Mobile apps and virtual assistance are becoming popular for better health monitoring, remoted patient monitoring, dealing with wearables and health sensors etc. connecting devices across.
Hospitals are becoming smart with IoT devices being used as an indoor GPS. The coming year will see advancements like small devices getting ingested to give data about medication effectivity, associated areas like physiotherapy, nursing coming closer to using IoT.
Retail Segment – IoT is revolutionizing the retail segment and making it more efficient. Usage of beacons, sensors are bettering the shopping experience for customers. The coming year will witness a few advancements for the betterment of the client, that will give them a unique experience – getting discount announcement on your preferred store, receiving an inside map to roam around and find the exact product you need. The innovative IoT happenings, in the retail units, will offer an advanced integration of customized retail experience, offering a novel era of shopping.
Advanced Data Analytics Will Be Available
Clubbing IoT with AI and other advanced technologies is sure to bring along deep down details into the data that is being collected. Data analytics was always there, but the coming year shall witness an extra layer deep inside the data pool – data that has been extracted at a much intricate level and displayed exactly as needed.
Being a machine learning system, AI can swiftly find out the happening trends. This will ensure augmented data analysis and decision making.
Predictive Monitoring Will Take A Front Seat
Thanks to IoT, predictive maintenance has been on a fore front since years. Going a step further, the time to come shall witness predictive measures being taken, even if human intervention isn't there. Action will be taken as soon as any problem is witnessed. There will be certain proactive measures taken to avoid further damage to instruments, appliances, equipment etc.
SaaS Becomes The New Normal
Amongst the IoT trends, Software as a Service (SaaS) has been hot and happening. Being cost effective and profitable, SaaS will trend on a high for IoT technology. It will enhance the lives of stakeholders, offering them higher productivity and profitability.
Major Industry Segments Will Be Benefitted By IoT
Till now, IoT has been doing wonders for home appliances. It has also started proving its mettle in the industry segments like healthcare, retail etc. Now comes the time when it will start showing its worth in the automotive units.
Owing to IoT, data is being captured from automobiles, machines, industry products etc. This data could be of different types like audio / video files, images, product data etc. along with AI and data analytics.
IoT Will Play An Important Role for Cloud Computing
Cloud computing will be the preferred choice for IoT applications. IoT service providers and cloud vendors will have newer partnerships that will enhance their working style to include different scenarios.
Cloud computing vendors will deal with IoT consultants to come up with innovative cloud-based solutions. It will bring in more integration with advanced IoT applications and instruments. Though edge computing has its own place now, cloud-based computing still holds strong.
Customer Service Will See A New High
IoT has been instrumental in enhancing lives of people, be it personally or professionally. As newer IoT technologies are coming to market, there are increased instances when IoT can offer a better service to customers. IoT has been key to offering better performance of useful systems like CRM, SFA etc.
Not only client experience, IoT has been offering a lot of support in the maintenance section of applications, where customer complaints can be lodged, analysed, monitored and brought to completion.
Smart Stores Are Coming Up
Utilization of RFID (Radio Frequency Identification Tags) is making processes like inventory management easier and more effective. Store experience is getting smarter and better. IoT devices can find out the way visitors spend their time in the stores. Their movements can be tracked, monitored and analysed.
Based on collected and analysed information, store managers can do the needful to manage their inventory well, on and off the shelf.
Voice Activation Is Kicking Off With IoT
Voice sensors are in vogue today and digital voice assistants are a preferred choice for many. This trend shall continue to grow big time in the year 2020. Voice recognition software will get better and its integration with IoT devices will bring along a revolutionary approach to business.
We witness voice assistance in small things in our daily lives and we are used to it. The spread of voice assistance shall now move onto bigger things now – machines, devices, software solutions in businesses etc. Work areas will tend to use more of voice software in the coming year. As the users get accustomed to the newer technology, there are ways and means by which IoT devices will make the most of it.
As We Await The IoT Boom In 2020
The above listed IoT trends of 2020 seem enough to prove the fact that IoT will make lives easier, secure and more comfortable than now. Cutting-edge technologies that get added into the tech era are sure to enter with easy integration mechanisms with IoT. The future of IoT App Development is surely bright and promising and we look forward to modernized versions of IoT like Industrial IoT, Internet of Everything (IoE) to prove their mettle. Of course, what you would need strongly is the urge to adapt to changes while implementing newer technologies and an experience IT partner to help your transform your aspirations into reality!
SPEC INDIA, as your single stop IT partner has been successfully implementing a bouquet of diverse solutions and services all over the globe, proving its mettle as an ISO 9001:2015 certified IT solutions organization. With efficient project management practices, international standards to comply, flexible engagement models and superior infrastructure, SPEC INDIA is a customer's delight. Our skilled technical resources are apt at putting thoughts in a perspective by offering value-added reads for all.