Top Web Development Trends 2021: Predicting The Future Of Web Development
"Celebrate endings – for they precede new beginnings." – Jonathan Lockwood Huie
As we are all set to bid goodbye to 2020 and usher in 2021, one arena that has continuously shown progress, newer developments, and innovation as never before is technology. And one important arm of technology that is showing its prowess in web development.
Web development, over the years, has become an indispensable ingredient in the success of any organization. It acts as a window to your business. Trends have been observed heavily this year and the next year shall witness more to come.
Knowing trends and keeping abreast of what is happening around is highly significant for web development. Statistics like the number of visitors who stopped visiting the site because of bad design, who had a bad user experience, who got converted into customers because of smart design etc. are important numbers that can guide you to a better business tomorrow.
Web development is the work involved in developing a Web site for the Internet or an intranet. Web development can range from developing a simple single static page of plain text to complex Web-based Internet applications, electronic businesses, and social network services.

Source: Wikipedia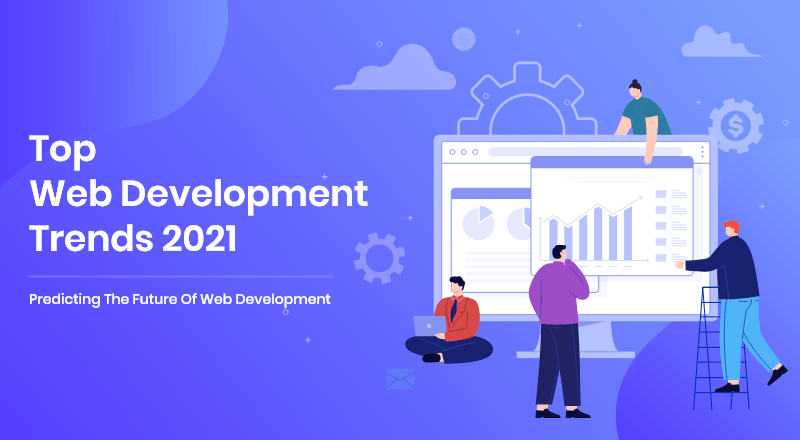 Key Web Development Trends That Will Rule 2021
Single Page Websites
Accelerated Mobile Pages (AMP)
Progressive Web Apps (PWA)
Voice-Enabled eCommerce
Integrating Solutions With Artificial Intelligence
Chatbots Offering A New Experience
Internet of Things (IoT)
WebAssembly Making Web Apps Powerful
Serverless Architecture
Dark Mode Websites Are In
Push Notifications Are Getting Popular
3D Elements Gaining Momentum
Blockchain Technology
AR/VR Changing Games For All
Security Of Data Gets More Importance
Single Page Websites:
As we say 'beauty lies in simplicity' – this also applies to single page websites. Such websites are considered sleek, smart, concise, and secure. They have a dual advantage – they are beneficial to visitors/customers because of its simplicity and offer great ease of maintenance and implementation to organizations who are making it, especially when they are startups.
Single page websites shall trend in the coming year since they assist businesses to attend to certain specific target audiences with the limited content that is needed. Customers/visitors now want information with the least of navigation or clicks.
Gone are the days of downloading multiple web pages from the server and continuously interacting with the server. The time for instant communication and the least wait-time has come. WordPress is one popular technology that has been synonymous with single-page websites. Some organizations that are using single-page sites are Apple, Google Drive, Facebook, etc.
Key Features-
Higher speed and faster loading and web experiences
Interactive features and mobile-friendliness
Smooth and unique user experience
Enhanced conversion ration
Effective brand marketing
Accelerated Mobile Pages (AMP):
Powered by Google, AMP is an open-source project intended to assist web originators to generate mobile-optimized matter that loads instantaneously on all devices.
Developed through plugins, offering faster loading time, and extremely popular for an exceptional UI/UX, accelerated mobile pages are getting more popular as the new year approaches. It makes mobile-friendliness feel real and offer a great UI/UX with a fast speed.
The best part of AMP is that it offers great results without complicated coding. It helps organizations increase their online presence. The fast loading of pages helps visitors access the webpage with ease and speed. Organizations like BMW, CNBC, carved, fast commerce, India Today group, etc. are leveraging the potential of this technology.
Key Features-
Faster loading of pages
Simplistic to use and easily accessible
User friendly with a better conversion ratio
Instant page accessibility
Seamless integration with third party elements
Progressive Web Apps (PWA):
Progressive Web Apps, as the name suggests, are bearing the flag of the future in the web development world. PWA offers cutting-edge functionalities that support interactive mode, responsive action, offline way of working, app-like functions, and offer good quality web applications. This technology is apt at revolutionizing client experience bigtime.
PWA has been a top favorite of organizations who are in look for a mobile-first approach. It works seamlessly on both – desktop and mobile. It is proved that PWA has a higher conversion rate than native apps. It supports value-added technology features like transport layer security, application shell architecture, etc. Some of the organizations leveraging PWAs are Twitter Lite, Forbes, Starbucks, Pinterest, OpenSooq, ZEE 5, Treebo, etc.
Good Read: Progressive Web App: Here's Everything You Need To Know About PWA
Key Features-
Native app-like operations and user experience
Enhanced availability and reliability
Easy to access, use and update
Faster loading and page speed
Increased conversion and client engagement ratio
Voice-Enabled eCommerce:
Voice related functionalities like voice enabling, voice search engine optimization, voice commerce is on a rise. As the bridge between technology and humans is getting closer, such functionalities are rising in demand. It has already shown its presence in 2020 and shall show more in 2021 with increasing areas getting positively affected.
Smart speakers, voice recognition, eCommerce through voice technology are some of the key technologies that are ruling the market. Such features when clubbed with web applications/websites are enhancing the business front.
Voice related commerce facilitates users to avail shopping facilities from their smart speakers so that they can easily purchase through websites/apps. Organizations like Google, Amazon, Microsoft, Nike, BBC, Starbucks, Hyundai, Pandora, Mercedes-Benz, etc. are using this technology to expand their business rapidly.
Key Features-
Hassle-free client experience
Quicker access to website information
Facilitates multitasking and enhances client engagement
Increases customer loyalty quotient
Increases conversion ratio and sales figures
Integrating Solutions With Artificial Intelligence:
Artificial Intelligence (AI) has been doing great rounds with web development all through these years and the coming year shall show more. A variety of solutions are being integrated seamlessly through AI and ML related algorithms. These technologies are assisting organizations in automating processes and thereby offering great web development techniques.
Web development is leveraging AI through novel features like supervised learning, unsupervised learning, and reinforced learning. AI is of great help to the varied number of industries, owing to its fatal blend of humans and machines. AI-based equipment and machines like facial identification, pattern identification, etc. are all set to lessen daily errors, boost productivity, speed, and agility.
The latest AI solutions based on voice search, chatbots, etc. are focussing more on seamless integration with eCommerce businesses. Because of AI in web development, there is a boost in business productivity and profitability.
Key Features-
Personalized content and good user experience
Voice search optimization
Deep learning, facial recognition
Quantum and cloud computing
Chatbots and AI-powered assistance
Chatbots Offering A New Experience:
Chatbots have been replacing the human interface when the websites talk to their customers. The year saw increased usage of chatbots and how well organizations are now realizing the importance of chatbots. Till now, its usage has been restricted but now the coming year shall see a generous use of this functionality.
As chatbots use the blend of voice/speech recognition technique and cognitive intelligence, replacing human support on websites with chatbots has become more fruitful. The bots collect the questions coming from visitors, analyze them, and come up with appropriate answers. If not possible, chatbots pass it on to the respective authorities for the solution. This increases the speed at which queries are resolved, leading to higher customer satisfaction.
Chatbots use natural language processing (NLP) to offer human to human interaction. Most web development projects are in need of chatbots to handle their sales support systems. Organizations leveraging chatbots include all big shot websites and web applications.
Good Read: Chatbot: Fewer Efforts, Better Reward, Elevate Customer Experience
Key Features-
Conversational maturity quotient
Emotionally intelligent and independent
Pre-trained, secure, and prompt in answering
Performs complicated reasoning
Can converse easily across multiple channels
Internet of Things (IoT):
A big name today, IoT has been spreading its usefulness all over. On a personal and professional front, IoT has been instrumental in getting smoothly involved without day to day technologies. In the world of the web, IoT is primarily involved in facilitating web tools to track data from IoT-based smart devices.
IoT has also been actively helping in the web development process by integrating smoothly with other technologies like wearables, cloud-based devices, serverless technologies. It assists web development in rendering websites speedily.
IoT and the web world have been revolutionizing major industry segments and the new year shall see newer advancements. Web development will be heavily instrumental in analyzing data from a variety of IoT devices. Even serverless computing will be executed more efficiently with IoT.
Key Features-
Data sensing and collection
Device connection and connectivity
Interaction with multiple user interfaces
Predictive design to predict future behavior
Secure data transmission of private information
WebAssembly Making Web Apps Powerful:
The introduction of WebAssembly happened to make web development work faster and effectively. Usage of this technology is bound to increase in the coming year as something that is important in the web world is its performance factor. There are many reasons why performance may deteriorate. That is where WebAssembly comes into the picture.
As a part of modern-day web development, WebAssembly helps in compiling the code into bytecode that can run in the browser, making the functioning speedy. It helps in fastening the heavy JavaScript based calculations, that otherwise, can dampen the overall performance of the website/app.
This powerful technology is being used most while creating online image editors, web games, music apps, interactive training / educational apps, etc.
Key Features-
Independent from hardware, languages, and platform
Faster code execution
High-end security
Web apps turning powerful, secure, and fast
No additional development cost involved
Serverless Architecture:
As the name suggests, the serverless architecture relies on third-party services i.e. backend-as-a-service. It is considered the future of computing and is also known as Function as a Service. It helps in avoiding overload of data, loss of data, and costly development.
It lessens development efforts and hence is cost-effective. It improves flexibility, strengthens the architecture of the app, and helps in downloading backup files, exporting objects. It is a popular technology and has been adapted by newer methods like DevOps.
It can also be leveraged with microservices and is best suited for real-time analytics, data processing, encoding, and IoT apps. It supports auto-scaling and auto-provisioning depending upon the need. Some of the key service providers are Google Cloud Functions, Azure Functions, AWS Lambda, etc.
Good Read: A Complete Guide To Serverless Development. Why Is It Worth Adopting?
Key Features-
Simple to use with lesser operational costs
Higher focus on scaling and performance
Independent of managing server procedures and hosts
Increased availability
No extra payment for capacity and servers not utilized
Dark Mode Websites Are In:
The world is going more towards a dark mode themed UI. It does give a classy touch, is safe and easy for eyes, and makes other elements pop out. The dark theme makes the other characteristics get focussed more, with an increased contrast ratio. It reduced the strain that other designs have on the eyes.
The newer lot of web development is going in for a dark theme since they are better for OLED screens, save electricity, and have a long span of life. They look good too and enhance the visibility pattern of other accent colors.
The dark mode is unconventional, stylish, and convenient. It features as one of the key trends in the world of web design for the year 2021. It also is beneficial for all those users who need to read up the content for a longer time. Also known as night mode by many giants, the dark mode is used by top shots like WhatsApp, Facebook, Twitter, Android, Apple, YouTube, Reddit, etc.
Key Features-
Lesser battery consumption
Easy to understand and use for developers
SEO and user friendly
Less strain to eyes and highlights the required text
Availability of online guidance
Push Notifications Are Getting Popular:
Push notifications have been a normal important feature in a mobile app. But now they are getting used in web development now. It helps in notifying users whenever there is new content present barring the need to checking emails or browsing sites.
It is almost as same as popups, but the difference is that it can come to you at any point of time, even if you are not on a website. The user can be kept engrossed without much to do. This feature comes up with a higher clicking rate and gives better results than normal routine marketing efforts.
Push notifications help in staying in touch with clients, worldwide, and offer a great client experience. They come up with direct communication between the clients and the businesses. They keep your client base connected to the brand they are keen for.
Key Features-
Encourages the branding of products
Assists targeted user community
Helps in fastening decisions and enhances sales
Delivers authentic messages to customers
Categorizes customers depending upon time and demography
3D Elements Gaining Momentum:
The 3D visual effect has always garnered momentum and with the new year, there are trends that show it will have an increased curve. Technology is now gaining speed by including 3D elements in website and web applications.
An interactive 3D design attracts users in staying back on the site for a longer time. It creates a better and sincere impression of the object that is being studied. It creates a great experience for your website and garners customer attention.
The coming times shall witness more inclusion of 3D technology in the UX part of the web. Designers are exploring newer areas and finding it comfortable to utilize it more. The 3D space shall show newer avenues by which such impressions can be set at the right place. Industries like the gaming and movie industry, medicine, architecture, science, engineering, etc. are key implementors of 3D technology.
Key Features-
Offer a realistic look as if physically present
Eye-catching, modern and robust
Provide a futuristic touch
Can gel well with other 2D images
Blockchain Technology:
Blockchain has been popular for a long time now but its entry into the world of web development is recent. The time to come shall see more to it. Blockchain has been a chain of blocks of data which are secured cryptographically and bounded to each other through a chain.
It is known as a public record of digital information that builds a secure network over the Internet, through the blocks. The blocks could contain money, transaction, identity, contract, and much more.
It is considered a better way to transfer money and with the web getting involved in payment transactions, integration of Blockchain is important. It assists in preventing any type of misuse, scandals, cybercrime, etc.
Key Features-
Easily integrable with modern-day technologies
Collates client information in a fast manner
High-end interoperability
Simplistic and ease of use
AR/VR Changing Games For All:
AR and VR have never seen back. All these years, there has been constant progress in implementing AR/VR technology into web development. The level of customer satisfaction that has been achieved with this technology has encouraged web development projects to integrate AR/VR into its framework.
There are many ways AR and VR can help websites/apps function in a better manner. Real-time performance can be created with which the customers can get satisfied. Not only on mobile devices, but this can also be felt on laptops and desktops too.
Web app development teams worldwide are excited to implement websites/apps that can offer an AR/VR driven experience to their clients.
Key Features-
Attractive client experience
Ability to reach a larger base of clients
Virtual tours and experience
Independent of language, region, and industry type
Security Of Data Gets More Importance:
As the web world sees newer technological changes, one important aspect that must be gain more importance is data security. And yes, it is growing in terms of progress and newer methods to keep data secure and accurate.
Security-related arrangements and security testing, that were once taken secondarily are gaining more importance and at par with the first level important aspects. Novel website monitoring tools are coming in the market that can from start, keep a stringent check on the security of all data involved.
Third-party services that are getting involved are checked rigorously. Sensitive data is being encrypted with different algorithms and AI is also leveraged for cybersecurity. Even Blockchain is in great demand as it proves to be of great use in terms of data security.
Key Features-
Distributed data processing to keep data safe
AI-based solutions to find out possible threats
Increased usage of productive security testing tools
Security testing included all through the development life cycle
On A Wrapping Note
With the world coping up with the pandemic, the web development trends revolve around facilitating the work from home scenarios. Remote solutions are being sought for. But the motto remains the same – offering users a smart, sleek, scalable, fast, and secure experience.
It will be interesting to watch these trends and enjoy the world of web app development go to newer heights, showcasing newer advancements.
SPEC INDIA, as your single stop IT partner has been successfully implementing a bouquet of diverse solutions and services all over the globe, proving its mettle as an ISO 9001:2015 certified IT solutions organization. With efficient project management practices, international standards to comply, flexible engagement models and superior infrastructure, SPEC INDIA is a customer's delight. Our skilled technical resources are apt at putting thoughts in a perspective by offering value-added reads for all.