Top 15 WordPress Alternatives (and Competitors) In 2023
WordPress – the name everyone knows as the world's most popular website builder. It is home to millions of Fortune 500 companies, small businesses, and bloggers. WordPress is highly popular for its stylish themes and patterns, faster creation of websites, and one-click layouts.
Just the way there is an alternative to everything in the world, there are popular WordPress alternatives that have been preferred to create websites. Each of them is different and unique in its own way. Many times, business owners don't need the trouble of managing their website backups, updates, and security norms. They don't want too much of site management and need website tools and hosting at a single place. That is where they look for alternative to WordPress.
Before we go on to exploring the best alternatives to WordPress, let us glance through the basics of WordPress.
What is WordPress?
WordPress is a free and open-source content management system (CMS) written in hypertext pre-processor (PHP) language and paired with a MySQL or MariaDB database with supported HTTPS.
WordPress has been a well-known website development platform since 2003, leveraged by small businesses, enterprises, and startups alike. Since it is freely available and easy to use, it is used for creating a large variety of websites for businesses.
With WordPress, users can create and host websites for free with attractive customization features. It works best for developing CMS platforms, eCommerce sites, business websites, portfolios, landing pages, blogging platforms etc.
Salient Benefits of WordPress
Drag and drop block editor
Customizable and SEO friendly
Multilingual language support
Free web design templates
Ease of use with a wide community support
Multiple widgets, themes, and plug-ins
Flexible and adaptable
Certain Limitations of WordPress
There is no inbuilt backup function or inbuilt SEO
It is easy to hack since it is so popular
The inbuilt editor is heavy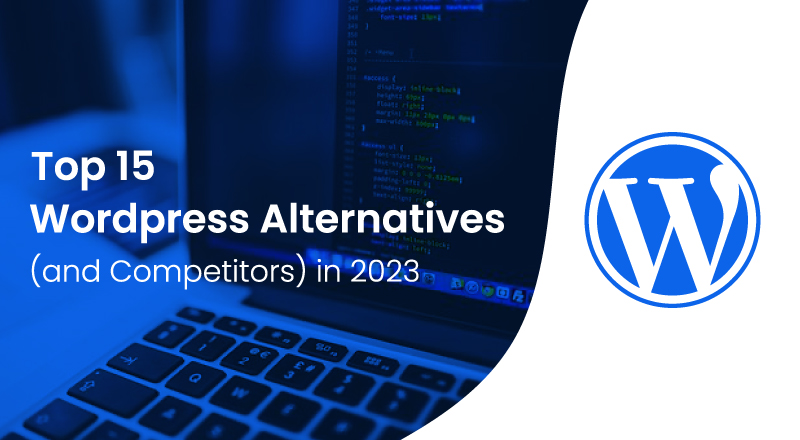 15
Best
WordPress Alternatives
Drupal
Joomla
Webflow
Wix
Adobe Commerce
GoDaddy
com
Squarespace
Ghost
Shopify
Hostinger Website Builder
Weebly
Jamstack
ExpressionEngine
SiteBuilder
Drupal:
Drupal is a free, open-source CMS that is flexible to create simple websites or complicated web applications. It is ideal for developers familiar with HTML, CSS, and PHP. There are thousands of free themes in the repository that can be leveraged for creating the site. There are configurable modules and themes that can offer greater control over this WordPress competitor. It offers enriched media support for images, audio, and video files.
Key Features 
Configurable modules and themes
Can handle huge amounts of data and traffic
Modularity, scalability, and flexibility
Reliable and secure performance
Easy content authoring
Joomla:
Joomla is an apt alternative to WordPress since it merges the power of Drupal with the user-friendliness of WordPress. It is free, open-source, mobile, and user friendly with multiple features and designs to assist in publishing web content on websites. There are many extensions that can be used from the official directory for better control and additional functionalities. It grows organically as your requirements come up.
Key Features 
Inbuilt multi-lingual support and flexibility
Advanced user and content management
Banner management and contact management
Free and extendable
Optimized search engine facilities
Global and professional support
Webflow:
Webflow is one of the popular WordPress alternatives that create custom blogs, eCommerce stores, and portfolios with a flexible CMS. The designers need not worry about hosting, security, and performance. There is total control over the site's look and feel. There are umpteen pre-created templates that can be modified as per need.  HTML elements can be dragged and dropped on a canvas with the Webflow Designer, for building a customized site.
Key Features 
Embedding third-party code for extending site functionality
Ideal for freelancers who are designing websites
Create CSS grid–powered layouts visually
Dynamic content filtering and sorting
Google Analytics, Google Optimize integration
Wix:
Wix is a known WordPress competitor that possesses all the needed components for creating an effective website. As an insightful builder, it is meant for designers who need routine website features. Users can use drag and drop the necessary features to get the desired output, without much coding through the editor – Wix Editor. It offers Wix ADI – Artificial Design Intelligence for a customized option based on your answers. There are 250+ apps to enhance the site functionality.
Key Features 
Multiple, customizable design templates
Easy to use and robust, mobile editor
Inbuilt tools for better customization of design and layout
Hosted solutions with a strong eCommerce framework
No prior knowledge of coding needed
Free web hosting and in-built SEO for better site optimization
Adobe Commerce:
A good WordPress alternative, Adobe Commerce leverages artificial intelligence and advanced data-sharing competencies for building comprehensive and personalized experiences from a unified, scalable, flexible platform. It includes Magento Open Source and Adobe Commerce Cloud. It gets along enhanced website management with easy site content, personalized interface, fast updating, and promotion. It has a customized commerce that integrates easily with other Adobe products like Analytics, Experience Manager, etc.
Key Features 
Controlled and secure website management
Multiple eCommerce functions and transactions
Mobile-friendliness with site optimization
Several free and premium apps and extensions
Effective protection for application firewall
GoDaddy:
As an ideal alternative to WordPress, GoDaddy is a popular website builder that creates quick, and business focussed websites. There is a comprehensive lot of online tools that it uses, for hosting, email, and marketing options, aiming to enhance business growth on the web. The inbuilt business tools that is has offer great performance and create websites in minutes. It has a simplistic editor that provides a simplified website design method, right from selecting the template.
Key Features 
Multiple components for fonts, color schemes etc.
SEO, analytics, social media links
Robust business tools like GoDaddy InSight
Variety of templates for the web, desktop, and mobile
Customizable themes
Creating content with GoDaddy Studio
Domain.com:
Domain.com is a leading portal for website domain names, online stores, and hosting. There is an easily usable website builder that helps in the creation of blogs, websites, and eCommerce stores. There are many pre-created sections and page layouts that make it faster, successful, and flexible. It helps small users in hosting their websites on their servers with effective management from a unified interface.
Key Features 
Sharing on social media platforms with contact management
Aid from AI to select the apt website layout
Robust online store with inventory management
Multiple images through an exhaustive library
Selling of digital products with discount codes and coupons
Squarespace:
Squarespace is considered one of the best alternatives to WordPress because of its visually appealing and professional worked-out templates for site creation. It is a comprehensive platform for all types of websites with a stringent website builder. Users must select the template, change it as per needs and the website is ready to kick off. It is recommended for those websites that need to showcase high-quality images in different environments.
Key Features 
Visually appealing display and inbuilt blogging tools
Ideal for small websites and startups
Free and unlimited hosting services
Multiple integration capabilities to different apps and services
Modernized, pre-created templates with responsive design
Ghost:
Ghost is considered one of the most powerful WordPress alternative that is fast, modernized and has a focus on professional publishing, blogs, magazines, writing. Users can self-host the Ghost-enabled website or choose Ghost servers. It is a NodeJS-based software that is light weighted and simple for creating sites. Though not as flexible as WordPress, since it is open source and flexible, it focuses very well on publishing content.
Key Features 
Completely managed and secure service
Suitable for bloggers and startups
Provides subscription commerce features
Dynamic routing and robust tagging
Total SEO optimization with integrated AMP support
JSON API to have complete control over data
Shopify:
Shopify is a leading eCommerce solution that turns out to be a great WordPress alternative because of its effective and comprehensive online store experience. As a fully hosted platform, it can be utilized for selling services and products, even at point of sale. It offers easily usable tools that can help in creating your own online shop that can sell products and accept online payments with ease. There are readily available templates, apps and integration facilities to speed up development.
Key Features 
Visual and website creation tools
Add-ons, themes, modules for enhanced content
Ready made designs with customer support
Multiple extensions with mobile optimization
Inbuilt visual builder with drag & drop facility
Hostinger Website Builder:
As one of the leading alternatives to WordPress, Hostinger has been a strong contender for website building, chosen by WordPress novices and developers. It has been known for its smart and modern websites with high performance, especially on heavy-traffic sites. There are website templates that are responsive and driven by designers. You can choose the best-fit web hosting plan based on your requirements.
Key Features 
Customizable and readymade templates
Artificial intelligence assistance with AI Writer
eCommerce-based features and functionality
Inbuilt SEO tools for optimization
Direct domain purchase from the dashboard
Shorter learning curve with round-the-clock live support
Weebly:
Weebly in an insightful WordPress competitor that creates blogs, websites and online stores with its flexible templates, domains, and robust tools. It is free to use with varied layouts and components like contact forms, video integration, galleries etc. that can offer great blogging output. There are different apps and integrations that can assist in better development.
Key Features 
Integrated audio and video player
Easy to use drag & drop functionality
Presence of all significant features for use
Faster page loading time with a site builder
Responsive themes, attractive sites, blogs, and online stores
Jamstack:
Jamstack is a web development architecture and solution stack, for fast and secure sites, meant more for developers since it includes coding. It is an innovative way to create websites since it does not use server-side rendering. It believes in decoupling web experience layer from the data and business logic layer, thereby, enhancing performance, flexibility and manageability. It is a modernized architecture based on JavaScript, APIs and Markup and not a particular technology or framework.
Key Features 
Augmented developer experience
Composable web architecture
Bunch of tools that work together
Multiple static site generators with CMS
Wide Jamstack community support
ExpressionEngine:
ExpressionEngine is one of the leading WordPress alternatives that is a flexible, free, open-source content management system. It is an enriched technology that has flexible data containers storing site content in different channels. It is meant for creating small and static websites or large websites, with speed and accuracy. It is now used with CodeIgniter, an agile, open-source framework.
Key Features 
Site management at one place
Easy online updates
A huge number of add-ons
Consent and privacy tools
Flourishing developer community
Powerful and feature-based
SiteBuilder:
SiteBuilder helps you create fast and professional websites with ease. It has a robust AI builder that simply asks a few questions and based on the answers, creates a desired website. There is no coding involved and you can choose your set of colors, layouts, fonts etc. The AI builder uses smart design techniques and drag and drop editor to offer a specialized touch. It is ideally meant for a small-sized business requirement with a limited budget.
Key Features 
Easy to use with AI-based assistance
Real-time insight and analytics
Free library with web-ready images
Free domain registration
Flexible website design services
WordPress Alternatives: A Concluding Note
Custom WordPress development services are leveraged to build secure, easy-to-manage, and responsive websites. As we compare WordPress and alternatives to WordPress, it is significant to note that all platforms have their own pros and cons. They are all different in their mechanisms and hence good in their own ways. For choosing the apt WordPress alternative, there are certain important parameters that must be ascertained:
Budget and cost estimates
Addition of new pages
Speed, security, and performance
User concurrency control
Hosted platform or independent hosting
Skilled resources
Once these parameters are analyzed, it is easier to choose the best WordPress alternatives from the above lot. Though this list of WordPress alternatives may continue longer, the ones mentioned above are some of the most popular ones.
SPEC INDIA, as your single stop IT partner has been successfully implementing a bouquet of diverse solutions and services all over the globe, proving its mettle as an ISO 9001:2015 certified IT solutions organization. With efficient project management practices, international standards to comply, flexible engagement models and superior infrastructure, SPEC INDIA is a customer's delight. Our skilled technical resources are apt at putting thoughts in a perspective by offering value-added reads for all.