SPEC INDIA At Virtual Motif TTEC Charity Walk 2021
Motif TTEC, a popular global organization has left no stone unturned in arranging events for a social cause, the annual charity walk being one of them. It has been 19 years and it is going strong – roaring start, lots of enthusiasm, celebrating good health, high on energy, united on purpose, undying spirit, giving back to the community, carnival moments, and lots more.
The Journey So Far
18 years in continuation; 78,000 walkers/runners; Rs. 8.07 crores raised; 59 charities benefitted; 265 sponsors
"Join us virtually from wherever you are" – the spirit of the Motif TTEC charity walk continues. Looking at the new normal and ongoing pandemic, the 19th annual Motif TTEC charity walk was organized in a virtual manner, to perfect balance between a healthy, safe, happy event as against abiding by all pandemic-related norms.
We @ SPEC INDIA have been primary sponsors of this event for 12+ years and are committed to our thought that 'the society is what we are'. For us, our corporate social responsibilities are at the forefront ensuring the well-being and harmony of all stakeholders involved with us, also including the community and environment.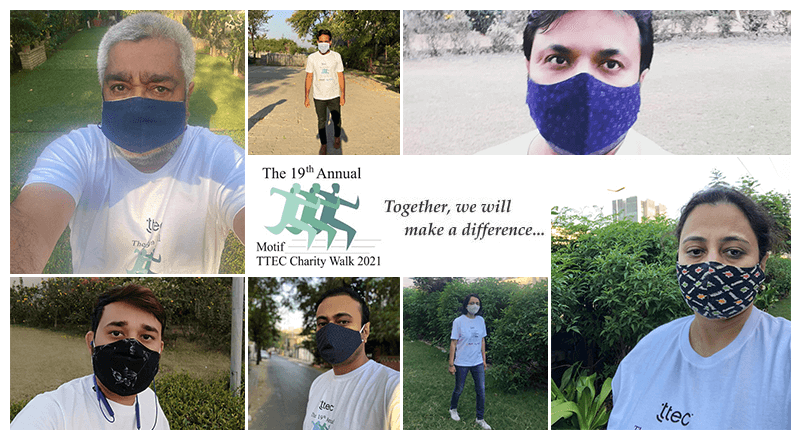 The charity walk was planned for Sunday, February 21, 2021, at 7 AM. It was a 5 km or 10 km walk and participants were supposed to register online through well-known website portals. There were about 6970 registrations comprising different age groups.
The first virtual charity Motif TTEC walk witnessed enthusiastic participation from different cities of India and the rest of the world. The entire event was streamed live on the official Facebook page of Motif TTEC. An approximate figure of about Rs. 77.35 lakh was collected this year.
There was a flag-off from the main office by releasing lovely blue and white balloons, with music bands and dance performances to elevate the spirit of the event. Live connectivity with participants all over, through popular social media handles, created a perfect environment to share their experiences from respective locations. A session for beneficiary appreciation and announcements of the collection made concluded the event. Complimentary charity walk t-shirts were also distributed.
The Recipient Beneficiary NGOs Of The Charity Walk This Year:
Established in 2002, it is an organization that supports artisans and craftspeople for sustainable living and promotes the renaissance of the communal cultural heritage of India.
Established in 1979, it works with the disregarded communities of Kutch to make sure lasting changes in the areas of education, health, people empowerment, village upliftment, preservation of the environment, calamities, and relief activities.
Established in 1974, it runs schools and hostels for children who belong to economically backward and demoted families, offers shelter homes and rural livelihood centers for the welfare of abandoned, widowed, and socially ostracized women.
The pandemic has not been able to dissuade us from celebrating the spirit of happiness, good health, and humanity. We @ SPEC INDIA strive hard to extend our resources for humanitarian causes and we hope for a pandemic-free world very soon. Our sincere thanks to all zealous participants, may the flag of humanity and good health always fly high!