SPEC INDIA Achieves ISO/IEC 27001:2013 Certification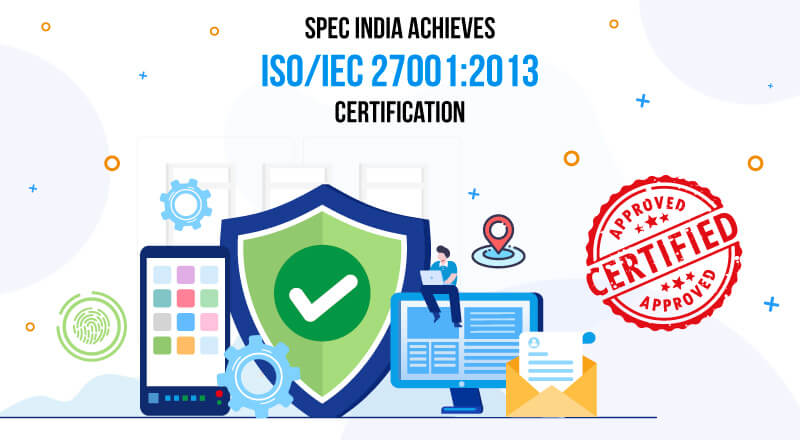 December 24, 2019, Ahmedabad, Gujarat
We are delighted to announce that we have achieved ISO/IEC 27001:2013 certification in the last quarter of 2019, as promised earlier.
ISO/IEC 27001:2013 is an international standard for Information Security Management System (ISMS). It represents our commitment to ensure the highest level of security in our processes, policies, and projects undertaken. Data is the new oil in the digital world. ISO 27001 is a noteworthy step that facilitates top-level data security, extending our commitment to security for our enterprise clients and software product startups globally, especially Europe.
As data security becomes a major concern for every business in this data-driven century, we, at SPEC INDIA, ensure effective Information Security Management System (ISMS) to identify, assess, manage, and reduce potential risks.
Being a top-rated software development company, SPEC INDIA has been handling a lot of data for global customers. ISO 27001 standards have further strengthened our capability to securely handle data of every organization, be it small, mid-sized, or larger enterprise across the globe.
To achieve this, SPEC INDIA's security compliance was validated by external auditors from ISOQAR. Our QMS (Quality Management System) team walked the extra mile with the dedication and teamwork to accomplish this goal in a very short period of time.
Achieving 27001:2013 was one of our key objectives of the year 2019, and we accomplished it after going through the long process of evaluation. We continue to improve our security standards with ISO and GDPR to provide our customers with the best data security practices, additional measures to prevent any data breaches, and secure data management practices.
With 27001:2013 certification, we are now capable to cater to the data security needs including GDPR compliance with our noticeable efforts in the area of information security, best practices in development, and establishment of security as a vital practice.
About SPEC INDIA:
With 30+ years of experience and expertise in delivering secure and reliable IT solutions and services, SPEC INDIA enjoys a leading position as a preferred IT partner for end-to-end business transformation. We strive to deliver best-of-breed solutions using a digital-first approach, modern technologies, agile practices, and seamless collaboration.