SPEC INDIA Gifts Consultants Samsung 5G Phone
Gestures of appreciation or encouragement don't have to be big or perfect!
It's the 36th year of SPEC INDIA and our CEO Milind Shroff wanted to make it memorable for the consultants!
SPEC INDIA gifted consultants a Samsung 5G phone!
SPEC INDIA's consultants play a crucial role in where the organization stands in the industry. Our consultants exemplify top talents, exceptional skills, and hard work. SPECalites are the strong pillars of this organization, and we ensure to encourage our consultants by recognizing their efforts and giving them a token of appreciation.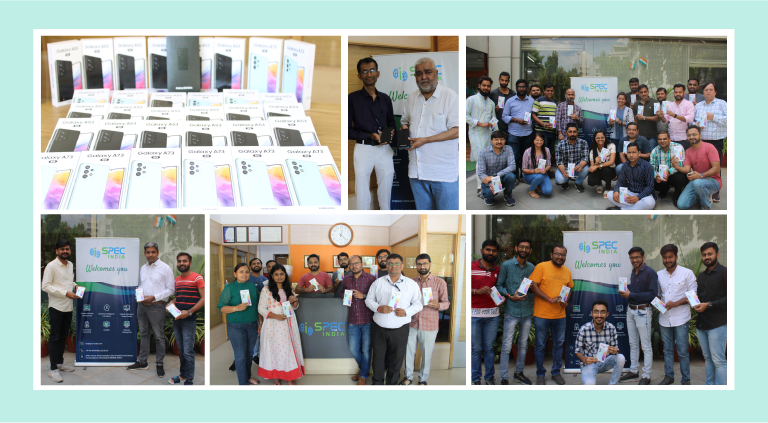 We wouldn't be where we are without your continuous efforts!
SPEC INDIA appreciates for being each of our consultants for their meaningful contribution to the company's success.
This is how our consultants expressed their happiness!
Thank you so much SPEC INDIA for an Awesome Gift 🎉🥳
Company has given many wonderful memories and this one is addition to it 🎊🙌

Rachana Shah
Indeed, Great Place To Work

Afrid Khan Pathan
Indeed inspirational!!
Time says, SPEC has never missed an opportunity to value talents

Jeet Bhatt
Thank you SPEC INDIA for the amazing gifts!!😍

Meet Panara
Thank you SPEC INDIA for the amazing gifts on the 36th year anniversary of the organization!

Jay Govindiya
Thank you SPEC INDIA & Milind Shroff – CEO SPEC INDIA for such a great gesture of appreciation!

Nutan Patel
That is a wonderful gesture

Reena Divetia
Super Duper Surprise.
Thank You SPEC INDIA for the amazing gift.🎊

Dwiref Shah
Never fails to astonish us with wonderful goodies🎉🙌🏻
Thank you🙂 SPEC INDIA

Priyank Kotak