Stepping Up the Ladders of Quality with "ISO 9001:2015" Certification
Posted
September 24, 2018
We are elated to announce SPEC INDIA's successful transition from ISO 9001:2008 to ISO 9001: 2015 standards. Since the year 2008, we have been an ISO certified organization and to add to quality achievement, we have now garnered ISO 9001:2015 certification after a recent external audit by ISOQAR auditors.
Our QMS (Quality Management System) team showcased immense team work, team spirit and enthusiasm in accomplishing this task within a short span of time. This achievement is sure to help us accomplish our organizational vision owing to the active participation of our senior leaders and management. Along with certification, our focus on process automation is sure to lead us to business excellence and growth.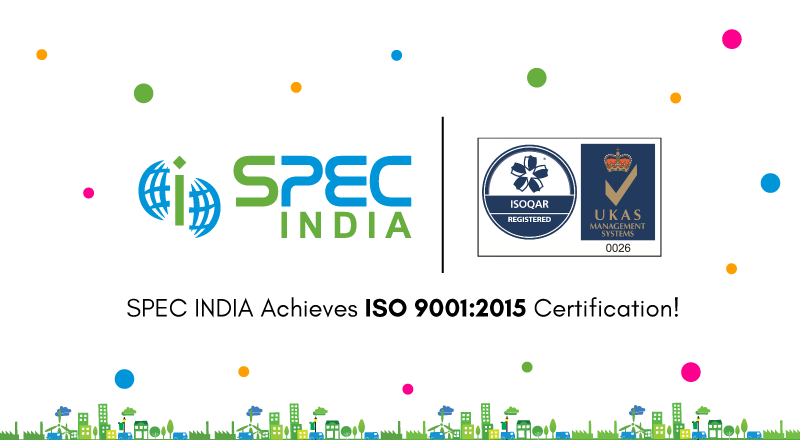 A Peep into What ISO is
The International Organization for Standardization ISO 9001, as a set of standards that chalk out requirements for a quality management system, focus on assisting organizations to be highly effective thereby increasing client satisfaction levels.
Key Highlights of ISO 9001:2015 Certification
The ISO standards are regularly updated keeping in mind the increased globalization, challenges faced by organizations today and the fast-paced changes in the functioning of systems. The latest ISO 9001:2015 standardization has its own set of novel features that elevates it a step further than ISO 9001:2015 standards:
Risk based thinking is at the core
Higher importance is on leadership engagement
Use of simplified language and structure
More user friendly and knowledge based
Has a high-level structure
Puts added focus on input and output
Context of the organization holds more significance
Interested parties now include customers, suppliers, shareholders, legislative bodies etc.
Places more emphasis on leadership and management commitment
Encourages integration and harmonization with business processes and strategies
Our Line of Approach
We performed a baseline measurement in the organization by making a comprehensive outline of the current state of QMS and organization's conduct of business
We drew up a plan based on baseline measurement to make changes and step-by-step implement improvements
Then, we implemented the changes in agreement with the approach plan along with suitable measurement points and indicators
Measuring the changes, inspecting and analysis formed the next step
Then came the final certification part that showcases how well we manage the processes and continuously improve them
As we enter the fourth decade of our existence, our versatile IT services and solutions offer a completely new perspective to businesses powered by our core expertise. As an ISO 9001:2015 company we ensure process driven approaches in all our delivery & quality assurance practices and testing; ensuring quality at the helm of every project.