SPEC INDIA, known for its people-driven culture and skilled leadership, takes pride to announce that our Agile coach and Delivery Head, Mr. Brijesh Shah will be delivering interactive, informative, and insightful talk on 'Agile Coaching for Building High-Performance Team.' It will be held at the AMA Seminar Hall, ATIRA Campus on October 12, from 6:30 PM.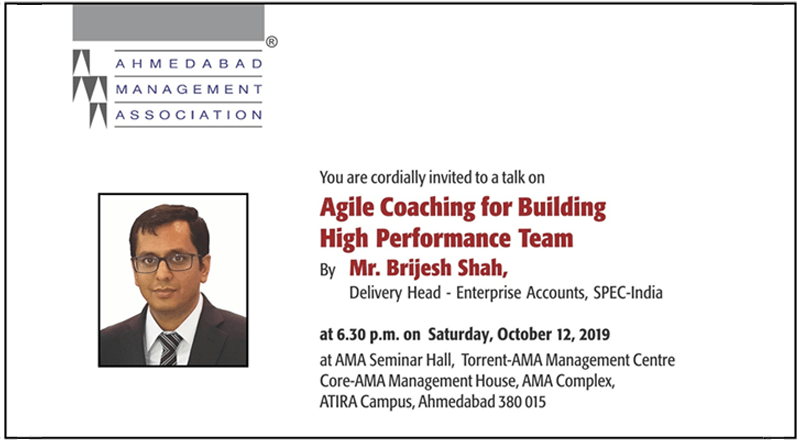 Agile For All: Modern-Day Project Management Principles
Agile is not only related to software development but widely used across many organizations to accelerate growth, improve performance, increase collaboration, and maximize ROI.
Agile promotes quality, speed, collaboration, efficiency, and feedback-driven methodology to perform the tasks. It is a popular practice across organizations and used by software developers, project managers, construction companies, educational organizations, and marketing teams to build high-quality products, faster.
Agile is more than a set of principles, it's a culture and applies to all organizations.
Agile represents a culture of collaboration, speed, and efficiency to overcome complexities and ambiguity.
It seems very easy to understand the agile framework like Scrum, Kanban, etc. But the implementation of agile is difficult and requires cultural changes, mindset shifts, guidance, and specific skillset. To implement Agile smoothly, organizations require an Agile coach who guides you through effective practices and end-to-end agile implementation to build the high-performance team and world-class products.
The Agile coach is a change agent.
Mr. Shah assists teams in implementing agile practices and conducts sessions on agile project management to help teams embrace agile. Together, we are leveraging his knowledge and leadership with effective project management methodologies to develop software with great quality, efficiency, and speed.
Ready to learn agile from an expert?
Join us in the talk on 'Agile Coaching for Building High-Performance Team' by Mr. Brijesh Shah
When?
Saturday, October 12, 2019, at 6:30 PM
Where?
AMA Seminar Hall, Torrent-AMA Management Centre
Core-AMA Management House, AMA Complex
ATIRA Campus, Ahmedabad – 380 015
Registration:
It's a Free Seminar. Click Here to register your seat.
About Mr. Brijesh Shah:
Mr. Brijesh Shah, IIM-A Alumnus is currently working with SPEC INDIA as a Delivery Head – Enterprise Accounts. He possesses 19 years of experience in the IT industry and he is a PMI India champion volunteer, passionate for project management advocacy.
About SPEC INDIA:
SPEC INDIA is a top-ranked custom software and enterprise app development company having 30+ years of experience. We help companies transform their ideas into successful businesses with the help of modern technologies and modern approaches.
SPEC INDIA has a highly-skilled and certified agile coach who enables the change and brings cultural shift and agility in your organization that, in turn, helps build high-performance teams.
Feel free to contact us if you need any agile training, consulting and coaching services.