A Quick Glance At The Internet Trends 2019 By Mary Meeker
"The internet is the most underutilized advertising medium that's out there."
"You could take the Internet enthusiasm that was happening in 1999 and 2000 here in the U.S., and in China, it was three-to-five times more ebullient."
"A captivating moment was when I realized that people, including myself, were not saying, "I just bought an item on eBay." They were saying, "I just won an item on eBay." It was the thrill of the hunt. I bought a car on eBay."
"We believe that 10 percent of the internet stocks are undervalued, 90 percent may be overvalued."
"I love data. I think it is very important to get it right, and I think its good to question it."
All this and much more has been predicted, forecasted, analyzed and said by Mary Meeker, also called the 'The Queen of the Internet'.
Who is Mary Meeker?
At a single glance,
An American venture capitalist
A Wall Street securities analyst
Co-founder of Bond Capital, a new venture firm
Resides in California
The Midas list: Top tech investors 2019
Listed as the 77th most powerful women in the world by Forbes in 2014
Popular for crafting Internet Trends Report each year
Crafted the first Internet trends report in 1995
An investor in people, businesses and ideas
Around this time of the year, she comes up with her captivating Internet Trends report, a highly anticipated slide deck in Silicon Valley, that accurately attempts to showcase the growth of the Internet, technological advancements in the field of advertising, eCommerce, audio / video based digitization etc. and where the world is heading towards, in terms of technological growth.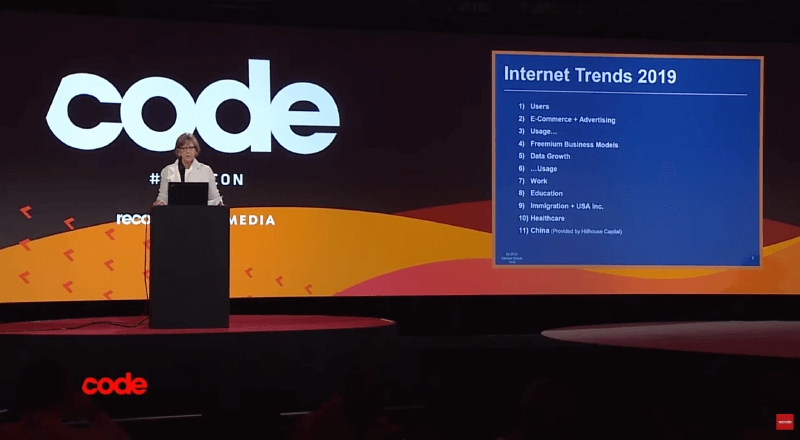 Recently, on the 11th of June 2019, Mary Meeker published her entire Internet trends report 2019 at the Recode's Code Conference and here certain key excerpts from her interesting report:
Key Internet Trends Of 2019 Through The Eyes And Experience Of Mary Meeker
Watch the Video:
Attracting Customers Through Digital Advertising Is Gaining Prominence
Organizations are increasingly focussing on digital advertising and are allocating a special budget towards it. According to Mary Meeker, digital stalwarts like Google, Facebook, Amazon, Twitter are grabbing advertising share. Undoubtedly, the operating cost to garner client focus through advertising is on a high. Comparatively, the Internet ad spend has risen 22% in the last year and hence, platforms that gain ad share are able to achieve their target with enhanced imagination, innovation, and significance.
Visual Effect Is The Key To Attract Attention
It was the world of social media till now and it still is. But, as per the research, the focus is more towards showcasing content with multimedia – audio, video, etc. All content that is accompanied by photos, videos or any type of visual content is sure to attract more focus by visitors/customers. More than half of the trending messages and tweets on popular social media platforms include images, videos, and other multimedia. Users are even editing images and posting them to bring in personalization and accuracy.
Technology Will Rule The Business World
Be it working in the technology domain or adapting technology to the optimum, businesses will have to embrace technology, increasingly. 7 out of 10 global stalwarts are tech companies with only Berkshire Hathaway, Visa and Johnson & Johnson not being a tech. The tech companies are Microsoft, Apple, Amazon, Alphabet, Facebook, Alibaba, Tencent that continue to rule the globe, with their technology quotient and many others are following right behind.
The Globe Is Increasingly Getting Connected Through Mobile Devices
An increasing number of users are moving towards mobile devices to get connected. As per research, in the U.S. itself, the average person spends around 6.3 hours/day on the internet and that too, mostly on mobile devices. It is now the mobile-first world and organizations undergoing increased digitization need to keep that in mind.
eCommerce Is Turning Inevitable
eCommerce – It always was and, in this year, as per Mary Meeker, it is now becoming an indispensable ingredient in the life of the business, for almost all organizations. As per her study, it accounts for almost 15% of all retail purchases. eCommerce sales are increasing by 12.4 % each year. Business owners now really must act upon having their own individual eCommerce websites to enhance their business multi-fold.
Increasing Internet Usage Globally Might Go Slow
As per reports, around 3.8 billion internet users account for over 50% of the worldwide internet penetration. That shows that there is almost half of the population yet to be influenced. The rate at which the Internet is being embraced is going a tad slow – new internet users are lessening from 10% 5 years back to 7% today.
Freemium Subscription Models And Personalization Play A Higher Role
For users to easily onboard and undergo testing of products on a preliminary level, freemium subscription models will be more in vogue in the year. Freemium will be promoted in online streaming services, social sharing, games, enterprise business solutions, consumer usage, etc. these freemium business models will power monetization and modernization. Personalization will show more power – over 90% of clients opt for brands with personalized schemes and over 80% are keen to share their data for better-personalized experiences. Free trials were popularly accepted for online streaming services attracting new visitors.
On-Demand Services And Products Are In Vogue
Garnering services and products as and when required is the latest trend today and continues to grow in its importance. Growing from about 40 million 2 years back to 56 million last year, online marketplaces and on-demand marketing resources have surely carved a niche for themselves.
Gamification Is Surely Trending High
Innovation is surely growing high in the online gamification arena. As compared to 5% growth in the previous year, there was a 6% growth last year and the increasing number of updates were registered, showcasing increasing usage of interactive gaming. This is yet another area of social media that is progressing at a rapid speed.
Increased Usage Of Mobile Devices As Compared To TV
Very rarely, the US population was found to spend an increasing number of hours on their mobile devices as compared to watching television. Estimate says that adults spend around 226 mins on their mobile devices as compared to 216 minutes on TV.
A Quick View At Certain Key Statistics In The Internet Trends Report 2019
2018 saw approx. 3.8 billion people (around 51%) were connected to the Internet, higher than 49% recorded in 2017
Internet ad spending saw increasing growth with new avenues and growth in organizations like Amazon, Twitter, Pinterest, Google, Facebook, etc.
The number of hours US people spend in a day, online, escalated 7% from 2017 and was almost double than that in 2010
The number of adults who are online 'almost all the time' is increasing rapidly. 26% of Americans were hardly offline in 2018
88% of viewers use a second digital device apart from TV making them multitaskers
Around 87% of web traffic is encrypted as compared to 53% 3 years back
Increased messaging platforms are giving comprehensive encryption protocols
Digital advertising revenue has increased by 20%, a tad less than last year which was around 29%
Smartphone sale has declined because most of the global users are already online by now
eCommerce takes up 15% of the total retail sales globally
Around 62% of the entire digital display ad purchasing is through programmatic ads
Issues could increase soon for targeted advertising, with respect to GDPR rules and regulations
American are spending increasing time on digital media, approx. 6.3 hours/day, which has gone up by 7% from last year
Around 50% Twitter message include multimedia content
Interactive gaming users have gone up by 6% i.e. around 2.4 billion users
Around 42% of US youngsters are facing offensive and awkward content through the Internet, which could increase in the near future
60% of the key 25 tech organizations were instituted by 1st or 2nd gen migrants
As We Wait For The Internet Trends 2019 To Show Their True Colours
Mary Meeker has been doing her research brilliantly over these years now and we, as the tech community looks forward to her findings, each year. Only time will tell if the Internet trends, as predicted by her, are showing their patterns or not. Technology has never ceased to amaze and continues to do so. Let us wait and watch till then.
SPEC INDIA, as your single stop IT partner has been successfully implementing a bouquet of diverse solutions and services all over the globe, proving its mettle as an ISO 9001:2015 certified IT solutions organization. With efficient project management practices, international standards to comply, flexible engagement models and superior infrastructure, SPEC INDIA is a customer's delight. Our skilled technical resources are apt at putting thoughts in a perspective by offering value-added reads for all.