At re:Invent 2018, Amazon unveiled many products and services for mobile, web, Internet of Things, security, networking, robotics, databases, and so on.
Offering more than 90 services and products with innovative and out-of-the-box features, Amazon is helping developers' community to build web and mobile apps in an easiest, fastest, and secure way.
AWS's growth doubled over the recent days giving tough competition to the giants like Google Cloud, Microsoft Azure in cloud computing space. Amazon Web & Cloud Services team is coming up with a more robust, secure, and scalable solution that can facilitate web and mobile app development.
If we talk about this growth in numbers then, in the year of 2018, AWS generated revenues worth 25.6 billion US dollars which was 12.2 billion US dollars in 2016. (Source: Statista)
As more and more organizations are embracing cloud computing, cloud-enabled applications are increasing at a rate of knots. Cloud enables the organization to scale when their businesses grow while eliminating the overhead of backend operations.
In this post, we are trying to answer the following questions related to AWS Amplify:
What is AWS Amplify?

What is a cloud-enabled mobile app?

When developers can use AWS Amplify?

What are the services of AWS Amplify?

What are the other products/services from Amazon for mobile and web app development?

What are the benefits of using AWS Amplify?/ Why AWS Amplify?
Without further ado, here are the answers to all the aforementioned questions: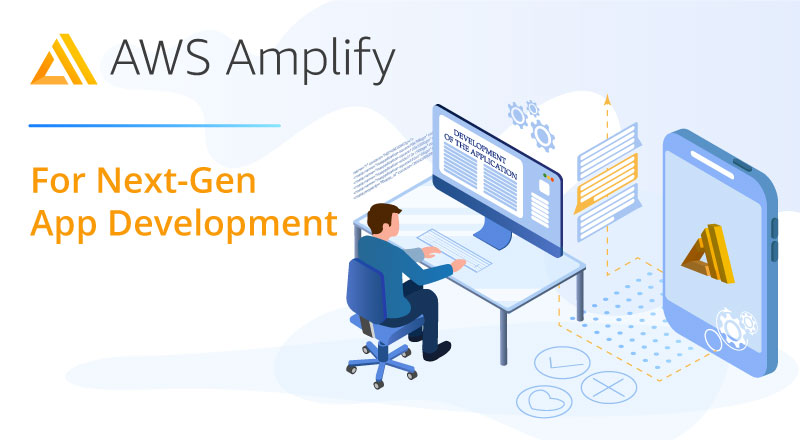 What Is AWS Amplify?
AWS Amplify is a development framework to build web and mobile applications on Amazon Web Services in the fastest manner.
What does it offer?
A declarative JavaScript Library – connects front-end code to cloud service
Amazon Amplify command-line interface (CLI) – a faster way to configure backend using the unified toolchain
In the simplest terms, Amazon Amplify Framework is a set of libraries, command-line interface, UI components that let you build the backend and integrate it with the apps built-in iOS, Android, React Native or web frameworks such as React, Angular, and Ionic. Ultimately, it offers full-stack development without worrying about iterations and backend configurations.
It aims to provide an end-to-end platform for creating and maintaining cloud-enabled applications that deliver native-like experiences. When the backend is serverless, developers can focus on code and its efficiency rather on backend configuration, maintenance, and performance. For those, who don't know what cloud-enabled mobile app is, here's the explanation.
A cloud-enabled application relies on the services from the cloud service provider which handles all the backend operation allowing developers to concentrate on the core part of the application. It reduces time and cost and also offers scalability when required.
AWS Amplifies Helps Build Modern Mobile Web And Mobile Apps In Hassle-Free Manner:
As there are many frameworks and tools are available, choosing the best is a little bit tricky.
Here are some of the specific scenarios where AWS Amplify is the best option:
When you want to build a cloud-connected application on web and mobile platform
When you want to utilize JavaScript in mobile app development
When you don't want to bother about maintaining servers and backend service
When you prefer scalability and faster app development as important factors
When you want to build custom backend using pluggable and ready-to-use components
When you want to enhance your existing app using cloud features
It is the fastest way to build cloud applications as it provides many ready-to-use components and command-line interface which allows you to configure backend in fewer lines of code.
What Are The Services Of AWS Amplify?
AWS Amplify uses a set of AWS services and components which streamline web and mobile app development. Here's how:
Store and retrieve data real-time with AWS AppSync
AWS AppSync is a serverless backend for mobile/web apps and uses GraphQL API to perform data management tasks. With the in-built data service, developers do not need to worry about online and offline data access, synchronization, manipulation, and retrieval.
Authentication using Amazon Cognito
This is one of the useful services that enhance the overall security of the application. It offers a quick and easy way to add user sign-in, sign-up and access control along with social identity authentication and multi-factor authentication.
Analytics: Real-Time Performance Tracking
In order to evaluate the performance of an app, AWS Amplify automatically records session data, authentication data, in-app metrics, and many more so that there is no need for managing third-party analysis tool.
Bots: Conversational Interface For Better Customer Engagement
This service promotes the use of artificial intelligence that can give a competitive edge. With AWS Amplify, developers can create conversational interfaces to provide consistent, accurate, and seamless customer services.
AR & VR: Immersive Experience To Gain Competitive Advantage
AWS Amplify is a suitable choice for graphically-enhanced apps also. It lets you integrate AR, VR and 3D scenes easily into your application to create immersive experiences.
Notifications: Facilitate Marketing And Promotion
Push notifications help marketers to boost conversion, sales, and engagement. This module allows integration of push notifications easily with Amazon Pinpoint targeting and campaign management.
Note: As per the official documentation, Push Notifications are currently supported only for React Native.
Apart from these listed services, Amazon provides several other services for mobile and web app development.
AWS Mobile Hub:
Launched in February 2016
It facilitates mobile app development with easier-to-use features including data storage, user authentication, backend logic, analytics, delivery, push notifications, etc.
AWS Amplify
Launched in November 2017
AWS Amplify – open-source JavaScript library intended to make mobile and web app development easier
AWS Amplify Console
Launched in November 2018
AWS Amplify Console – Continuous-deployment lifecycle for modern web applications
These 3 wrapped in one common framework, now called as Amplify Framework which enables developers to write feature-rich, modern, and scalable apps across all major platforms including iOS, Android, and web.
According to the official blog post from Amazon,
All of AWS Mobile Hub's functionality and much more, are now part of AWS Amplify.
Amazon is in the news following the popularity of AWS Amplify among the developer's community. By removing all the bottlenecks in configuration, management, and in synchronization, Amplify provides pick-and-use components and everything you need to build an app with easy and faster integration.
Why AWS Amplify? What Are The Benefits Of Using It?
An easier and faster way to build cloud-connected, full-stack mobile and web applications
Pay-for-what-you-use model
No need to manage infrastructure and hosting – leverage services like AWS Lambda and AppSync
Modern, UI-driven approach to build scalable apps
Better user engagement through AR/VR, 3D scenes and appealing text/voice interfaces
Faster due to in-built support for backend management and deployment
Native-like experiences at lower costs
Automated mobile apps test to rapidly release features and updates
Build Cloud-Enabled Apps for iOS, Android, Web, React Native: Leverage Rich, Declarative Amplify JavaScript
Cloud will be amplified in the near future.
If you are planning to build your app from scratch or thinking to advance existing one, AWS Amplify is a great framework to consider.
It lessens developers' burden by providing ready-to-use functionalities and helps create serverless full-stack applications. On top of all these, you can use it for React Native app development which is an extra perk.
We have been helping startups and enterprises with AWS Consulting Services and AWS Cloud Services for more than 30 years. We have hands-on expertise in  building modern, scalable and customer-centric and high-quality apps that can help you gain higher ROI.
Do you have any thought to Amplify mobile app?
Let us know via comments below.