Chatbot: Fewer Efforts, Better Reward, Elevate Customer Experience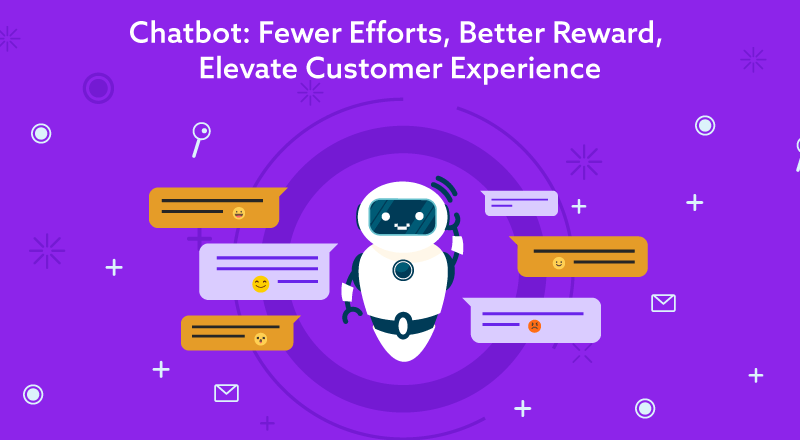 If you want to see how AI is integrated into our day-to-day lives, here are some best examples:
"WSJ Messenger brings you breaking business news and live market data from the award-winning WSJ newsroom. Try it now."
And there you are, reading top news on business and finance.
Want to order something?
Tell the Domino or taco bell's bot to order for you and give them details.
Need financial advice?
Bank of America's chatbot can give you advice based on your spending habits.
Want best flight deals?
Skyscanner's bot can do that for you based on your details.
And many such chatbots are enhancing the customer experience. Customer experience is the true brand differentiator for today's businesses. Customers are not just a source of income; they're your lifetime marketers. Whether you are new in the market or already dealing with a huge customer base currently, superior customer experience can make you gain maximum ROI.
By 2020, chatbots should take over 85% of customer service interactions
"Exceptional customer experiences are the only sustainable platform for competitive differentiation." – Kerry Bodine
Addressing customers' concerns, solving their issues, listening to their needs, and providing them with the best-personalized experience become extremely important to build long-lasting brands. With the help of the technologies, it is possible to deliver consistent, seamless, and personalized customer experience 24*7.
One such concept, chatbot, based on Artificial Intelligence is helping brands to enhance customer experience by providing them with immediate, accurate, and consistent assistant.
Yes, you might have interacted with a chatbot to shop, to check balance, or just to browse something online. A chatbot is becoming popular among users and many brands have already built their bots to deliver AI-based assistance to customers' queries.
At the end of this article, you would be knowledgeable to answer the following questions:
What is chatbot?
Where chatbots can be deployed?
What are the tools you can use to develop a chatbot?
What are the key benefits of using chatbots?
Which companies are using chatbots?
Where chatbot can't help?
How to use a chatbot for your business?
The answers to abovementioned questions will also help you understand the role of chatbot in enhancing the customer experience for end-users. Let's begin with the introduction.
What Is Chabot?
In the simplest terms, it is computer software, able to conduct a conversation with humans over the internet. This is a form of artificial intelligence which would behave like a human to address the queries of customers.
The surprising fact is,
40% of consumers do not care whether a chatbot or a real human helps them if they are getting the help, they need
A Chabot can give human-like answers to users based on the user inputs and set of predefined instructions. It recognizes the user's intent and returns a relevant response based on the users' requests.
What Kind Of Answers Chatbot Can Give?
A generic conversational text (predefined)
A piece of information based on the user's data
Particular personalized data from database intended to solve user's query, e.g. checking the balance
A set of other references in the form of images, links, and texts that might address users' concern
Types of Tasks Chatbot Can Perform:
Buying a basic item
Paying a bill
Register yourself to a mailing list or service
Resolve an issue quickly
Connect with you to human customer service assistance
Ordering food
Make a reservation
It has gained enormous popularity among tech communities and businesses of every size. It facilitates communication and increases customer engagement by providing immediate, accurate, and 24*7 support to customers.
67% of US millennials said they are likely to purchase products and services from brands using a chatbot
People of any age found chatbot useful, easy-to-use, and pleasurable to get answers to generic questions related to services or products.
Where Chatbots Can Be Deployed?
In case if you are wondering, the look and feel of a chatbot are similar to messaging applications like any messenger application and it runs on almost all platforms.
Here are some platforms where you can deploy chatbot:
Web (on websites)
Mobile (App like WhatsApp)
Social media platforms (Twitter, Facebook Messenger)
Collaboration tools (Skype, Slack)
What Are The Key Benefits Of Using Chatbots?
According to Gartner,
"By 2021, more than 50% of enterprises will spend more per annum on bots and chatbot creation than traditional mobile app development.
Here are some great benefits chatbot can offer:
chatbots not only solve the queries but they also offer a personalized experience to the customer. This can be highly advantageous to online store owners. Brands like Sephora, H&M, etc use the chatbots to offer advanced personalized shopping experience to their customers.
The H&M chatbot asks your gender, choice, price range, type of product and then help you with the shortlisted products to make your shopping quick and hassle-free.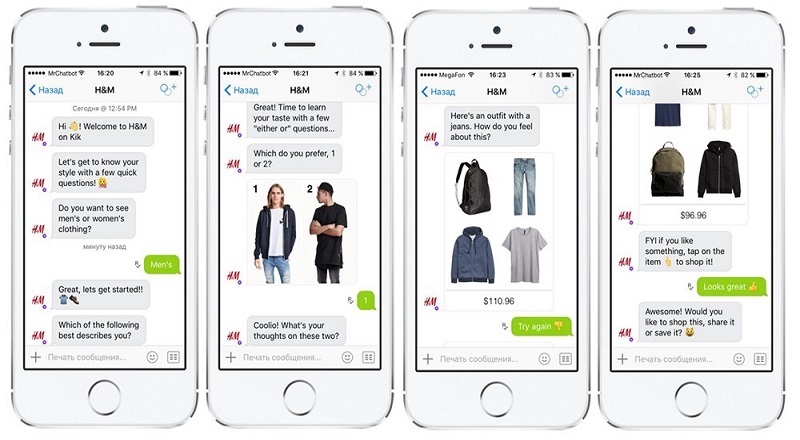 Cost-effective And Require Lesser Resources
Utilizing a chatbot is cheaper than hiring a team of representatives to respond to your customers. Basic and low-level queries are generally managed by the chatbot making it effortless for humans. It also plays an instrumental role in getting increased productivity and saving human hours.
Cutting labor costs is one of the great benefits offered by chatbots. In fact, to support this, a report says that chatbot reduces customer services expenses by 30%.
Your Customers Do Not Need To Wait
In this digital age where people don't wait for a website to load, customers will be pleased if they get quicker responses. Customers tend to get frustrated when they have to complain about the same thing repetitively without any response for weeks. With a chatbot, the customers do not need to wait for the response, regardless of the time zone they are in. This is how a chatbot can help businesses reduce the chances of losing customers in the first stage.
Round The Clock Support And Service
For any online business, it is very important to provide round the clock support and service with a faster and apt response. Chatbots just do the same. They are never off work and hence can provide 24*7 assistance to customers.
Collect Customer Information And Predictive Analysis
While interacting with clients, chatbots can collect a variety of information and provide it to the concerned departments for further analysis/action. This can help them tailor their interaction with the customers and offer them a pleasing experience. There are many analytical chatbot tools that can provide better insights and help frame strategic decisions.
Enhances Brand Authenticity And Customer Relationship
Organizations are keen to have a closer rapport with their customers and thereby build their brand image. Chatbots help them connect frequently with customers with different reasons like wishing them on their birthdays, offering them attractive schemes, asking for a product review, reminding them of the next purchase, etc. Such activities help businesses build up their brand image in front of customers and keep the customers happily connected.
Facilitates Real-Time Chatting
With the aid of Natural Language Processing (NLP), most chatbots are well equipped to chat real-time with customers. They can understand, analyze and reply to customer queries, as human interaction would. Nowadays, chatbots are integrated into organizational websites or applications so that customers can instantly access the required resources with the chatbot's help.
Interactive Voice Response (IVR) systems are the most common methodology to interact with customers but at times, it gets very frustrating for clients to keep patience while the IVR gets you to the right channel. Chatbots can be considered an enhanced version of IVR wherein they are almost as natural and receptive as humans. Customers are sure to get a feeling that they are being understood and heard instantly.
Improved Customer Service
Usually, customers find it very tiresome to contact the support team because of many reasons like inadequate information, delay in getting solutions, communication gap, etc. With chatbots, the entire customer service procedure would be streamlined, effective and fastened.
Tools You Can Use To Build Chatbot:
There are many ready-to-use chatbot tools which make it easy to create bots for non-coders also. The popular tools to build chatbots are:
Google-owned Dialogflow
Microsoft Bot Framework
Amazon Lex
Some other tools are:
Chatfuel
Botkit
ChattyPeople
Flow XO
Manychat
Wit.ai
MobileMonkey
Botsify
Where Chatbot Can't Help?
There are some chances that a chatbot might unable to understand the complex request and therefore, unable to give an accurate answer. Secondly, the functionality of chatbot is based on Natural Language Processing(NLP) so, sometimes, it might not recognize the word or even set of words from the query and give a faulty response.
Ranging from basic chatbot to AI-powered high-performing chatbot, businesses are using chatbots to elevate user experience. But, in some cases, it still requires a human touch to solve the issue or provide customers with a hyper-personalized experience.
Which Companies Are Using Chatbots?
Here are some of the popular chatbots taking user experience to the next level:
Spotify
Sephora
CoverGirl
Nordstrom
Charity Water
1-800 Flowers
Swelly
eBay
Lyft
Yes Sire
How To Use Chatbot For Your Business?
57% of our respondents were interested in getting real-time answers from bots on a company website
This stat represents the popularity of chatbots in our day-to-day activities.
For small businesses and especially for eCommerce businesses, conversational Artificial Intelligence Development acts as the best marketing tool. It has the ability to hold the interest of users and provide them with the personalized user experience they expect from brands.
It is cost-savvy, time-savvy, and requires less effort than the other marketing strategy.
For enterprises, it serves as the best customer assistance to help users get real-time solutions to their concerns. To build a chatbot, you can contact the leading chatbot development company who can help you make most of the Artificial Intelligence Services to gain maximum ROI.
What's your take on integrating a chatbot in your business?
Did you find this helpful? Let us know via comments!
SPEC INDIA, as your single stop IT partner has been successfully implementing a bouquet of diverse solutions and services all over the globe, proving its mettle as an ISO 9001:2015 certified IT solutions organization. With efficient project management practices, international standards to comply, flexible engagement models and superior infrastructure, SPEC INDIA is a customer's delight. Our skilled technical resources are apt at putting thoughts in a perspective by offering value-added reads for all.