Key Highlights Of "One More Thing" – Apple's November 2020 Virtual Event
"The ones who are crazy enough to think that they can change the world, are the ones who do."
This was so said by Steve Jobs – the magical mind behind Apple. Apple and its exciting line of devices have engulfed the globe with its innovative design, robust architecture, and modern-day features. Apple loyalists are stuck to the name and the number is fast increasing!
Keeping in mind the current pandemic scenario yet continuing its tradition, Apple had a special and interesting virtual event for iPhone App Developers – "One More Thing" on 10th November 2020. These set of words were a Steve Jobs regular, during keynotes to make big product announcements.
Watch the Special Apple Event:
On a similar note, there were exciting announcements made in the virtual rollout that will raise the curiosity bar of Apple users. It was all about the new chip being announced and the new Mac devices, along with.
Here is what Tim Cook said inside Apple Park as he began the virtual event
"One more thing… it's time to talk about the Mac. Talking about Mac users and the way the Mac changes the world. The Mac has always been about innovation and bold change. We promised that the first Mac with Apple Silicon would arrive by the end of this year. That day is here."
"This truly is a huge day for the Mac and a huge day for Apple. At Apple, our mission is to create products that play a meaningful role in people's lives. 2020 has been a year unlike any other in so many ways."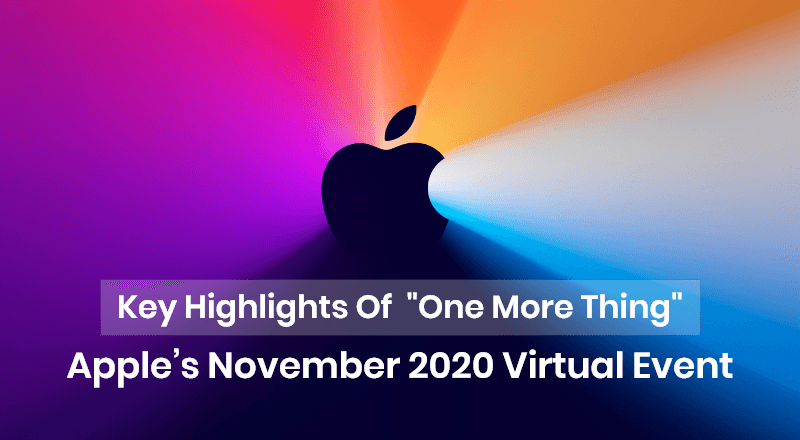 Major Announcements At The Special Apple Event In November 2020
The All-New M1 Processor Chip
macOS Big Sur is Finally Available for Its Users
The New 13-inch MacBook Air
The New MacBook Pro 13 Gets Upgraded
The New Mac Mini Models Are Here
The All-New M1 Processor Chip Is Here
Till this time, Apple had used Intel chips for its computer range. Now on, Apple has announced saying goodbye to Intel and launching its own new processor chip called 'M1' – the arm processor for Macs. This was the biggest announcement in this virtual November event.
M1 is Apple's first commercially available ARM processor, silicon-based, for Mac devices. It is made through a 5-nanometre processor technology and it includes 8 cores – 4 are high performance and 4 are high efficiency. This 5-nanometre technology is one of the most advanced semiconductor manufacturing technology worldwide.
The M1 chip is packed with 16 billion transistors and it integrates the CPU, GPU, I/O, neural engine, and more into a unified tiny chip. All the three major launches of this event will be powered by this tiny wonder.
Presumed Key Features of M1-
Performance boost and advanced power management
Efficient power and longer battery life
High bandwidth cache & image signal processor
High performance unified memory & CPU chores
Lower power video playback
Amazing graphics and fast speed
With the introduction of this chip, the organization aims to attain industry-wide leading performance and features, along with a continuous performance efficiency. Gradually, Apple will remove Intel from its devices and the small wonder chip M1 will take over.
macOS Big Sur Is Finally Available For Its Users
macOS Big Sur was announced way back in June 2020, at Apple's WWDC. Named after the coastal region of Big Sur in California, this version of Apple OS will now be available for use from November 12, 2020.
The MacBook Air and Pro will execute the latest version of Big Sur. This version gels well with the M1 chips and they will be seamlessly integrated to work their best on the Macintosh devices.
It will be accessible as a free update to those mac devices that are compatible. There will be a newer visual effect, refurbished messaging app, classic startup chime, control center, and other features correspondingly.
The New 13-inch MacBook Air Is Sure To Impress
The new MacBook Air is coming up with certain internal revolutionizing changes, one of which is the introduction of the M1 chip. This device offers 3.5 times faster CPU operations and 5 times faster graphics operations, as compared to the previous versions. It is faster than most of the PC and laptops.
It offers longer battery life – 15 hours of wireless web use, 18 hours of video playback. The current design does not need a fan to cool the machine and hence is silent. The SSDs are faster than before. It has a feature display of 13.3 inches. It can be configured with around 16 GB unified memory and 2 TB storage. It is considered around 9 times faster than its predecessor version.
Presumed Key Features of MacBook Air-
Faster CPU operations and graphics
Longer battery life – 15 hours of wireless web use, 18 hours of video playback
3 times faster than most Windows laptops
49.9 watt-hour lithium-polymer battery
Three colors – Silver, gold, and space gray
Because of the increase of transistors in the current device, the number of central processing cores have increased from 6 to 8.
The New MacBook Pro 13 Gets Upgraded
The all-new MacBook Pro 13" is upgraded for better performance and longer battery life. The key highlight here is the introduction of the M1 chip into this device. It also has 3 newer microphones that will offer enhanced sound improvement, especially during video calls.
The two colors available are silver and space grey. The update that is significant is the introduction of the M1 chip. Approximately this device will have a battery life of 20 hours which is almost double of what was offered in the earlier versions.
There is a FaceTime HD camera and a GPU that is five times faster than its earlier versions. Certain features of Pro and Air are similar, but Pro has a slight edge over the Air version. The weight of Pro is around three pounds as compared to the 2.8 pounds of the Air device.
Presumed Key Features of MacBook Pro-
Nearly 3 times high-end CPU performance as compared to Intel version
Integrated graphics will be five times faster
The longer battery life of around 17 hours and 20 hours of video playback
The New Mac Mini Models Are Here
Two new models of Mac mini – Apple's compact computer are coming out. Both have an 8-core CPU, 8-core GPU, and a 16-core neural engine. The new Mac Mini will come with the powerful M1 chip and promise to be three times faster owing to the chip.
It will have an in-built speaker, Wi-Fi 6 connectivity, headphone jack, and ports for HDMI 2.0 and Thunderbolt USB 4. It comes in two versions and can connect to the Pro Display XDR with 6K resolution. It can be changed up to 16GB of RAM and up to 2TB internal storage.
On a Parting Note
With this event, Apple has attempted to get everything under one roof, conceptualizing and designing of software and hardware components. As always, the hardware and software go in sync with each other. The new mac devices, the M1 chip, and the macOS Big Sur – all together promise a great experience to Apple fans.
Apple and its innovative self are sure to showcase some really good accomplishments in the year 2021. Apple loyalists are eagerly waiting to use the new wonders!
SPEC INDIA, as your single stop IT partner has been successfully implementing a bouquet of diverse solutions and services all over the globe, proving its mettle as an ISO 9001:2015 certified IT solutions organization. With efficient project management practices, international standards to comply, flexible engagement models and superior infrastructure, SPEC INDIA is a customer's delight. Our skilled technical resources are apt at putting thoughts in a perspective by offering value-added reads for all.