AR, VR or MR: Fundamental Differences And Future Insights
Posted
September 20, 2019
Updated
December 19th, 2022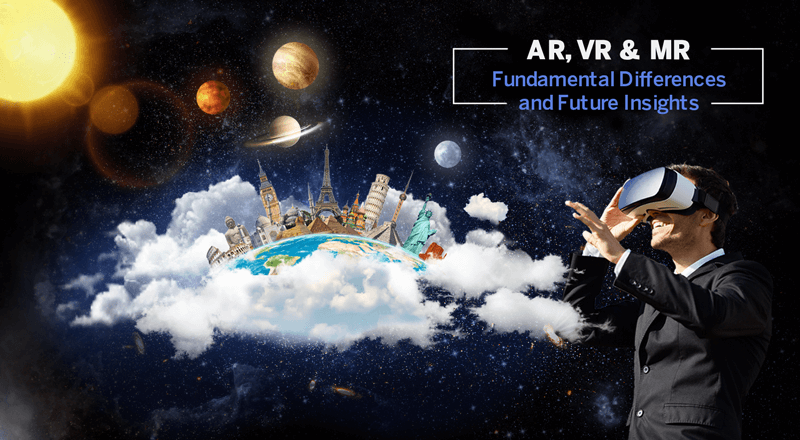 Sales of VR/AR headsets are predicted to be worth 9.7 billion U.S. dollars in 2020, according to one Statista report.
This statistics is sufficient to draw your attention. Isn't it?
Technology gets a new makeover every single day. Our newsfeeds are flooding with the newest tech inventions and their impacts on our way of living. We reached the stage where we can create another artificial world at just a few fingertips. While technologies like virtual reality and augmented reality are at the center of the stage, many of us are still unclear about the difference between AR, VR, and MR.
This post will explain key differences between augmented reality, virtual reality, and mixed reality.
Before we start, here are some facts and predictions that are worth reading.
Have a look at this graph from Statista,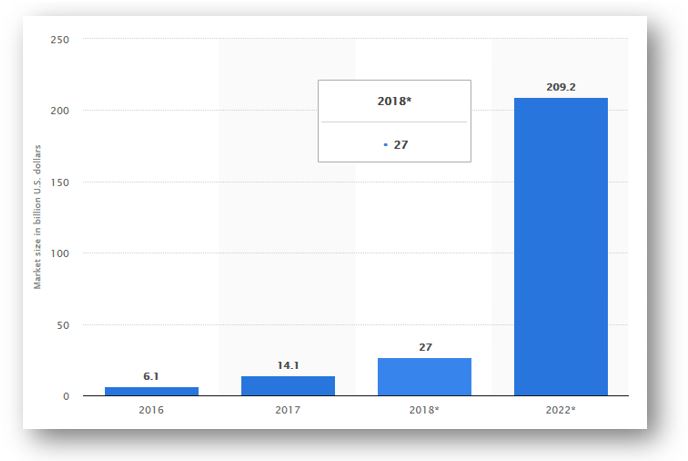 The above graph clearly shows the usability and popularity of Augmented Reality Solutions and  Virtual Reality Solutions in the upcoming years. More and more organizations are bringing these amazing immersive experiences into their day-to-day operations. In 2022, the augmented and virtual reality market is expected to reach a size worth of 209.2 billion U.S dollars.
According to Gartner, by 2019, AR, VR, and MR solutions will be evaluated and adopted in 20% of large-enterprise businesses.
The global mixed reality market is projected to reach $5,362.1 million by 2024, growing at a CAGR of 71.6% from 2018 to 2024 according to one report from Allied Market Research.
The compound annual growth rate of the global augmented reality market from 2013 to 2018 is 132%. (Source: Systweak blog)
The aforementioned figures are sufficient to represent how these technologies are being popular among professionals and individuals.
Let's take it further in the simplest terms,
Augmented reality involves digital elements in live views using the device's camera.
Virtual reality is a completely immersive and artificial experience that does not include the physical world environment.
Mixed Reality actually uses both, real and virtual world to create visualization where physical and digital elements interact and react to each other.
Comparing These 3 Together: Fully Artificial, Partly Artificial, or Both?
As we already know the basic definitions, we are proceeding with the major differences between them.
How Augmented Reality Is Different From Virtual Reality?
You might have played Pokémon Go game on your mobile phone. It is considered the best example of Augmented Reality.
Augmented reality overlays digital elements in a real-world environment whereas, virtual reality creates a fully virtual (artificial) environment.
In virtual reality, there's a need to wear a special headset to experience a fully virtual environment. AR is more accessible than VR as it can be experienced through your smartphone with the help of AR apps. AR headsets are also available in the market.
The primary difference between Augmented Reality and Virtual Reality is that VR totally replaces the real world along with movements and sound effects in order to fully immerse in the virtual environment.
Here are some most popular VR headsets from the tech giants:
HTC Vive
Oculus Rift
Google DayDream View
PlayStation VR
Samsung Gear VR
Google Cardboard
360-degree videos and more advanced VR devices are becoming rapidly popular. Apart from gaming, AR and VR are already being used in education, healthcare, real estate, marketing, travel, manufacturing, retail, and maintenance.
What Is Mixed Reality? A Merger Of Real And Virtual World?
Yes, as it uses an advanced form of augmented reality which not only overlays digital elements but enables interactions in the real-world environment.
According to Wikipedia, Mixed Reality is the merging of real and virtual worlds to produce new environments and visualizations where physical and digital objects co-exist and interact in real-time.
MR holds the potential to change the world of virtual reality and augmented reality through the use of immersive technologies and widespread use cases. The ability to interact with the virtual and physical world makes mixed reality a key technology to explore and use in the nearest future.
The virtual experience that is independent of physical location, interaction with digital elements and immersive experience of mixed reality attract a large number of people from various domains including marketing, communication, education, maintenance, and manufacturing.
Along with that, Artificial Intelligence and Mixed Reality are among the popular combinations to discover the hidden potential of both these trending technologies.
Microsoft's Journey To The Mixed Reality: What's For You And Your Business?
Microsoft has launched a mixed reality platform which is a part of the Windows 10 operating system. Microsoft's flagship device for mixed reality, Microsoft HoloLens is an optical head-mounted display specifically designed to deliver mixed reality experience.
Not only mixed reality, but Microsoft also joined hands with renowned organizations such as Dell, HP, Lenovo, Asus, Samsung, and Acer to create a range of immersive headsets for virtual reality along with motion controllers and components.
At present, Windows Mixed Reality offers more than 2,500 games and VR experiences from Microsoft Store and Steam VR.
Take a look at how Microsoft HoloLens is helping Chevron, leading American multinational energy corporation to improve performance and collaboration.
There are more such stories.
Google, Facebook, Intel, Apple, all these tech giants are on the way to launch their own AR/VR or mixed reality devices in upcoming days. Smart-glasses, head-mounted displays, remote assistant, controllers, and sensors will be transforming the way of how we see, experience, and work.
According to one Statista survey, 33.2 percent of the mid-market respondents described their companies as being in the deployment phase of AR/VR solutions or adoption of mixed reality technologies as of July 2017.
Ultimately, mixed reality will bring more powerful, accurate, and immersive experience, representing 'virtual' world over a physical one. A large number of companies are planning to capitalize on augmented/virtual/mixed reality to improve overall strategy, execution, monitoring, and performance.
Apart from gaming, eCommerce companies are making most out of these advanced technologies to appeal to the customers. Education, healthcare, marketing, and manufacturing are topmost domains to be benefitted by the use of mixed reality.
"If a smartphone is a surveillance device we voluntarily carry in our pocket, then MR will be a total surveillance state we voluntarily enter."- Peter Wang
Augmented, Virtual and Mixed Realities Are Bound To Change Experience And Presence: Are You Ready?
It's just beginning.
A number of research and use cases are being developed to identify the potential of these emerging technologies. While it is still being developed at the global level, you can leverage augmented reality and virtual reality by developing AR/VR apps for your business. If you have any idea or want to revamp an existing app with an immersive experience, we will be happy to help! Augmented Reality Development and Virtual Reality Development
is gaining in popularity and it seems prudent to broaden the horizon.
SPEC INDIA, as your single stop IT partner has been successfully implementing a bouquet of diverse solutions and services all over the globe, proving its mettle as an ISO 9001:2015 certified IT solutions organization. With efficient project management practices, international standards to comply, flexible engagement models and superior infrastructure, SPEC INDIA is a customer's delight. Our skilled technical resources are apt at putting thoughts in a perspective by offering value-added reads for all.