Top 11 BambooHR Alternatives That Meet Your Requirements
With the rapidly progressing digitization, organizations are embracing custom software development solutions in almost all sectors. Human Resources Information System is one such solution that is widely used by companies of all sizes, for easy and effective management of all components involved with their employees and their lifecycle.
BambooHR is considered a leading HR management platform that has automated multiple small to medium-sized businesses to migrate from spreadsheets to an automated solution. Though BambooHR is a great tool, there are other BambooHR alternatives that have been in the news lately. It is easy to use and addresses all major elements of an HR system.
It is a comprehensive tool for HR-related functionalities, but it is not the only solution available. There are other popular BambooHR competitors that can be considered. Each of them has features that can help in HR management. Before we investigate the top alternatives to BambooHR, let us glance through BambooHR and its features.
What is BambooHR?
BambooHR is a popular HR Management Software that brings it all together. It saves you time and effort so you can focus on what matters most – growing your people, improving the employee experience, and taking your business forward.
BambooHR is a SaaS-based HR software system that is fit for collecting, managing, and analyzing data that is collected all through the lifecycle of employees. It focuses on people management, saving on time and costs by automating HR processes and integrating them into a unified system.
It is leading software that streamlines HR processes like hiring, onboarding, payroll, leave, time tracking, performance management, time management, etc. There are consolidated reporting options that are available in the solution. There is role-based access to information ensuring security.
There is a centralized database that can store all the private information of employees with ease. There is an effective onboarding process for new recruits. It also looks at performance administration and benefits management. It also offers timely and effective reminders for deadlines and schedules.
A few limitations of BambooHR, which could be reasons why organizations look for BambooHR alternatives are lack of customization facility, scheduling feature, inbuilt communication tool, etc.
An Interesting Case Study: Okta Integration with BambooHR Application for a Global Design Company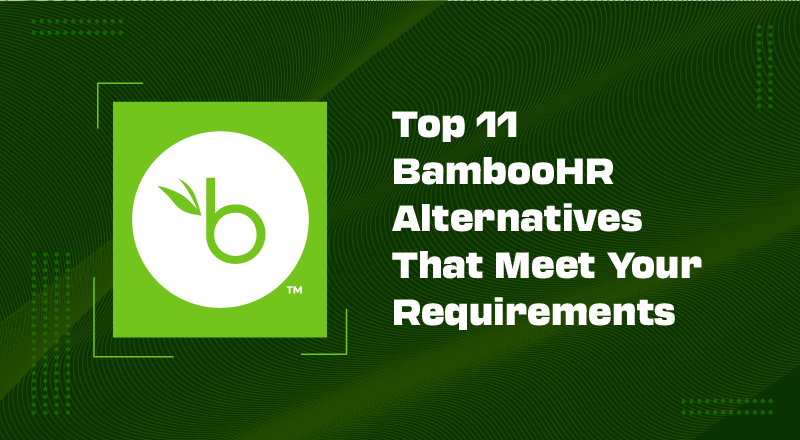 11 BambooHR Alternatives to Look For
Rippling
Bambee
ADP Workforce Now
Lano
Trakstar
Zoho People
Workday
Freshteam
Recruitee
Homebase
Gusto
Rippling:
Rippling is an ideal BambooHR alternative that simplifies HR management and easily manages payroll, expenses, devices, benefits, IT, Finance, etc. in a consolidated manner. It becomes easy for users to manage and automate the entire employee lifecycle through a unified system. It is created on a Unified Workforce Platform and hence offers all apps needed to execute business operations in the HR, IT, and Finance arena.
Salient Features
Onboarding contractors and employees
Access management and control
Integration with third-party apps
Automation of global compliance activities
Easy payment in local currency
Bambee:
Bambee is a popular HR and payroll management solution and a suggested alternative to BambooHR. It is ideal for small to large business units with multiple benefits like a dedicated HR manager, annual HR audits, employee onboarding and termination, automatic staff training, etc. It assists organizations in complying easily with government rules and regulations and ensures compliance with current wage regulations.
Salient Features
Compensation and benefits management
Document storage in electronic form
Staff performance tracking
Automated filing of taxes
Payroll processing
ADP Workforce Now:
ADP Workforce Now is one of the leading BambooHR competitors that offers a comprehensive bunch of payroll and HR functionalities for insightful data-driven decision-making. It focuses on revolutionizing HR management from an administrative unit to an indispensable unit of your business through different characteristics like compliance reporting, employee recordkeeping, onboarding, time, and labor management.
Salient Features
Real-time tax and payroll processing
Self-service functionality
Enhanced and fast business performance
Access to business insights anytime, anywhere
Talent management
Lano:
Lano is a single-stop alternative to hire and pay your global workforce with ease and security. With Lano, you can get your payroll data together and offer a unified information portal for effective management of payroll. It also offers seamless integration to all third-party systems that the organization uses. There is a global hiring process that adheres to local rules and regulations in different countries.
Salient Features
Automation of payment options
Real-time consolidated insights
Seamless multi-country payroll
Contractor management
Standardized data and processes
Trakstar:
Trakstar is one of the preferred BambooHR alternatives that offers comprehensive and cloud-driven people and performance management. It offers automated and innovative support to facilitate faster and smarter business decisions that can retain your task force. It has an easy-to-use and attractive interface with an application tracking feature that can assist in the automatic channeling of possible candidates in the hiring process.
Salient Features
Skill development and enhancement through training
Effective productivity with faster onboarding
Visually appealing reports and analytics
Robust customer support portal
360-degree performance reviews
Zoho People:
Zoho People is a cloud-driven and competent HR management system that is meant to simplify your HR operations with agility and efficacy. It is an ideal choice for employee training, automation of tasks, performance management, and learning management. It has a robust training and career development module that helps in innovative ways of learning including classroom, virtual, and self-study models of training.
Salient Features
Streamlined data collection and storage
Easy HR and performance management
Attendance and leave tracker
Smooth shift management
Evaluation models for performance assessment
Workday:
Workday is a popular global HR management system that is SaaS-based and enterprise driven, for effective handling of payroll, finance, and human capital management. It offers complete management of your workforce with their associated competencies and skills. It offers detailed and modern-day insights to facilitate better organizational decisions for enhanced experiences.
Salient Features
Easy to use and insightful interface
Focus on team building and recruitment
Lessens costs and maintenance charges
Financial trend and actionable insight analysis
Adaptive planning
Freshteam:
Freshteam is a SaaS-driven HRMS, for growing businesses and is considered a good alternative to BambooHR. It helps organizations in simplifying and modernizing recruitment and employee management functionalities. It gels well with other Freshworks products like Freshdesk, Freshsales, etc. for a consolidated output. It offers effective candidate sourcing and applicant tracking tools that are recommended for better business output.
Salient Features
Supports candidates' skills evaluation
Talent pool management
Interview Scheduling & Self-scheduling
Seamless integration with third-party tools
Interview Scorecards & Feedback
Recruitee:
Recruitee is a modern recruiting software and an effective BambooHR alternative that offers an insightful and customizable interface. There is a vast library with over 200+ description templates through which different job descriptions can be created in a fast manner. It includes talent sourcing, application tracking, company marketing, job promotions, and organizational branding activities.
Salient Features
Simple employer branding editor
Customizable pipelines
Reduction in manual efforts
Robust recruiting analytics
Branded career sites
Homebase:
Homebase is one of the preferred BambooHR alternatives that is fit for complicated scheduling for hourly teams. It assists smaller teams in effective time tracking, onboarding, labor costing, and POS integration. It can seamlessly integrate employee scheduling information with POS data to offer effective results. Employee schedules can be created, and templates can be saved and later used for future needs.
Salient Features
All-in-one team management platform
Mobile app and group chats for better communication
Time tracking, scheduling, and collaboration
Wide HR library with expert guidance
Clock and scheduling app
Gusto:
Gusto payroll solutions is one of the best BambooHR competitors that offer consolidated management of hiring, paying, and managing teams from a unified portal. It is fit for smaller teams that have simplistic salary structures or complicated teams working globally. It has a competitive payroll functionality that is a USP for this tool including features like indefinite payroll execution, automated deduction of taxes, a seamless collaboration between payroll, and a time tracking module.
Salient Features
Easy integration with international payment options
Handy device management system for better inventory and network control
Automatic filing of taxes
Management of health insurance plans
Time tracking and onboarding functionality
Wrap Up
The above-mentioned list of BambooHR alternatives is exhaustive and can serve the same purpose as that of BambooHR or maybe even more. There are certain fixed criteria that must be evaluated while choosing the best BambooHR competitors like project estimates, skilled resource availability, budget approximations, business workflow requirements, etc.
Once these parameters are analyzed, it becomes easy for the organization to finalize the apt BambooHR alternative. As a custom software development company, we at SPEC INDIA, leverage our knowledge in constructing bespoke solutions that are the need of today. We have facilitated steering organizations, startups, and SMBs to resolve challenges of any difficulty and scale through our contemporary customized solutions.
Our hands-on experience in many tools and technologies combined with our profound domain knowledge help us carve out a digital roadmap that guarantees success. Let us discuss your business workflow requirements so that we can shape your ideas into a perfect software solution.
SPEC INDIA, as your single stop IT partner has been successfully implementing a bouquet of diverse solutions and services all over the globe, proving its mettle as an ISO 9001:2015 certified IT solutions organization. With efficient project management practices, international standards to comply, flexible engagement models and superior infrastructure, SPEC INDIA is a customer's delight. Our skilled technical resources are apt at putting thoughts in a perspective by offering value-added reads for all.