Best of 2018 – Our Top 10 Articles in Custom Software Development
"A blog is only as interesting as the interest shown to others." – Lee Odden
As we enter the new year 2019, here is a sneak peek at the bouquet of good blogs on one of our key strength areas and service offerings @ SPEC INDIA – Custom Software Development. These articles attempt to encompass the varied technological areas that fall under this wonderful technology and the bouquet of service offerings that we offer, under this umbrella. If you haven't read through this, these are surely worth a read and if you have gone through them earlier, it always is a pleasure to refurbish your knowledge…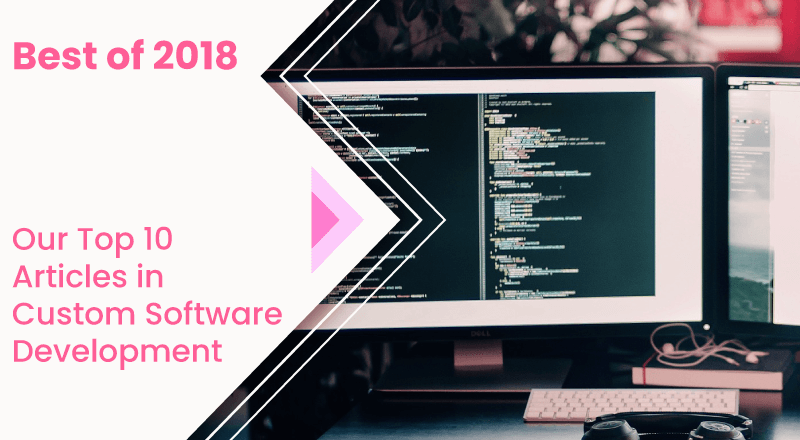 Today extracting maximum productivity and potential from employees, customers and stakeholders is a challenge. There is an increasing spree of a perplexed and disconnected lot of employees, customers, management, and workers. At such times, the state-of-the-art technology that comes to the rescue is Gamification – the most successful strategy to keep your stakeholders happy, engaged and productive…
When an organization decides that it is not worth spending the three most important driving forces money, time and energy on non-core-competencies like Custom Software Development Services, it is only diverting its most important resources to its primary expertise. This decision can be driven by many factors, one of the most important being non-availability and the difficulty of retaining skilled staff…
The pace at which digital transformations bring disruptions to all niches changing the way things are done is a topic of discussion more than often. Customized software solutions make sure that every need of the specific industry is met, and the software support pushes the enterprise beyond its own limits….
A struggle and a wish that each organization has been to stay closely associated with each employee of theirs since employees are the foundation block of the success story of the entire business. If the employees are content and happy, there is no looking back. The organization is bound to perform wonderfully. The company culture, hence, plays a pivotal role in the organization, no matter, what size or segment it belongs to….
The two most discussed terminologies of the millennial project execution methodologies for customized software drive every animated conversation today. The transition from traditional methods like Waterfall, to Agile to DevOps is fascinating! ….
As enterprise software solutions increasingly continue to be a part and parcel of businesses, the one haunting question that continues to linger on is whether to go in for a customized software or an off-the-shelf one. With several multifaceted parameters like performance, budget, requirements, geographical spread, usability, security affecting the decision, the take on which one to choose is a highly significant step for augmented business profitability and growth….
There are some things that grow better with age and some that cease to do so. The software is one such thing that is a necessity but needs to be better, upgraded and modernized with age. Though the importance of legacy systems doesn't decrease with time, since they contain important information, possibly, the usage of the same may not turn productive with time…..
There is so much being said and written, by custom software development companies about Docker and container virtualization. Docker needs no introduction. A highly popular technology by now has a lot in store for the future too. What is it that makes it so popular? Why are developers building a higher fan base over it? What are the statistical figures that showcase the success of Docker? ….
Microservices has been gaining grounds in the software development since the term came into the existence. Microservices aka Microservice architecture is the variant of service-oriented architecture (SOA) for developing large applications where services are grained into chunks as per business domain. It provides continuous delivery/deployment of complex applications and makes the application easier to understand, develop, test and is more resilient to the architecture erosion….
Comparisons are always worth a read be it technologies, industries, mobile devices, entertainment media or anything under the Sun. Each has its own characteristic that shines and some that prove to be unimpressive. In the fast-paced era of digital transformation, what matters most for all is time. Enterprises want results faster and more effective. Custom software development solutions have already carved a niche for themselves around the globe, proving their finesse in almost all industry segments….
As a leading Custom Software Development Company in India, it has been SPEC INDIA's constant endeavor to offer swifter turnaround time to our esteemed clientele with the use of most modern frameworks, reusable mechanisms, and fast action tools. To know more about our custom software development services, Contact us.
SPEC INDIA, as your single stop IT partner has been successfully implementing a bouquet of diverse solutions and services all over the globe, proving its mettle as an ISO 9001:2015 certified IT solutions organization. With efficient project management practices, international standards to comply, flexible engagement models and superior infrastructure, SPEC INDIA is a customer's delight. Our skilled technical resources are apt at putting thoughts in a perspective by offering value-added reads for all.