A Bus Ride The Best Part About School – Keeping Safe with GPS School Bus Tracking Software in 2017
School holidays in winter bring a smile to faces all around. For little kids, it is the wait for Santa & the gifts; for the older ones, it brings new year parties & sometimes prom nights. For the parents on the other hand it means no alarms to set and of course a huge breather for the teachers too!
But, holidays are short-lived as usual. Soon the mad rush starts and the nightmare of boarding the school buses on time hit hard. And, inspite of the fact that all would agree that the bus ride is easily the best thing about going to school, worrying about the safety of the buses and the children traveling is only normal.
It is then a great respite how school bus GPS tracking system takes charge of the situation to keep a tab on the safety of the children and keeping their wardens informed. Much more than a log book, vehicle tracking system keeps an alert eye on everything; the buses, the drivers and the students.
This system is a versatile idea implemented for various enterprises wishing to keep a tab on the fleet & its movements and keeps offering innovative use cases.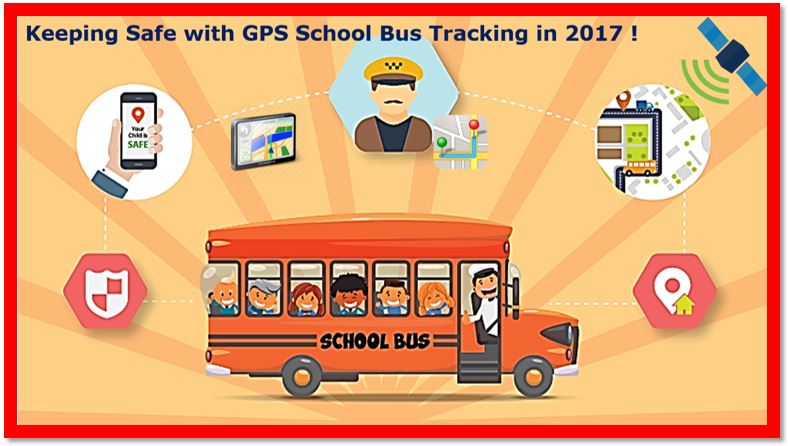 Back to School with Vehicle Tracking in the New Year!
The offering from VTS for school buses for parents as well as the authorities are as exciting as the passengers being carried. Add to this the newer techniques like IoT & sensor based technologies like beacons used by retailers for a holiday bonanza; the package is complete.
Peace of Mind for Parents & Authorities
Monitored Children
Monitoring, it goes without saying is the focal point of all VTS for school buses. Keeping the school vehicles under scrutiny means safeguarding the children inside, which is a huge task today considering the incidents of accidents and crime on the rise. Innovative counties have online forms for citizens to report violations by school buses.
But automated monitoring & reporting anything amiss is the call of the day.
Real-time location of the children at all times is relayed
Immediate notifications if the student boards the wrong bus or alights at the wrong stop
Missed bus notifications sent to the wardens
Alarms & alerts for violations
Alarms & Alerts
At the Service of the School Authorities
Scrutinized & Efficient Drivers & On-Board Staff
Recruiting drivers, training them to handle the children and grooming them for conduct is a huge task. A school bus GPS tracking system enables constant scrutiny of drivers and other staff on board assuring safe experiences to the students traveling.
A VTS enables integration of the prerequisites into the work flows.
Assuring a safe workforce

Verification & authorization
License verification
Crime record checks
Driving pattern records & behavior analysis
Driver feedback integration

Driver management for Increased Efficiency

Driver allotment for tasks
Route planning & assignment to driver
Personalized maps for routes in accordance with student bus stops
School Bus Mapping
A Vehicle tracker pin points the exact location of a bus on the map and ensures further security and efficiency of the system.
Real time visibility of vehicle co-ordinates of the buses on maps with grid references & location descriptions
Route tracking and analyzing for optimizations
Geo fencing & geo zoning for additional security
Combating Emergencies
Emergencies when combated successfully go a long way in providing a safe student experiences along with adequate reassurance for both the parents & the authorities.
Traffic updates & notifications with re-routing options
Weather updates and suggestions for alternatives
Time estimations & comparisons between routes
Emergency push buttons to alert back office
Savings for the School
Automation brought in by the prudent implementation of a VTS brings in a lot of advantages to the system.
Fleet Maintenance & Monitoring Vehicle Health
A fleet in perfect order reduces inefficiencies and directly co-relates to decrease in costs. Fleet maintenance is precise and unerring when it has less human intervention.
Automated predictive maintenance
Logical plans to inculcate correct usage
Report fuel over usage, speed violations, braking and other parameters
Keep a track of maintenance histories
Generate insights to maintain a better fleet
Monitoring speeds & fuel status
Route Optimization
Optimized routes reduce time spent on the roads by both the drivers and the buses, bringing in better efficiencies.
Routing engines with appropriate algorithms to optimize resource usage
Optimal route generation by the VTS
Travel time recording for constant assessment of routes designed
Appropriate Alerts for Parents & School Authorities
Automated alerts as updates of various situations helps the school to provide a reassured environment to the students & the parents as well as provide conducive user experiences to all.
Notifications are automated and shared with registered mobile numbers.
Alerts from GPS
Insightful Reports & Dashboards for School Authorities
Informative reports and dashboards generated from records, history, statistics and predictions offer a comprehensive view into the on-goings and offer profitable suggestions and deviations to the workflows laid out.
School bus route history
Real time locations covered
Student alight report
Driver day start & end
Driver behavior
Fuel efficiency & mileage
Fleet status & location
Fleet monitoring
Fleet activity summaries
Blending in Contemporary Techniques into VTS. 2017 and Ahead.
GPS school bus tracking software is a strong example of technology put to use for real life requirements. Intuitive technologies are all set to be integrated into the VTS for better collaboration between school, drivers on road and the parents.
A VTS powered by sensor based devices like beacons on the point of boarding & alighting becomes mainstream today. Virtual reality is a technology waiting to break it in and could offer views of the happenings inside the bus itself. IoT powered smart school buses too seem to be a feasible reality soon.
Evolving with the technological advances, VTS becomes stronger by constantly integrating into itself newer approaches bringing in advantages across domains & industries.
In a Nutshell
Operating in diverse conditions; catering to a diverse clientele right from Retail, FMCG, Courier Services, Schools, Hospitals, Emergency Services right up to something as risky as the Rescue Operations and the Armed Forces; logistics operations certainly need constant monitoring and security at all times. A vehicle tracking software powered by GPS value adds to enterprise solutions for Logistics in the most conducive manner.
Request A FREE DEMO To Know our Solution Better
SPEC INDIA, as your single stop IT partner has been successfully implementing a bouquet of diverse solutions and services all over the globe, proving its mettle as an ISO 9001:2015 certified IT solutions organization. With efficient project management practices, international standards to comply, flexible engagement models and superior infrastructure, SPEC INDIA is a customer's delight. Our skilled technical resources are apt at putting thoughts in a perspective by offering value-added reads for all.