Top 12 Best Caregiver Apps To Stay Organized In 2021
Updated
November 30th, 2022
To care for those who once cared for us is one of the highest honors – Tia Walker
Few things remain constant in life and growing old is one of the unchanged facts. As people age, the need for proper care, support, and love from family arise. It's quite challenging to manage schedules and provide round-the-clock care and support to the family member while earning a living. In such cases, hiring an experienced and qualified caregiver to serve the people we care for and love at the comfort of our home is all the families are looking for currently.
And, this is where Caregiver Apps and agencies come into the picture.
Caregiver App: A Brief Overview
A caregiver is a supporting service provided by the professional caregiver at the patient's home. It can range from the people who are getting older to the people recovering from chronic diseases, illness, recovering from surgery, or mentally or physically disabled.
Balancing schedules, remembering medication, tracking symptoms – All this has become tricky!
Keeping abreast with technology is the need of an hour to empower caregivers to maintain patients' records, track medication, and keep transparency with families.
With such a pandemic affecting worldwide, a caregiver app can help caregivers manage duties and optimize daily routines. With a focus to provide better patient care in the homes, this caregiver app manages care plans, schedules, and patients on the go and eases the processes for home care agencies. In such scenarios, How to find a caregiver app that manages patient record and mitigate challenges?
This blog focuses on some of the best caregiver apps to solve various challenges. From medication management, health monitoring, organization, and communication tools to specialized help for Alzheimer's & Dementia, these 12-family caregiver apps can make things easier and quicker for you in 2021.
So, let's get started.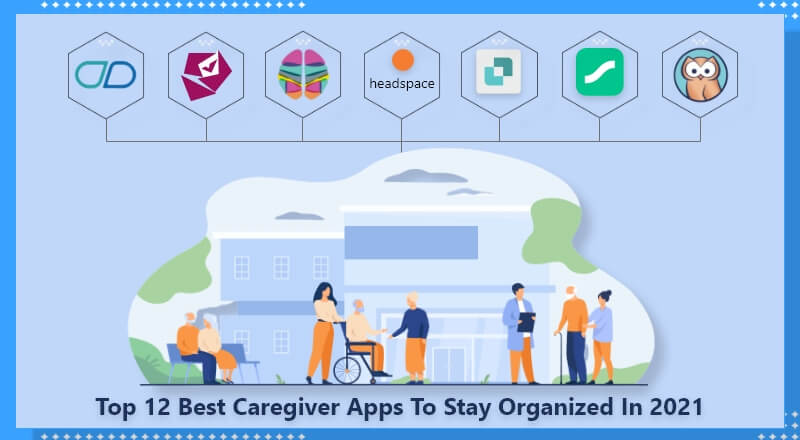 Top Caregiver Apps To Combat Caregiving Challenges
ClearCareGo Caregiver
Rosemark Caregiver
CareZone App
MyMeds
Medisafe
eCare21
Symple
MindMate
Alzheimer's Caregiver Buddy
First Aid: American Red Cross
Sanvello
Headspace
ClearCareGo Caregiver:
Android Ratings: 4.5
iPhone Ratings: 3.7
Price: Free
ClearCareGo Caregiver App leverages a list of caregivers of home care agencies to help you hire a qualified caregiver to take care of your loved ones. The app allows caregivers to access shift information anytime, anywhere on the go which results in providing quality care to clients.
Now managing tasks, clock-in, and clock-out time, view schedule, and updating tasks is just a few clicks away. To serve a better customer experience, the app is available in the Spanish language too!
So, what are you waiting for? Download the app on the App Store and Play store.
Rosemark Caregiver:
Android ratings: 4
iPhone Ratings: 4
Price: Free
Rosemark Caregiver is a full-featured, easy-to-use communication app for customers' home care agencies and caregivers. This easy-to-use app allows caregivers to view their scheduled shifts and their details, view/accept/reject shift offers, and clock in and clock out scheduled shifts with GPS-enabled location verification.
Caregivers can even check the client's care plan checklist and can even view any announcements, reminders, and other communications from the agency. They can even share voice messages with the concerned recipients.
CareZone App:
Android ratings: 4.4
iPhone Ratings: 4.6
Price: Free
CareZone App is another free care-based application that helps you to keep your loved one's information easily and securely. Invite your friends and family members to view and participate in the upliftment of his/her care. What's more? It has a central repository to manage all your medical information, medical files, contacts, directives, insurance details, and more.
There's a shareable calendar to keep appointment tracks and assign tasks to others, to-do lists, and a journal of physician notes. You can even upload photos and can share the voice notes of up to 100 recipients – Sounds impressive, isn't it!
CareZone isn't just about a personal caregiving app; all family members can use it.
MyMeds:
Android ratings: 3.7
iPhone Ratings: 3.6
Price: Free
One of the toughest jobs of caregivers is to manage patient's medications. MyMeds come to the rescue by organizing all the medical information in a single place and schedule medical reminders on time through text. If the medicine is taken, then reply "yes". The most interesting part of this app is you can even add your other family members to the tracking list to notify if the medicine is taken or not. A follow-up reminder can be sent in case the medicine is skipped to be taken.
MyMeds is one of the best apps for family caregivers to maintain medication schedules in busy hours of daily routine. The app is available for free at the App Store and Google Play.
Medisafe:
Android ratings: 4.7
iPhone Ratings: 4.7
Price: Free
Keep your loved ones safe and secured and don't miss out on taking your medicines, pills, and necessary vitamins with Medisafe. It's an easy-to-use free medication reminder app that notifies you about your medicines, when your medicines need to be refilled, or any certain medications that shouldn't be mixed. The application has a database of 30,000+ drug-interaction warnings.
What's exciting about the app?
Powered by GoodRx, the Medisafe app offers special discounts and medication coupons valid at thousands of drugstores nationwide. The app boasts a calendar, doctor appointment manager, and a logbook to share with a physician if required – All in all, a combination of basic medical needs under a roof.
Caregivers and healthcare workers can join the account and manage patient's records with ease.
eCare21:
Android ratings: 4.4
iPhone Ratings: 4
Price: Free
Now monitor your loved ones round-the-clock with wireless and wearable devices like Fitbit or smartwatch with eCare21. This application allows caregivers and health providers to track the wearer's heart rate, glucose, activity, calorie intake, sleep time, medication, weight, and more. With 24/7 monitoring with such wearable devices, it allows health providers and caregivers to remain proactive even from the distance. The app is available for free on App Store and Google Play and its monthly subscription starts with $7.95.
Symple:
iPhone Ratings: 4.5
Price: Free
Symple helps to monitor your loved one's health easily by keeping track of the symptoms like anxiety, fatigue, sleep, meals, medication, over a period of time. The app allows you to track up to 10 individual symptoms of your friends or family members and record how your loved one feels and document changes in contributing factors like health shifts, mood elevation. The app features a spreadsheet and interactive graph which can be further sent to the doctor by a caretaker for evaluation. It makes use of time-stamped photos to keep a record of the medications.
What's more? Now you can quickly navigate to the past data with the interactive calendar and can unlock premium features like a smart journal to build a list of questionnaires for your doctor. Download Symple – A personal caregiver app to track your loved one's health and be alert on the go.
MindMate:
Android ratings: 4.5
iPhone Ratings: 4.8
Price: Free
Is someone from your family going through memory loss and cognitive impairment? MindMate is the best app for family caregivers to help engage daily workouts to keep your loved one's mind and body fit. The app combines physical exercise, mental stimulation, nutrition advice, recipes, and secure storage for memories and photos. Each feature is designed in a comprehensive way to deal with dementia. The app is available at the App Store for free.
Alzheimer's Caregiver Buddy:
Android ratings: 4.3
iPhone Ratings: 4.3
Price: Free
The app developed by the Alzheimer's Association is the best app for family caregivers to manage their stress, uplift their mood and navigate family conflict by reaching a 24/7 helpline.
The application features daily tips for hygiene and meal time blended with fun and entertainment activities to stimulate the mind and body of the caretaker living with dementia. It also helps with tips and articles to cope up with new and overwhelming behaviors like hallucination and aggression.
Alzheimer's Caregiver Buddy is available free for iPhone or Android.
First Aid: American Red Cross:
Android ratings: 4.4
iPhone Ratings: 4.3
Price: Free
The First Aid App by American Red Cross is created with an aim to leverage the clear and step-by-step first aid and CPR instruction in case of any injury or emergency. The app allows users to find the closest hospital near them or call 9-1-1 within the app in case they need it. The app also features animated videos to make learning first aid easy. The content is available in Spanish and English language.
Sanvello:
Android ratings: 4.5
iPhone Ratings: 4.8
Price: Free
Sanvello is a self-care resource app that is specially designed for caregivers. The application consists of an impressive feel-better toolkit that comprises cognitive-behavioral therapy elements along with coaching sessions to reduce anxiety and stress.
The app boasts features including goal and mood tracking, activities to examine multiple patterns, various tools, and techniques to build confidence, manage emotions and develop mindful practice. It is one of the best personal caregiver apps to offer one-to-one coaching and therapies which is covered under health insurance.
Download the app now and uplift your mood swings!
Headspace:
Android ratings: 4.8
iPhone Ratings: 4.9
Price: Free
Caregivers, don't forget your self-care while taking care of others. Headspace is a popular guided meditation app that helps caregivers to improve stress and anxiety and thus helps them to get calm and centered. The app guides multiple meditative processes along with 5-10 minutes of the practices that help you fit meditation into your busy routine.
The app is available at the App Store and Google Play.
Good Read: Top 20 Popular Telemedicine Apps Offering Best Of Healthcare
Still, Need More Caregiving Support?
If you're a family caregiver then these apps can come to your rescue. Pick and choose the caregiver apps that can help you to stay fit and organize your days. Caregiving is not easy as it seems. It's quite a hard and exhausting job. Every human needs a break from their routine especially caregivers and a short stay in respite care can do wonders to get some time off and peace of mind.
Hope the article helps you pick the best caregiver app.
Our Work: Caregiver Application For Client
Want to build your own caregiver app with some additional features?
Awesome! Our experienced and skilled app developers can satiate your quest to build powerful yet easy-to-use healthcare software solutions – be it telehealth, telemedicine, or caregiver apps.
SPEC INDIA, as your single stop IT partner has been successfully implementing a bouquet of diverse solutions and services all over the globe, proving its mettle as an ISO 9001:2015 certified IT solutions organization. With efficient project management practices, international standards to comply, flexible engagement models and superior infrastructure, SPEC INDIA is a customer's delight. Our skilled technical resources are apt at putting thoughts in a perspective by offering value-added reads for all.