Cognos vs Tableau: A Comprehensive Comparison Of Two Popular BI Tools
Updated
December 7th, 2022
Business intelligence is an indispensable ingredient of any successful business. BI tools are highly popular and competent in offering in-detailed analytics from huge bulk of information, be it any industry segment, globally. Of the lot, two well-known names that are often compared as good data visualization tools are Cognos vs Tableau.
These two tools are known for their reporting and analytical capabilities. They have been assisting organizations in achieving newer heights, taking intelligent decisions, offering management benefits, and extracting the best of Business Intelligence from the heap of complex business data. Both these BI wonders have been embraced by small-sized businesses, midsize enterprises, and large enterprises alike.
Before we move onto understanding the comparison parameters between them, let us individually have a look at each one of them, their key features, and organizations using them.
What Is Cognos?
IBM Cognos Business Intelligence is a web-based integrated business intelligence suite by IBM. It provides a toolset for reporting, analytics, score carding, and monitoring of events and metrics.  – Wikipedia
Powered by IBM, Cognos reporting tool focuses on analytics and monitoring of data. As a strong digital BI platform, it offers its users insightful information through a variety of reports/dashboards. It can distribute reports in PDF or XML format and can easily integrate with third-party tools to offer seamless communication.
Cognos provides smart, self-service analytical solutions that can offer the competence to operate business information and offer the best of insights. Users can query, monitor, and process analytical data through a web-based interface. It makes use of attractive visualizations, graphics, and dashboards to offer an exceptional experience. Cognos is easily operable by novices, thanks to its salient features, ease of use, and forecasting capabilities.
The data that is extracted by Cognos reporting is trustworthy and hence offers its users a secure view of information in terms of strategy management, financial performance, data analytics, etc. The output that it offers caters to different levels of stakeholders – departments, individuals, middle-level organizations, and enterprises. A variety of industry segments like education and universities, computer software, healthcare, financial services leverage the potential of this BI tool.
Cognos Features:
Efficient and customizable dashboard
Ad hoc reporting
Performance metrics, scorecards
Forecasting and real-time monitoring
Prescriptive and predictive analytics
Good support for large data systems like AWS
Scalable, simplistic, and intuitive interface
Complete web-based experience
Availability of secure, interactive content
Innovative charts and maps for presenting data
Organizations Using Cognos:
Troy Corporation, Mueller Inc., BMW Financial Services, GKN Land System, Becker Underwood, Michigan State University, Quinte Health Care, Coates Hire, etc.
What Is Tableau?
Tableau Software is an American interactive data visualization software company focused on business intelligence.
Tableau is a well-known visualization tool used for business intelligence that simplifies data into an easily understandable format. Through different workflows and its flexible drag and drop functionality, it creates information from data that can be any type – unstructured, semi-structured, or structured. It can easily connect with other third-party tools like Hadoop, R, etc.
As a powerful tool, Tableau is used to handle a large amount of data, create different and complex visualizations, and then toggle between various representations. It facilitates users to execute queries using the natural language and garner automatic insight into information. Being self-serviced in nature, it empowers users to create their own requirements through the software.
Tableau has helped users turn data-driven and its integrated approach fits the data model of almost all types of organizations. It is powerful, intuitive, and empowers users of all levels to leverage its potential, making smarter business decisions. Sharing of reports/dashboards is easy and effectively possible. Using Tableau is an easy task even for new learners and hence is in demand across the globe. A variety of industry segments like financial services, energy, and the utility sector, university, and education enjoy the benefits of this wonderful BI tool.
Good Read: Tableau vs Power BI: Comparison Between Top Two BI Tools
Tableau Features:
Real-time and secure data analytics
Interactive dashboards and visually appealing reports
Seamless integration with data sources
Enhanced chart representation like histogram, bubble charts, etc.
Flexible mobile layouts
Ad hoc reporting with behavioral analytics
Contextual search and benchmarking
Toggle view and drag-and-drop
Embedding dashboards
Enhanced and faster data sharing between different data sources
Accurate and relevant answers to queries
Organizations Using Tableau:
Adobe, Deloitte, Bank of America, Citrix, Accenture, Pandora, Citigroup, US Air Force, The New York Times, Skype, Amazon.com, Google, HP, Johns Hopkins Hospital, etc.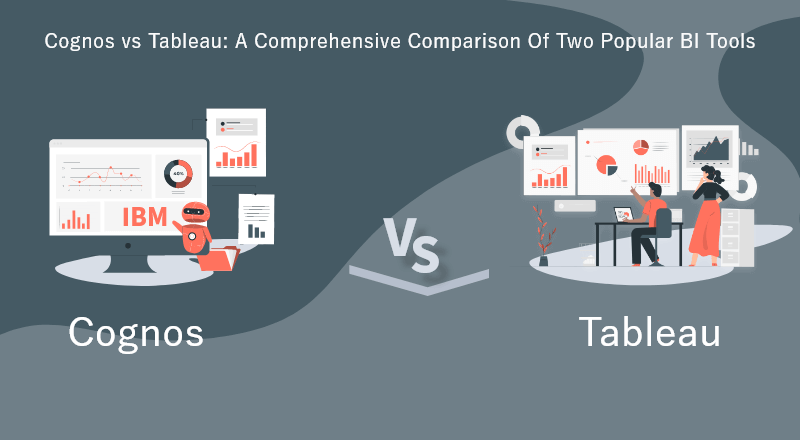 Cognos vs Tableau – An Interesting Comparison
As we compare, Tableau vs IBM Cognos, we come across certain distinct similarities and differences that make each of them, a successful and effective BI tool. Let us have a look at their comparison matrix, based on certain parameters.
Parameters
IBM Cognos
Tableau
Overview
A self-service, web-based analytical tool assisting users to visualize data through analytics, reporting, metrics, and KPI monitoring.

Flexibility and agility to easily share reports and simple integration with NLP and AI.

A data visualization tool helping users take the best of data-driven decisions, by assimilating data from various sources.

Customizable and secure data exploration through NLP, drag and drop queries.

Available On
Windows, Linux, Mac, Web-based
Windows, Linux, Mac, Web-based, iPhone/iPad, Android
Key Features
Balance in customization and ease-of-use

Support for SQL language and configuration features

Easy run of quality reports and sharing of reports

Connect data analytics with real-time workflows with ad-hoc reporting

Support to alter and share data with various interfaces/apps

Interactive drag and drop to create attractive visuals

The facility of data display combining data sets

Support for different coding languages such as R

Easy to use, great customer support, and effective handling of large data sets

Facility to create dashboards for mobile and system viewing

Target Audience
Cognos is a complete BI platform with a variety of tools for the enterprise and hence the target audience includes the data experts
Tableau is a complete visualization package with modernized features and the target audience includes a variety of users
Included Product Range
Cognos has multiple products that include reporting, analytics, dashboarding, score carding, data integration, etc.
Tableau has multiple techniques – drag and drops feature, collection of key data, visualizing techniques, etc.
Visualization Capabilities
Cognos reveals patterns that help in exploring relations within data. The report outputs are comprehensive enough to be understood best by data experts.
Tableau is competent to import and visualize huge bulk of data. It facilitates users to dig deep into the information pool and extract their desired information.
Business Scenario
Cognos users must be well versed with data processing techniques, and it offers many backend tasks like data management, query language, ETL process, etc.
Tableau users need not be skilled at data processing, and it offers a variety of data analytics through visually appealing effects that need no IT assistance
Customer Support System
Cognos has an effective technical support regime that has training programs to help achieve skill over the tool. IBM specialists are available to help solve issues and programming errors.
Tableau offers different support services – technical support, complimentary, elite, and OEM. Each one of these has its own service area that together, caters to almost all industry types.
Third-Party Integration
Cognos has a seamless integration capability with different IBM products
Tableau offers integration with tools like R, Hadoop, Google Analytics, etc.
Choosing The Better Of The Best
Both the BI stalwarts are great in terms of their features, key customers, and support system. Cognos vs Tableau is a comparison that has the best interactive BI features that can generate detailed and meaningful information.
It all depends upon the organizational requirements, data types, budget, and goals while choosing between the two. Tableau has its own set of features that shine and the same is the case with Cognos. Both have been reigning high in the world of business intelligence services and solutions!
SPEC INDIA, as your single stop IT partner has been successfully implementing a bouquet of diverse solutions and services all over the globe, proving its mettle as an ISO 9001:2015 certified IT solutions organization. With efficient project management practices, international standards to comply, flexible engagement models and superior infrastructure, SPEC INDIA is a customer's delight. Our skilled technical resources are apt at putting thoughts in a perspective by offering value-added reads for all.