Tableau Developer: Roles, Responsibilities, Skills, And Scope
Tableau:
a group of models or motionless figures representing a scene from a story or from history; a tableau vivant.
Does that ring a bell with you?
Yes, the name itself represents the context of Tableau, the world's leading interactive data visualization tool. Tableau has become a popular name in the field of visual analytics. It has earned immense popularity, a client base that includes the world's renowned companies, and a dominant position in the market. Because of its potential and popularity, the role of Tableau Developers has become one of the most preferred job titles in the present-day environment.
This post is intended to be used as your single source containing every piece of information related to Tableau Developer that covers roles and responsibilities, scope, skills, interview questions, and salary.
Let's start with the most basic question.
What Is Tableau?
Tableau Software is a leading data visualization software company headquartered in Washington, United States. Salesforce acquired Tableau in 2019 and Salesforce is now the parent company of Tableau. Tableau consulting services have seen a dramatic rise since data visualization and business intelligence are closely integrated with digital transformation. Tableau offers a wide range of services and products that make it the most complete analytics suite available in the market.
Tableau has been established as a Leader in Gartner's 2020 Magic Quadrant for Analytics and Business Intelligence Platforms for the 8th consecutive year.

Source: Tableau.com
Tableau public is now the largest data visualization repository in the world with more than 2 million vizzes totally over 2.3 billion views. Tableau Community is one of the fastest-growing and constantly-growing communities in the development world. It has become a favorite tool of the data analyst and decision-makers as it offers better governance, visibility, and controls over data. Accessibility, visibility, and flexibility of data are important to gain a competitive edge and Tableau helps achieve this through its award-winning features and user experience.
Let's discuss the role of Tableau Developer: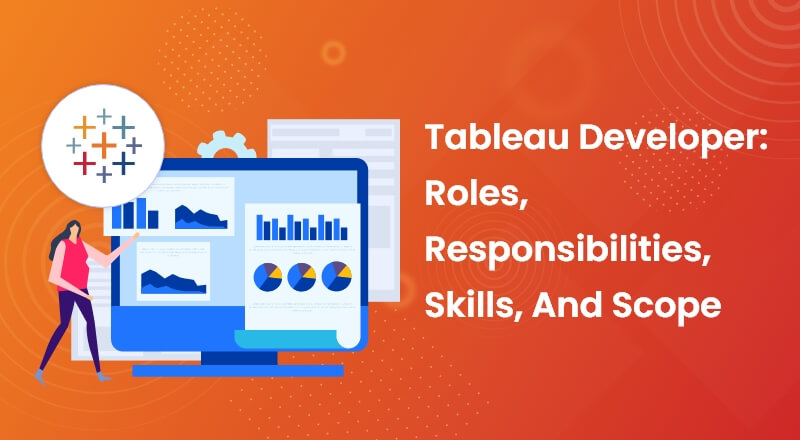 What Is A Tableau Developer?
Tableau Developer is the person who performs data visualization, data analysis, and business intelligence processes of the organization using the Tableau Platform. As its name suggests, Tableau developer develops, maintains, and manages a BI system by utilizing Tableau software. It is one of the in-demand skills as more and more companies are considering data analytics as a priority. Let's see how Tableau developers are playing an important role in establishing data-driven policies across the organization.
What Are The Roles And Responsibilities of Tableau Developer? What Does A Tableau Developer Do?
The roles and responsibilities of Tableau developers can be different as per the needs and are intrinsically defined by the organization.
They are responsible for:
Understanding business requirement and plan solution to address data needs
Partner with IT teams and business professionals to establish data-driven policies and strategies across the organization
Develop, design, and maintain Tableau dashboards and analytics
Collect, refine, and prepare data for analytics and visualization
Manage and utilize the Tableau platform to extract meaningful insights from it
Prepare reports using various visualization and data modeling methods
Define new KPIs and consistently measure in the datasets
Collecting data from various data sources and normalize it
Test and publish dashboards and reports and schedule refresh
Define access controls and implement security measures whenever required
Drill-down data and prepare reports with utmost accuracy
Creating wireframes and beta dashboards with a focus on user experience, correctness, and visibility
Improve overall process in data management, collection, dashboard design, and entire product life-cycle
Apply algorithms and statistical methods to obtain answers from data
Solving any data or performance issues related to workbooks and data sources
Monitoring reports and dashboards and make necessary changes
Manage Tableau-driven implementations, architecture, and administration
Actively manage the performance and usability of Tableau to get the desired result
These are some of the duties that Tableau developers are responsible for. It can be widely vary depending upon the requirements of the organization.
Skills Required To Become A Tableau Developer: How To Become A Tableau Developer?
Below are the required skills to become a Tableau Developer:
Technical Skills:
In-depth knowledge and a sound understanding of RDBMS systems, SQL, Business Intelligence, and data analytics
Proficiency in analytics and database querying tools
Extensive experience in developing and managing dashboards and reports in Tableau
Competency in SQL Server Integration Services (SSIS), SSRS, and SSAS, SQL queries, and procedures
Excellent analytical skills to forecast and predict trends and insights using past and current data
Knowledge of data architecture, data modeling, data mapping, data analysis, and data visualization
Enterprise-level experience in data presentation through various bars/charts/models/dashboards
Sound knowledge and experience in Excel, PL/SQL, ETL, and Tableau platform
Technical knowledge of Tableau Products and versions including Tableau Server, Tableau Public, Tableau Online, Tableau Desktop, and so on
Able to build visually-stunning and interactive dashboards
Able to manipulate and blend data in order to design dashboards and visualization
Knowledge of data migration, Tableau integration, and extensions
Certifications in Tableau and other BI tools is an added advantage
Working knowledge of Power BI, SAP Analytics, and Ticketing systems is a plus
Other Logical And Creative Skills:
Problem-solving Ability:
Tableau is easy to use and learn. When it comes to working with data, the most important thing is your problem-solving mindset. If issues arise, you must know how to solve and address the issue by using available resources and platforms. Problem-solving skill is a necessity as data-specific jobs require attention to details and logical approach.
Analytical Mindset:
"If you do not know how to ask the right question, you discover nothing." – W. Edward Deming
This saying perfectly suits any data-centric job titles. Analytical mindset and data storytelling became more valuable than ever before. To become a Tableau Developer, you must have the ability to see the 'big picture' of data. It is a highly useful skill to discover trends, solve problems, and predict future events based on the data and applied models.
Storytelling:
As a Tableau developer, you will likely be working with data presentation and visualization. Along with basic data concepts, you must possess the skills to present data effectively. Just presenting facts and figures won't work, you must answer the "what if" scenario and also explain it. The art of data storytelling is required for apt, accurate, and easy decision-making.
Apart from this, below are 'nice to have' soft skills for the post of Tableau Developer:
Strong written and verbal communication skills
Knowledge of design principles and quality processes
Understand and transform client expectations into technical requirement
Knowledge of code integration and languages like R and Python
Knowledge of DevOps and basic project development lifecycle
Technical knowledge of Tableau Products and various versions
Understanding of data security and its implementation
Bachelor's/Master's degree in Computer Science, IT, Information Systems, Mathematics or related field
Tableau Developer requires a versatile skill set that includes logical, technical, and interpersonal skills. It is not necessary to have all of these skills altogether. But, generally, Tableau Developer Job Description includes or excludes some of these skills.
Let's see how much you can make as a Tableau Developer.
Tableau Developer Salary:
When it comes to the salary of  Tableau Developer there might be questions like:
What Is The Salary Of A Tableau Developer?
How Much Money Would You Make As A Tableau Developer?
Pay rates and salary generally depends on how much experience you have, qualifications, skills, and knowledge.
According to Glassdoor, the national average salary for a Tableau Developer is $81,514 in the United States.
According to Zippia, the average tableau developer makes about $81,700 per year.
According to Salary.com, the salary range typically falls between $69,185 and $96,800. The average Tableau Developer salary is $82,436 according to Salary.com.
Tableau Software is a leading data visualization tool and widely used by companies across the world. This results in soaring demand for Tableau professionals as data became indispensable for organizations of all sizes.
What's The Future of A Tableau Developer?
As we have already discussed, Tableau is one of the widely-used tools in the data field. With the increasing demand for data-centric policies and strategies, it is obvious that your career as a Tableau Developer will be rewarding in terms of money, satisfaction, and growth. You can earn a pretty good amount as a Tableau Developer based on the overall experience.
Tableau Developer Interview Questions
Below is a list of tableau interview questions you may encounter if you are interviewing for a job title related to Tableau:
What is Tableau? Why Tableau?
What is the Tableau Server? What are the components of Tableau Server?
Explain the primary difference between blending and joining in tableau.
How can you perform load testing in Tableau?
What are the limitations of Tableau?
What is Longitude and Latitude in Tableau?
What are the main products of Tableau?
Explain different Tableau files.
What do you mean by the term 'filter action'?
Explain parameter in Tableau
What is the difference between Traditional BI tools and Tableau?
Various types of joins in Tableau
What is Aggregation and Disaggregation in Tableau?
Explain the difference between Tableau and QlikView.
What is the maximum number of tables we can join in Tableau?
Difference between heat map and treemap
Explain Dimensions and Facts in Tableau
What makes Tableau so popular?
What is the waterfall chart?
Explain the use of trend lines
These questions may vary based on seniority level but basic knowledge of Tableau and its product is a must.
Faster data analysis, easy-to-use, interactive visualization, and the capability to handle large datasets – are some of the features that make Tableau one of the widely used and quickly-evolving analytics platforms in the data field.
If you wish to join Tableau or make a career in this field, there is a number of courses and resources easily available. Tableau community is one of the active and thriving communities with regular updates, news, and helpful resources.
Good Read: Tableau vs Power BI: Comparison Between Top Two BI Tools
FAQs For Tableau Developer
What does a tableau developer do?
Tableau developer is responsible for developing and maintaining data visualization solutions utilizing the Tableau platform.
How do you become a tableau developer?
To become a tableau developer, you will require extensive experience in working with BI systems, logical and creative skills, an analytical mindset, and knowledge of data presentation.
Is Tableau a valuable skill?
Tableau is high in demand because of the increased importance of data visualization and analytics to drive better decisions.
Is the SQL required for tableau?
Yes, SQL knowledge is helpful for Tableau skills.
Is tableau better than Excel?
Yes, it offers many features and interactive visualization along with the capability to handle a huge volume of data.
Can I learn tableau on my own?
You can join interactive online classes to learn Tableau along with some free resources from the Tableau community itself.
Is tableau good for a career?
Tableau is an excellent option for a career as most organizations use data analytics for effective decision-making, and Tableau helps do the same.
Is it difficult to learn tableau?
No, Tableau is easy to learn and use provided you have basic knowledge of SQL and data visualization concepts.
Is Tableau a technical skill?
Yes, Tableau is a technical and data-related skill that lets you analyze large amounts of data and present it in various formats for better decision-making.
What are the skills required for a Tableau developer?
Analytical mindset, experience in Tableau products, the art of storytelling, and visualization are some of the key skills required to become a Tableau developer.
Yes, due to the rapidly increasing volume and complexity of data, tools like Tableau are in high demand for effective decision-making.
SPEC INDIA, as your single stop IT partner has been successfully implementing a bouquet of diverse solutions and services all over the globe, proving its mettle as an ISO 9001:2015 certified IT solutions organization. With efficient project management practices, international standards to comply, flexible engagement models and superior infrastructure, SPEC INDIA is a customer's delight. Our skilled technical resources are apt at putting thoughts in a perspective by offering value-added reads for all.