Creating a Custom Software Solution Is an Art – A Developer's View
As with almost everything, custom software solution has many faces, one of which is the developer's angle, a perspective of how they look at building a bespoke software. It has been an impeccable methodology for a unified and lucrative client experience. With increasing usage of technology, you will find exponential growth in implementations of such customized software. One of the biggest striking feature that tailor-made solutions exhibit is that they are built as per customer requirements and hence attempt to fully satisfy all client needs, to the best. But, is it as simple as it looks? What goes behind the making of a custom software? How massive and creative is the effort of the software teams involved starting from analysts to designers to developers to testers to implementors.
Based on which industry domain the custom software is being built for or which geography it belongs to, there are multiple nuances that can affect its making. Even the fundamental reason for which it is being built varies from client to client. Some may seek a web-based portal, some may seek a CRM, and some may seek an eCommerce venture. Custom software solutions that are flexible, scalable, robust and cutting-edge can encompass it all, that big is its coverage. They are prime in reinforcing human relationships through their solution in the business world. But, there is a large amount of creativity and specialized skill involved in it that helps in coming up with a valuable bespoke solution.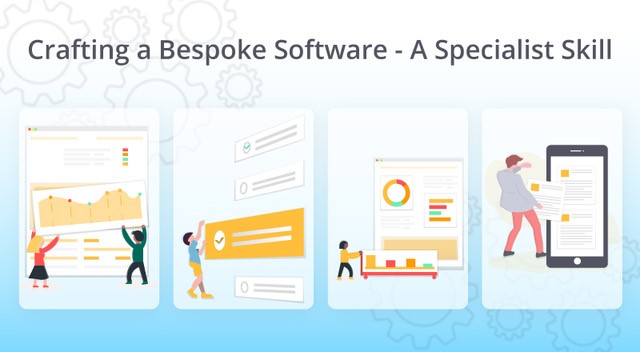 Our software teams are experts in their own discipline and approach. Based on the periphery that they investigate, our software experts analyze, define and build the needed software solution component with a creative, innovative and secure stint. Be it, designers or developers, they use their instinctive best to come up with the best possible software solution. Clubbed with organizational project management skills, our architects and creators exactly understand what the customer needs and how is it to be delivered, be it any size, segment or type of industry.
What Exactly Goes into Custom Software Solution, From a Software Expert's Point of View?
There are no two doubts that you need both proficiency and experience while building any custom software solution. When it comes to any custom software development company working on a bespoke software, there are certain components that are looked at, from their point of view.
Garnering A Personal and Strategic Approach
We, as a software team, understand the nuances of building a software solution for our esteemed clients, in a way they want and need. Hence, our focus is heavily on developing and implementing software strategies that help us create a customer-focused approach to understand, analyze and translate their requirements into software components. With a personalized approach to software development, our software experts understand your business objectives and strive hard to achieve them through the software solution.
Centralized and Integrated Software Development
Though the geography and industry segment may move around the globe, what remains central and significant to the entire software creation process is the centralized infrastructure that handles all the components in an integrated manner, from the central location. The skilled team of designers, developers, testers, architects are stationed at the software development hub to offer best of support and creativity while building the software. Of course, with the needed focus on customer locations through onshore support teams, the rest is handled seamlessly at our center.
Establishing a Multidisciplinary Way of Working
To each its own. While you build a creative and multipurpose software solution, all software team members have their own style and comfort zone in which they function their best. And that is what forms the crux of the entire software development process. We ensure we get the best out of the entire team of experts, each having their own area of expertise. With knowledge in multiple areas of technology, software design, testing, UI/UX, architecture our software team members have it all. And to add to it, is our set of well-defined project management strategies to ensure the entire workforce abides by organizational policies and work together to achieve the common objective of fulfilling customer requirements.  
Selecting Finest of Technology
One of the key requirements while customizing a software is to possess in-depth knowledge of an assortment of technologies, frameworks, architectures, operating systems, devices. Having that in abundance offers a great advantage while working out the technical solution for any software. We emphasize on having technical expertise so that any type of technology can be served upon that can work towards fighting against challenges and achieving the goal.
As a leading Custom Software Development Company in India, our skilled software resources have been implementing consistent and sustained custom software solution with a multilayered range of services, in vivid technologies that can give your organization the best of business efficiency and effectiveness. Our custom software solutions have been successfully implemented across a wide range of enterprise clientele, all around the globe.
We, as IT partners of our clients, recommend an extremely competent, prepared & proficient resource pool, qualified by technology experts' viz. Microsoft, Oracle, Pentaho, PMI. Our contemporary project management procedures, supple engagement models, infrastructure setup, well-defined security policies and knowledge management methods provide us an edge above the others. Supplementing resources with slightest lead time is our strength, with India being a hub for IT technical resource competency.
SPEC INDIA, as your single stop IT partner has been successfully implementing a bouquet of diverse solutions and services all over the globe, proving its mettle as an ISO 9001:2015 certified IT solutions organization. With efficient project management practices, international standards to comply, flexible engagement models and superior infrastructure, SPEC INDIA is a customer's delight. Our skilled technical resources are apt at putting thoughts in a perspective by offering value-added reads for all.