Didn't You Use Business Intelligence Yet? You Need To Read It
Are we paying enough attention to Business Intelligence (BI)?
Does your organization have a position of Data Scientist or Chief Data Officer?
If no, then this post is for you.
According to the detailed report from Dresner Advisory Service on Business Intelligence,
Executive management, operations, and sales are the three major roles driving Business Intelligence adoption in 2018.
Organizations who adopted analytics and BI apps reported improvement in business results.
Less than 15% of respondents have a Chief Data Officer in their organizations, and only about 10% of respondents have a Chief Analytics Officer, at present.
As of 2018, around 20.5 percent of respondents dealing with research and development said that their teams use five or more business intelligence tools, according to Statista.
As of 2018, companies with 100 employees or less are the most likely to adopt business intelligence solution.
One more to consider from Gartner,
Around 10 percent of companies will have profitable departments focused on "productizing and commercializing the data" they collect by 2020.
It is all about data. The aforementioned statistics are also a part of BI. It gives several insights to take further actions. It guides you towards the actionable business information. With the processes, tools, technologies, and practices, BI converts your raw data into meaningful information which can be used in strategic decisions.
It seems that organizations now started realizing the importance of data. Data is the lifeblood of today's environment but, how data is being used to make decisions is more important to talk at present.
Business Intelligence is a broad perspective and can collect, analyze, integrate, and organize raw data in a presentable manner. There are many terms and technologies you need to take into consideration when it comes to BI. Put it simply,
BI is getting the right information to the right people at the right time.
If you want to dig a little more about what is BI, here is a nice collection of definitions from industry experts and leaders. With the rise of machine learning and artificial intelligence (AI), business intelligence is the matter of moment.
In this article, we are not talking about how it is beneficial to the organizations out there, instead, we will talk about the current status of Business Intelligence and how it can be leveraged for the effective, forward-thinking, and data-driven decision-making process.
Data matters.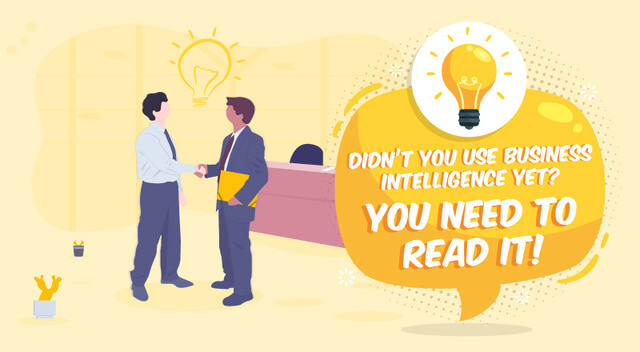 If you are struggling to identify the important difference between Big Data and Business Intelligence, don't go further, here's the primary difference between big data and business intelligence.
Note: Read it twice. (It will help you understand clearly).
"Business Intelligence helps find answers to questions you know. Big Data helps you find the questions you don't know you want to ask. "
Business Intelligence services include data mining, reporting, querying, and online analytical processing that can help to form long-term business strategies and identifying the real-time limitations.
Data is everything in this hyper-connected digital world. What's more, data is enormously increasing day-by-day, minute-by-minute, and data storage is one of the bigger issues to be solved in the nearest future.
The usefulness of data is the second bigger concern industry is trying to solve, with the Petabytes (equivalent to 1000 Terabyte) of data generated every day. If we talk about the current picture of the industry,
Major Issues Enterprises Are Facing About Data:
The majority failed to recognize where data is and when to collect

Can every raw data be converted into information?

Who can access those pieces of information?
Without a proper answer to these questions, there is a risk of a poor decision. Let's find answers by and identify where BI can fit as a solution.
1. Majority Failed To Recognize Where Data Is And When To Collect:
Data is everywhere, inside and outside of your organization. Data comes from various sources, machines, and from your actions. They greatly vary in size, type, and sources. It may or may not be structured.
If you want to find where your data is, for an instance, your sales channel is the prime example. Now, analyzing is a key part of Business Intelligence. The sales channel can hide many potential answers to your questions, such as,
How many transactions are made during the month/week/day?
Where are your customers from?
What are they focusing on?
Which of your product/service gaining attraction of users?
How much of the time did they spend on your website/app?
Are your campaigns successful enough?
Do you get the expected leads from your visitors?
Is there any product or service which does not show any sales during recent days?
These questions can highlight many noticeable areas for which your organizations must take an action in order to accelerate the growth or remove the bottlenecks.
Data can be collected and analyzed anytime the authorized professional want. They can generate daily, monthly, quarterly, or yearly reports as and when required. Analyzing this data help you build your next successful strategy or help in creating the next location-specific campaign. In addition, by deeply looking into the information and queries, data scientists can provide you with business prospects and other potential opportunities.
You can't afford to miss any new opportunity in this cut-throat competition.
2. Can Every Raw Data Be Converted Into Information?
The answer is no.
No business can be succeeded without effective data management. Data alone can't help any manager to decide something. There must be valuable information extracted, compared, and visualized from various resources.
Business Intelligence includes a set of techniques and tools to transform raw data into meaningful information. Here are some BI tools to be taken into consideration:
SAP BI
SISENSE
Pentaho
Tableau
IBM Cognos Analytics
Microsoft Power BI
Board
BIRT
Splunk
Looker
Oracle BI
Domo
Now, coming to the last question,
Why Your Organization Needs Data Scientist?
Okay, you have a website of your business and you are using Google Analytics to track your goals and conversions. Keep in mind that we are not talking about only website or app. There are many other types of software widely used by organizations to interact, manage, organize internal activities, and market products/service.
This software can be ERP, CRM, another third-party module, internal management tools, and so on. There can be various sources of data from where raw data can be used such as a warehouse, entire supply chain, marketing channel, production, and manufacturing unit, outside contractors, and local partners. In this case, Google Analytics is not only a sufficient tool for BI.
Without a doubt, it can be integrated with other powerful BI tool to generate strong, insightful, and visual reports.
Note: In order to leverage business intelligence, you don't need to build new software. Any business intelligence tool can be integrated into the existing systems, like Google Analytics.
Only Google Analytics Is Not Sufficient: Here's Why You Need To Hire Data Scientist
Google Analytics is not exactly BI.
Yes, you heard it right. According to one report, the number of users of Google Analytics ranges from 30 to 50 million. To solve real-world problems, data scientists play a vital role by applying mathematics, science, analytical, and visualizations skills. Top of the above, they must have the thorough knowledge of domains be it logistics, finance, supply chain, human resource, or e-commerce.
Data science is not only about numbers.
Take a look at the key objectives of Business Intelligence:
Enhancing Operational Efficiencies
Growing Revenue by Identifying Prospects
Better Decision-Making Process
Gain Competitive Advantage
Reduce Chances Of Risks And Risk Management
Improved Customer Service
Key Takeaway: Google Analytics can provide you with data such as website traffic, number of goal conversions, popular products, geographical location of users, customer buying patterns, and so on. If you want to unlock the hidden potential that hides in the use of business intelligence, integrate Google Analytics with BI tool. Try it.
Explore Opportunities: Go From Data To Decision with Business Intelligence Services
There's no doubt – companies who use business intelligence can make a better and effective decision. Outlast your competitors by carefully identify your opportunity and limitation. Choose skillful professionals to look in the direction of growth and expansion.
If you would like to discuss how BI can help your organization increase revenue, drop us a line or call us.
Do not forget to tell us how you like our posts and insights. That will help us and encourage us to write more on such trending topics.
SPEC INDIA, as your single stop IT partner has been successfully implementing a bouquet of diverse solutions and services all over the globe, proving its mettle as an ISO 9001:2015 certified IT solutions organization. With efficient project management practices, international standards to comply, flexible engagement models and superior infrastructure, SPEC INDIA is a customer's delight. Our skilled technical resources are apt at putting thoughts in a perspective by offering value-added reads for all.