Emerging Technology Trends 2019 – A Promising Future Lies Ahead
"It's not that we use technology, we live technology" – Godfrey Reggio
Technology has never ceased to amaze. Year after year, there are innovative advancements happening which take us by surprise. It is almost unimaginable how technology has penetrated our personal and professional lives positively. As the year is about to end, the coming year 2019 is all packed with technological surprises for us. All around the globe, there are many trends being talked about, but the question is whether all these futuristic trends are feasible. It would be interesting to have a look at what major areas of technology are showcasing newer trends and how promising they are. As there is two side of a single coin, however successful a technology may seem, there could be challenges it has to face to succeed. Similarly, these trends do look highly promising but will have its own share of hurdles to clear.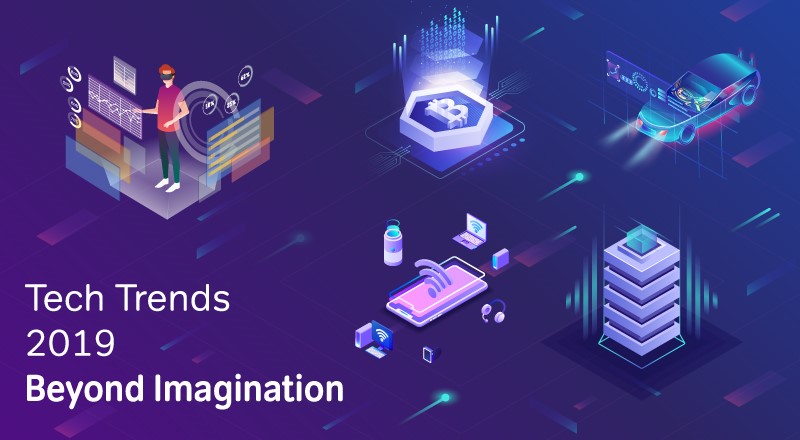 Key Technology Trends in 2019 – Will They Be Able to Prove Their Potential?
"We are changing the world with technology" – Bill Gates
Cutting-Edge Autonomous Activities Will Rule the Artificial Intelligence (AI) Scenario
AI has always been a trending technology, offering something innovative year by year. Looking at its track record, 2019 is sure to highlight some novel mechanisms in the world of AI. Machine learning will play an important part in the AI arena in the coming year. Human and machine intelligence will synchronize in a seamless manner. Navigation applications, personal assistance, streaming services, smart homes and many more will see newer features that will increase its utilization and spread its popularity further on. AI jobs will increase remarkably thereby increasing employment in different areas like development, programming, testing, support, and maintenance. There will be a major development in areas pertaining to robotics, vehicles, drones, appliances, and agents. Be it robots, drones or autonomous vehicles, there is a lot more communication with the surroundings than before.
Statistics to Highlight
Challenges Along the Way
AI will find it tough to manage and monitor collaboration between the main component and surroundings
Machine learning is not known to all yet since it is a difficult mechanism to understand
Augmented Analytics Will Shine Beyond Imagination
Augmented analytics is yet another area that will shine in the coming year. With the help of machine learning, the analytical information will be developed and implemented, helping enterprises take the best of decisions and maximize RoI. Artificial Intelligence will spread beyond being a single job. Today it is more of independent functionalities that showcase AI, but the trend is now moving towards concerted groups using intelligence their way.
Statistics to Highlight
AI augmentation will generate $2.9 trillion in business value and recover 6.2 billion hours of worker productivity by 2021
Challenges Along the Way
Automation will reduce human employment in the next decade by a huge margin
Many technology stalwarts believe AI will harm people by taking away jobs, and few believe it will have serious, negative implications
Immersive Technologies Will Offer a Novel Experience
In the coming decade, the user interaction with global elements will see a new face with immersive technologies like Virtual Reality (VR), Augmented Reality (AR) and the right mix of both – Mixed Reality (MR). enterprises are sure to garner maximized productivity and profitability, all thanks to this merger of the physical and digital world. Conversation and connection between human and digital elements will become enhanced be it through chatbots of virtual assistants. High-quality sensory elements will reveal emotions based on expressions thereby easing the work of the enterprises.
The adoption of AR, VR, and MR is increasing day by day and the coming year is no exception to it. It will witness increased client engagement by helping completely explore different options without going to a physical geography.
Statistics to Highlight
Challenges Along the Way
Though the demand for immersive technologies resources is increasing, it is difficult to find resources to match the kind of expertise that is wished for
Technology knows no barrier and hence to define the boundaries of its inclusion into daily lives is critical
Internet of Things (IoT) will Connect Increasing Number of Devices
Internet of Things has already carved a niche for itself, but the coming year has more in store. Increasing number of devices, with a larger variety, are sure to get connected through the IoT network. Be it homes, cars, electronic appliances and much more, the number of IoT devices will keep increasing, benefiting the user community by lots. Till now, IoT had made its presence felt more for individuals or at the home front. Now, IoT is sure to expand big for industries and enterprises. It is all set to offer an enhanced user experience in terms of security, efficiency, faster decision making, quality, and profitability. There is so much to look for with IoT!
Statistics to Highlight
Challenges Along the Way
Not enough IT professionals are being trained to unleash the full potential of IoT. Hence, there is a dearth of IT professionals when it comes to implementing IoT project
Data security will remain a huge concern with increasing acceptance of IoT since data will travel across networks in a widespread manner
Data Privacy & Ethics Will Become Progressively Important
A customer is a king today, customer satisfaction and loyalty come first. And for the customer, the prime thing of importance is the privacy of information. Today, enterprises have learned to secure data of clients in such a way that there is no compromise on its privacy. But the year to come will give it much more important and thereby, there will be newer methods to ensure it happens. Call it data value management, this feature will take a front seat while managing any software application. Business scenarios will be remodeled to fit in data privacy elements on a priority and embed data protection laws. Government rules and regulations are being adapted and followed by organizations, to the optimum.
Statistics to Highlight
Challenges Along the Way
Even if organizations try to adhere to privacy guidelines, the source of data is disparate and hence it is a tough task to encompass all sorts of data sets
With technology growing beyond boundaries, customer data is exposed at multiple instances. Keeping it safe and secure is a challenge, keeping in mind the rate at which client information is being circulated
The blockchain is the Technology of the Future
Blockchain, in 2019, emphasizes revolutionizing industries by accelerating decentralized trust, offering complete transparency and diminishing friction between business ecologies. Increased usage of Blockchain will be witnessed with expansions in most industries who are already leveraging the potential of this wonderful technology. On a simple note, Blockchain – a variety of distributed ledger offering distribution of transactional records to all stakeholders over a single network, will help enterprises to avoid friction between business teams. It will spread its existence across multiple departments – finance, supply chain, healthcare, manufacturing, government and many more, be it departments within the same enterprise or from different ones. It will further lower down expenditure elements and enhance the cash flow to a large extent. Blockchain induced solutions will be the in thing next year.
Challenges Along the Way
Blockchain model may turn immature and tough to scale through
Blockchain inspired methods may not deliver full-on value, as well as a pure blockchain, does
Robotic Process Automation (RPA) Is Sure to Create More Jobs
The way artificial intelligence and machine learning are the keys to the future, robotic process automation has started making its place in businesses. RPA is here to offer automation and repetition of multiple tasks. This surely leads to the reduction of manual labor by a large extent since much of the activities that stakeholders do can be automated. It offers a good amount of career opportunity to those looking for it, at each level with a good amount of pay.
Statistics to Highlight
Challenges Along the Way
Because of automation, there are chances of human resources losing out on their jobs
Dealing with heavy infrastructure and getting everyone interconnected is a big job
Edge Computing Is Here to Offer an Edge Over the Cloud
Here is a technology that has started giving cloud computing stiff competition. As we witness major cloud service providers like Microsoft Azure, AWS, Google App Engine etc. being the latest jargons today, here is Edge computing that attempts to help overcome the difficulties cloud computing brings along. It helps move over the dormancy caused by cloud computing and transferring data for further processing, to a relevant data center. It is useful in processing time-critical information at places with least connectivity to the central database. It can independently exist as a small data center and will showcase its worth as the usage of IoT increases in the coming year.
Statistics to Highlight
Challenges Along the Way
Coordination of a large number of edge computing systems keeping intact their independence
Executing information on the computers at the edge since they are not very high powered
Digital Twins Is Set to Create Digital Replicas for the Virtual World
With the increasing popularity of IoT, the concept of Digital Twins has expanded its boundaries by digitally representing the real-world scenario. Implementation of digital twins of organizations is an area that will see interesting progress in the coming year. These models dynamically showcase how organizations operationalize business representations and connect with resources to offer enhanced customer satisfaction.
Statistics to Highlight
Challenges Along the Way
Since digital twins need many sensors to implement it successfully, it becomes tough to manage and maintain such huge infrastructure
It needs to maintain a connectivity with physical entities which do not remain stationary and hence is tough to connect on a regular basis
Smart Spaces Get Smarter for 2019
As an innovative thought for the coming few years, smart spaces talk about a physical or digital space within which humans and technology related systems interact with increased connectivity, openness, and coordination. Smart spaces are being increasingly used as smart cities, digital offices, smart homes, and linked workshops.
Statistics to Highlight
Challenges Along the Way
Since smart spaces have multiple computing elements interacting with the physical ones, there is a need for automatic configuration and resource management that is difficult to handle
Quantum Computing Takes a Big Leap
A novel computing model, quantum computing is all set to explode in the coming year. It is a classification of nonclassical computing that showcases information as elements shown as quantum bits. There is a big difference between traditional computers and quantum computers. These are extremely paralleled and accessible ones. There is simultaneous execution of directions and hence very fast, affordable and highly secure.
Statistics to Highlight
Challenges Along the Way
Hardware and algorithm remain a challenge for quantum computing to progress rapidly in the coming year
Current quantum computers aren't that powerful yet and hence can create issues. It may still take time for the hardware to be upright
Bidding Goodbye to a Fruitful 2018, All Set to Welcome 2019
"The best way to predict the future is to create it" – Peter Drucker
The year 2018 has been a technologically successful year with many innovations in disparate domains, geographies world over. Now, it is time to perceive what 2019 has in store, especially for the software solutions and services arena. Is 2019 able to indeed, prove that technology fulfills what it promises? Let us wait and watch the power of technology, touching our lives in its entirety.
SPEC INDIA, as your single stop IT partner has been successfully implementing a bouquet of diverse solutions and services all over the globe, proving its mettle as an ISO 9001:2015 certified IT solutions organization. With efficient project management practices, international standards to comply, flexible engagement models and superior infrastructure, SPEC INDIA is a customer's delight. Our skilled technical resources are apt at putting thoughts in a perspective by offering value-added reads for all.