Full Stack Development – The Latest Techno Mantra Today
In this fast-moving world of rapidly changing technologies, an area of software development that has taken the globe in its stride is Full Stack Development. Considered to be the latest buzzword, the industrial era considers this style of software development as the technology of today. It refers to the streamlined development of the frontend, backend and the database portion of any system. Starting right from commencement of an idea till the execution of the final product, full stack solutions are meant to incorporate it all, be it the presentation layer, business logic layer and the database layer. If you have independent software specialists working on each of these layers, it proves costly and time consuming for the organization and that is what is the USP of this innovative style of development. Organizations are now looking for full stack developers who can handle multiple stacks at a time and play the role of different entities with ease.
As technology escalates a level further, things that can be performed on the frontend and backend are coming closer. And as that is happening, demand for full-stack programmers is increasing, barring the thin lines between what can be done in the frontend and in the backend. Organizations are looking for skilled resources who can handle the frontend as well as the backend and not to forget, the database also.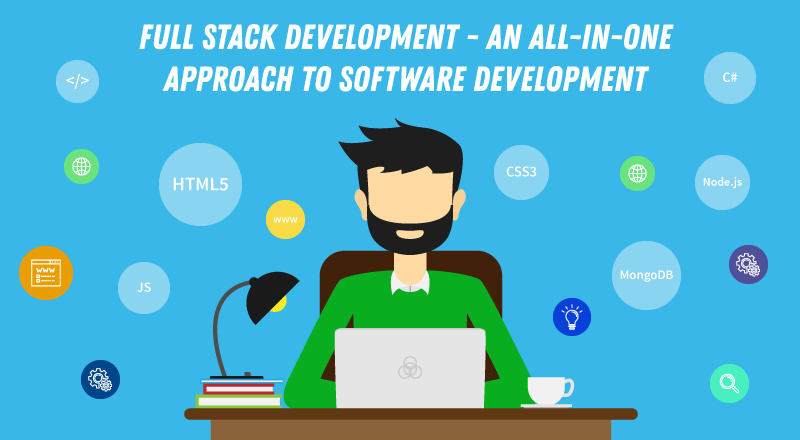 What Effective Skills do Full Stack Developers Have and Why Are They in Strong Demand?
It isn't necessary that full-stack developers know each aspect of the software technologies. What matters is that they know adequate about the code across the entire gamut of tools and technologies so that they can chip in and solve issues as and when needed. This leads to a highly responsible task with seamless advancement of work, fast completion timelines and efficient results. Getting such resources is rare and that is why no wonder, demand for these developers is increasing day by day. Such valued full stack resources are well skilled to help organizations with requisite proficiency in all areas, recognizing roles and responsibilities with equivalent challenges tagging along.
Hiring full-stack developers from a software solutions organization has its own set of benefits and guarantees a highly lucrative and effective productivity since they would be specialists in all areas, along with equivalent emphasis on major project areas like quality, user experience, client satisfaction and timeliness.
Some of the evident features and advantages that resources adhering to full stack software development showcase is:
Methodical information of front end and back end skills organized as a single solution
A strength to any project as if a unified resource pool, who can oversee the complete development and implementation procedure, be it a website, web app or mobile app
Comprehensive acquaintance about relevant technologies like MEAN stack, front end, back end, UI, server infrastructure etc.
Accomplished to work out the wide-ranging development process based on customer requirements
Valuable, knowledgeable and versatile about technologies
Detailed knowhow about networking, security, project management, system & hardware infrastructure
SPEC INDIA – Offering Full Stack Development Services, At Its Best
As a full stack development company, SPEC INDIA has been garnering a lot of expertise and experience all over the globe, in different fraternities. Over the last three decades, SPEC INDIA has been delivering enterprise software solutions par excellence and has been constantly upgrading itself to the state-of-the-art technologies ruling all over.
Some of the major technologies that our full stack resources possess expertise in are JavaScript, Angular JS, React JS as frontend technologies, js and Express.js as backend technologies, MongoDB, MySQL, Oracle, MS SQL Server, PostgreSQL as databases and HTML5, CSS, Bootstrap and JQuery as designing technologies.
Some of the prime reasons why SPEC INDIA is Ideal as a Full Stack Solutions Partner are as follows:
Thorough information about technologies along with relevant roles & responsibilities
Wide-ranging focus towards accomplishing organizational goals
Fulfils customer objectives of augmenting business and profitability
Implemented across major industrial areas like sales & distribution, healthcare, finance, retail, hospitality to name a few
Observance to the newest project execution methodologies – DevOps and Agile that assure a unified information flow
Multitasking by resources offering cost and time savings, to a large extent
Ability to undertake Full Stack app development (mobile / web), along with proficiency in team collaboration
SPEC INDIA is a one-stop solution provider for global enterprise business solutions, key service offerings, and enterprise mobile analytics. Keeping abreast with the digitization wave, we have proven our mettle in the arena of digital transformation, across a multitude of geographies and industry segments. Have a look at our Full Stack Development Services to know more.
SPEC INDIA, as your single stop IT partner has been successfully implementing a bouquet of diverse solutions and services all over the globe, proving its mettle as an ISO 9001:2015 certified IT solutions organization. With efficient project management practices, international standards to comply, flexible engagement models and superior infrastructure, SPEC INDIA is a customer's delight. Our skilled technical resources are apt at putting thoughts in a perspective by offering value-added reads for all.