How Is Jakarta EE, The Cloud-Friendly Java, Revolutionizing The Future?
Almost since the last two decades, Java has been reigning at the top of programming languages, the world over. It, at 20+, has been maintaining its supremacy in the enterprise world, with umpteen programmers loyal to this innovative and flexible language. Java has been stringent and regular in keeping itself upgraded to the cutting-edge happenings today, proving itself as the most modern-day technology. It is not that Java does not have face challenges. With technology moving at a lightning speed, there are many peers competing with Java development companies but owing to certain simplistic and hardcore features like its open-source and flexible nature, it has been able to stay strong at the apex.
One such technically strong area is cloud computing where till now, Java had not made its entry. Cloud application development is all set to rule today and tomorrow. It is almost an indispensable ingredient in the success story of any business and hence developers are keen to work in cloud-friendly technologies to avail the maximum benefit. It is interesting to read how Java has made its entry into the world of cloud computing.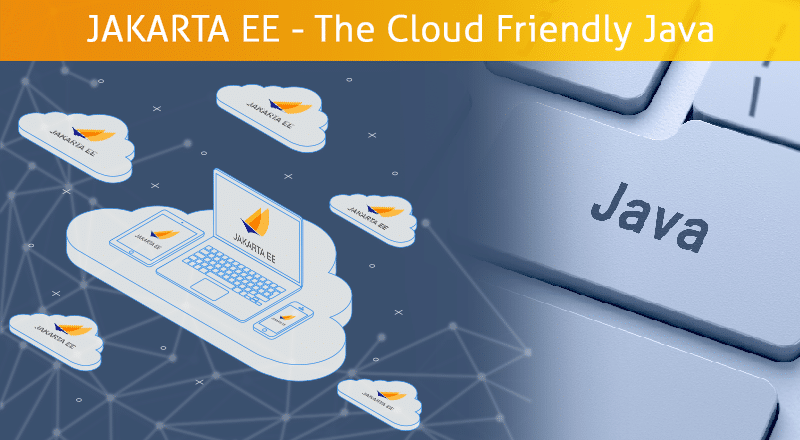 From Java EE to Jakarta EE – The Journey So Far
Owned by Sun and later by Oracle, Java Enterprise Edition was in vogue earlier with various editions coming up. Somewhere around 2013, Java EE 7 was released and around the same time, novel technologies like Docker came up that were altering the definition of technology-driven application development. About 4 years later, Oracle donated Java EE to the Eclipse foundation that became a ground-breaking decision. Eclipse came up with the Jakarta EE group and finally came the new Jakarta EE logo and website. Jakarta EE – a cloud-native Java and open source governance model, has been building its own set of end-users in Java application development companies and has made its entry into the world of cloud computing. The objective of this technology is to offer faster release cycles to stay abreast of innovation and modernization of the enterprise for cloud, microservices, and containers. The Java EE technologies will now be nurtured under the Jakarta EE brand to assist the implementation of cloud-friendly, mission-critical apps.
Jakarta EE – The Pioneer in Java Cloud Computing
The Eclipse foundation analyzed that there are certain core areas that they need to focus on to garner the success of Jakarta EE. They needed to focus on offering better support for microservices, have native integration with Kubernetes and garner a faster pace of innovation. This way, the Java developers could fulfill their wish of working in the cloud-based environment to develop next-gen, cloud-native apps. Even Java 9 modularity is a point of change for the foundation. Enterprise Java development surely gets a big push with this latest version of enterprise edition. They are all set to get into open source tools like Docker, NoSQL and Kubernetes in Enterprise Java.
If we compare Java EE with Jakarta EE, Java EE has been a medium for enterprise systems that need enhanced dependability and steadiness. But owing to the steadfast speed at which innovation is making its move, there needed modernization of enterprise solutions with an emphasis on cloud-friendly environment, swifter release cycles augmented open-source culture and community-driven platform. Jakarta EE includes all the technologies that are a part of Java EE and they are sure to progress to a large extent with the help of Fujitsu in accordance with Eclipse.
In the arena of Java application development, Jakarta EE has aimed to offers its users the best possible routes to cloud modernization. With the help of Eclipse's micro profile, this platform is attempting to offer its users a new model of governance that can imbibe Java-based solutions from open source fraternities. It can facilitate numerous developers in building and deploy cloud-friendly applications. It is aiming to lower barricades to adoption, enduring to grow the community and the brand both.
SPEC INDIA, as your single stop IT partner has been successfully implementing a bouquet of diverse solutions and services all over the globe, proving its mettle as an ISO 9001:2015 certified IT solutions organization. With efficient project management practices, international standards to comply, flexible engagement models and superior infrastructure, SPEC INDIA is a customer's delight. Our skilled technical resources are apt at putting thoughts in a perspective by offering value-added reads for all.