How Predictive Analytics Benefits The Retail Industry?
Updated
January 24th, 2023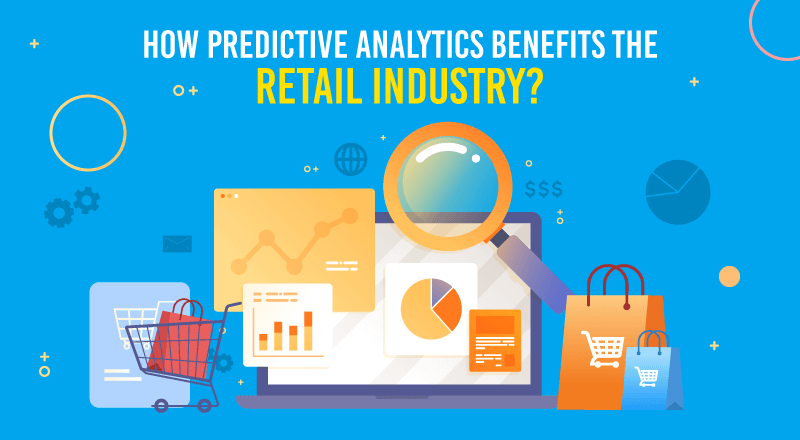 "The three most important things in retail are location, location, location. The three most important things for our consumer business are technology, technology, technology." – Jeff Bezos
As compared to other industries, one segment that has ample of customer data circulating all over is the retail industry. A happening and modern-day industry, the retail unit is always buzzing with data that is most important to execute a successful business and establish a stronger rapport with the customer. But, does all the data convert into useful and insightful information?
With competition increasing and the standards of a good business changing, it is imperative for retailers to make the most of the bulk of data that they have. It is essential that they garner detailed insights into the huge piles of data that they have and find actionable information. This analytical information is the road to their business productivity and profitability.
This is the time when the cutting-edge technology – predictive analytics jumps in and steals the show. As an extended arm of business intelligence services, predictive analytics has turned out to be the catalyst in augmenting sales growth, envisioning client patterns and forecasting trends.
Well known comedian Steven Wright once said – 'Only one in four jokes ever work, and I still can't predict what people will laugh at'. This sounds true for his industry but for many other industries, predictive analytics has worked wonders. Some of the most benefited industries are the retail, healthcare, entertainment, manufacturing, cybersecurity, HR, sports, weather, to name a few.
Before we move onto understand what predictive analytics is and how has it helped the retail industry, here are some live examples of huge retail conglomerates who have adapted predictive analytics to prosper their business and understand their customers better.
Amazon
Depending upon the customer's buying patterns, with the help of predictive analytics services, Amazon has been recommending a personalized buying cart to its clients. Of late, it has been leveraging the potential of this technology for pre-emptive shipping, i.e. shipping products to clients prior to their placing the order, based on their pattern on the Amazon portal. This offers swift shipping to customers, thereby increasing their satisfaction levels.
Walmart
Around the year 2004, Walmart underwent data mining and predictive analytics in its range of stores to perceive the customer's buying patterns at different times. They got certain key observations that helped them increase their sales and thereby maximize RoI.
Marks & Spencer
Marks & Spencer is using predictive analytics to keep shelves stocked with mince pies and turkeys over Christmas. They utilized the potential of predictive analytics to keep their shelves stocked with only those items that were demanded by customers during Christmas.
Key Challenges Faced By Retail Industry
The fundamental reason why predictive analytics is essential for a successful retail business is to help overcome the challenges that are regularly faced by the industry. Here are some of the most common ones:
Continually Changing Customer Needs
The client is the king today. On an exponential level, the participation of the customer in business is increasing. Clients today are involved not only in observing pricing patterns, they also need personalization. Retailers need to pull up their sleeves and act more capable and imaginative both, which is a thought-provoking task.
With a focus to remain proficient in the market, the retail specialists need to observe client demands at each point and achieve them to their best. To do this, what is required is proactiveness and inventiveness from the retailer's end to sense what the client might be looking for, much in advance.
Consistently Observing Regulations
With many rules and regulations moving around, the retail industry must be regular in following each one of them. For this, they need to uninterruptedly monitor each procedure, function, inter-departmental flow of information closely. It is a hard task for the enterprise to comprehend the data flow all over, its communication with each other and effect afterward.
For startup retailers to small businesses, it is a challenge to keep adjusting the cost margins either way as needed. This has a direct impact on business performance and income.
One of the oldest and toughest jobs in the retail industry – inventory management has its own set of hurdles on the way. The absence of real-time information leads to wrong decisions and management of inventory. Stock keeping, store management and maintaining inventory levels is a challenge for retailers.
Evaluating Revenue Generation
At times, it is essential but difficult for retailers to evaluate how much revenue can be generated from each individual location. It is a tough task to perform this assessment on a physical level. It might not even give precise calculations.
"If Big Data is sparking a revolution in general management, then Predictive Analytics may well be the 'next big thing' in talent management." – Richard Mosley
Predictive Analytics – An Overview
"Predictive analytics encompasses a variety of statistical techniques from data mining, predictive modelling, and machine learning, that analyse current and historical facts to make predictions about future or otherwise unknown events." – Wikipedia
The single stop solution to understand and strengthen the future of the retail business is predictive analytics. It possesses competencies of showcasing details like demand forecasting, assortment planning, enhanced levels of inventory & stepwise product and process movement. The basic & clear graphical display of information does not only provide easily comprehensible information but also gives you a profundity into the knowledge base which is essential for stakeholders.
Key Benefits That Predictive Analytics Can Offer To The Retail Industry
Enhances Maintenance and Management of Store and Inventory
Managing and maintaining an equal balance inventory – not too much, not too less is a big challenge for retailers. Predictive analytics can help do that, lessening expenses on inventory and converting stock into sales. It can help retailers identify the key areas that are much in demand, observe sales forecasts and garner the best delivery schedules to optimize inventory costs. It assists retailers in keeping a step ahead of the client's needs and thereby, reshuffling the supply chain management procedures.
Personalizes Marketing Strategies
Customers are usually quite attracted by the marketing campaigns that focus on their personalized preferences rather than general ones. Instead of spending lots after general campaigns that target a large audience, it is preferable to target client preferences, on an individual level and offer marketing campaigns. Predictive analytics helps in personalizing the marketing procedure by offering direct messages at the right time, at the right place in the right format. This directly impacts the business RoI positively and builds a deeper customer rapport.
Adjusts Prices in a Fruitful Manner
Especially for small segment retail units and for startups, adjusting prices based on demand is a big task. When to reduce prices, when to increase is a tough job and that directly impacts the business. Predictive analytics helps in finding out the optimal duration when prices can be increased/decreased based on need. It, with the help of AI, can observe inventory fluctuations, peer pricing level and compare with the demand to understand what the prices should be.
Optimizes Usage of Big Data
All retailers are loaded with chunks of data. Most of them implement Big Data techniques to structure and organize the data. But that is not of any worth till you know what to extract out of it and how can it help look at the future. Predictive analytics works towards making the data look articulate and useful. Retailers can benefit by understanding their client preferences, the style of shopping, their seasonal needs and much more.
Helps in Geographical Expansion
In case retailers are planning to expand their business in new geographies, new locations, new cities, the prime matter of concern for them is to understand where to go in for. Predictive analytics helps in offering details about where the maximum customer coverage is and which areas have more utilization of the products that you offer. It can give you a detailed market survey report along with your existing clients in that area and prospects too.
Retains Customer Loyalty and Attracting More
In the big world of hefty competition, there are numerous distractions that can take your customers away or keep new prospects from coming in. Predictive analytics can help retailers in extracting details of which customer, who has been a loyal one, isn't recently shopping or which customer preferences aren't being met, etc. With the help of promotions and offers, you can surely allure him again into your business.
Augments Operational Competence
With technology running at a fast pace, offering modern-day techniques to execute business, complexity is increasing and tough to handle. Predictive analytics helps in making things simple, empowering retailers to operate the business effectively and increasing profit with maximized revenue. The demand for this technology is on an increasing spree and there is no looking back now.
Predictive Analytics in Retail – The Future Ahead
Business analytics has a bright future in the retail industry. Technological trends like the increase of WiFi analytics platforms and product collection analytics is in the limelight. As for predictive analytics, one trend that is making news is the shift from Predictive Analytics to Prescriptive Analytics.
Prescriptive Analytics can help retailers overcome their challenge of acquiring proper pricing strategies. It can observe a variety of data sources like client trends, availability of products, resources, geographies, etc. and assist organizations in enhancing their profit shares, grabbing the best of opportunities.
On a Wrapping Note
The world of Business Intelligence, Big Data, Predictive Analytics, Data Science is expanding beyond imagination. The extent to which these modern-day technologies will affect our business and lives is interesting to watch and at the same time, increases our curiosity levels.
It isn't necessary that Predictive Analytics is only for huge retail organizations. Today, many retail IT solutions are collecting customer information from different touchpoints, embedding Predictive Analytics and integrating seamlessly with other business IT solutions.
The retail industry has already enjoyed the benefits of Predictive Analytics and so are other industries doing so. There is much more in the pipeline, let us wait for the magic of data to continue.
SPEC INDIA, as your single stop IT partner has been successfully implementing a bouquet of diverse solutions and services all over the globe, proving its mettle as an ISO 9001:2015 certified IT solutions organization. With efficient project management practices, international standards to comply, flexible engagement models and superior infrastructure, SPEC INDIA is a customer's delight. Our skilled technical resources are apt at putting thoughts in a perspective by offering value-added reads for all.