Key Highlights from Apple WWDC 2019
June 3, 2019, was an interesting day for igeeks out there. Just like the special event of September, Apple has brought a lot of advancements in the annual Worldwide Developers Conference (WWDC) 2019. Apple rolled out certain amazing updates to its apps and smartwatch at WWDC 2019. Here are the key highlights to take away from WWDC 2019 keynote.
iOS 13 – The Most Awaited Update
Dark Mode is official with this update
Messages are enabled with swipeable texting. Also comes with suggested contact of the frequently contacted people
Music brings a real-time lyric mode which shows the words alongside the song
Memojis have become even more personalized, .i.e. new makeup options, hairstyles, and accessories
Reminders refreshed greatly. .i.e. When you tag someone in a reminder, you will also receive a reminder next time you message the contact
Maps now offer a 360-degree view. iOS 13 brings a more detailed map and a shortcut on the launch page which shows the spots you look for. By just a tap, you can get a street view photo which can be enlarged and will let you look around in the 360-degree view. When you tap again, you can travel down the road to have a detailed view
Photos app has all new sorting mode which divides the pictures into days, months and years, making it easy to browse the images.
The update comes with assistive voice control.
The beta version is available for developers and will be available for the public in July. The final version will be made available in the fall.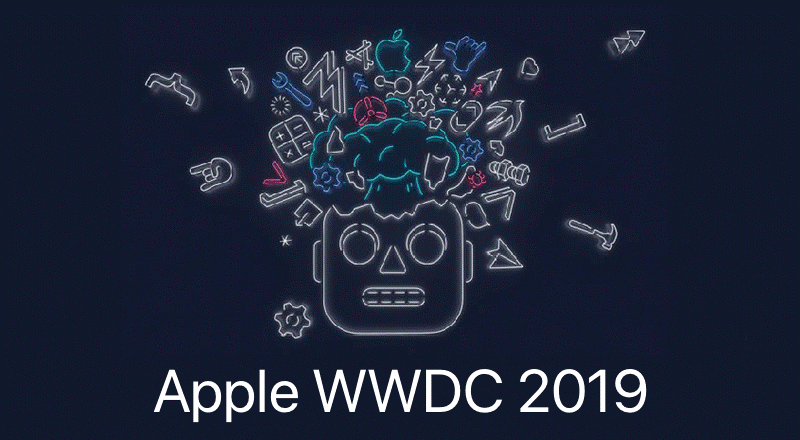 Siri Got New Features On CarPlay And AirPods
Siri is now generated by neural text-to-speech technology, instead of human-based recording
Siri can now read your incoming messages and lets you respond immediately
AirPods can be split, if you need to share music with a friend
Speaker on the HomePod can now recognize between different voices and come up with personalized responses
CarPlay support is now compatible with third-party apps like Pandora, Siri can suggest automated shortcuts based on the activities and connected apps
Updated Security Protocols For HomeKit And App Permissions
You can now choose to let apps ask you every time if you want to share your location. All the other times, iOS will cut the access to that data until an app needs that to function
Apple has also brought a single sign-on feature which will use Face ID authentication to log-in to different apps and services
You can also choose to share or hide your email address. If you want to hide it, Apple will create a random email account which forwards information to your actual email id
Apple HomeKit comes up with adding support for certain new types of devices which includes home security cameras and routers. A new secure video mode is introduced which encrypts video footage locally before sending it to the cloud
iPad Has Its Own OS
The new OS offers Multi-window capability to the iPad
File view looks like that of macOS, with ways to browse through column view
Sharing on iCloud made easier as it allows folder sharing
iPads can now support USB thumb drives or camera imports from USB cables directly between two devices
New text editing gestures introduced. .i.e. three-finger pinch/spread to copy, cut and paste and three-finger swipe left and right to undo and redo
macOS Catalina v10.15 – Bid Adieu To iTunes
Apple will break the iTunes app into three apps such as Music, Podcasts and TV for respective requirements
Mac will also support the iPad as a second display, to offer a workaround. This feature is named SideCar. It lets you connect iPad in both wired as well as a wireless connection
The new update comes with assistive voice control which includes controlling everything from opening apps to adjusting the volume and editing text
The update comes with Project Catalyst, through which, developers can now port iPad apps to the Mac
The Apple Watch Gets Its Own App Store
The watchOS update 6 comes with its' own App Store which can be found through Siri, scribble or voice dictation.
It brings Apple calculator which can quickly split bills and tip to the device. A voice memo app is also brought to the device to make recordings on to go.
WatchOS also brings certain health and fitness update with long-term activity trends which shows your fitness level change over the months and a year. Apple brings menstrual cycle tracking to the Watch for female health to receive alerts on the upcoming periods.
TvOS Enables Multi-User Support
Along with the multi-user support, the TvOS also show personalized recommendations on shows and music on the basis of the content watched by the user.
The all-new TvOS brings a redesigned homepage, which shows previews of TV shows and movies.
Apple Tv will now support third-party game accessories like Xbox One and PS4 controllers.
Just like iOS 13, the music playback UI also shows live lyrics that follow the song.
The New Mac Pro Is Here
Unlike the round trash can looking Mac Pro from 2013, the new Mac Pro looks like a bulky tower and is totally different in functions.
It includes a 28-core processor and up to 1.5 TB of memory.
It contains six slots for memory expansion and eight PCI slots, three Thunderbolt ports, two USB-C and two USB-A ports.
The module supports AMD Radeon Pro 580X or the Radeon Pro Vega II, and can be configured to add up to two Vega Iis.
The new processing card supports up to 3 streams of 8K or 12 streams of 4k.
The monitor of Mac Pro is a 32-inch LCD screen with a Retina 6K display.
The display is named "Extreme Dynamic Range" (XDR) which can connect six displays for up to 120 million pixels of a display.
The Mac Pro starts with an 8-core Intel Xeon, 32GB memory and a 512GBSSD for $5999, the Pro Display XDR is for $4999. The stand is sold separately for $999.
Stay tuned for more updates!
Image: developer.apple
SPEC INDIA, as your single stop IT partner has been successfully implementing a bouquet of diverse solutions and services all over the globe, proving its mettle as an ISO 9001:2015 certified IT solutions organization. With efficient project management practices, international standards to comply, flexible engagement models and superior infrastructure, SPEC INDIA is a customer's delight. Our skilled technical resources are apt at putting thoughts in a perspective by offering value-added reads for all.