Legacy Modernization: What, Why, Approaches And Benefits Of App Migration
Modernization is a continuous process.
With technologies changing day by day, it's harder to keep up with technology updates and upgrades. It is a technology that affects an organization's ability to adapt to the changing business landscape. Modernization, in that sense, can make or break your business.
According to a survey by Red Hat, Companies plan to modernize 78% of their custom applications within the next year.
Legacy Application Modernization is not limited to transferring 'old' systems to the new environment. Many organizations are using a mixture of old and new software to stay competitive. The meaning of modernization differs from business to business.
Modernization refers to changing, rewriting, or porting of parts/entire systems to modern tools, platforms, libraries, or languages. It is a very broad subject and includes a wide range of tools, platforms, technologies, and concepts.
Good Read: Legacy Application Modernization – Digitizing the Future
In this guide, we are talking about legacy modernization and everything around that topic.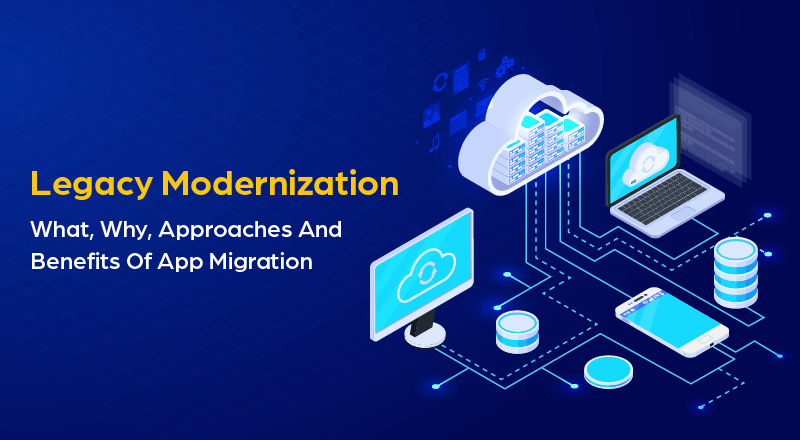 Let's start with these most basic questions and obvious answers.
Legacy System Modernization: An Overview
Legacy Modernization or legacy system modernization is the process of transforming legacy systems into a new, modern environment.
By transforming the old IT ecosystem into a new environment, organizations can reduce IT complexity and increase efficiency, establish a data-driven culture, and improve flexibility across organizational processes.
How To Modernize Legacy Systems?
An old, outdated system that is still in use but doesn't allow organizations to leverage modern technologies and infrastructure and therefore, restricts the growth of the business. A legacy system stills serve a purpose it was originally designed for but limits the chances of expansion.
Here's how Wikipedia defines it:
In computing, a legacy system is an old method, technology, computer system, or application program, "of, relating to, or being a previous or outdated computer system, yet still in use.
Windows XP is a popular example of a legacy system that is no longer supported by Microsoft.
How Do You Modernize Legacy System?
There are many ways you can modernize your legacy system. Modernization doesn't mean only replacement. The best approach to modernization depends on the actual requirement or problem you are trying to address. The problems/issues may or may not be seen directly. There can be skills shortages, performance issues, or an inability to cope with the new environment.
Legacy Modernization Approach
Rewrite – you can rewrite/rebuild code or components from scratch without changing their definition or scope
Rehost – Host application to more advanced infrastructure for better scalability and performance
Replace – Consider new requirements and features into account and entirely build a new system, removing all parts of the existing system
Rearchitect – Consider changing underlying technologies, architecture and build a new environment with new features and capabilities
Why Modernize Legacy Systems?
When you are using old technologies, you may encounter slow loading speed, not-so-good UI/UX, and troublesome maintenance and updates. This all affects overall system performance.
With modernization, the IT backbone of the business can become more scalable, flexible, and easier to maintain. By using the latest tools and technologies, organizations can drastically improve performance such as faster load time, increased speed of services, best user experience, no downtime, and the ability to manage a higher workload.
There are many tools and platforms that have come to the end of their lives. The support and updates are no longer available from their vendors. This obsolete tools/platforms are one of the biggest barriers to digital transformation. Using old/outdated technologies increases the risk of downtime and maintenance costs. Gradually, the skills required to maintain the system will be no longer available in the market. You may find it difficult to handle or upgrade it. The cost of maintenance is comparatively high than the modern infrastructure. Optimized cost is one of the noteworthy benefits of the modernization process.
To Improve Data Security:
Old systems are more prone to risks and vulnerabilities. By deploying the latest infrastructure, organizations can better manage security provisions and reduce the risk of attacks and data fraud.
Organizations have started giving attention to data compliance and regulatory standards to win the trust of their customers. Modernization helps them to meet compliance needs and ensure their customers for the best security controls in place.
Build fast and release faster – this is how applications are delivered today. The constantly changing needs of the customers, cut-throat competition, and on-demand economy make organizations consider agility as an important factor for growth.
With the use of Artificial Intelligence, automation, cloud, and approaches like DevOps, organizations must deploy tools for continuous development and delivery. DevOps is the need of the hour to fulfill customers' needs in a faster, more reliable, and more secure way. Old systems are lagging far behind here. Developers are less likely to meet the needs if they stick to old systems and tools to deliver software faster and update more frequently.
When organizations attempt to modernize their legacy systems, they may face several challenges during the process.
Application Modernization Challenges Faced By The Organization
Today's organizations are dealing with multiple platforms and technologies. Dependencies, the coexistence of old and new tools, and tightly integrated business processes are just a few of the reasons why organizations are stepping back to upgrade their systems.
The 2020 Mainframe Modernization Business Barometer report found that 74% of organizations have started a legacy system modernization project, but failed to complete it.

Source: businesswire.com
Here are some challenges that need to be addressed for a successful migration:
Organizations that want to migrate their systems to a new atmosphere require to undergo a lot of changes right from technical skills, managerial skills, and operational skills. As technology changes, companies need to adapt to new skills, new equipment, and new processes. This overall duration requires effective change management to avoid pitfalls.
Modernization seems a daunting task for organizations that are already dealing with large old systems. Modernization is a long and expensive process. It requires the readiness of the organization to handle any unforeseen circumstances during the whole process.
Integration Of Modern Digital Tools With Legacy Systems:
It is not only about replacing old tools with modern tools. Sometimes, you are changing a whole system, a part of the system, a component, or a module. There are many issues to be addressed such as data duplication, process overlapping, temporary management of bridging systems, and managing constant change. Enterprises also need to evaluate performance and rigorously test the system to ensure the best user experience.
Wrong Approach To Modernization:
As we have discussed earlier, modernization can be achieved in various ways. From where to start, what to change, and how to change are some of the key questions that must be aligned with business goals. Modernization must be performed incrementally to avoid risks and hefty costs associated with it.
Lack Of Proper Collaboration And Vision:
Collaboration between teams remains the most important factor for the transformation process. A clear vision, long-term strategy, and proper collaboration between teams help organizations to streamline the modernization process.
The global application modernization tools market size is expected to reach the size of 36.86 billion US dollars by 2027

Source: statista.com
Legacy Modernization Trends
Cloud is the real revolution. Moving your old systems to the cloud for better scalability, performance, and flexibility is one of the popular ways organizations embrace modernization.
DevOps help establish a culture of continuous change and that's the main purpose of modernization. DevOps simplifies the modernization process through shared responsibility and a collaborative approach to change. It helps save costs and time while maintaining business performance.
It's time to move from manual to automation. The manual process is one of the significant barriers in the legacy system. By automating manual systems, organizations can reduce operational costs, increase efficiency, and save human hours.
For example, instead of manually setting up software releases and investing hours of hours in releasing products at once, you can simply automate the delivery pipeline and release updates frequently.
Use advanced and AI-powered tools to make data-driven decisions. By analyzing various sources of data using smart, AI-enabled tools, organizations can dive deeper into insights and identify their strengths and weaknesses.
Mobile-First Digital Presence:
Organizations must cater to the needs of the mobile-first world of consumers. The majority of businesses embraced mobile technology and reaping the benefits of connectivity and mobility. 'Anywhere, anytime' has become a new formula of success for businesses that want to serve their customers in faster and more flexible ways.
Legacy System Modernization FAQS
What are some examples of legacy systems?
Computers running MS-DOS, Mainframes technology, outdated financial systems, and even Windows XP, custom-built applications written in obsolete programming languages are considered legacy.
When an IT System becomes a legacy system?
A system that uses outdated software/hardware or technologies that are no longer available in the market. This is when the system becomes a legacy.
What are the challenges of using a legacy system?
Increased security risk, incompatible with new technologies, and unable to support new growth strategies are some of the biggest challenges of using legacy systems.
What is legacy system migration?
It refers to the process of migrating legacy systems to a new modern and agile environment to leverage flexibility, agility, and scalability.
How can an API gateway help while integrating with a legacy application or service?
API Gateway is an API management tool. API Gateways help link multiple legacy applications together by offering a unified interface to manage client and backend services.
How APIs can modernize legacy systems?
APIs are used for the encapsulation of systems that protect and streamline the underlying data structure. APIs help legacy systems to adapt to changing business needs.
What is legacy transformation?
Legacy transformation is the process of modernizing legacy systems with new technologies, tools, and platforms to become capable to adapt to change.
Legacy Modernization: A Key Priority
Modernization is a priority for today's businesses no matter what the domain and size are. Legacy systems are still running with their own set of challenges and cost constraints. To remain competitive, an organization must reduce costs, increase productivity, and speed up the software development process.
Flexibility, scalability, and continuous change are critical factors for survival.
Technology evolves and so does your business!
What do you think?
SPEC INDIA, as your single stop IT partner has been successfully implementing a bouquet of diverse solutions and services all over the globe, proving its mettle as an ISO 9001:2015 certified IT solutions organization. With efficient project management practices, international standards to comply, flexible engagement models and superior infrastructure, SPEC INDIA is a customer's delight. Our skilled technical resources are apt at putting thoughts in a perspective by offering value-added reads for all.